Are you thinking about visiting Disney World in 2020? We just got back from a week long visit and I am here to tell you do it! Go! This is a great time to visit the parks- low wait times, less crowds, and a magical change of scenery from your home's four walls. Here is what you need to know before you visit Disney.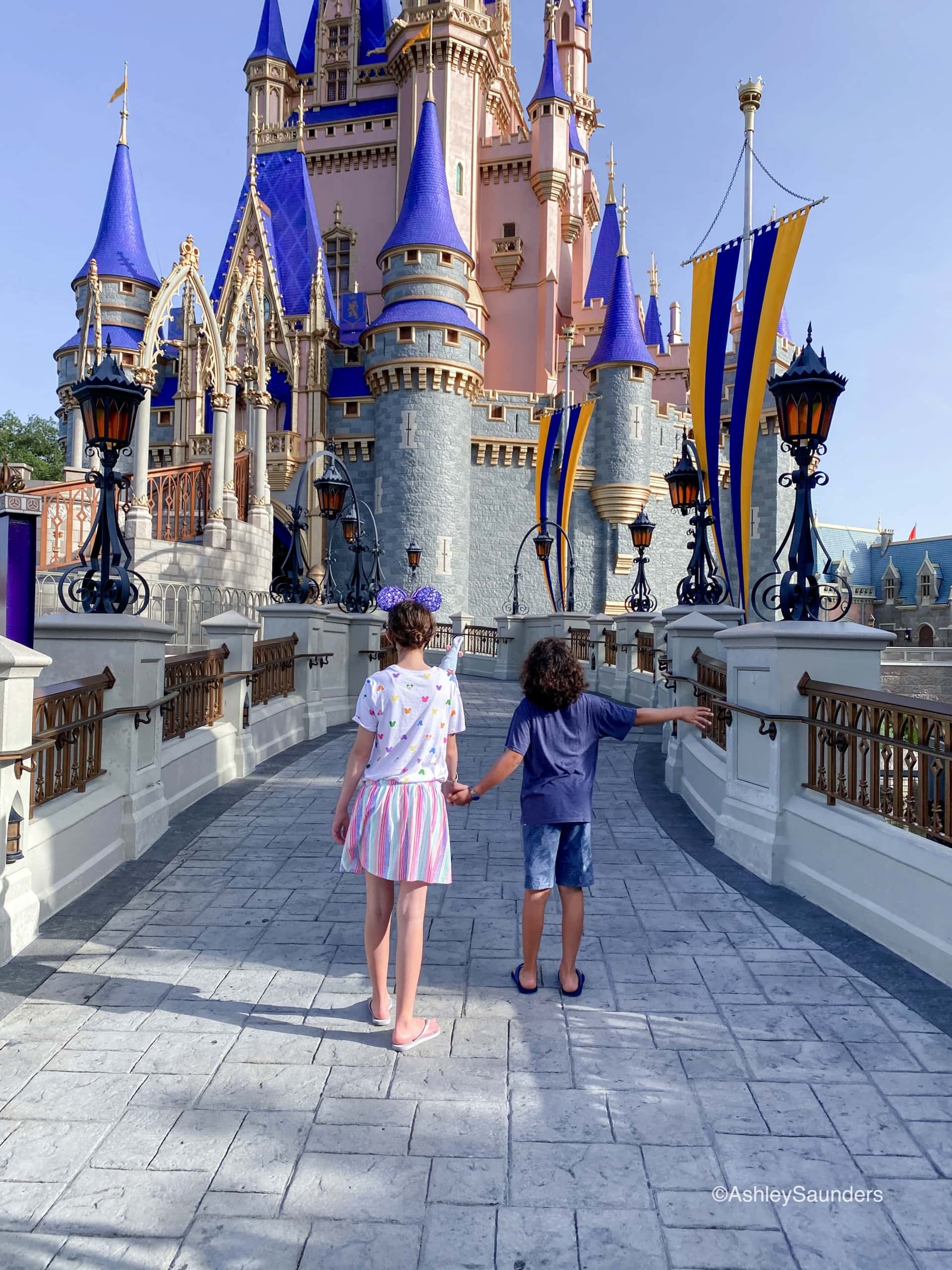 Visiting Disney World in 2020? Here is What You Need To Know
Before I get into the questions I have been asked, if you're like me and absolutely love taking pictures at Disney, this is your moment. You won't believe the pictures I got, photos I've never been able to take without at least 30 people in them if not more. It was like being in the park before anyone else was allowed in and being told be free, take whatever pictures you want. Amazing.
Enough about the empty photos, seriously though can't wait to share on my Instagram, let's get down to business.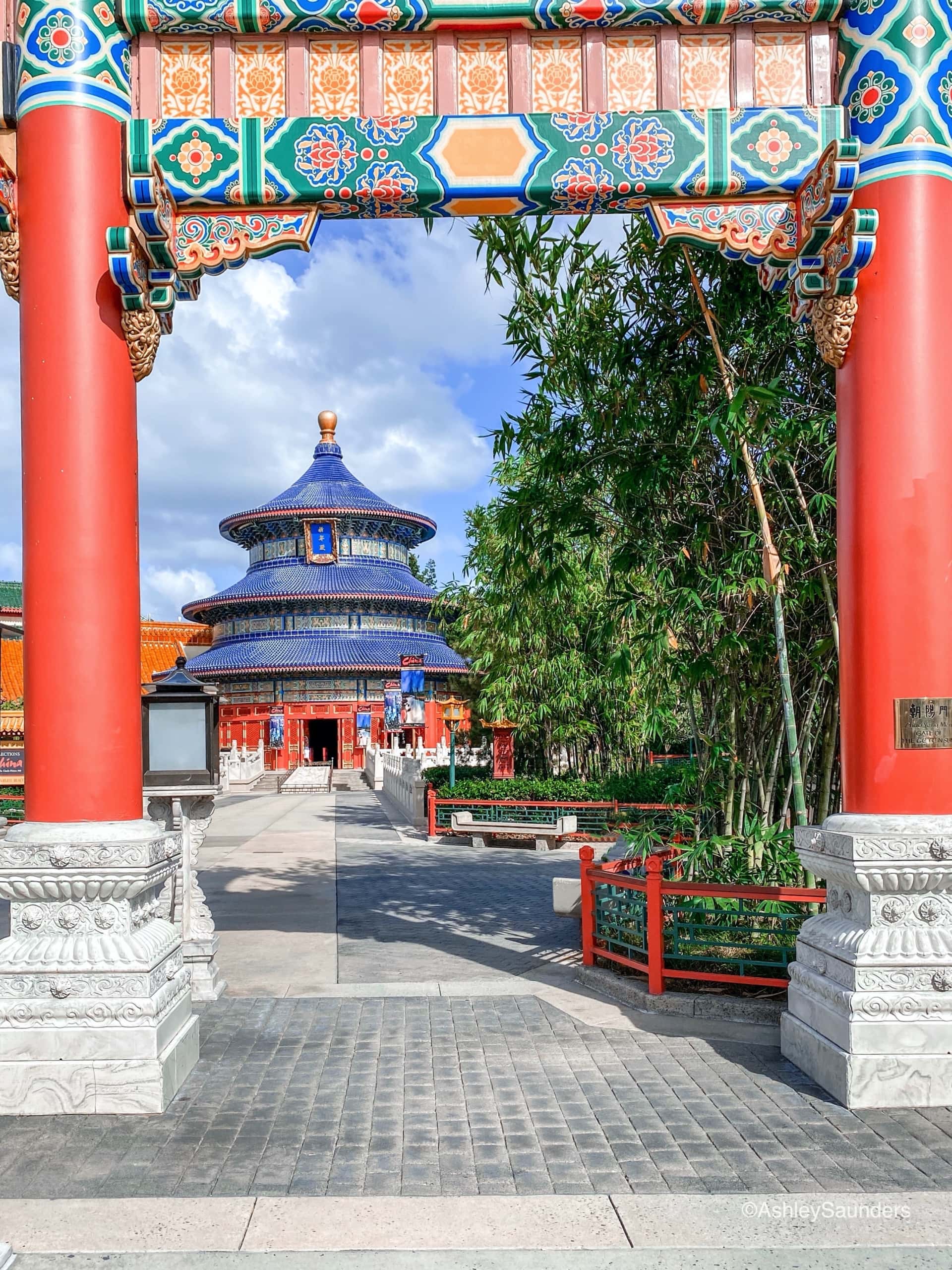 Did we feel safe at Disney?
100% yes! Even prior to 2020, Disney Parks have always been clean and well run. I was curious to see how they would top themselves when it came to 2020 precautions. We saw more CMs than ever before out cleaning and wiping down high touch areas.
Bathrooms were still sparkling clean (the Tangled restrooms are still the best ever!), and there was hand sanitizer everywhere. Every. Where. You know how there are trashcans at every point you might even think about throwing trash away? It's like that but with touchless hand sanitizer.
There are also mobile hand washing stations located in the parks for when you aren't close to a bathroom but want to wash your hands- it me.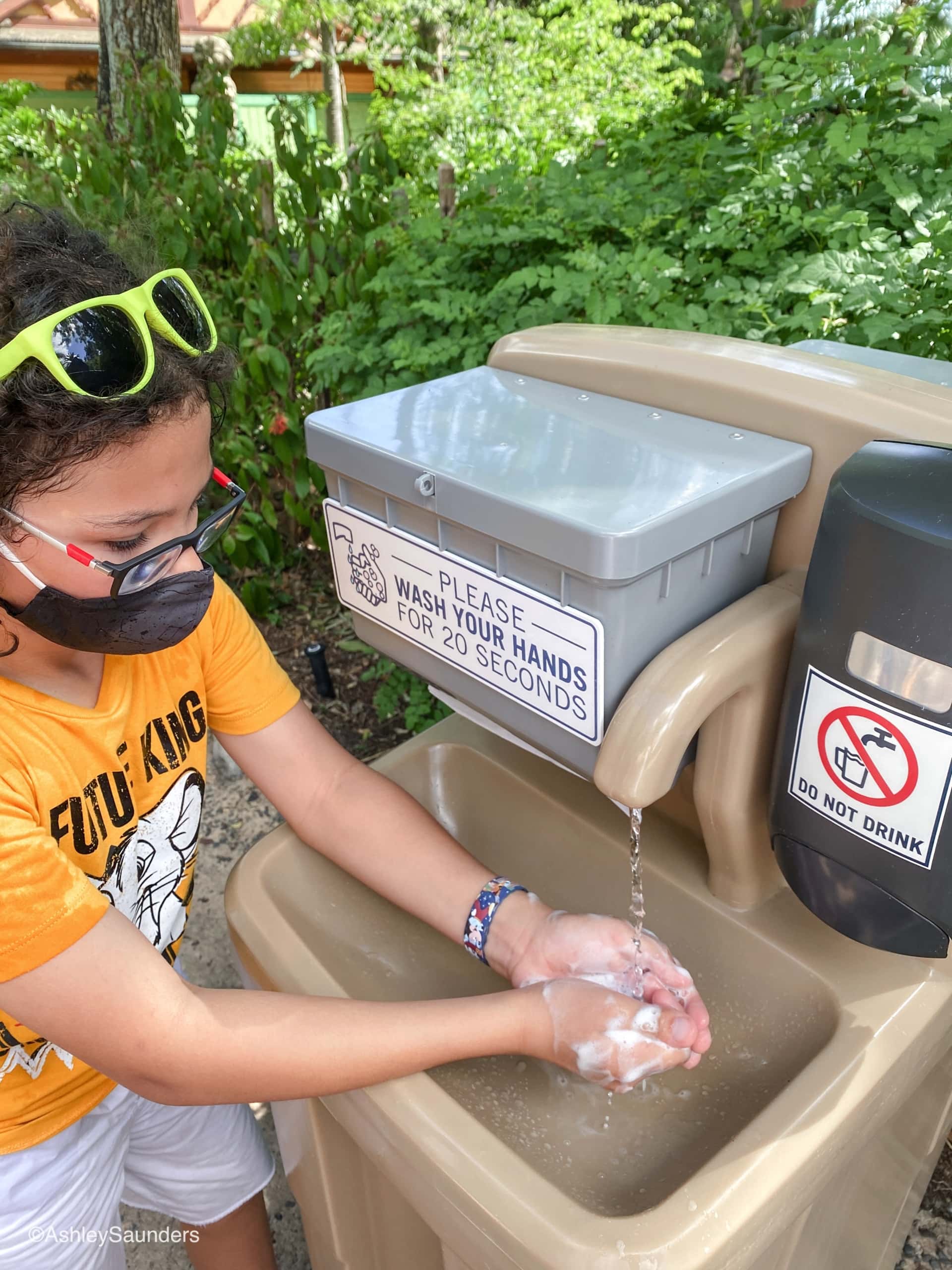 I brought my own hand sanitizer and wipes, like I always did before but rarely even had to use them. In fact the only time I needed to use my own sanitizer was when I wanted to be triple sure everyone was clean before eating. I'm extra I know.
Read more about what I bring to the parks each day and grab my free printable checklist before your next trip: What To Pack In Your Disney World Day Bag
Busses and monorail loadings are the same. You are asked how many in your party, told where to sit, and that is your spot, safely distance from others. The Skyliner is loading one family per gondola and it is still the fastest transportation in the parks!
Shoutout to ALL the Cast Members for being your same cheerful selves and keeping all the mask wearing in order. I watched, with delight I won't lie, as CM's would correct the few people I saw wearing their masks incorrectly. It made me smile and I made sure to thank all of the ones I saw, and all those cleaning for doing their best to keep everyone safe and happy. Now if all stores could have face mask enforcers I might not get anxiety over going out. Just saying.
What kind of mask is best for Disney?
Speaking of masks, this might be the next most important question. It's hot in Florida and you have to wear a mask. And not just any mask, a good one that actually covers your nose and chin. I'm not going to say it wasn't hot wearing a mask all day at Disney World. However, when the real feel was 115 degrees we were going to sweat with or without a mask on. I'm sweating just thinking about it.
Our family opted for cloth face masks. I few that I had ordered as well as the cute ones Disney sells like this Baby Yoda mask. The thing with disposable masks is that once they get wet with sweat, so what 5 seconds outside in the sun?, they can stick to your face. Gross. The cloth ones at least didn't stick to my face and thanks to breaks, we only needed one mask per day per family member.
Because I'm extra, I brought sandwich bags, labeled, for each of us to put our masks in when we weren't wearing them.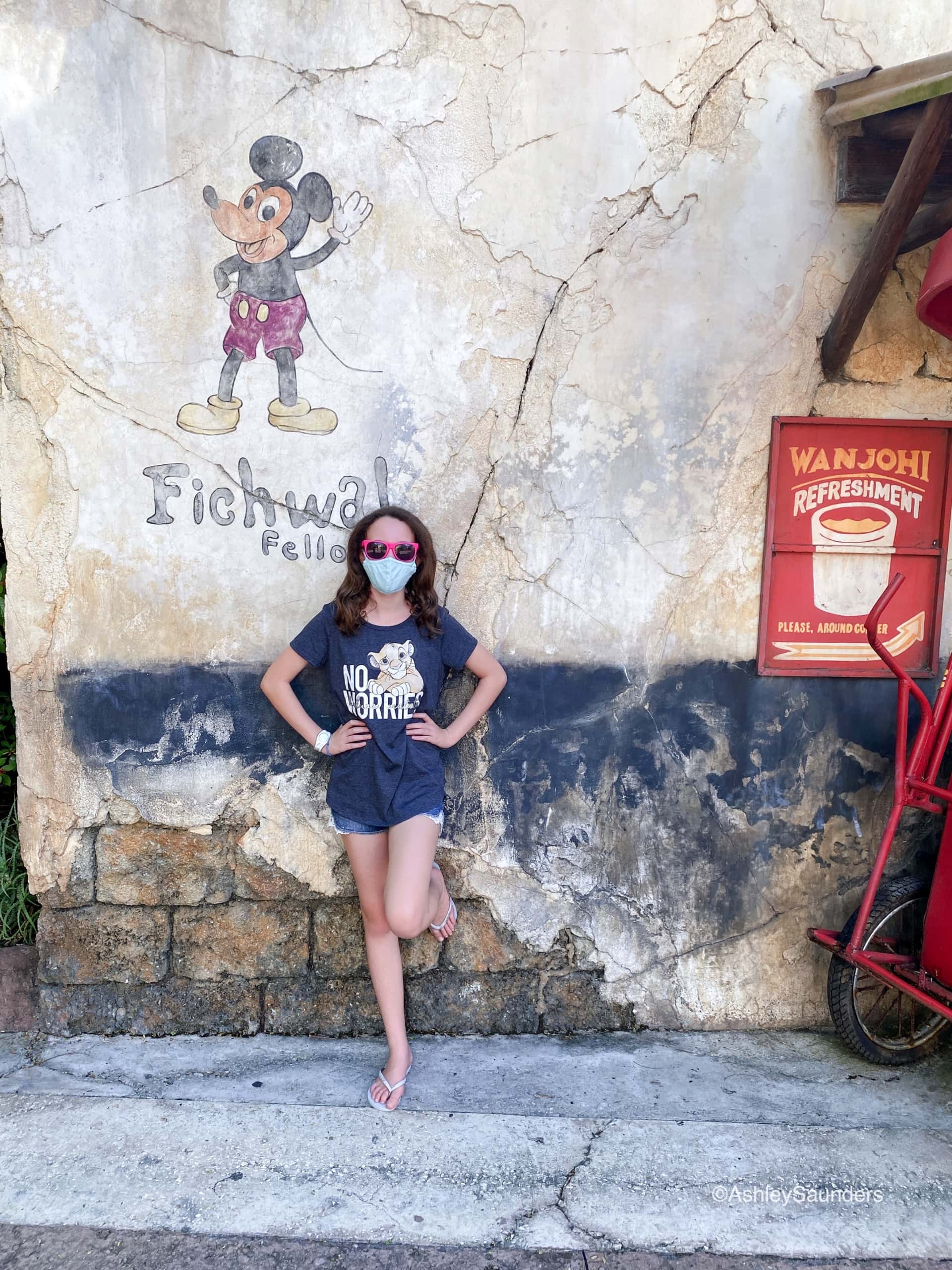 Disney World Relaxation Station Locations
Lucky for us and everyone visiting the parks, Disney has relaxation stations setup throughout each park. These relaxation stations are places where you can take your mask off and let your face breathe a little. There is one inside station per park and outside locations per park as well. With it being so hot we chose the inside ones.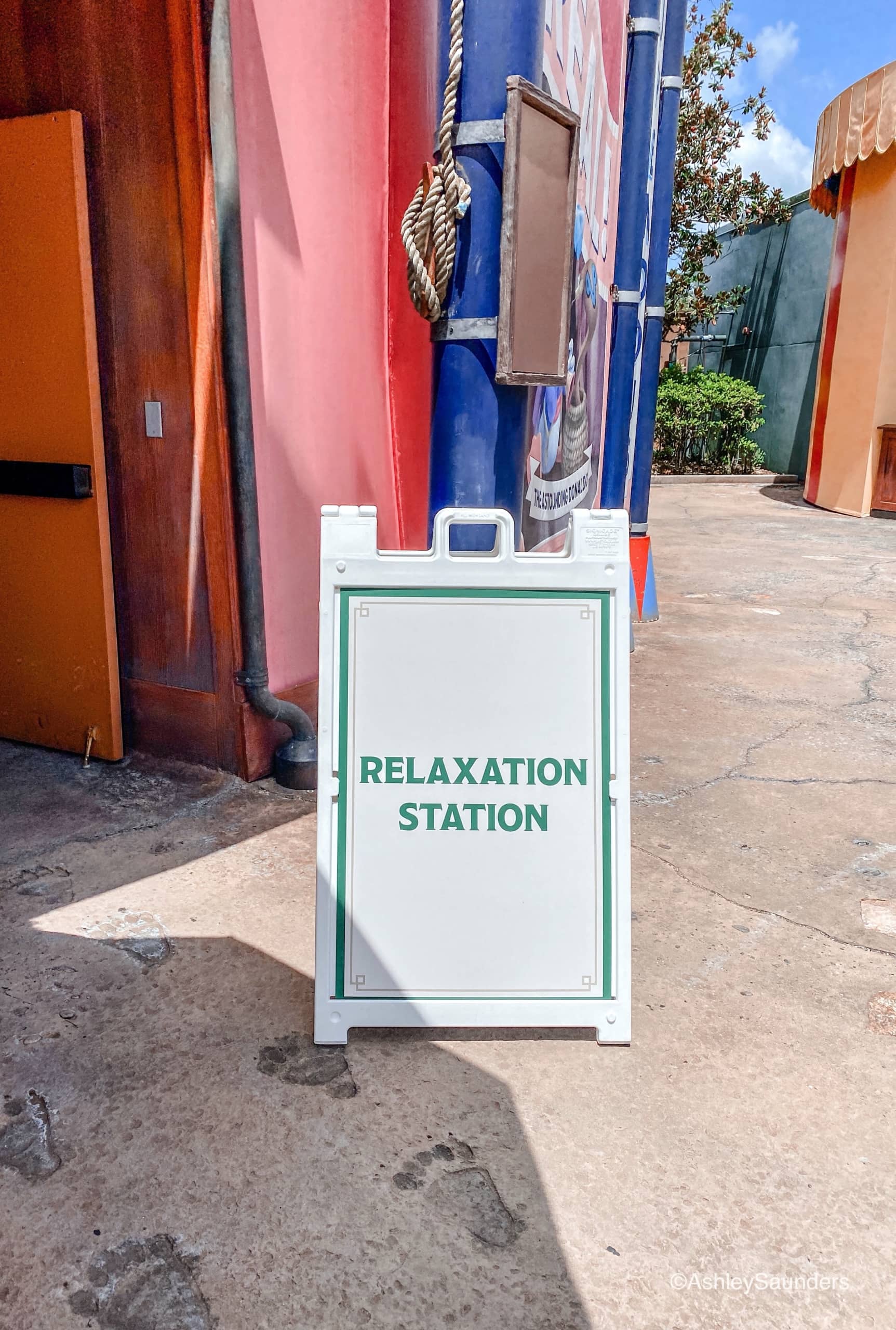 Magic Kingdom Locations:
Pete's Silly Sideshow (inside)
Golden Oak Outpost (outside, limited covering/shade)
Tomorrowland Terrace Restaurant (outside, fully covered)
Animal Kingdom Locations:
Pizzafari (inside)
In Asia across from UP! A Great Bird Adventure (outside, fully covered)
Hollywood Studios Locations:
Star Wars Launch Bay (inside)
Galaxy's Edge next to Rise of the Resistance (outside, partially covered)
Epcot Locations:
Akershus (inside)
United Kingdom next to Rose & Crown (outside, partially covered)
Future World between Mission: SPACE and Test Track (outside, partially covered)
FastPasses, Rider Swap, and Wait Times
Currently, Disney is not allowing FastPasses or Park Hopping during 2020. They are using the FastPass lanes to help socially distance the lines. Park Hopping is something we typically love to do. But with the adjusted operating hours and suspended nighttime offerings, it wasn't missed. I was shocked by that too, trust me!
Although Rider Swap is not something we have used recently, I did see it happening. So no worries for parents of littles who aren't quite big enough for those bigger coasters, you can still ride.
Queue Lines were spaced out and sectioned off so that you were at least 6 ft from others and in some cases more. If the lines were tight, like inside Space Mountain, plexiglass barriers are in place to separate you from the people next to you in line. On rides where they have more space in the lines, markers are laid out to allow massive amounts of space between you and the people in the part of the line next to you, as you can see in the picture below.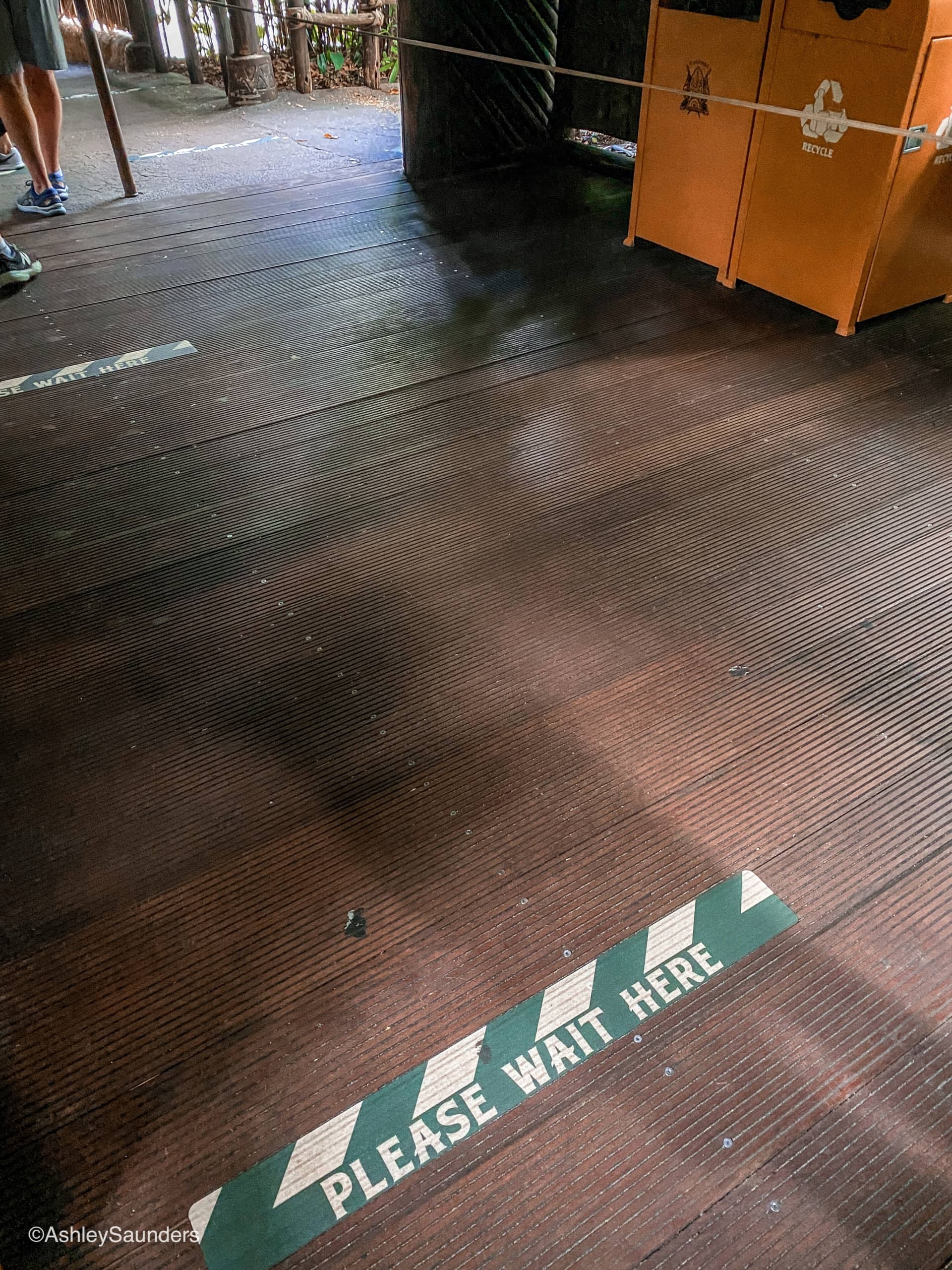 And speaking of plexiglass and dividing people up, Disney has implemented lower ride loadings and dividers between parties. On Pirates of the Caribbean, one group can sit in the front row and another in the back, no in between. Over on Soarin' and Star Tours, seat sections are blocked off with barriers as well, with Star Tours not seating each row.
Wait Times!! All the exclamation points for that. If you're a Disney regular you know what a low wait time is and what is average for the parks during any given time. Wait times were practically non-existent compared to what I'm use to.
Example: Splash Mountain in the heat of a Summer day should be well over 80 minutes. When we were there in August, the max I saw was 40, and that was after we had already ridden it 3x because we got there at park opening.
The only ride I saw with a consistent wait time of 60 minutes (but never longer) was Mickey and Minnie's Runaway Railway. And that might seem like a lot but remember it's the newest ride on property, that is actually nothing. Rise of the Resistance is still utilizing boarding groups that you get through the virtual queue. The virtual queue is currently open at 10am and 2pm. You must be in the park in order to join.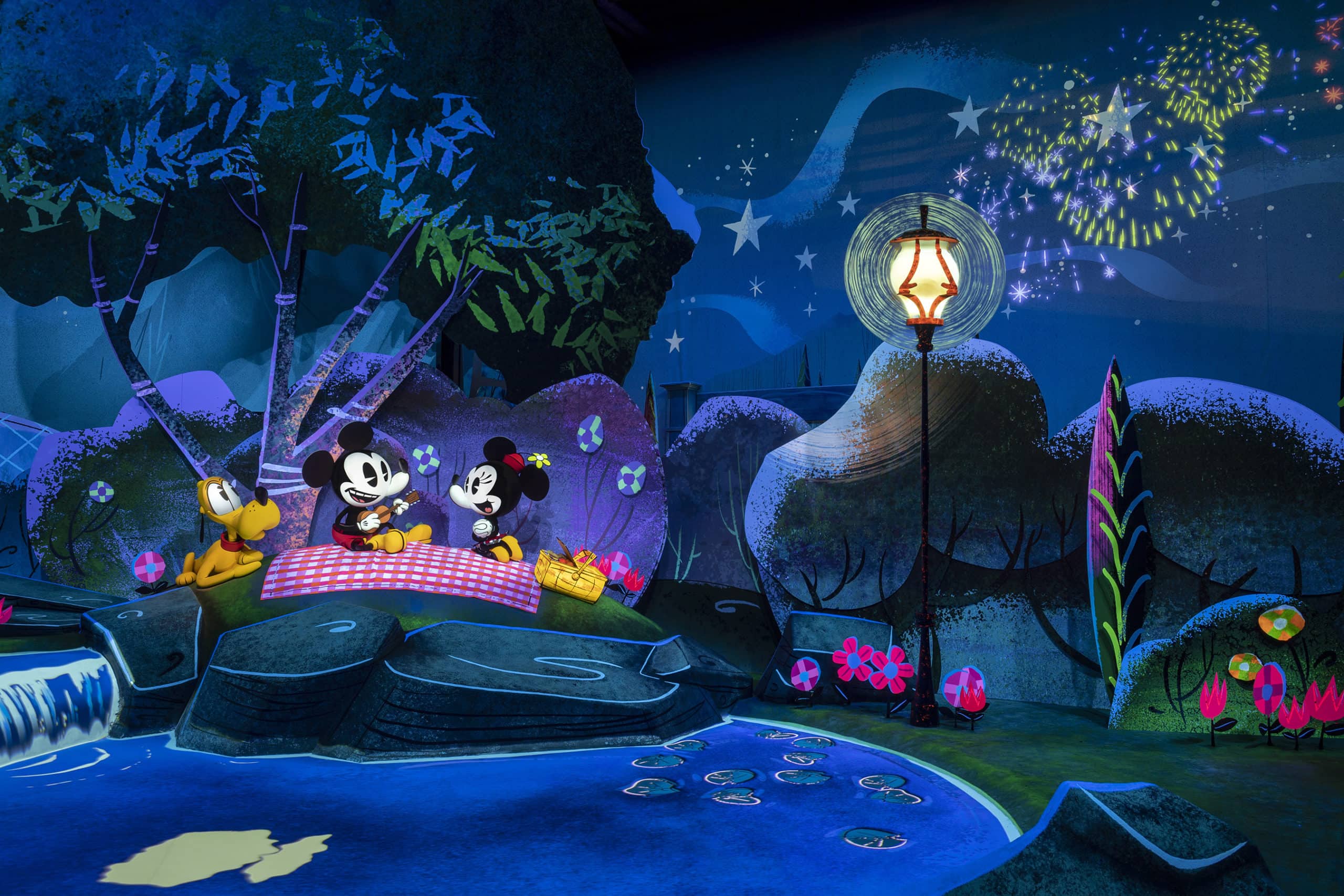 Wait times were so low we rode everything at least 2 times. Even the line for Starbucks wasn't long and that's about as uncommon as getting group 1 on Rise.
The best tips I can give you is one, stay at one of the Disney resorts and utilize their transportation to the parks. Busses, Skyliner, and Monorail begin running 45 minutes prior to park opening. Two, if you arrive at the parks right when they open you can easily walk on most rides.
Character Experiences in 2020 at Walt Disney World
I'm a character kinda Disney girl. I will stand in line to hug Mickey and Minnie, or to laugh with Gaston. Unfortunately, in order to keep everyone healthy and safe those types of interactions are suspended right now. Bummer I know. But Disney being Disney, has done their best to still create magical character moments, even if you can't give each other a real hug!
Throughout the day at each park look for character cavalcades and other special appearances. My son's favorite character Stitch, strolled out onto the Tomorrowland Stage and he was able to communicate with him with gestures and even get an adorable picture. It wasn't a hug but it put a big smile on my child's face and mine.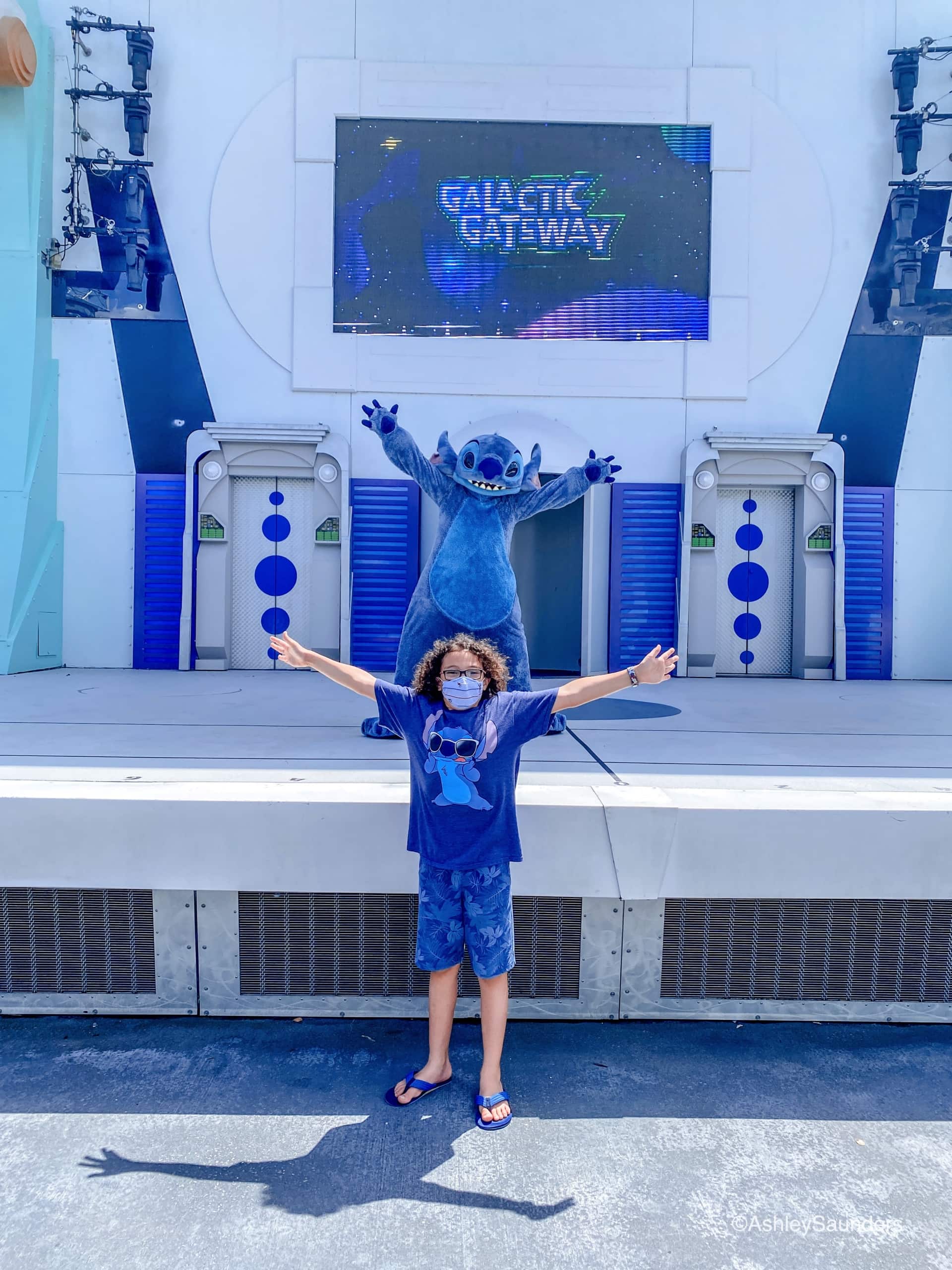 I loved seeing Merida and Gaston out on their horses. Gaston was yelling at people to take his picture or wave at him. It was hilarious. Winnie the Pooh has been seen looking for bugs to catch in Epcot, while friends from the Donald's Dino-Bash have danced their way down river in Animal Kingdom, waving to guests as they go.
Garden Grill and Topolino's Terrace are currently offering character meals. Beast is also still strolling through the dining room at Be Our Guest during dinner, but photo opportunities are not available at this time.
Final thoughts
Of all the places I've been to since this all began I felt the safest and least anxious at Disney. I managed to take some amazing pictures of some of my favorite spots in the park. Amazing because barely anyone was in them, if at all. Also we did go ahead with the Memory Maker, because one day when this is far behind us these pictures are going to be stuff for the history books. Life during 2020, it was definitely interesting! Also it's awesome getting photo pass photos with hardly anyone in them.
Not crowded, super low wait times, and the magic we all need right now. Thank you Disney for a week of much needed fun! We will see you real soon!