The WandaVision trailer is finally here and it looks as weirdly, chaotic as ever. Which is perfect if you consider how odd these two are both in the comic books and on screen. There is a lot to unpack though that can help us understand where WandaVision is drawing it's influence from and where we might end up at the end of it all. Here are 20 things you may have missed in the WandaVision trailer.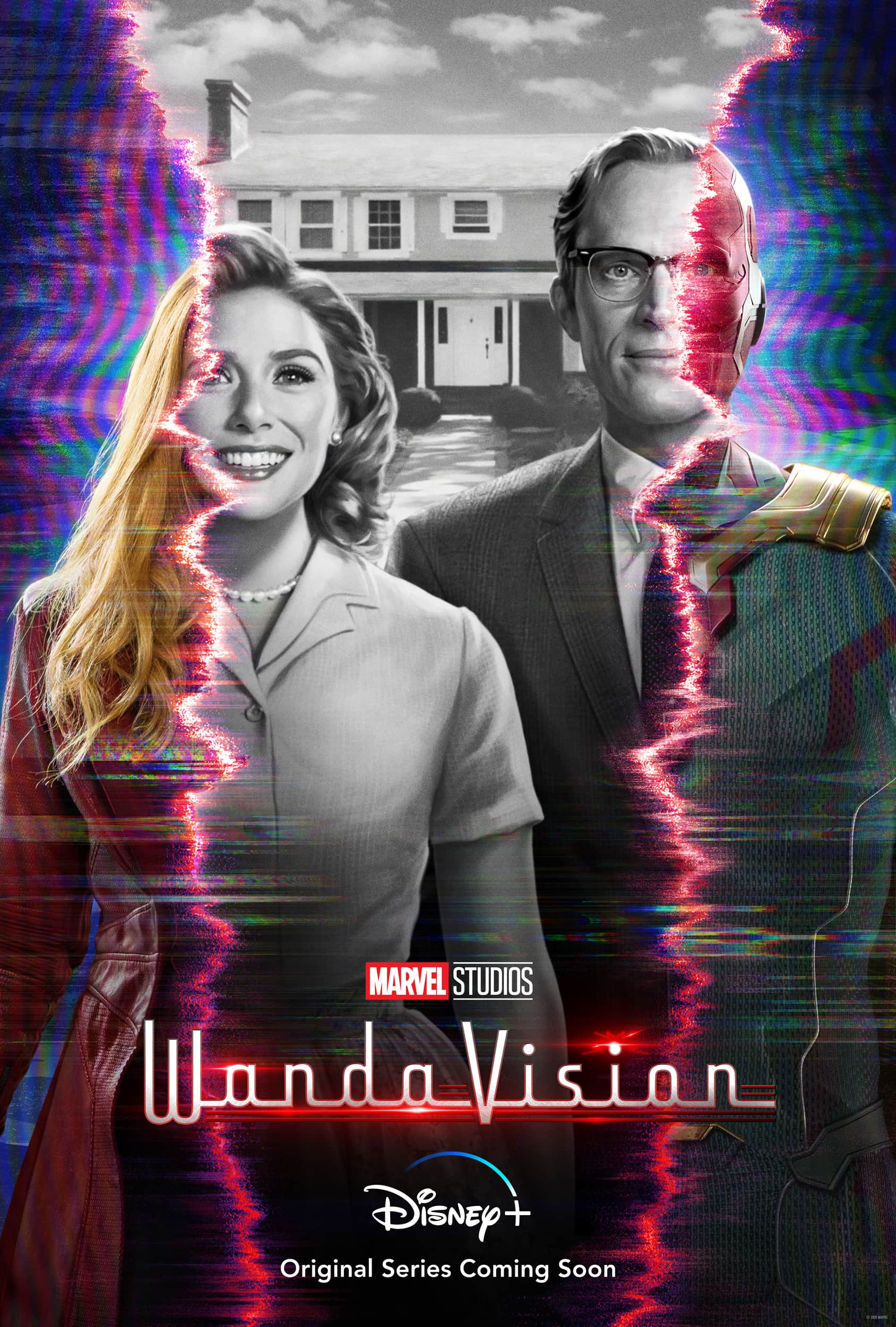 WandaVision Trailer Breakdown
Just Married, An Abnormal End
We open on a newly-married, very much alive couple driving into the quaint town of Westview. Everything is in black-and-white giving it that 1950s sitcom feel. It seems from later in the trailer, that the black-and-white moments are the fiction Wanda has created, with the color being the reality.
Their license plate says 0102 which in computer code means an "abnormal end." Nothing about this situation is normal.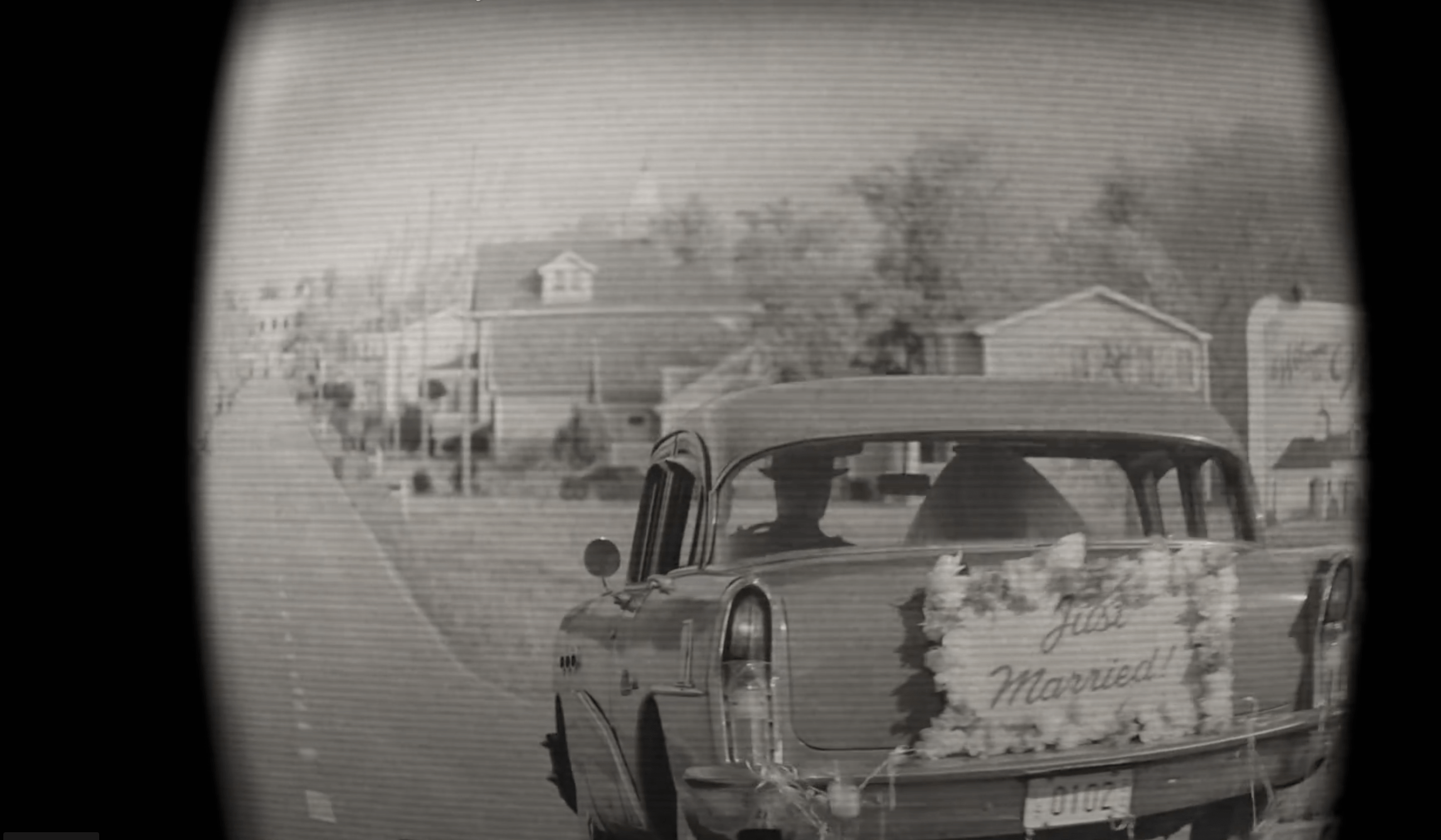 The Mind Stone
Thanos destroyed the Infinity Stones (and Vision), with the Avengers time traveling back to locate them all in order to undo The Snap in Endgame. Despite the mostly happy ending of Avengers Endgame, Vision is not alive and certainly is not rocking the mind stone. However, here we see it front and center on his head.
Whether this is somehow the real one or one she has manifested using her powers remains to be seen. The window on their door also looks like the mind stone.
Related: WandaVision Trailer 2 Breakdown 21 Things You May Have Missed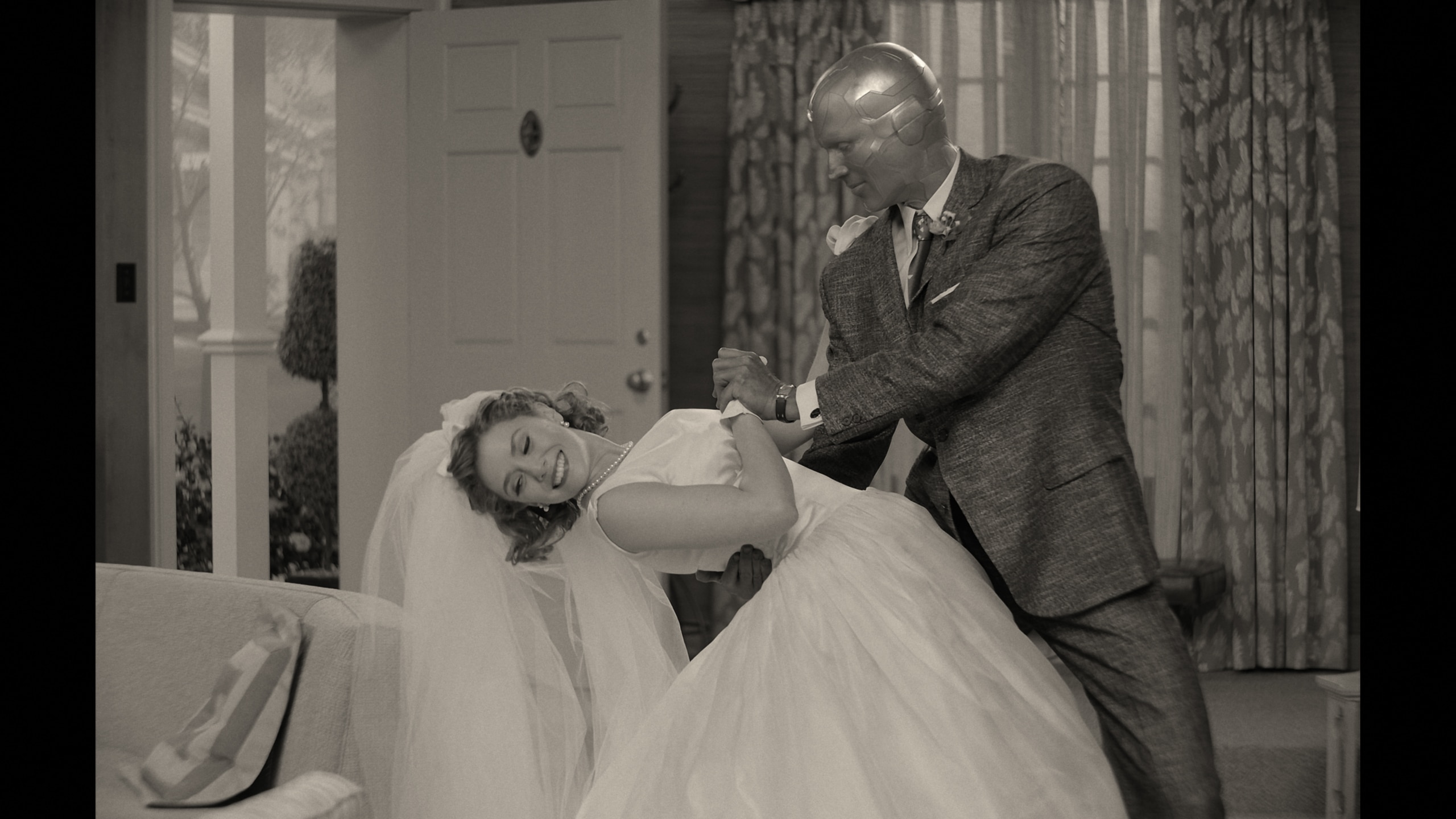 Bewitched, Baby June, And The Dark Avengers
She looks to be using hand gestures that typically correlate with her powers. Later on she levitates the House of M bottle of wine (more on that in a minute). This scene, and the overall feel of the show seems to draw heavy influence from the classic sitcom Bewitched where a witch is married to a regular guy and hides her powers from everyone.
"LITTLE BABY JUNE'S FIRST WORD TICKLES MOTHER" is the headline on the newspaper. In the comic books June Covington is a part of the Dark Avengers, using the alias Scarlet Witch.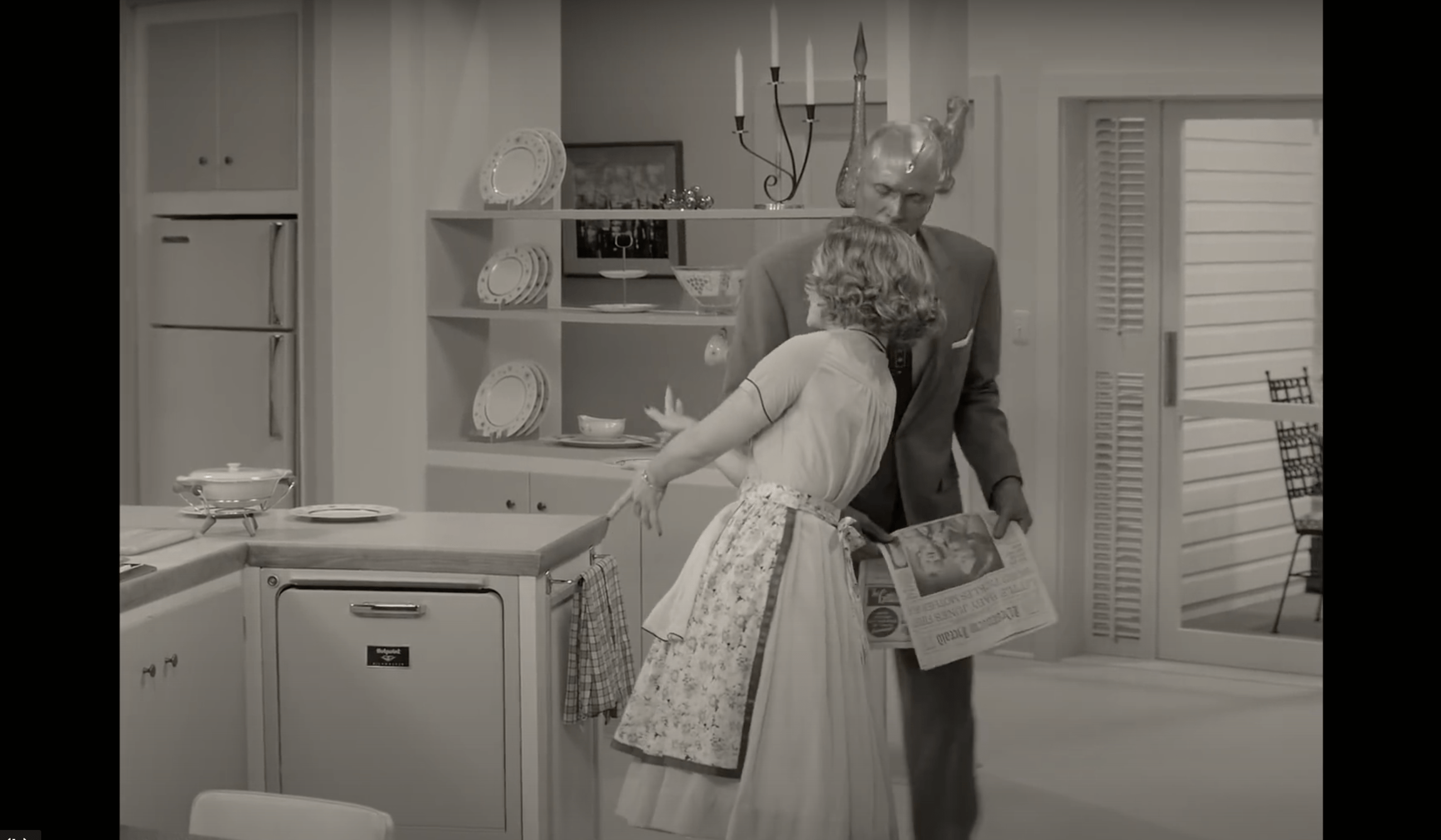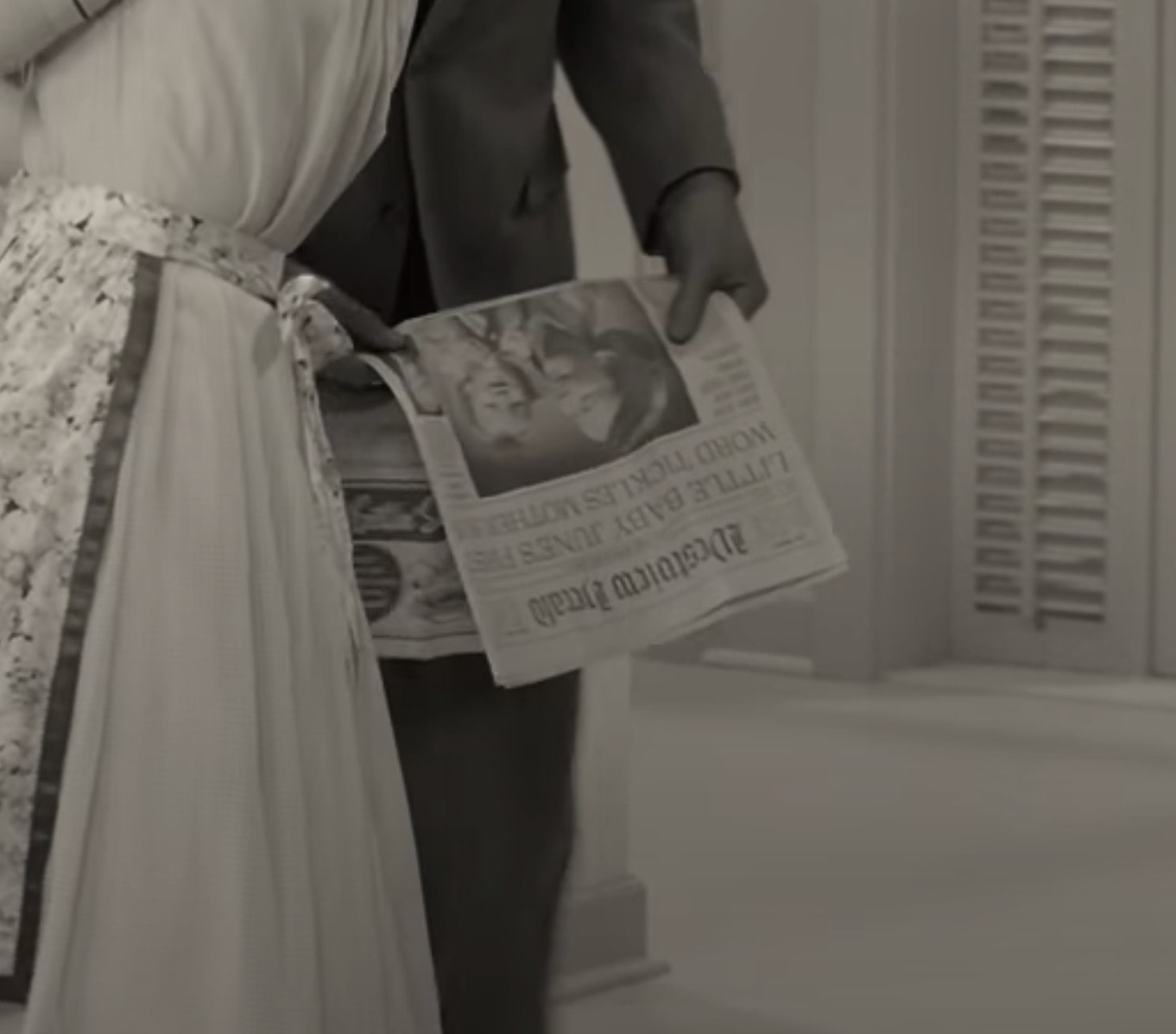 Vision's Human Disguise
This isn't a new trick. Vision first showed his human look off in Avengers Infinity War. This is the first time it is accompanied by sparkles, sound effects, and a Bewitched style head jiggle to complete the transformation.
Related: New Marvel Phase 4 Release Dates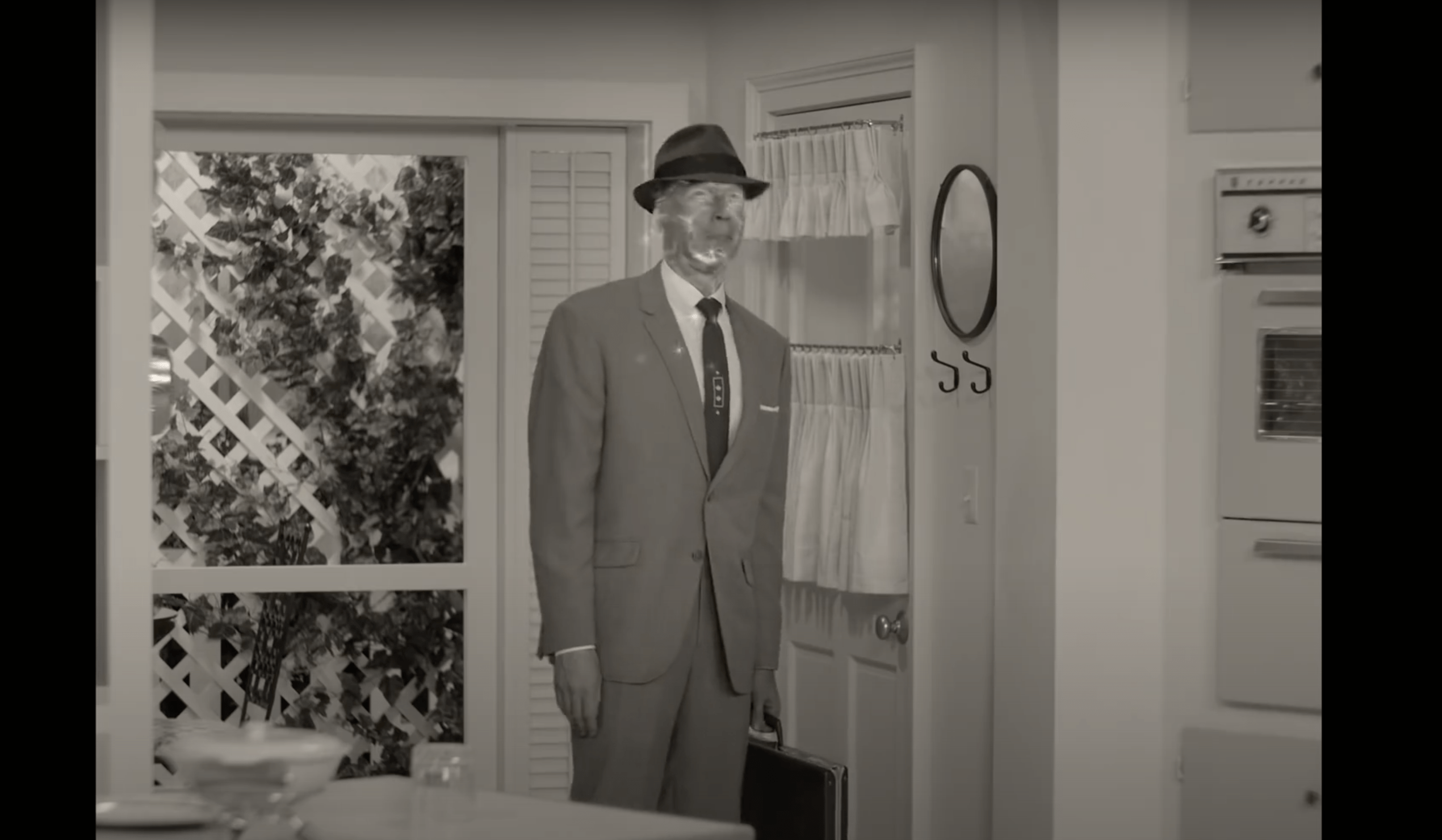 The Nosy Neighbor
When we first see Kathryn Hahn's character she comes across as a friendly, albeit nosy neighbor. However, as the trailer goes on she shifts into something else. Which leads me, and others, to believe that she is in fact an important character (more on that below) and will be the antagonist (or at least one of them) in this series.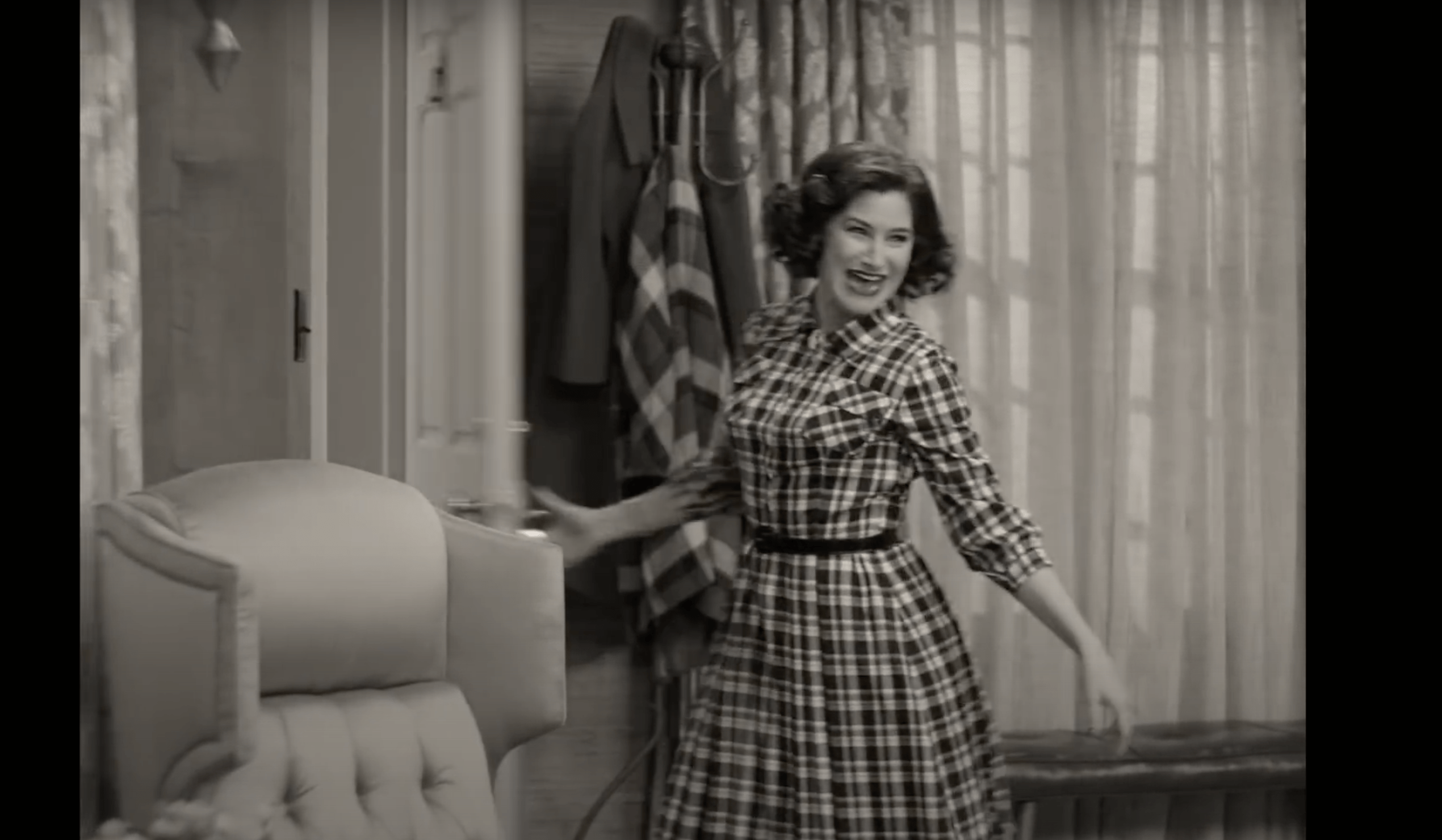 House of M
As I mentioned above, Wanda is still using her powers in this new world of hers. At the table, we see her levitating a bottle of "Maison du Mepris" wine. That's French for House of Contempt. House of M is a popular comic run that features Scarlet Witch grieving so deeply the loss of her children, that she alters reality to bring them back. Unfortunately it brought about dire consequences that caused the Avengers and X-Men to team up to stop her.
Although we see children in this series, it's clear she is grieving the loss of Vision. WandaVision is likely to be loosely based on House of M, which could mean we would see Secret Invasion coming sometime down the Marvel Phase 4/5 line.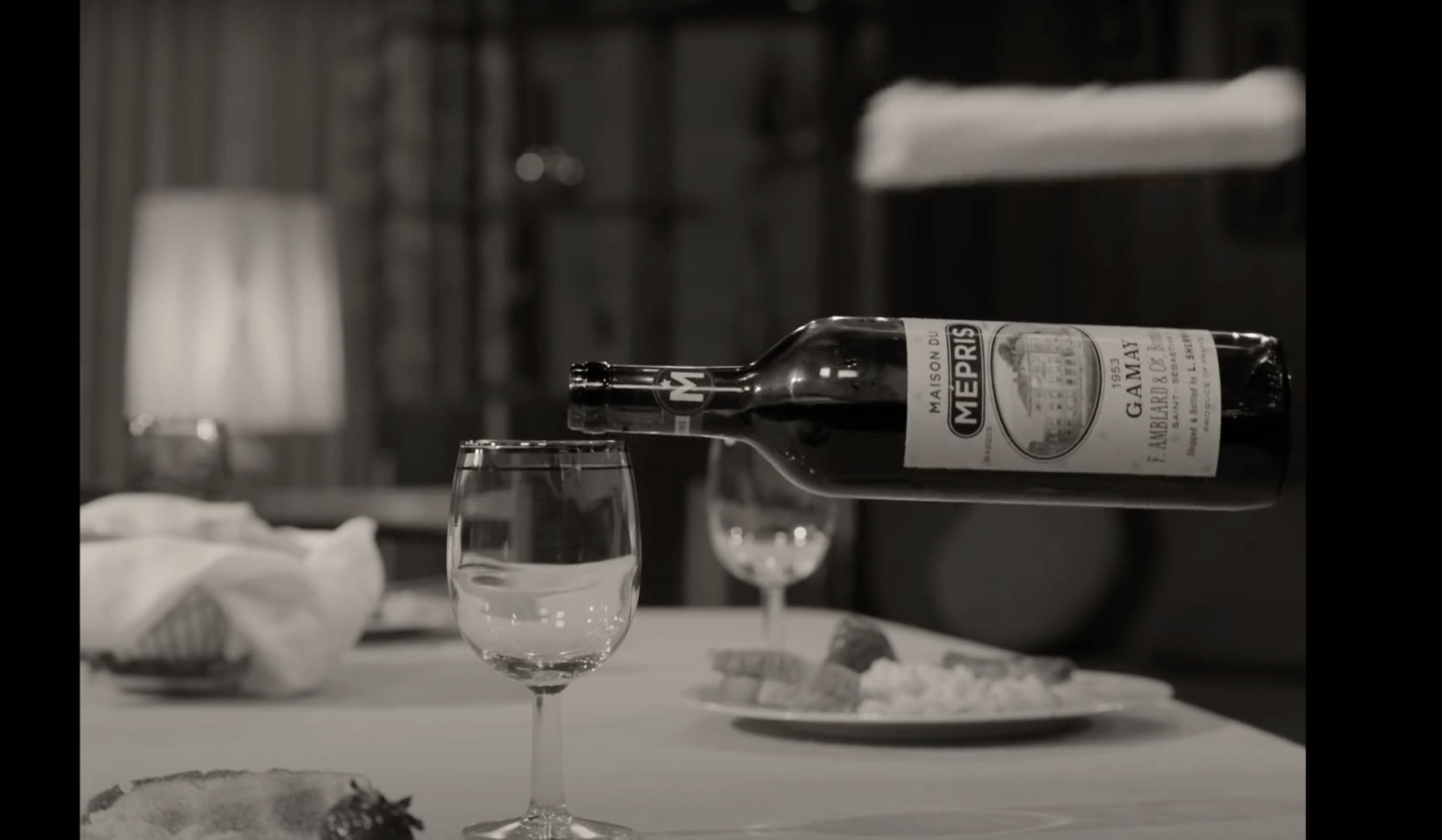 Classic Sitcom Easter Egg
Debra Jo Rupp is another nosy neighbor of Wanda's but at least she doesn't appear to be an evil one. You can't have a sitcom based alternate reality without a queen of sitcoms. I wonder if Wanda binged That 70s Show while grounded at the Avengers' Compound?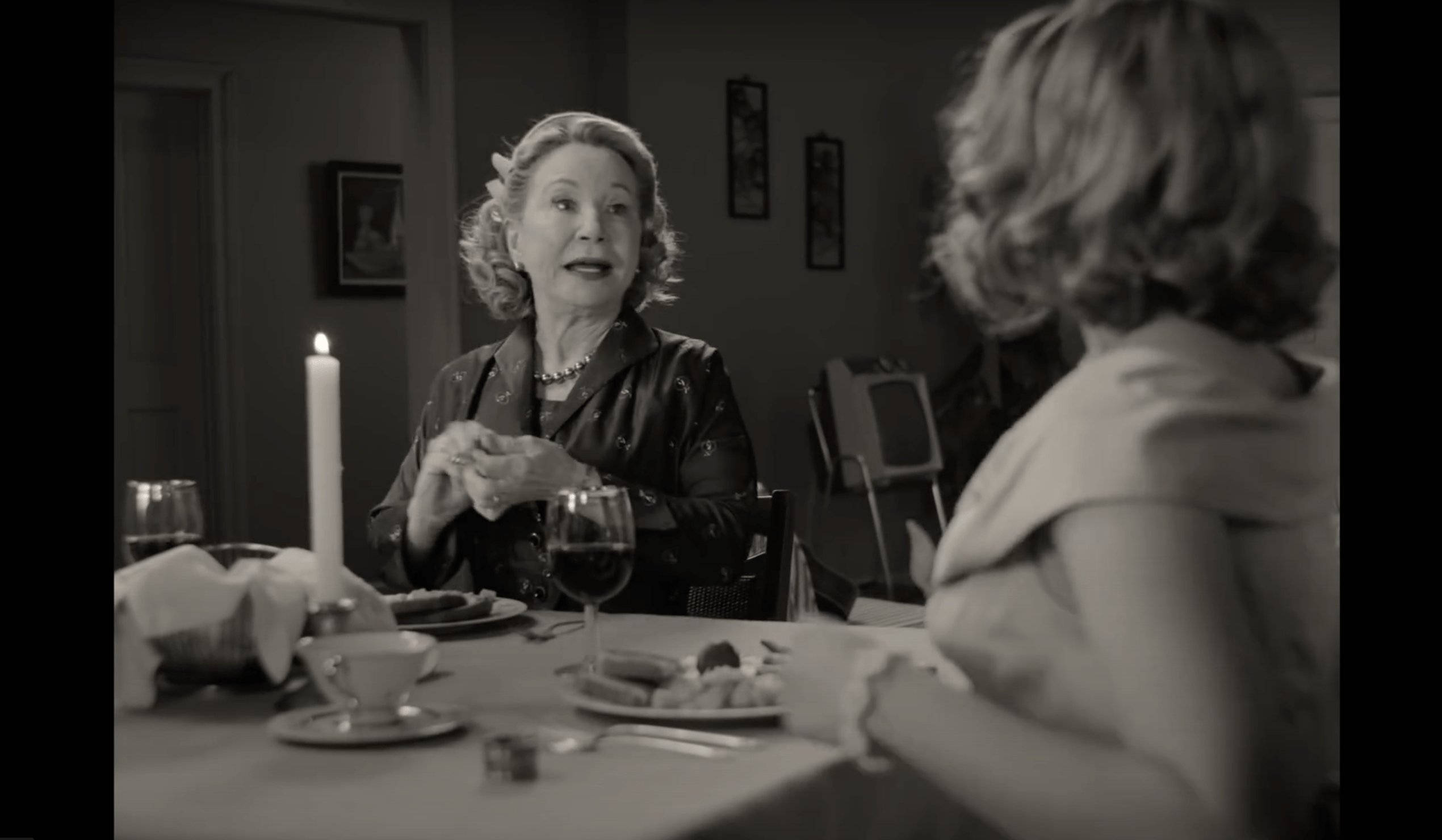 Wanda Begins To Become Unhinged
During that dinner as they are being bombarded by questions from Rupp's character, Wanda seems to struggle to keep her "reality" going. She starts to make hand gestures that correlate with her magic. By her face though, you can see that the real reality, the one she is running from, is creeping back into the forefront of her thoughts.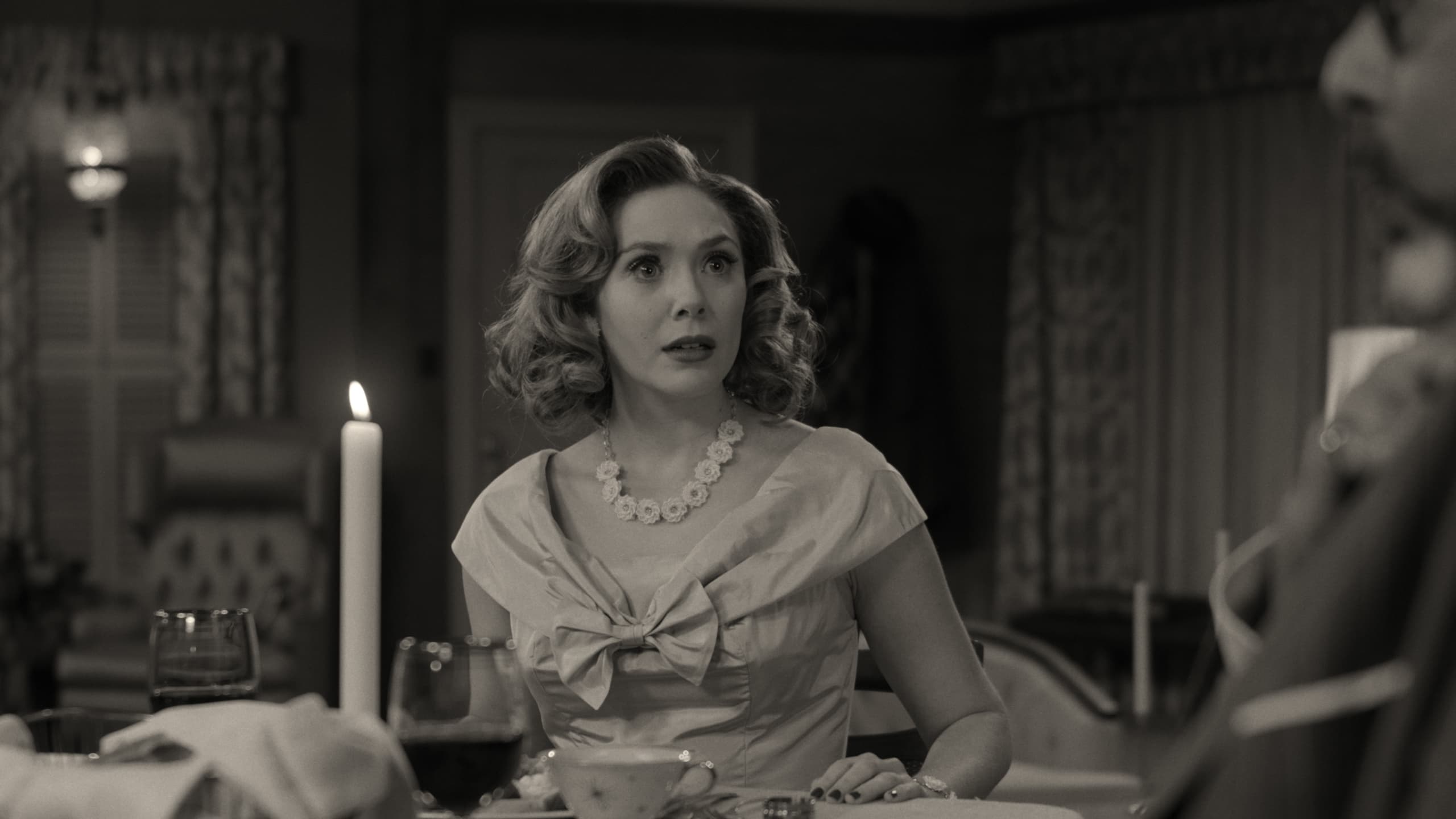 Vision: So Many Questions
Also during this same dinner, Vision begins to realize that something isn't quite right in his universe. He hesitates when going to answer a question and as the audio seems to skip like an old record, he looks up at Wanda with a questioning gaze.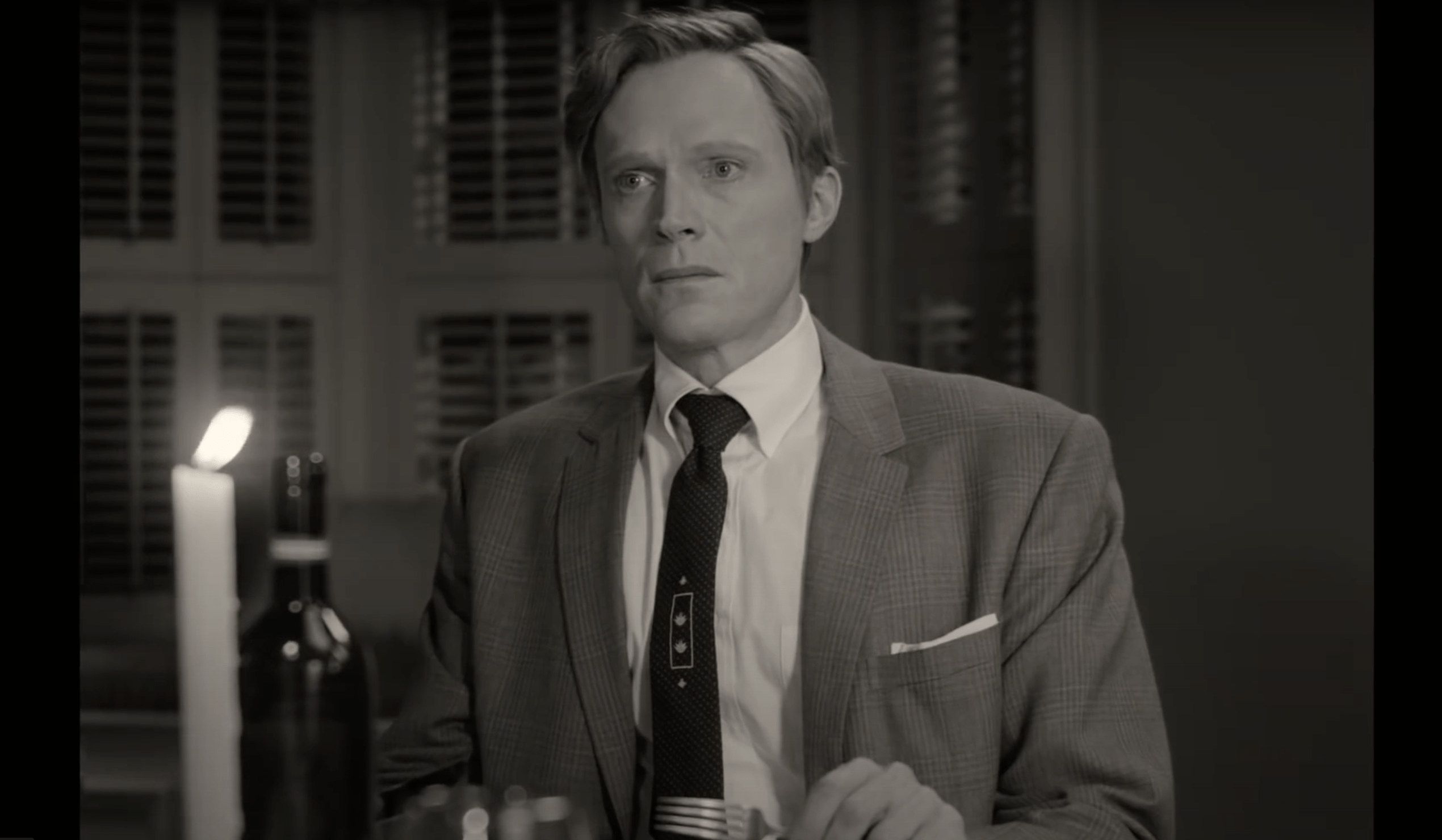 A New Reality
Following that dinner scene, Wanda creates a new reality, this time in color in the 1980s. Even the aspect ratio changes, I love little details like that. Vision seems confused as he watches the color seep into this hand and Wanda is heard in a VoiceOver saying "is this really happening?"
This could mean that she herself seems to be losing control of what she is creating or that outside forces might be manipulating things as well. Either way, this new reality brings about a Full House vibe complete with kids.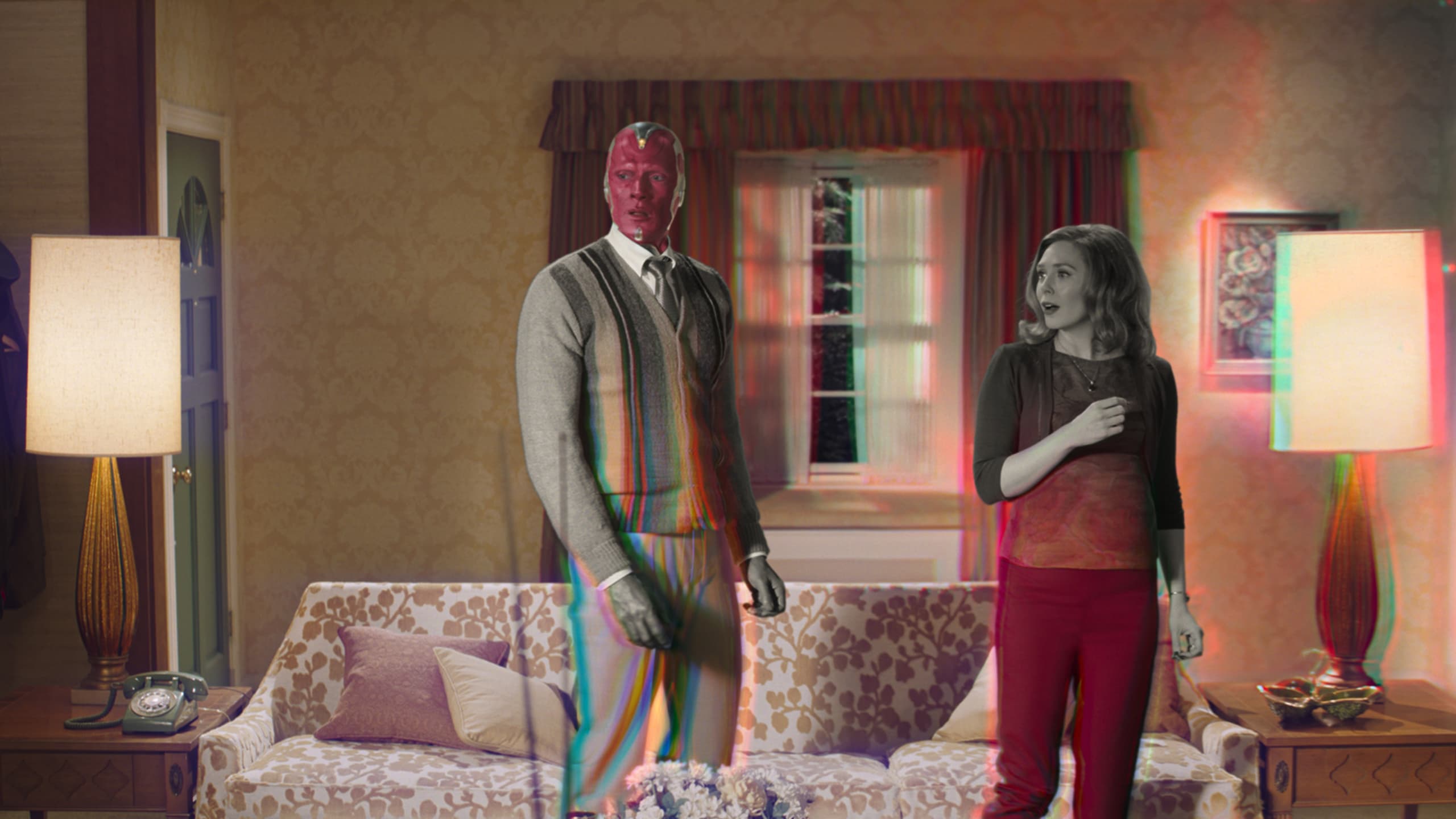 Meet The Twins
As I mentioned in my Disney Plus Marvel TV Spot Breakdown, Wanda and Vision have kids. In the comics, Scarlet Witch creates their children using shards from Mephisto and magic. House of M also occurs when she loses the kids and her grief causes her to create a new reality.
Wanda and Vision's kids are Wiccan and Speed.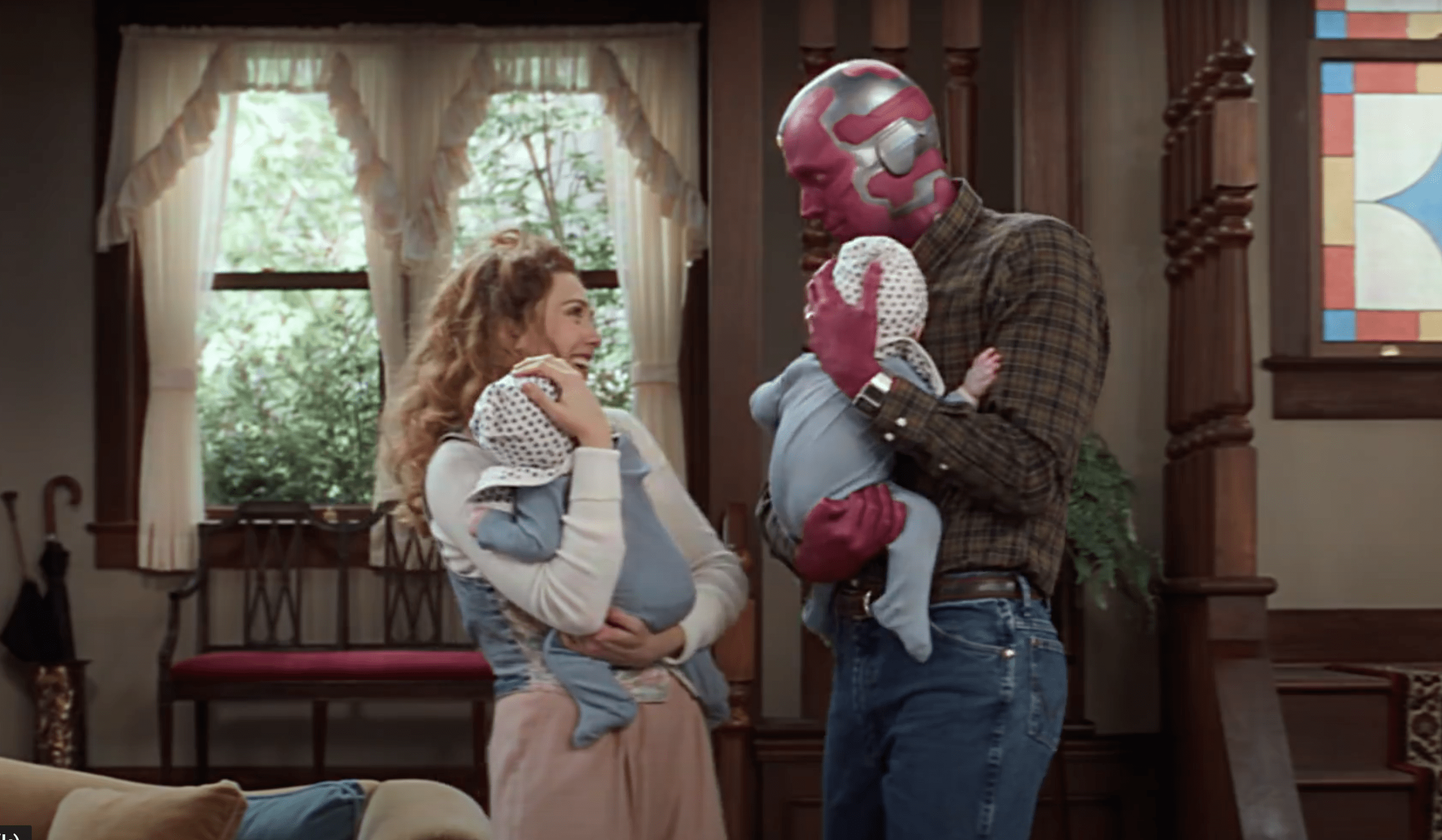 The Nosy Neighbor Returns
Although the setting has changed it seems that someone has followed Wanda to her new reality, Kathryn Hahn is back in all her leg warmer glory. The fact that she makes the jump to this new life with them suggests she is more than just a creation of Wanda's. She is a real person.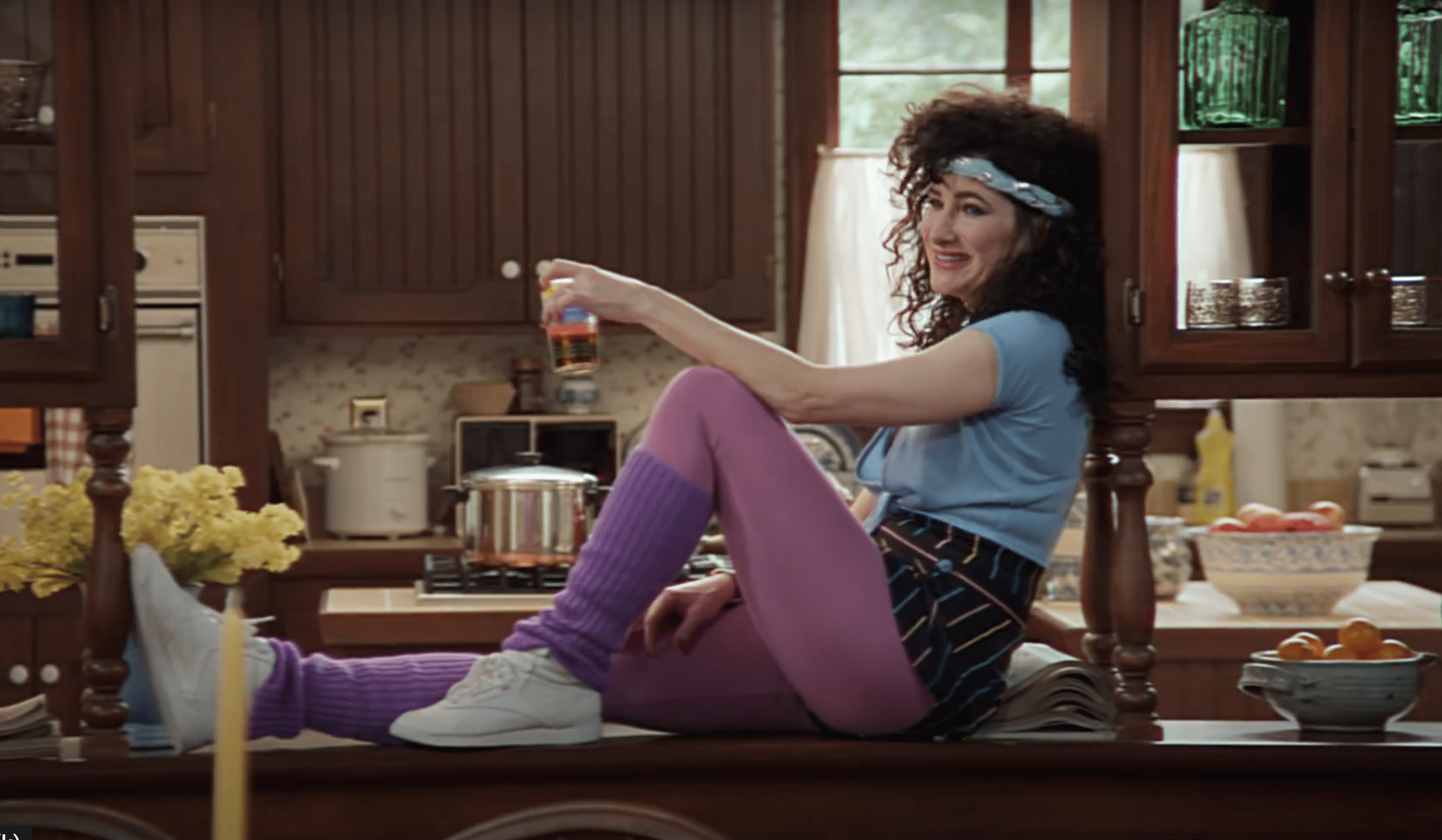 Classic Scarlet Witch Look
It is Halloween time and Scarlet Witch is showing off her classic comic book look. While Vision takes a flight around the neighborhood, looking concerned.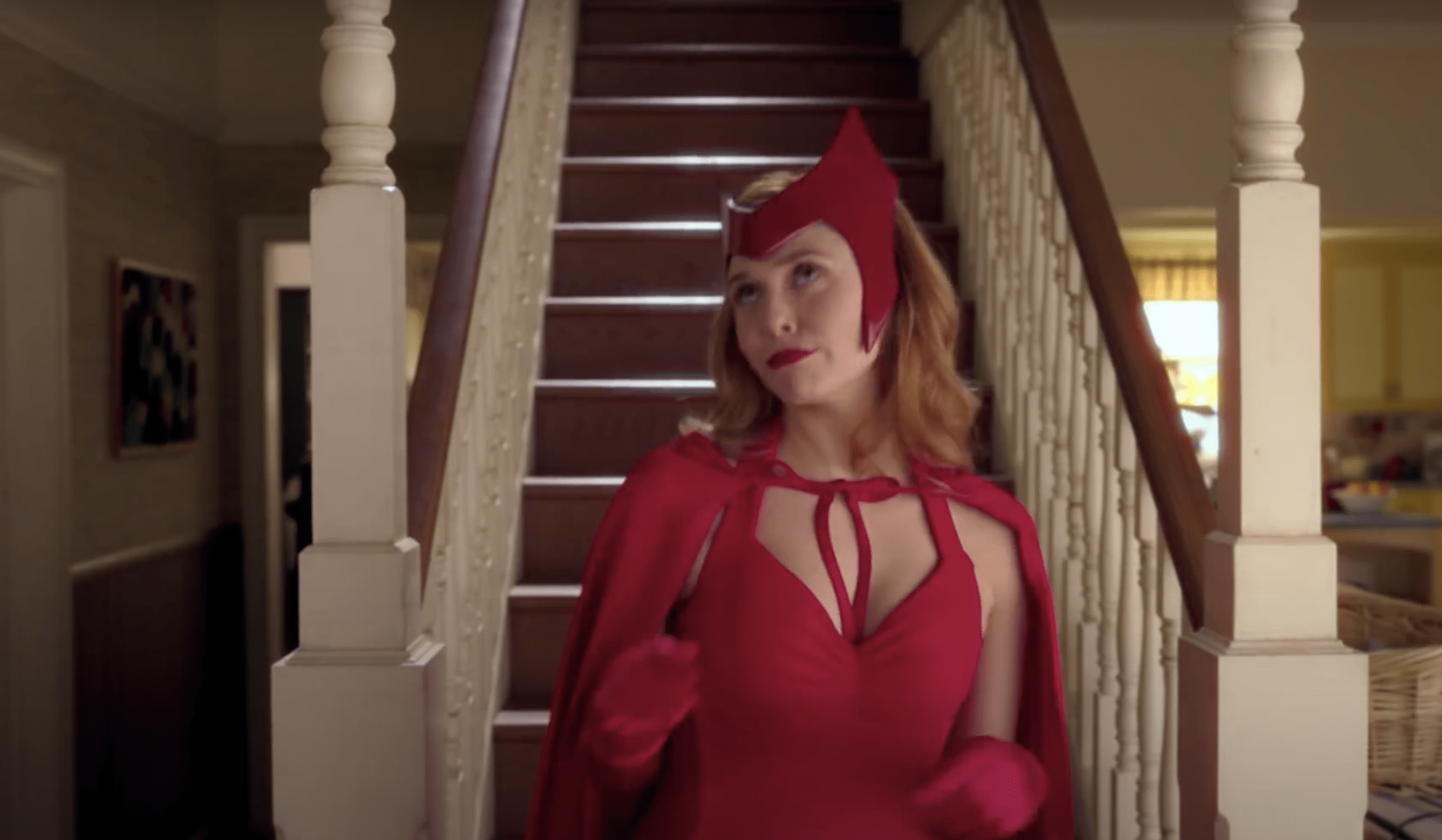 Vision Takes Flight
During Vision's flight it appears he is his own entity and not a fake creation of Wanda's. The fact that he seems perplexed and curious about what exactly is going on proves that fact. His flight leads him to a car where Kathryn Hahn's character is sitting, looking dazed and confused.
In the comics, Vision is brought back to life and joins the West Coast Avengers. In Avengers Infinity War, Vision is shown wearing his West Coast Avengers garb.
Read more: 50+ Avengers Infinity War Easter Eggs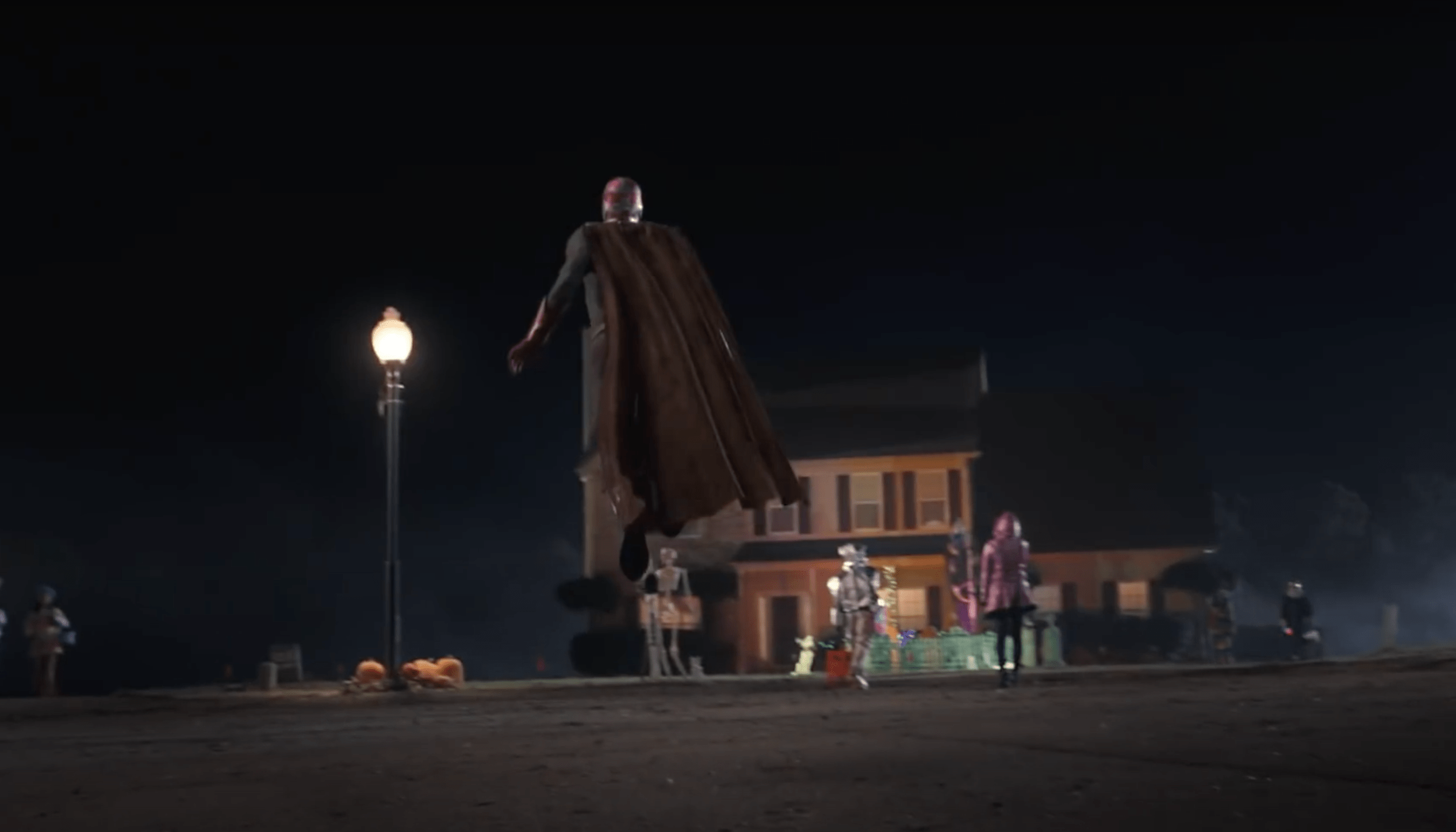 Using The Mind Stone
When he encounters Kathryn Hahn, Vision touches his fingers to her head. He transfer yellow energy into her, which looks a lot like he is using the Mind Stone. Again, it is curious if she somehow created a Mind Stone like power for Vision or did she time travel to get the real one?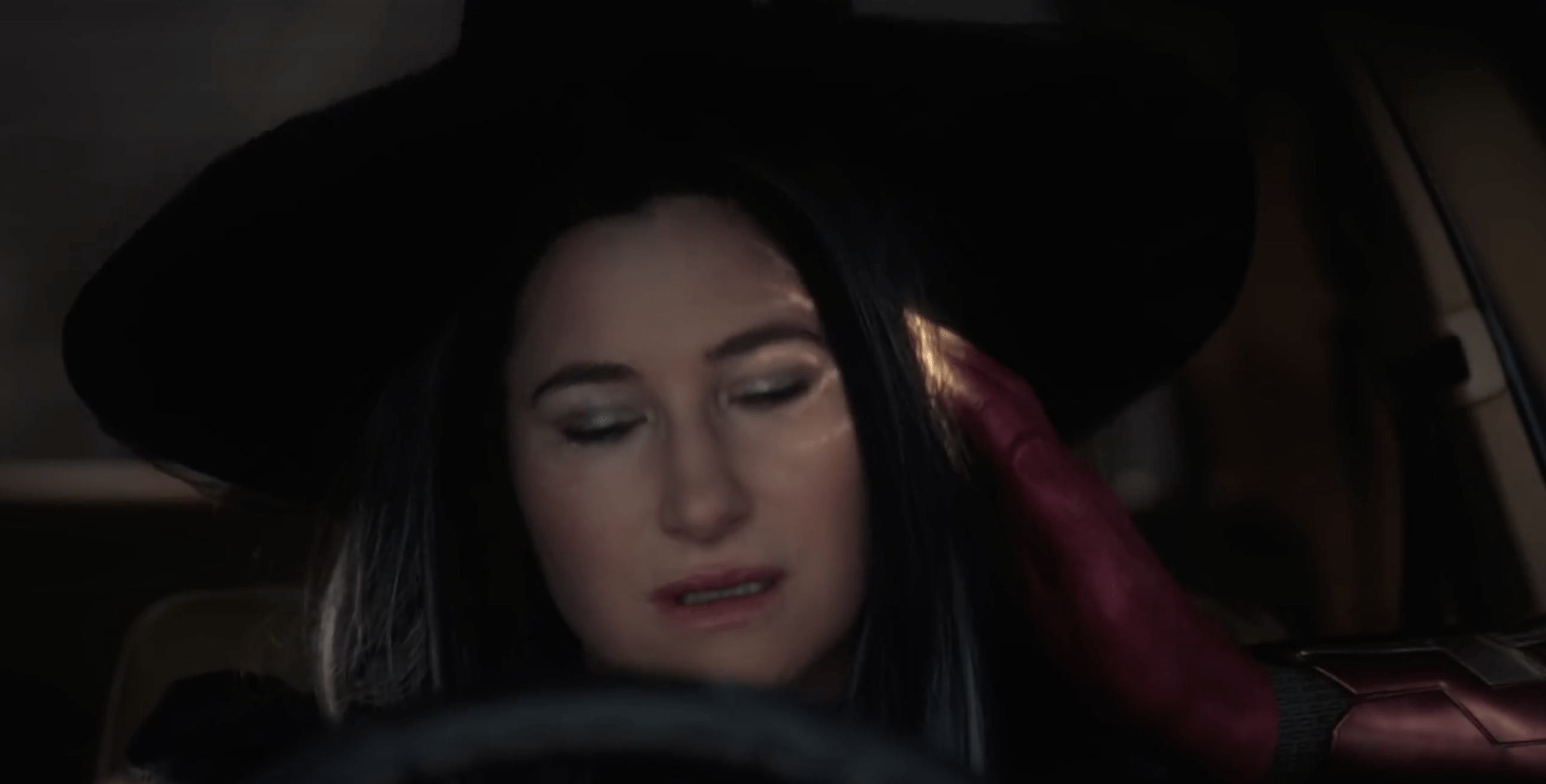 Am I Dead?
After she awakens from her trance she asks Vision "am I dead?" Taken aback he asks her why she'd think that to which she replies, "because you are." This proves she is someone from the actual real world and not a figment of Wanda's imagination. The Mind Stone-like powers allowed her to access memories that had somehow become foggy to her.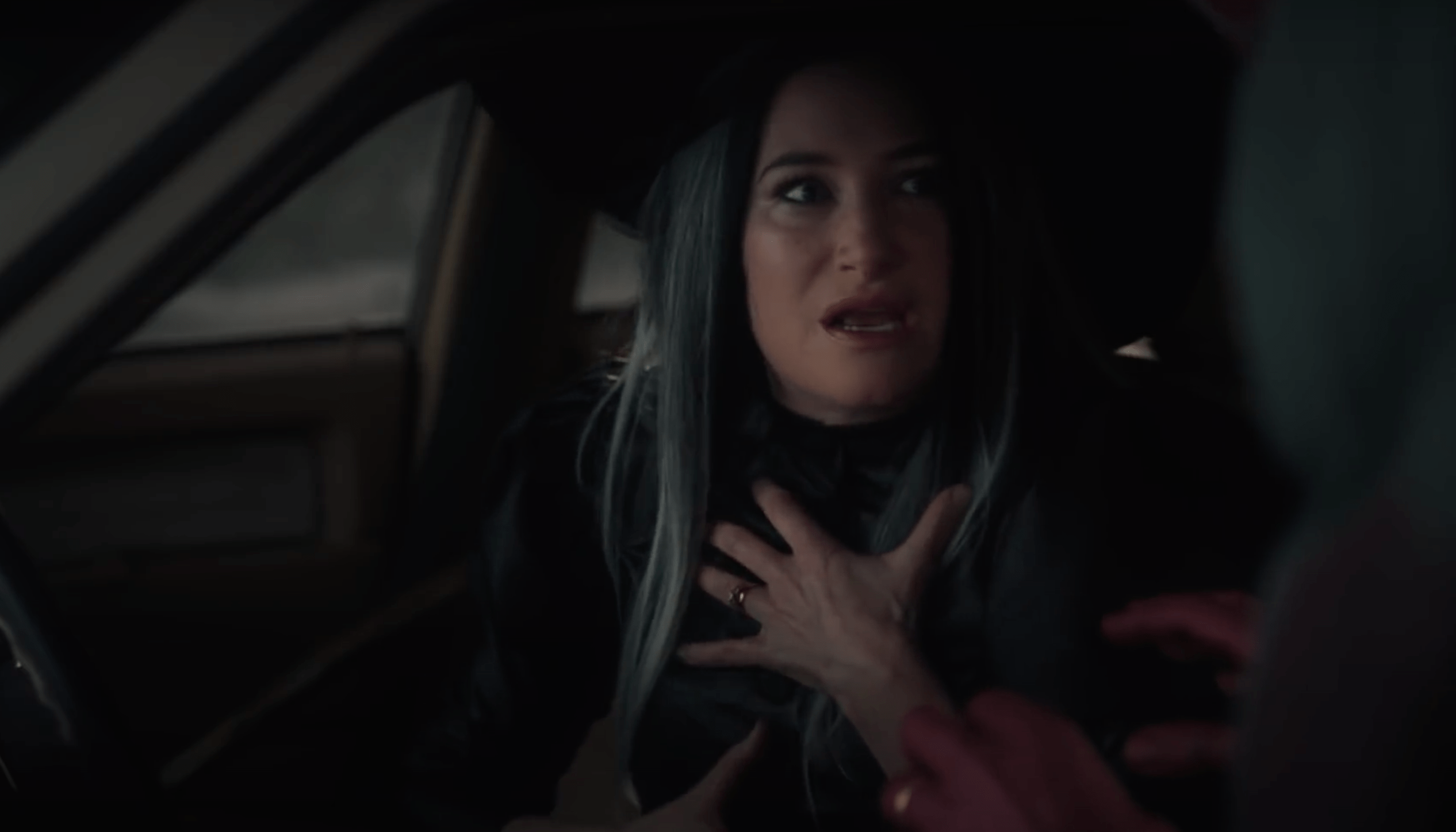 Agatha Harkness
Which brings me to the fact that I believe Kathryn Hahn's character is in fact Agatha Harkness. Agatha is a powerful witch (hence the costume) who at one point mentored Scarlet Witch in the comics and aided her in creating her children. However after the death of Wanda's children things turn deadly with Scarlet Witch eventually killing her.
In WandaVision it could be that instead of the children, Agatha helped Wanda with the magic needed to bring Vision back to life. Could this also mean we will meet Mephisto? Time will tell.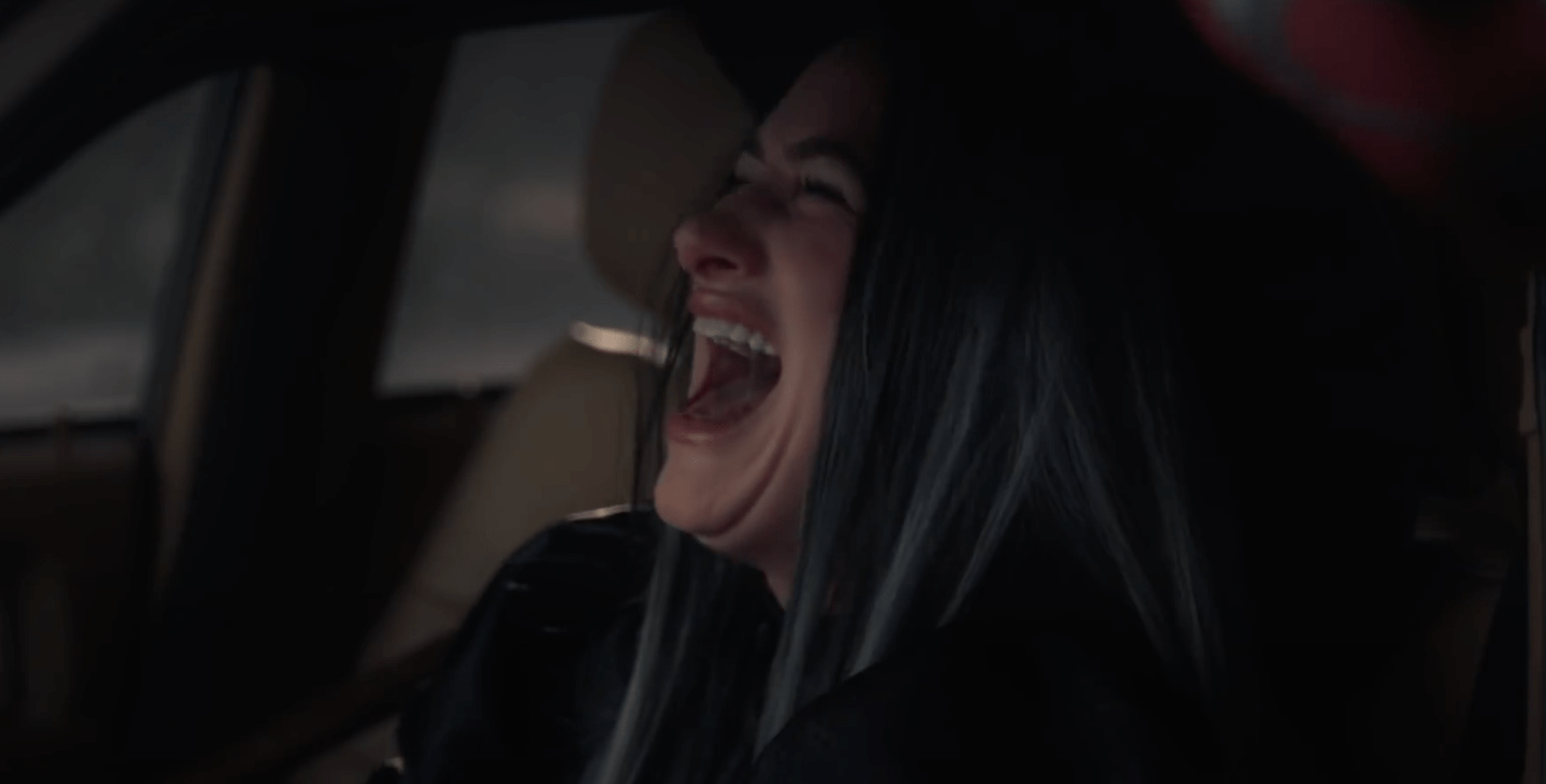 Classic Vision Look
Although we saw Scarlet Witch's classic look in the teaser for this show, this is the first time we see Vision will be joining in on the retro, classic comic book looks.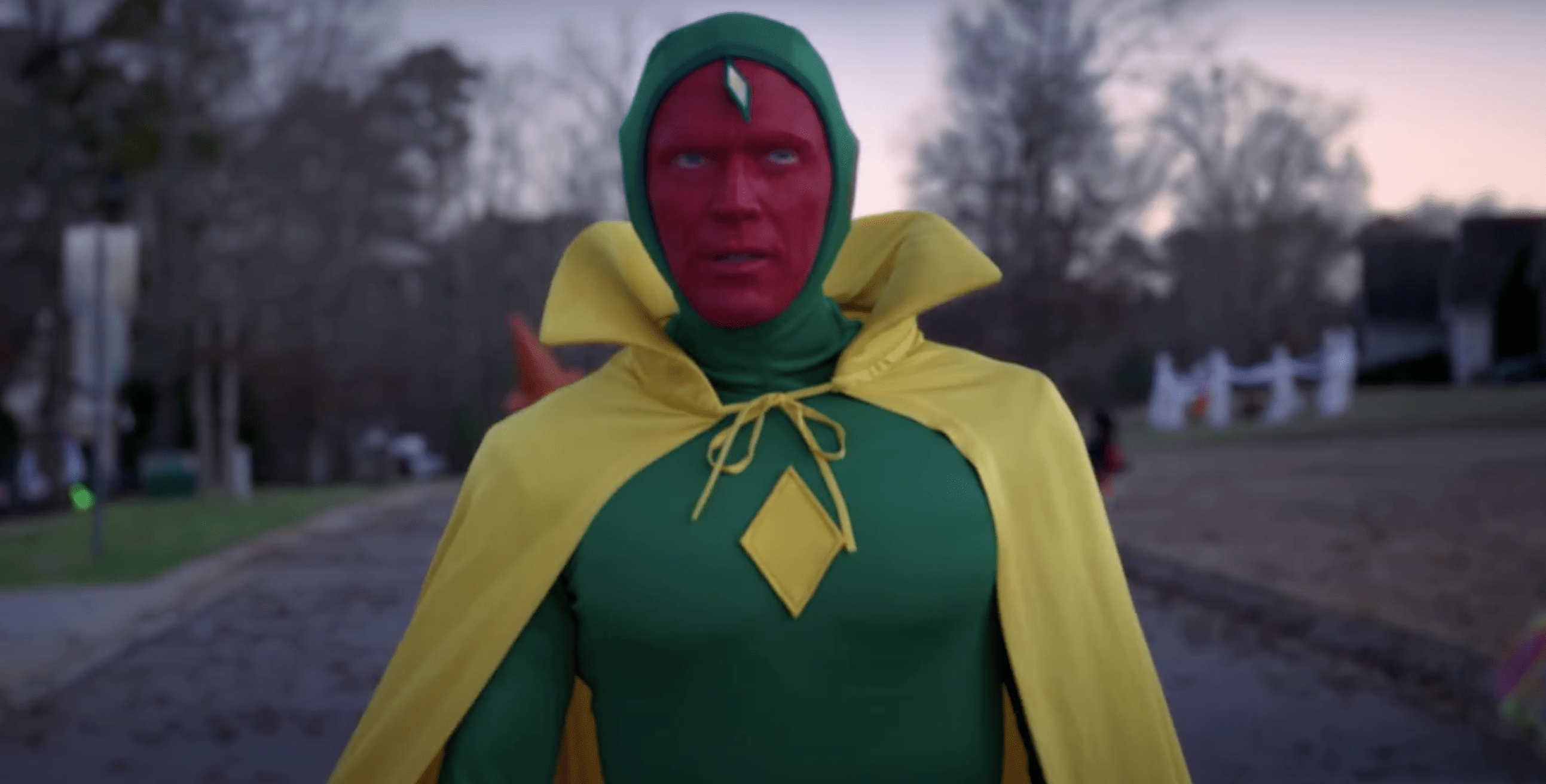 Westview Is Locked In A Magical Dome
Towards the end of the trailer, we see a grown-up Monica Rambeau being forcibly pushed out of the dome that surrounds Scarlet Witch's reality. This leads us to believe that she hasn't altered the entire planet but rather a small town.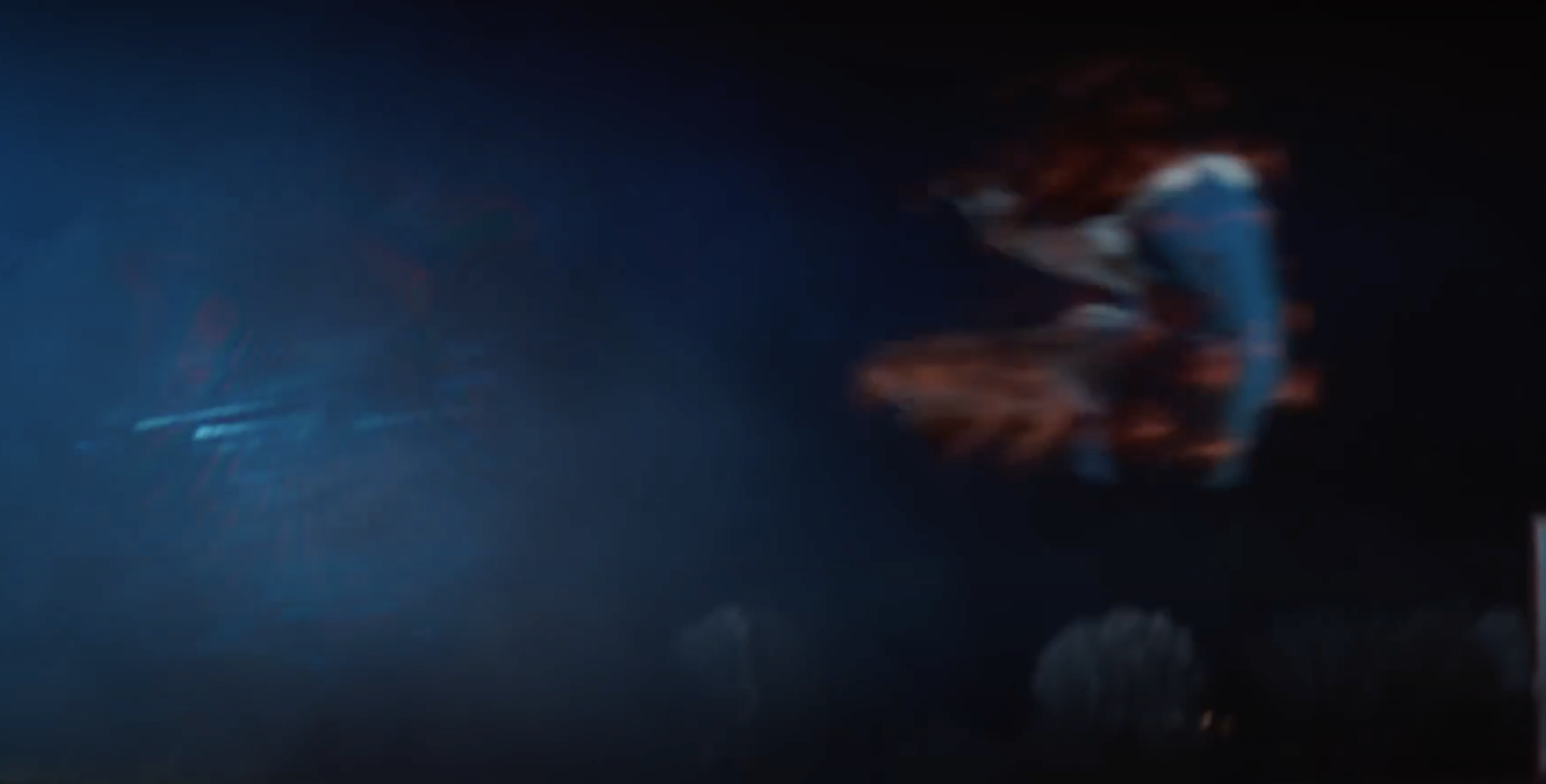 Further proof of this is shown when the camera zooms out and we see S.W.O.R.D. surrounding the world of Wanda. It appears as if they are trying to infiltrate her magic and Monica is part of the charge.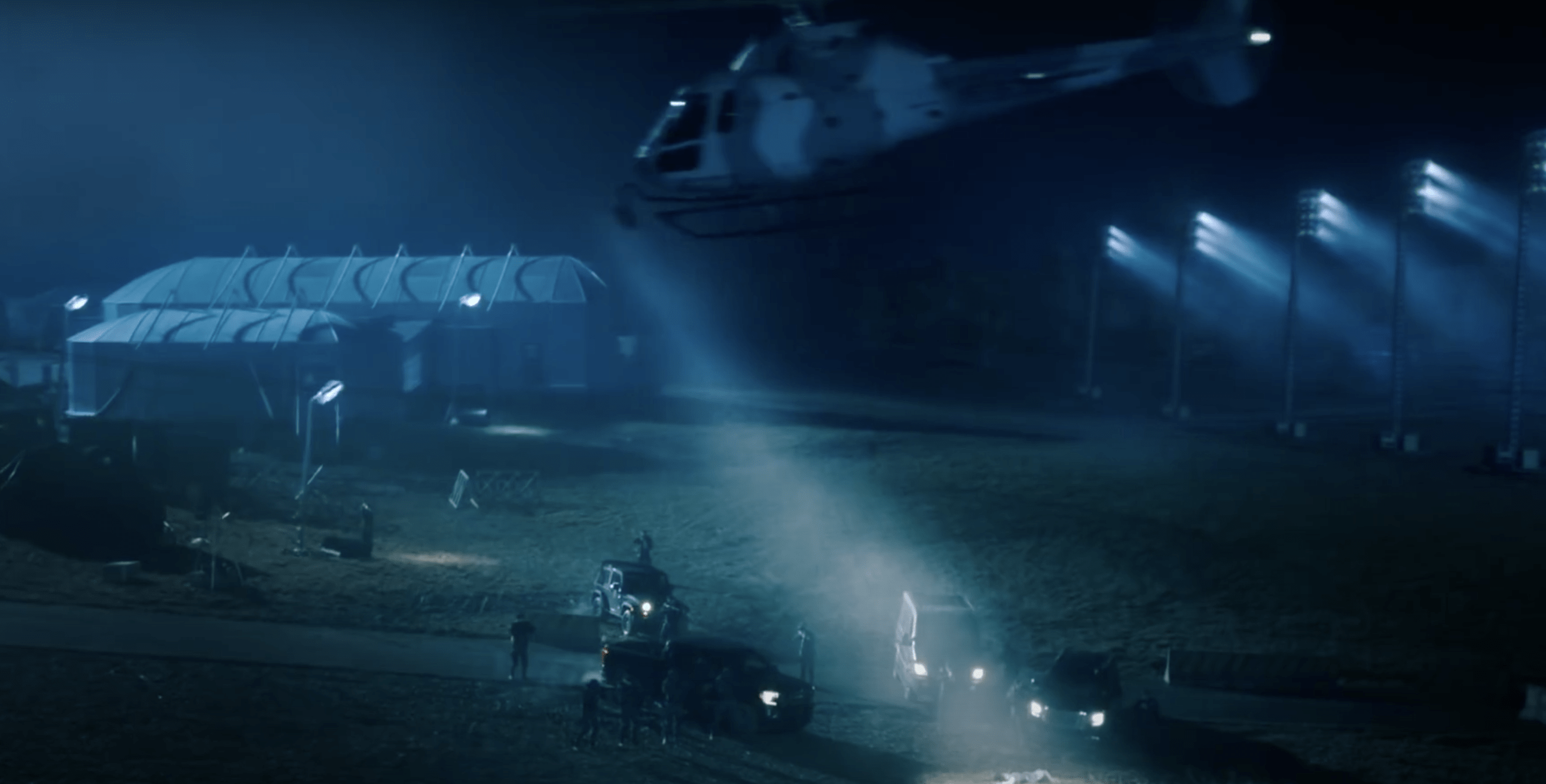 Monica Rambeau
It was exciting news when we heard that a grown-up Monica Rambeau would feature in WandaVision. It is important to remember that in the comics at one point, Monica is Captain Marvel with a power-set similar to Carol's.
We don't know what has happened to Monica since the events of Captain Marvel, but she does survive being thrown from Scarlet Witch's reality. And based on the familiar Carol Danvers-esq glow coming off of her as she clears the barrier above, it could be that she already has her powers or this is where she gets them.