Safety delivers laughs and tears as the true story of two brothers unfolds on screen. It is the uplifting film the world needs right now.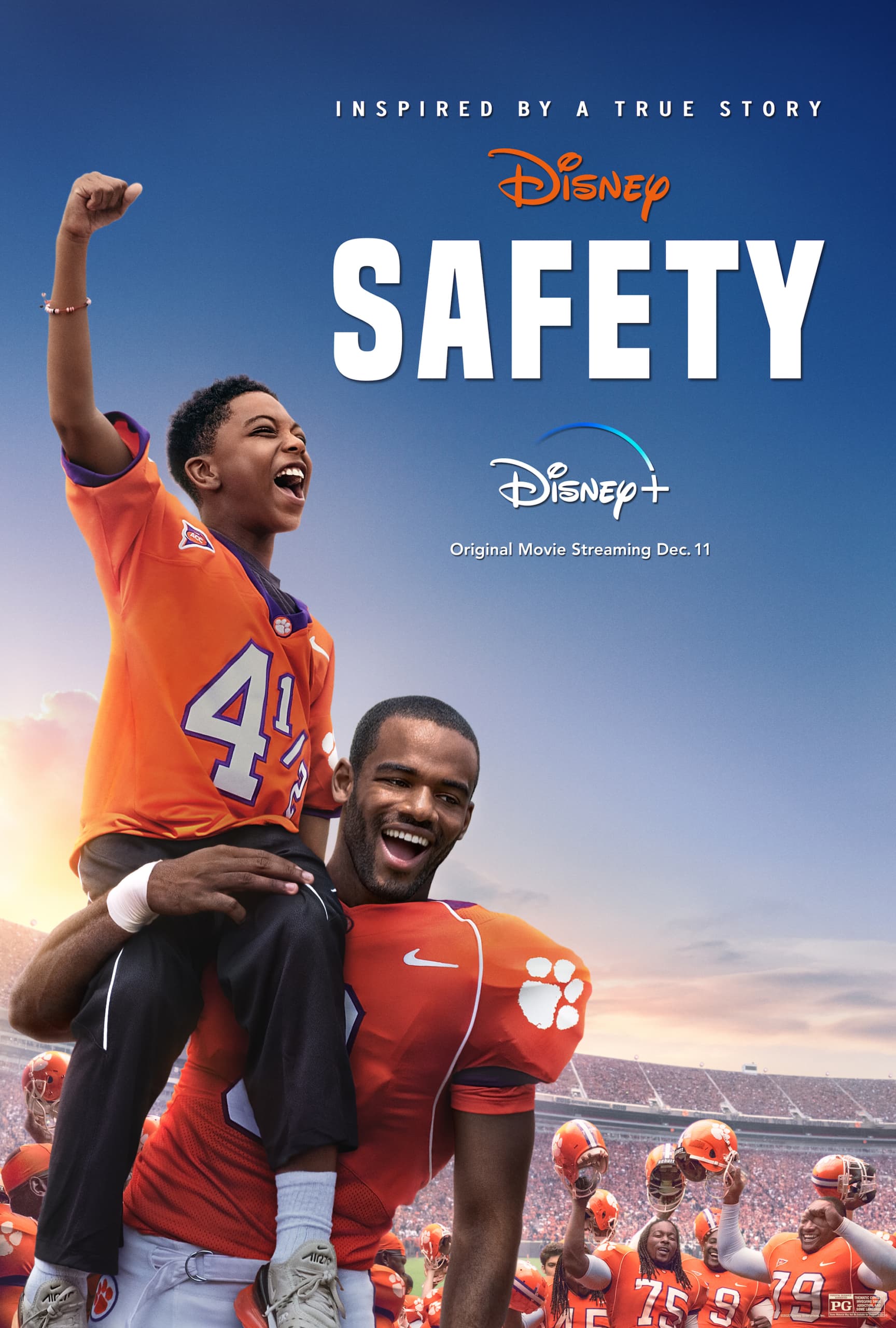 Safety Movie Review
Safety takes place during 2006 at Clemson University in South Carolina. Freshman Ray McELrathBey (Jay Reeves) moves into the players dorm and prepares for an intense training camp in hopes to become a starting safety for Clemson's football team. Ray is at Clemson thanks to a full scholarship, having fought his way out of the poverty-stricken Atlanta housing project. He is smart, reliable, and determined to make the most of this opportunity.
With camp in full swing and pressure mounting academically, Ray repeatedly ignores calls from his eleven-year-old brother, Fahmarr (Thaddeus J. Mixson). When he finally answers, he learns Fahmarr isn't home because their mother Tonya (Amanda Warren) has been arrested for drug use, again. Ray immediately grabs a bus ticket home and after seeing the dire situation is brother has been left in decides to take him back to campus. This is only suppose to last 30 days while his mother gets the help she needs.
Having a little brother in your room at college is not allowed. Ray and his roommate Daniel (Hunter Sansone), go to extraordinary and hilarious lengths to hide Fahmarr. But the pressure to excel on the field, in the classroom, and as a guardian takes its toil on Ray. His fellow teammates and coaching staff learn of his issues and try to help him but with the NCAA breathing down their necks Ray and Fahmarr's futures are at risk.
If all of this sounds familiar, it might be because Oprah Winfrey dedicated a show to the McELrathBey brothers in 2007. Archive footage of this show is actually shown during the credits of the film alongside other footage of the real Ray and Fahmarr. The film also takes cues from classic sports dramas like Remember the Titans and The Blind Side, which weave a together gridiron action and heart in beautiful, endearing ways.
Jay Reeves not only looks like the real Ray, but he captures his essence on screen perfectly. Reeves will have you believing every bit of his emotions as he embodies what it means to have courage and resiliency. Thaddeus J. Mixson steals the show though as Fahmarr. Whether it is light-hearted or serious, he pours all of himself into the scene. The two combined will have you going from tears to elation as they persevere despite all the odds.
Although Safety has its fair share of drama, director Reginald Hudlin works in the fun. Hiding Fahmarr in the dorm under the watchful eye of the RA is not easy, especially when the bathroom is down the hallway. These toilet trips are sure to bring out the laughs. Not to mention a particularly awkward slow-dance lesson, to Earth, Windu and Fire naturally. Hudlin effortlessly weaves the humor into the heavy.
If football action is a must, Safety doesn't disappoint there either. The filmmakers recreated moments from that season in the actual stadium full of Clemson fans. They brought so much energy to those scenes it's impossible to watch without feeling as if you were watching a live game too.
Safety might have some epic football action but the heart of it is the love of two brothers. A community has the ability to affect positive change on the people who live within it. Safety reminds us of that, that age-old proverb "it takes a village" or in this case, a team. This film and the McELrathBey brothers' story are perfect examples of what that saying means. It is inspirational, uplifting, powerful, and real.
Safety is available on Disney Plus December 11, 2020