Palmer tackles the universal themes of making mistakes, asking for forgiveness, and attempting to make things right. Unlike most films in this trope it is able to find the balance between showing the good with the bad. Ultimately, Palmer is a touching story about acceptance and second chances.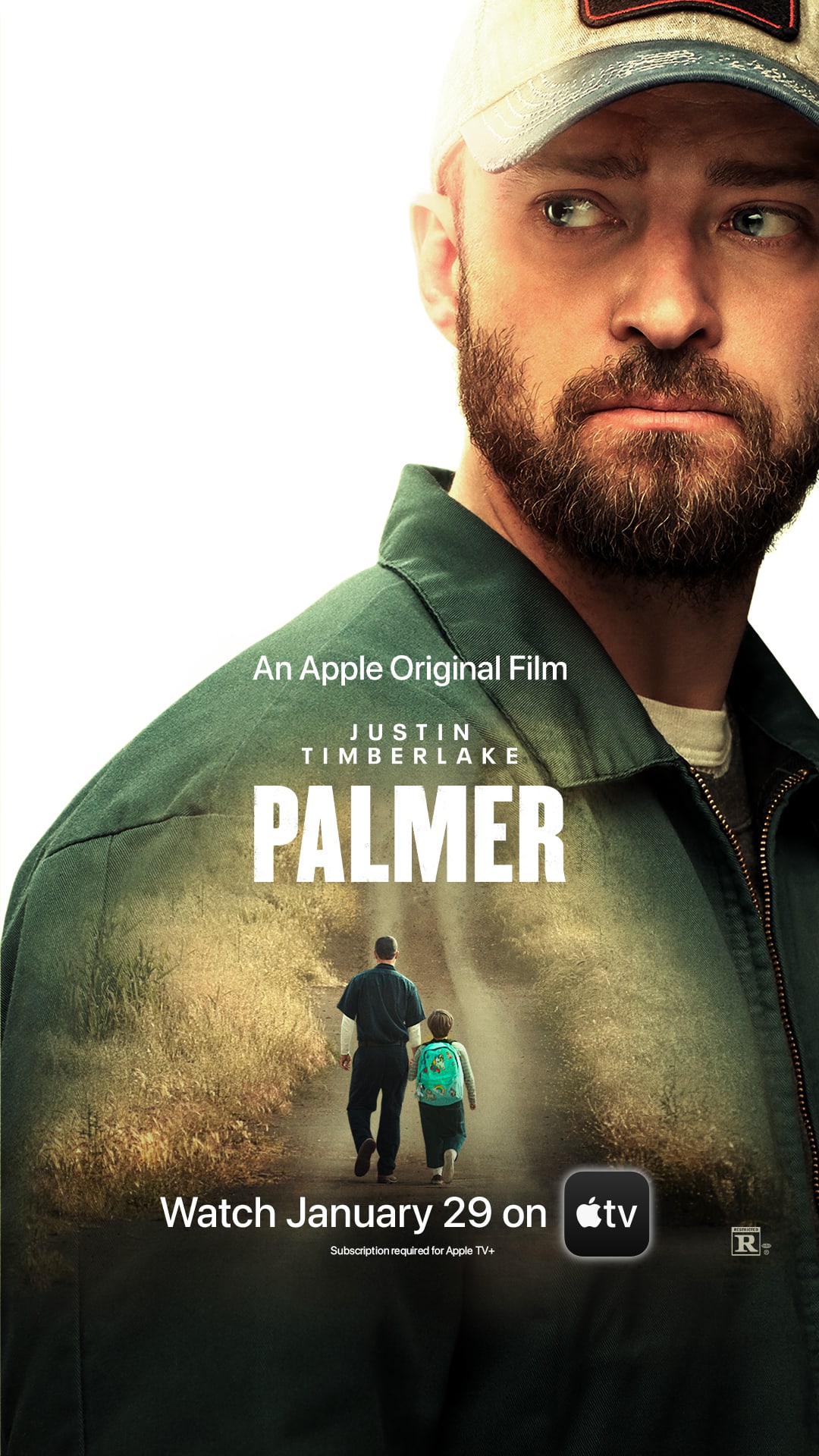 Palmer Review
Palmer starts when Palmer (Justin Timberlake) arrives back in the small town he grew up in after serving 12 years in prison. A lot of things have changed in those years he was gone, his friends have moved on with their lives, gotten married, had kids, and although he was missed none of them seemed to care too much while he was gone. The only one who was there for him before, during, and now is his grandmother Vivian (June Squibb).
He ends up staying with her while he attempts to get back on his feet. Although his felony record makes finding a job difficult, he manages to secure a janitor position at the local elementary school where his neighbor's son Sam attends. Sam (Ryder Allen) and his mother Shelly (Juno Temple) live in a trailer next to Vivian's house. It is clear from the beginning that Vivian takes care of Sam far more often than his drug-addict mother. Shelly ends up taking off, which is not unusual for her, and Sam goes to stay with Vivian and Palmer.
Palmer soon learns that Sam isn't a typical 8-year-old boy. He likes princesses, fairies, and all things pink. Although a guy like Palmer doesn't understand why Sam is the that he is, they bond over the fact they are both outcasts in a small town. Gradually Palmer's gruffness softens and he takes on the role of being Sam's protector no matter what it might cost him.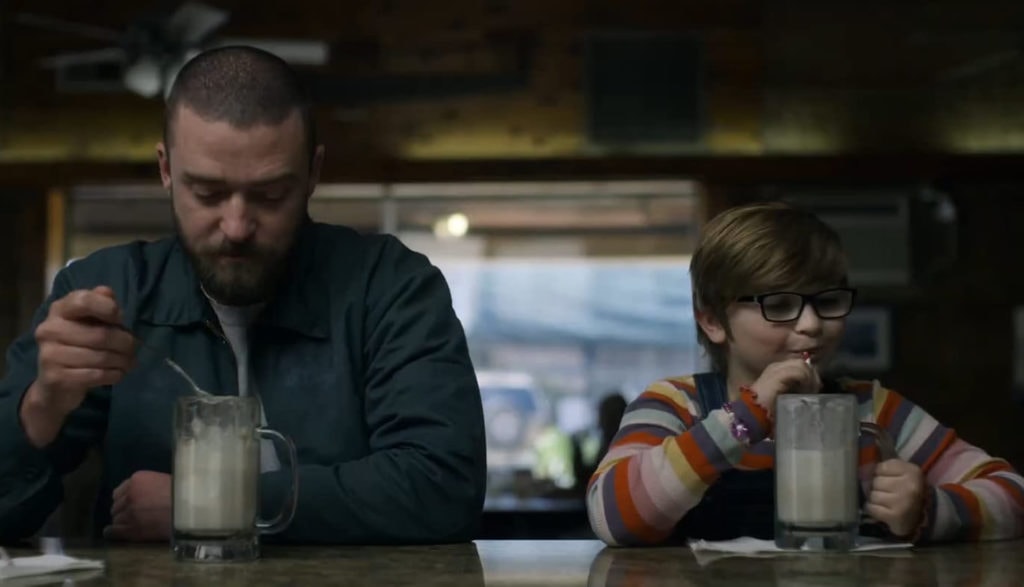 Justin Timberlake is at his best when he can go big and Palmer requires him to bottle up that charisma. It can seem off putting at first to see him tight-lipped and stoic, but as he warms to Sam the audience does to him as well. Timberlake is at his best when he is showing Palmer's softer side in regards to Sam. It truly feels as if he would do anything to protect the boy.
Although Palmer gives Justin Timberlake a chance to show off his acting range, it is ultimately Ryder Allen's performance that truly wows. Allen brings an innocence and light to the film that will have viewers wanting to reach through the screen to comfort him whenever bullies or his circumstances hurt him. He cheerfully navigates Palmer's distant attitude and slowly breaks down those walls Palmer has erected with each smile and affirmation that he is okay with being a boy who is different.
Neither Vivian or Shelly get a lot of screen time but June Squibb and Juno Temple make the most of it. Squibb is an old-time southern grandmother who fiercely loves those around her. In stark contrast with everyone else in the congregation, she accepts Sam for who he is, daring anyone to say anything negative about him. Shelly on the other hand starts out as someone to despise- she abandons her child, has drug issues, and clearly is an overall mess. But by the end of it you can't help but feel sympathy towards her. Shelly may struggle with everything mentioned here but she loves Sam and never tries to change him. Temple puts it all out on the screen and delivers an impactful performance.
The reluctant father figure assuming his responsibilities first out of sympathy that eventually turns to genuine love is something we have seen before. Charlie Chaplin's The Kid and Adam Sandler's Big Daddy are two examples but unlike these, Palmer doesn't do this for laughs. Instead, this film aims to use that as a sentimental springboard into exploring preconceived notions about gender and how society treats those who are different. It is asking audience members to examine their own biases and learn to embrace those around them with love.
While the troubled past trope has been used plenty of times, Palmer manages to balance the good with the bad to deliver a powerful and beautifully inclusive story about acceptance and second chances.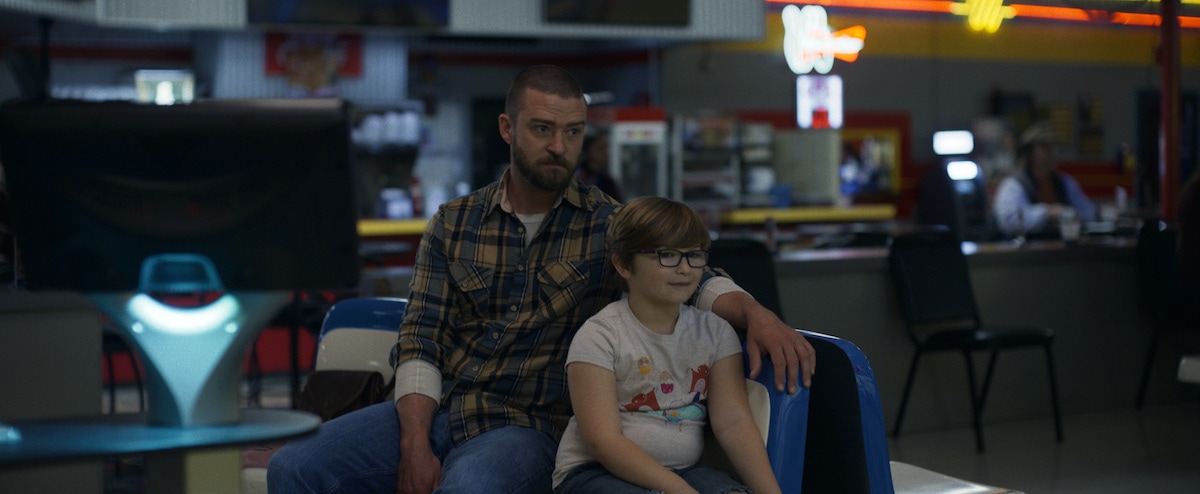 Palmer is available now on AppleTV+. It is rated R for language, some sexual content/nudity and brief violence. Runtime is 111 minutes.