In order to get answers about who is after Omega, the Batch head to Ord Mantell to meet with an old informant of the Jedi. There they make a deal in order to get the help they need. And of course things don't go as planned. Let's get into "Rampage" with this Bad Batch episode 5 easter eggs and breakdown.
This is your spoiler warning if you haven't watched episode 5 of The Bad Batch.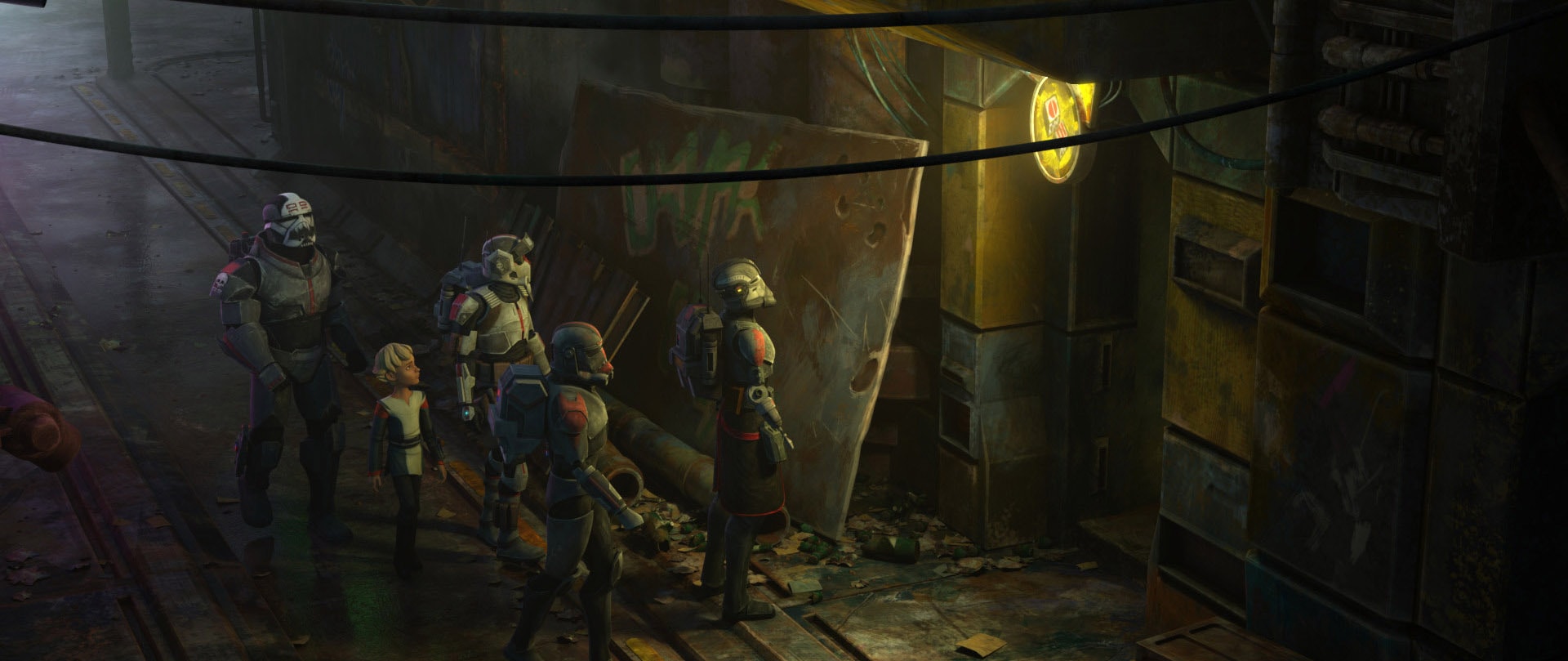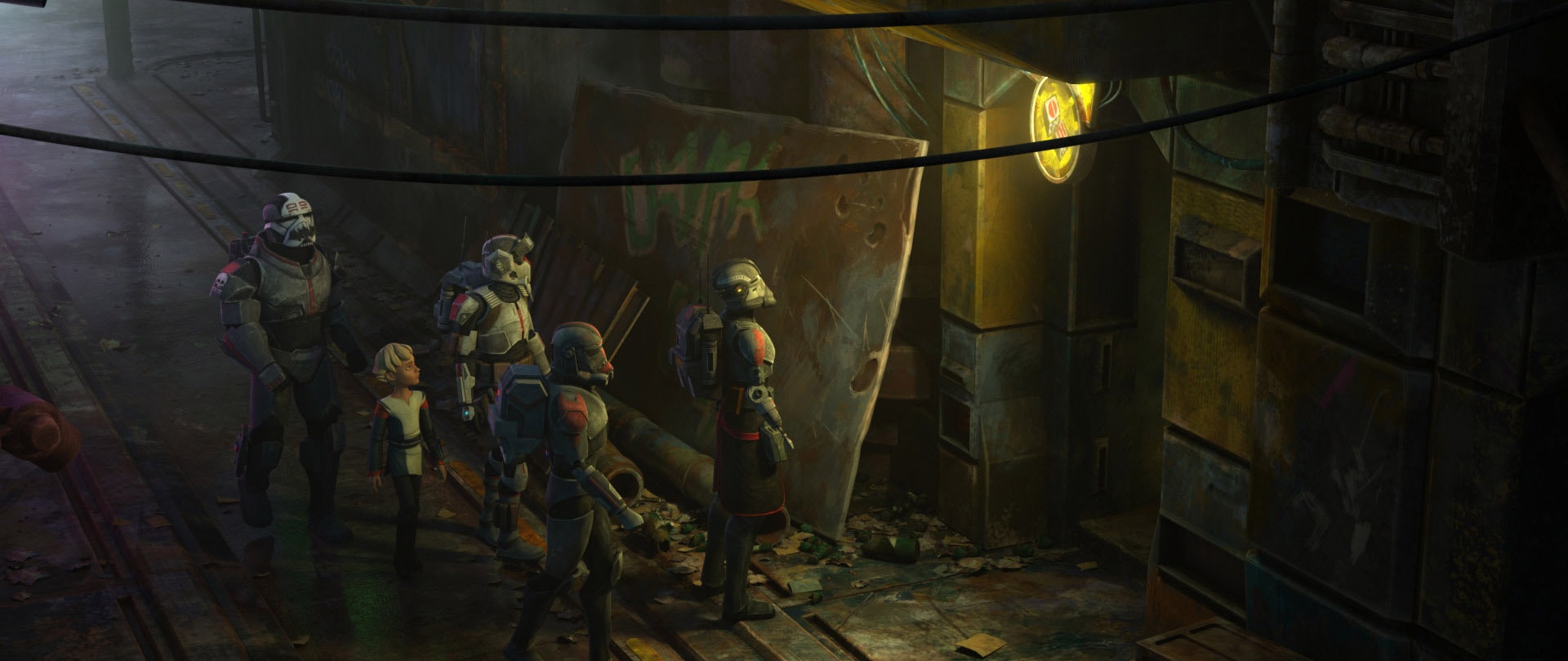 The Bad Batch Episode 5 Easter Eggs & Breakdown
The Bad Batch heads to Ord Mantell to seek out an old Jedi informant hoping that he will have answers about why Omega is being hunted by a bounty hunter. This planet was first mentioned in The Empire Strikes Back. It has been seen and mentioned elsewhere in canon including Star Wars Forces of Destiny.
At the cantina, IG Droid heads are seen behind the bar which is a callback to the no droid policy in Star Wars: A New Hope inside the Mos Eisley Cantina.
Omega, more perceptive than her friends figures out who Cid is. Cid is a Trandoshan, a species known for their hunting abilities. She is voiced by Rhea Pearlman.
RELATED: The Bad Batch Episode 4 Easter Eggs and Breakdown
Cid's trophies include a Mandalorian helmet, blasters that resemble Jango Fett's, anempire pilot's helmet, and a large brown pelt.

Before Cid will help them find out who sent Fennec after Omega they must pull off a job for her. Collect a child name Muchi from Zygerrians. They were first seen in Star Wars The Clone Wars.
Wrecker continues to suffer from headaches, alluding to the fact his inhibitor chip may be malfunctioning or will eventually cause him and the others harm.
The job won't be as simple as a smash and grab. The Zygerrians also have Brezak or a Zygerrian gliding lizard, on patrol.
While the guys deals with the Zygerrians and their lizards, Cid has a conversation with Bib Fortuna where it is revealed that Muchi is to be returned to Jabba the Hutt.
The Batch had no idea that Muchi is actually a rancor and not the Falleen child. Jabba has an affinity for these creatures, chaining them up and using them to rid himself of anyone who dares to cross him. Pateesa is a male rancor inStar Wars: The Return of the Jedi


Hunter takes out the lead Zygerrian while Echo and Omega lead the other hostages to safety. Wrecker and Tech find Muchi and in order to subdue her, Wrecker challenges her. His head takes a pretty hard hit again.
Bib Fortuna shows up in Cid's office looking for Muchi with the Gamorrean guards.
Omega rides Muchi back to Cid's. Muchi appears happy to see Bib and the others.
Cid tells Hunter that the Bounty Hunter after Omega is Fennec Shand and although she is new to the scene she has already proven herself to be cunning and ruthless. Cid doesn't know who she is working for but The Guild tells her that she is working on a direct commission. She also offers Hunter more work if he is interested, he says he will think about it. But she is no fool, she also knows that if Fennec is after them they must be valuable but she tells him not to worry she's "good with secrets."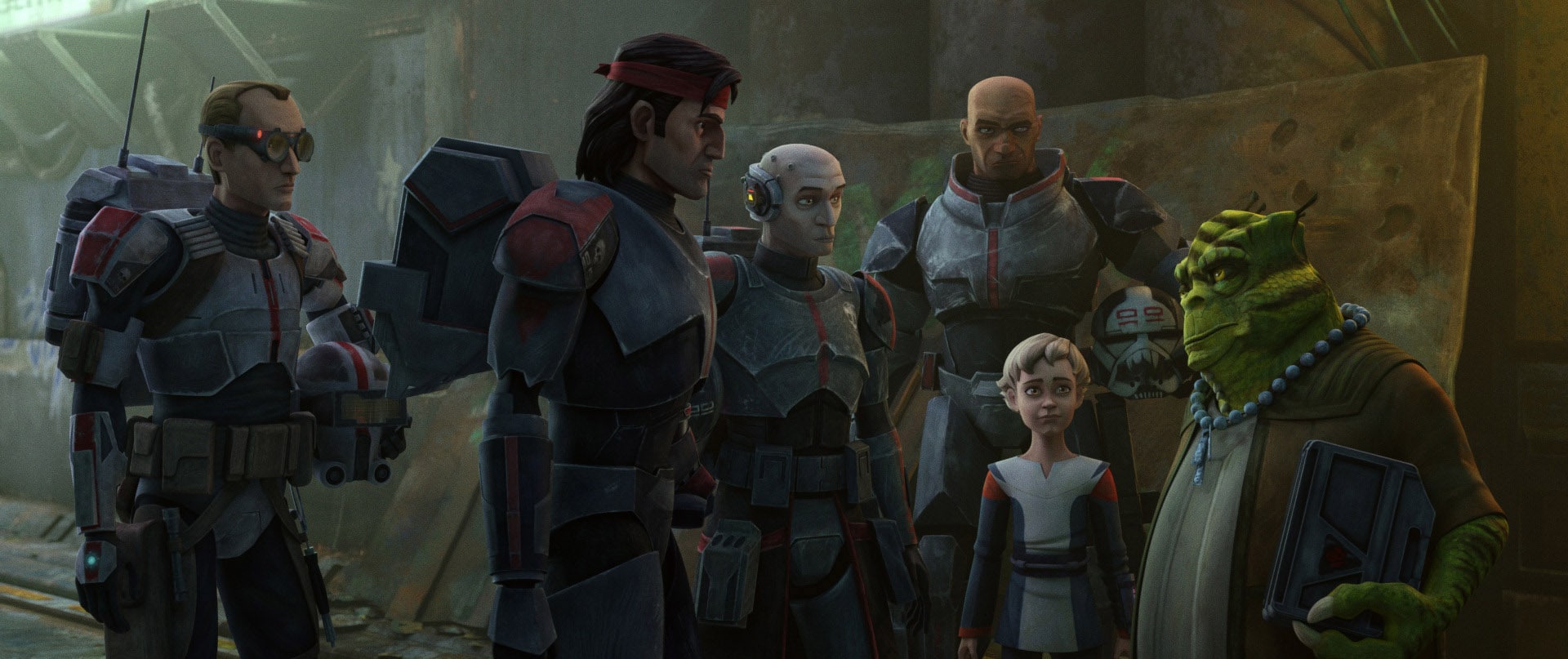 The Bad Batch is now streaming on Disney+.