Spirit Untamed, the newest addition to the Dreamworks Spirit roster, is a wholesome adventure for families this Summer. Fans old and new will find themselves cheering on the heroines and looking for a wild horse or two to befriend.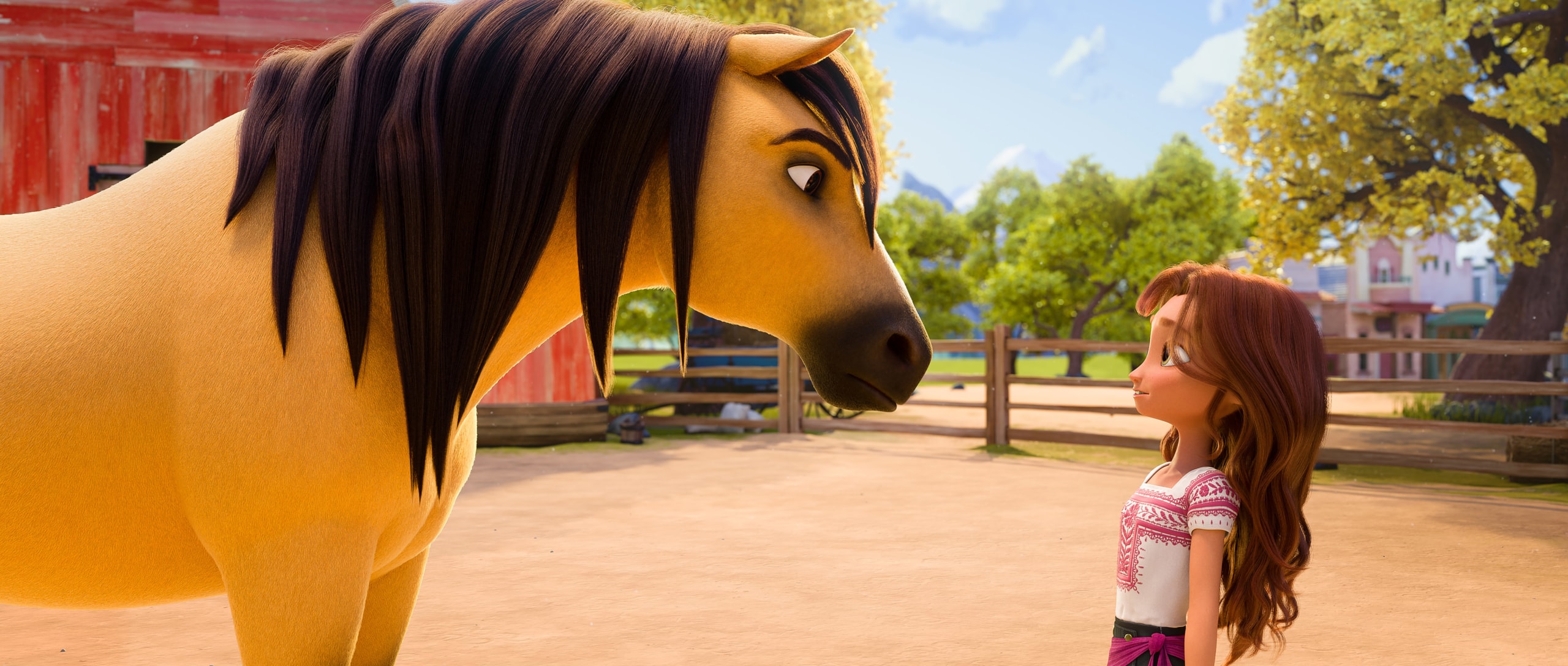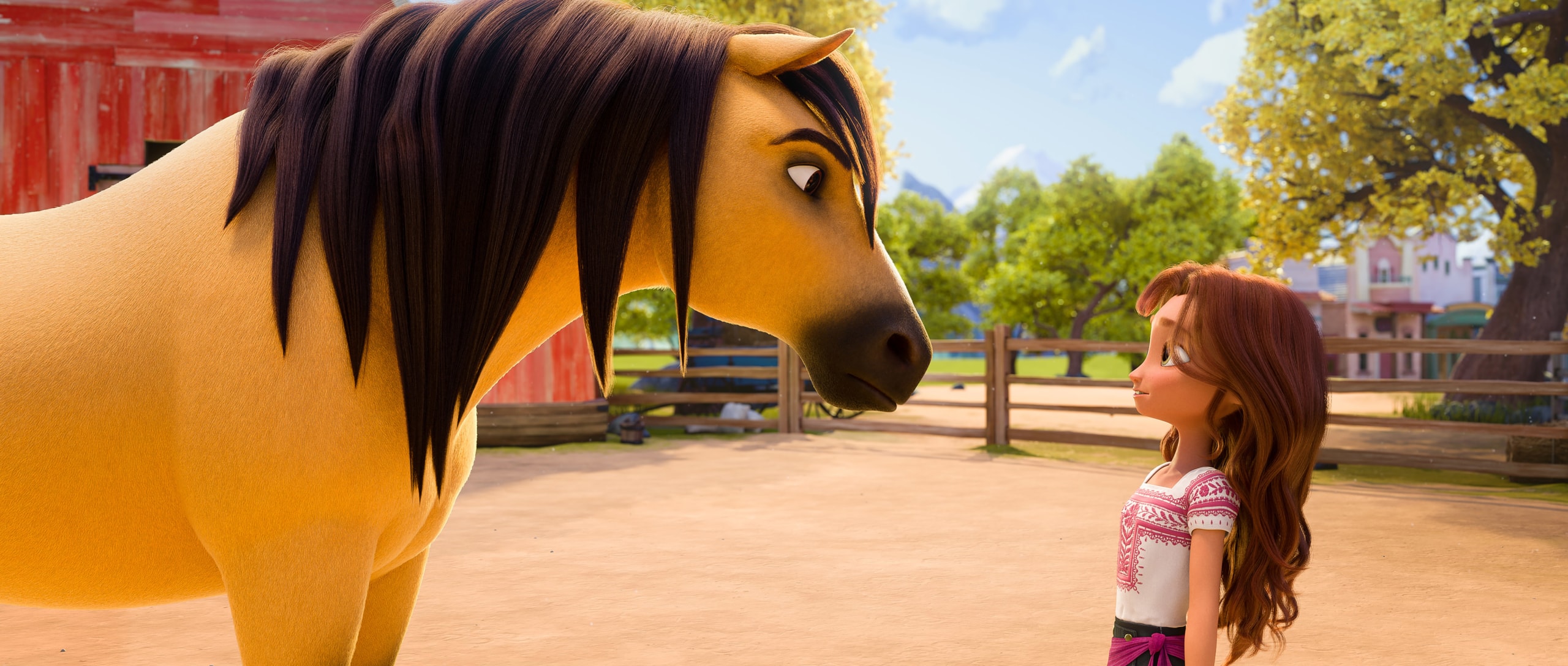 Spirit Untamed Movie Review
When Lucky Prescott (Isabela Merced) was a baby her mother Milagro Navarro (Eiza González), a fearless horse-riding stunt performer from Miradero, passed away during a routine stunt. Her father Jim (Jake Gyllenhaal) in his grief sends baby Lucky off to live with her railroad baron grandfather (Joe Hart) and aunt Cora (Julianne Moore).
Lucky is now a pre-teen with a penchant for getting into trouble. Minutes before her grandfather's gubernatorial campaign launch party, her attempt to befriend a squirrel goes awry which naturally causes chaos at such a snooty affair. Aunt Cora decides it's time for Lucky to get to know her father and the town he and her late mother lived in Miradero. On the train ride west Lucky sees Spirit and his family, they lock eyes and seem to connect. Before long the train pulls into Miradero.
Dropped into this world that is unlike what she is used to on the East Coast, Lucky begins to explore the town and attempts to make the best of the situation. She befriends two local horseback riders, Abigail Stone (Mckenna Grace) and Pru Granger (Marsai Martin). Soon, Lucky finds out that Spirit has been captured by an evil horse wrangler (Walton Goggins) who is intent on selling the horse to the highest bidder. The three friends set out to try and save Spirit and protect the rest of the wild horses.
Spirit Untamed is a retelling of the events of Spirit Riding Free. Fans will notice nods to the original episodes including the train scene with Lucky and Spirit locking eyes. Aside from callbacks for longtime fans, this movie offers up some good clean, inclusive Western fun for the family to enjoy together.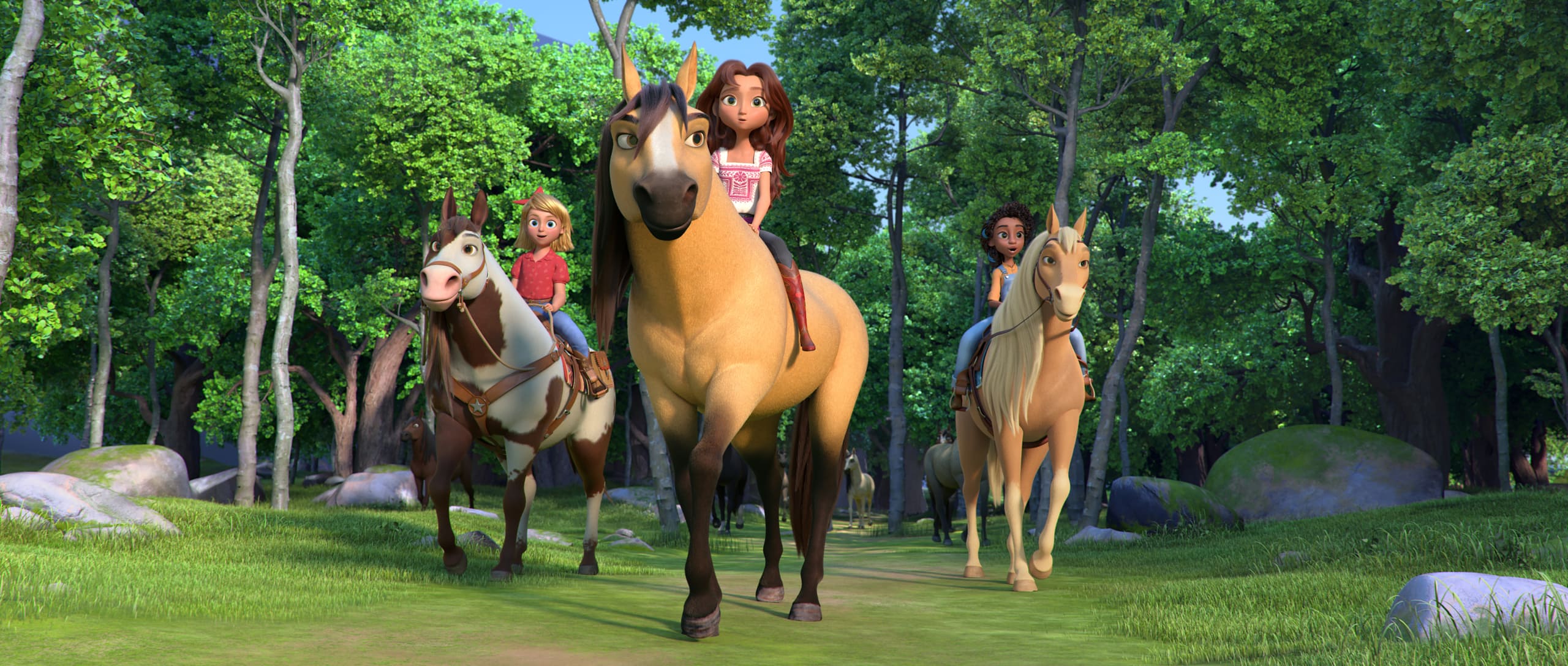 Screenwriters Aury Wallington and Kristin Hahn took the long-running series, Spirit Riding Free, and created this introduction of sorts in Spirit Untamed. The voice cast is stellar although Spirit does not talk as he did in the original motion picture that started it all. Gyllenhaal and Moore are upstaged by the younger cast who deliver outstanding performances.
With the benefits of this being a big screen production, the animation is brighter and richer in its details with several stunning sequences. My favorite was when Lucky rides Spirit through water that has the most gorgeous reflections. The differences in the lighting and colors between the small town and Spirit's home adds depth to the storytelling. In fact the way the humans react to Spirit's pocket of their world lends itself to the underlying narrative that he belongs here, wild animals deserve to be wild.
As with any animal movie there are ups and downs. Luckily, no one is hurt aside from Lucky's mom off screen. Unsurprisingly Lucky finds herself bonding with Spirit and the last thing any of us watching want is to see him go. Because that's how these movies work, we the audience also bond with the animal. However Lucky and us as well, know the right thing to do is to say goodbye.
Two things stuck out to me aside from the animation. One, it was an inclusive story and as a mother of multiracial children it is nice to see the heroines of the story not all be white. Dreamworks made sure that this small town during the days of the good old west showed people of all shapes, sizes, and colors. It was refreshing because mostly what we watch that is considered a "western" looks very different. Two, the message of the power of friendship. That bond Lucky formed wasn't only with Spirit but also Pru and Abigail. They all learned to rely on each other and trust in themselves. And after such a rough year, it's nice to be reminded that this type of bond can survive anything.
If you're looking for a family friendly, good natured adventure for movie night then look no further. Spirit Untamed is spirited (no pun intended), colorful, and fun. Just don't be surprised if your child wants to befriend a wild Mustang or two.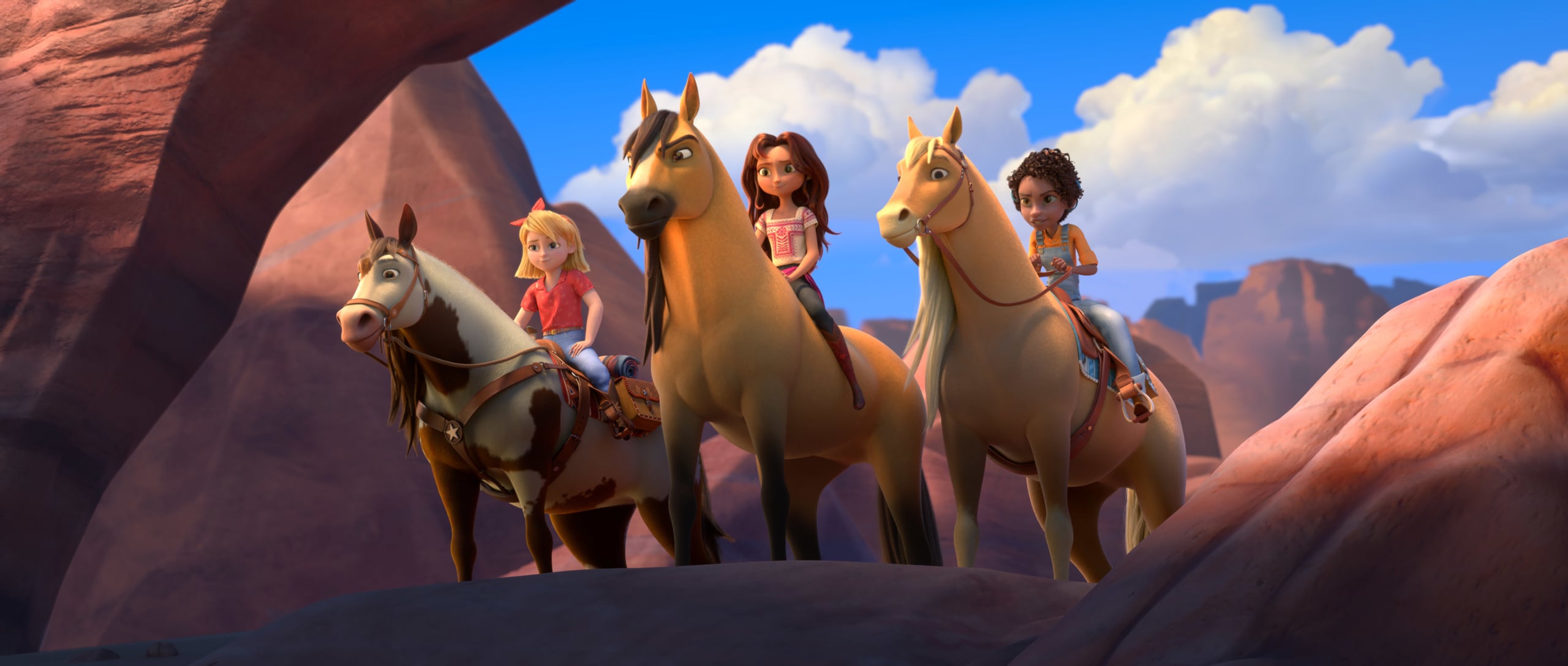 Spirit Untamed is in theaters June 4. It is rated PG for some adventure action and has a runtime of 87 minutes.