Squirrel! Everyone's favorite talking dog, Dug is starring in 5 new shorts coming to Disney Plus September 1. Dug Days follows Dug and Carl Fredrickson after they have moved into their new home. Dug is ready for adventures…in the backyard.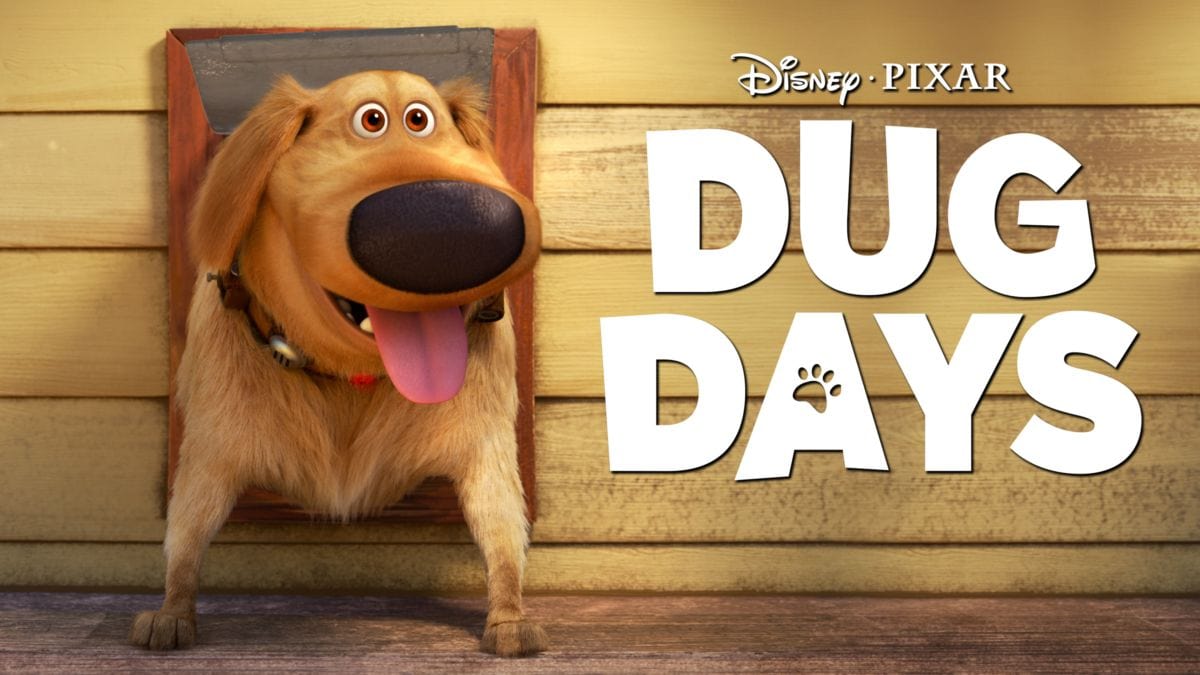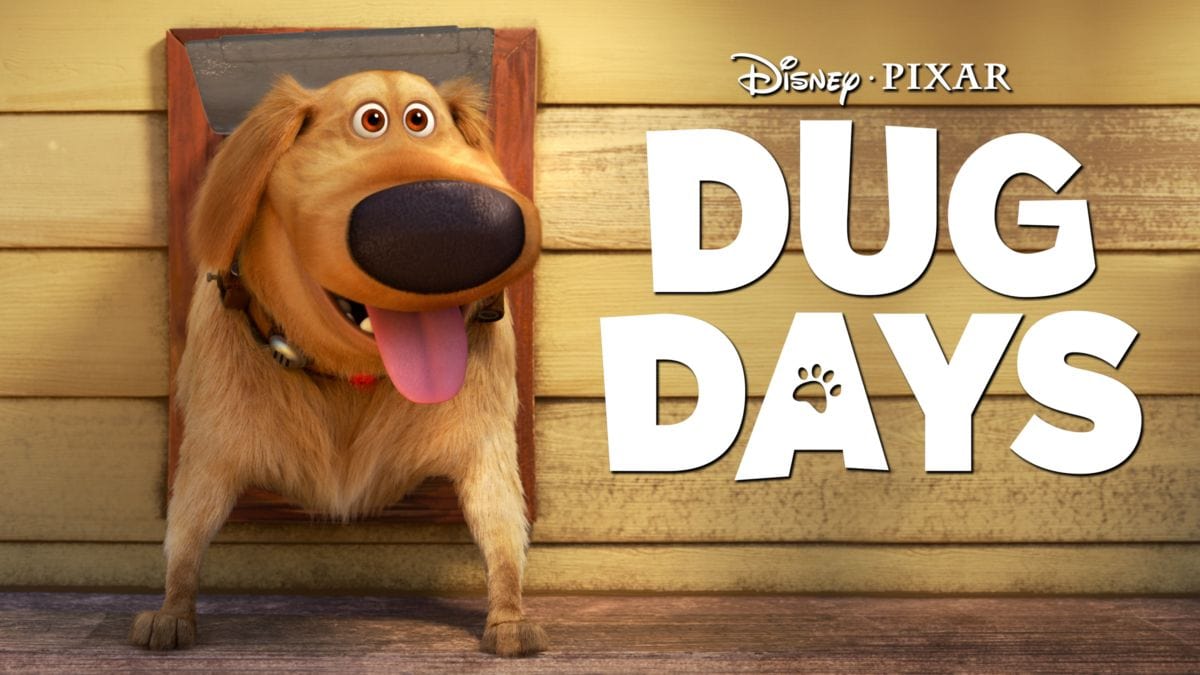 Behind the Scenes of Dug Days
To learn more about the shorts, I had the chance to talk with Dug himself, Bob Peterson, who also directs the series. He even threw in a SQUIRREL! moment which made my month. Along with Bob, producer Kim Collins was on hand to share as well. It was a lot of fun to hear what inspired these shorts, where the idea for Dug originally came from, and so much more.
UP came out over 10 years ago. What inspired you to revisit Carl and Dug in these new shorts?
Bob: Why Dug Days? Well, because dogs are the best. We love dogs and they bring so much to our lives. We wanted to see Carl and Dug move into suburbia and Dug grapple with the new challenges of his backyard. And also, to watch Carl put into practice having a new adventure, no matter how small, as Ellie had wanted.
Kim: When it really comes down to it, these are stories about how Carl and Dug take care of each other.
Bob: Back on Up we were so excited when we created Dug because using his collar would allow us to hear what a dog might actually think and say. So Dug was based on our own dogs. In fact, Dug's voice is based on how I talk to my dogs.
RELATED: Interview With Eric Goldberg on Goofy In How To Stay At Home
When does Dug Days take place?
Bob: Dug Days takes place immediately after Up finishes. Right after Carl, Russell, and Dug are at the ice cream shop, Carl and Dug look for a new house. Russell goes home with his mom but later moves in next door to Dug and Carl.
The one and only Ed Asner returned to voice Carl Fredrickson.
Kim: We are very lucky to have cast Ed as he truly is our Carl Fredrickson. Carl really is a role he was born to play. It was also our only recording session, before we were asked to stay home during the pandemic. And as we moved into the pandemic the entire Dug crew realized that these shorts could bring a little bit of sweetness and happiness to people.
Russell shows up in episode 6 and sounds just like he did in Up thanks to a little magic.
Bob: Jordan Nagai was nine or ten when he recorded Russell for Up over 10 years ago. We loved his voice so much that we decided to keep it by finding old dialogue from Up. I wrote the script for the short Science and we went looking for Jordan lines that matched. Some of the found lines, in fact, were actually better than the written lines. Including the little song he sings.
What did you find the most challenging about working on Dug Days during the pandemic?
Kim: The amazing thing about Pixar is how collaborative we are. And to have to switch that dynamic with all these little screens was a big adjustment. We found our own new rhythm in how to work with Zoom. So, I think that was the biggest challenge, just shifting to work from home and trying to figure out how to retain that dynamic while being home
Bob: It was a lot of worry at the beginning. And just the technical aspect, getting people equipment in their homes, so that they can do it. All that along with the challenge of kids and dogs running around, but we embraced that. If a kid came in the room, and mom or dad or whoever was giving a presentation, kids just sat up on their lap, looked in and it was wonderful. It's actually kind of nice to see parents and family members and dogs and cats going in front of the screen because you just get a sense of a connection to home life.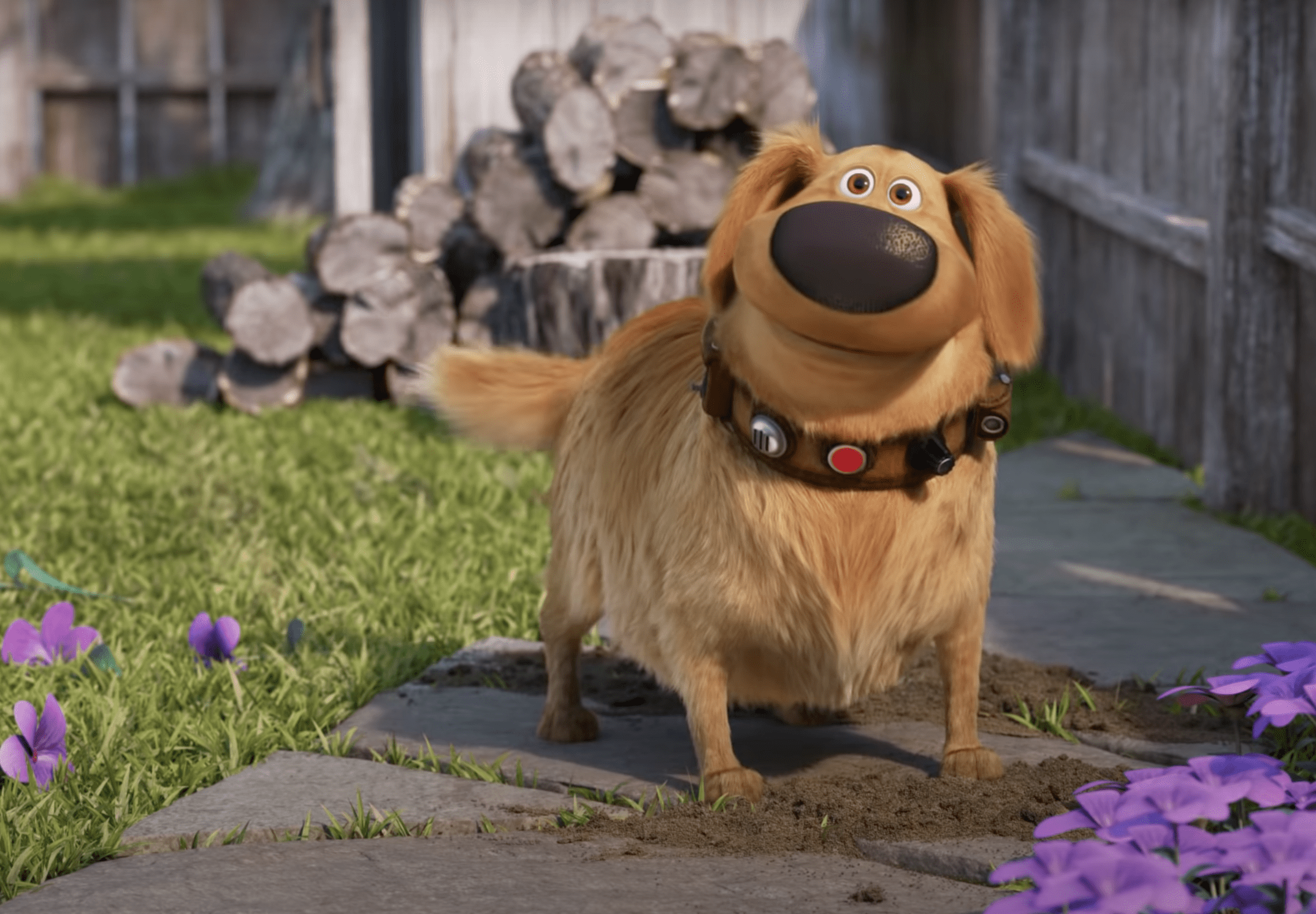 We know Russell shows up in an episode. Can we hope to see more Up friends in future seasons? And yes, I said future seasons because we loved it so I'm hoping there's more.
Bob: I mean, I do, too. I have a lot of ideas for future episodes. But you know, Kevin, I think, is happily with her babies off in the Tepui. So it's doubtful that Kevin would make an appearance, but I wonder about the other dogs. They're where we are, Alpha and the other dogs. So they would be prime suspects for revisiting.
When coming up with the ideas for each episode did you draw on any real life dog experiences? I feel like fireworks are something a lot of dogs struggle with.
Bob: That episode is about dogs' fears and also Dug trying to save Carl through the whole thing. But yes, indeed it was my dog who had these issues and that's what inspired this. I'm so glad that Carl and Dug found a way to solve this issue.
Out of the six episodes did you have a favorite?
Bob: For me, there's two favorites. The fireworks episode is so madcap. It starts so gently. We lull people into this sort of false sense and then all heck breaks loose. The Fantasia-like dream…you just don't expect that coming. But my favorite moment of this series is when at the very end of the science episode Carl is just describing what it's like to have love for your pet. That your dog protects you and gets you through your day and is your best friend. We think of our dogs as friends, and that's my favorite moment in all of these.
Kim: I mean, I love them all. They're all very different in tone, so they all have different charm. The science episode is my favorite. I just love Dug just saying, "Everything can talk."
When it comes to the editing of the shorts, were any sequences harder than others?
Kim: The flowers episode has a lot going on. It has big lighting changes, crowds and crowds of flowers that are now coming to life. The lighting of the puppies episode as well. It goes throughout the course of the day, starting really sunny and beautiful. Then, as the puppies turn into zombies, it gets very dark and gloomy and gray. After they vanquish their adversary everything turns into this beautiful dusk color. I really like how the lighting tells a story in that episode.
Going back to Up, where did the idea for the talking collar come from?
Bob: It goes back to a movie that Pete Docter and I were developing before Up. It was more of a science fiction story. A dog ate something that it shouldn't have and all of a sudden started talking. And it was just so fun to hear what a dog had to say that when that project got shelved and we moved onto Up, we wondered how we could bring that back. Ellie wanted to go on this adventure as a kid and we thought "Boy, what would she wanna see," and a talking dog would certainly be part of a kid's dream experience. And we just decided to expand on dogs because of Dug.
As the voice of Dug and also the writer and director of Dug Days what was that like stepping into this new role and essentially critiquing yourself?
Bob: It's important when you're performing to gather others because sometimes, I'll think I was great, and then others will say, "Well, I think there's more there." I've done it for so long now for so many things, I generally have a pretty good sense of whether it's working or not. But it took me a while this time, since it's been 10 years, to get back into that voice. "I have just met you," all that sort of dog talk.
Bob also shared there are several easter eggs to spot throughout the shorts. So Pixar fans keep your eyes open.
Dug Days premieres on Disney+ September 1.