Apple TV's dystopian world, See, is back with a second season that promises higher stakes, family strife, and battles that make season 1 look tame in comparison. The addition of Dave Bautista's Edo means Jason Momoa's Baba Voss finally has an opponent worthy enough to face him.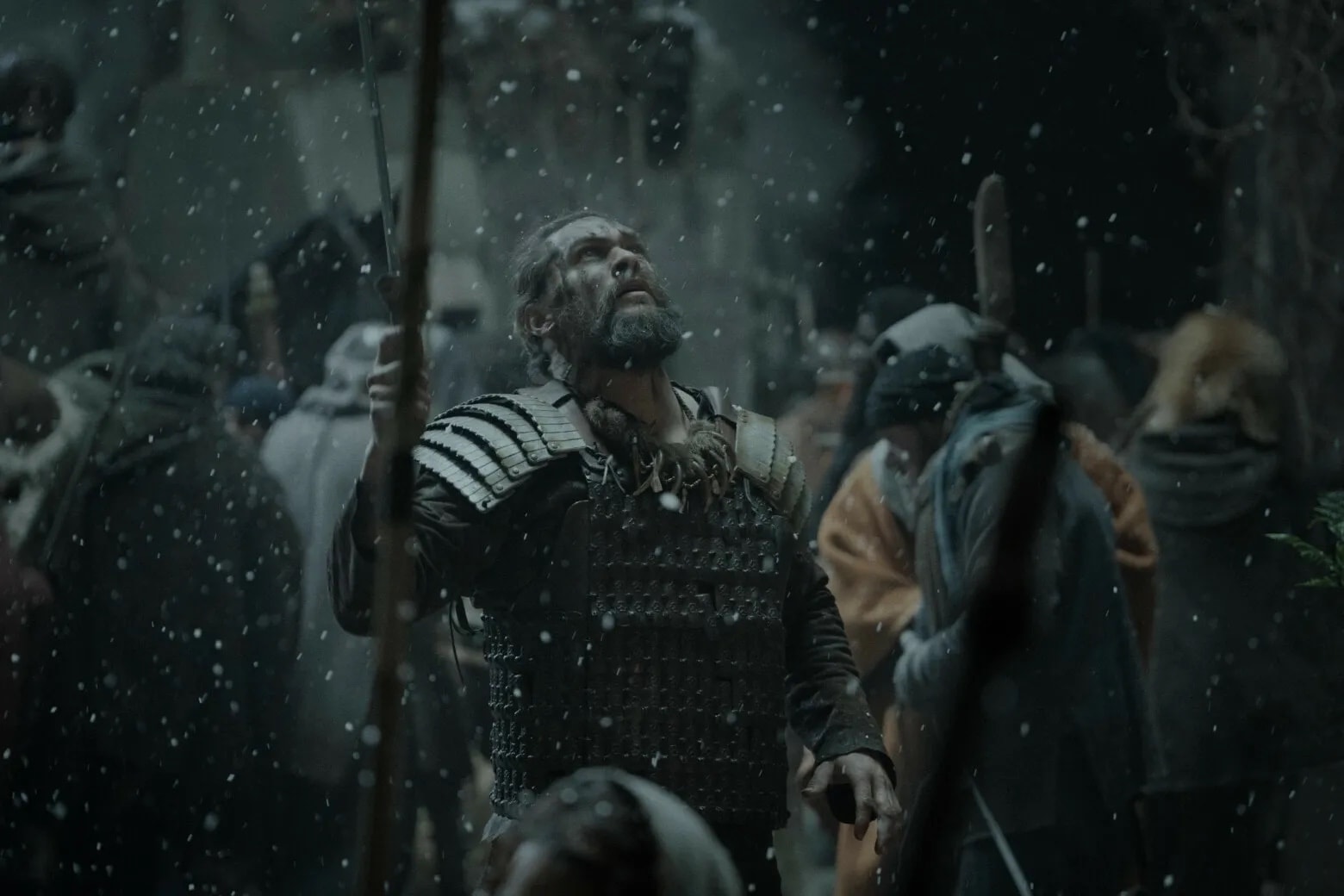 See Season 2 Review
Picking up following the events of season 1 and the capture of Haniwa (Nesta Cooper), See finds Baba Voss hunting down the man responsible for her kidnapping, his brother Edo. While Kofun (Archie Madekwe), Baba, and Paris (Alfre Woodard) are traveling to Trivantis, Queen Kane (Sylvia Hoeks) and Princess Maghra (Hera Hilmar) face an unstable Kingdom of Paya after the Queen drowned the capital city. The Queen, as conniving as ever, attempts to blame the sabotage on the Trivantian Republic and calls for war. Once again Baba and his family will find themselves in the middle of a conflict only on a much larger scale with far reaching consequences.
The first 10 minutes of the premiere set the stage for season 2 with a violent fight that shows Baba may have had a cough but he can and will still take out anyone standing between him and his family. Beginning with a bloody showdown is how See quickly grabs viewers and places them back in this dystopian world. It is also quickly revealed that this season will focus not only on the mysterious past of Baba but of Maghra as well. When the things they have tried long to bury and outrun catch up to them, chaos is sure to follow.
Enter Bautista's Edo, the younger brother of Baba and General of the Trivantian military, who has no reservations at all about torturing family if it will get him what he desires most- his brother and a sighted army. The history between Edo and Baba appears complex and will be told throughout this season with small reveals. Baba and Edo come face to face rather quickly, again See is wasting no time getting to the good stuff, which is nice as shows like this tend to drag these parts out. Their shared screen time is intense and it is clear that in casting Bautista, the filmmakers made the right choice. He is able to loom large in a room with Momoa's Baba, and makes it clear he inherited the Voss family motto of do not mess with us, we are smarter than you and even harder to kill.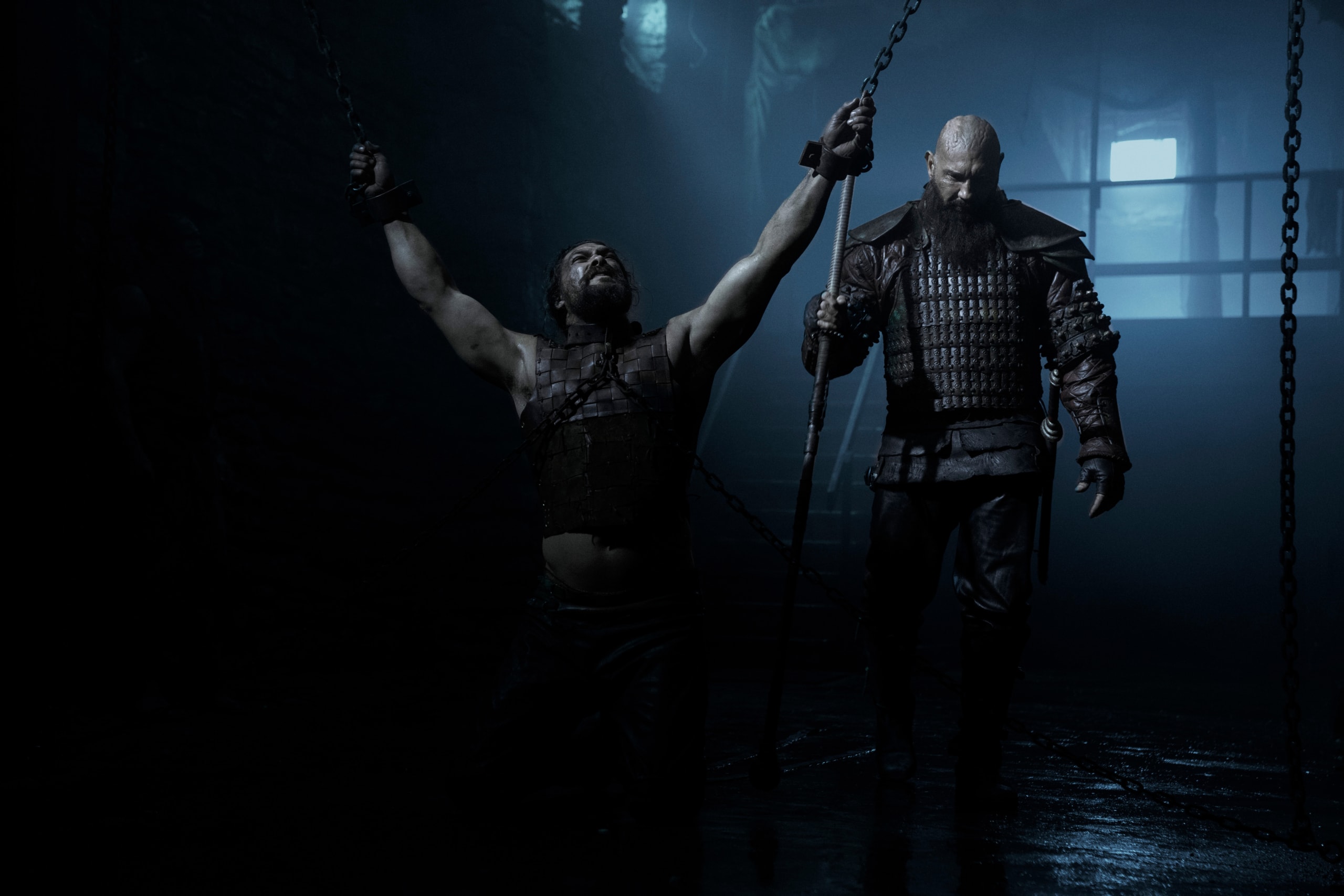 Despite not learning of Edo until the finale, See takes the time to build his story in the season 2 opener with Bautista delivering one of his best performances yet. Physically the action-heavy sequences are naturally a place for him to work his magic but it's in the moments with his brother, with his second in command, those quieter bits are where he excels. It will be interesting to see what happens when these brothers fight on opposite sides of the war that is looking over everyone and everything.
One of the highlights for this series is the action and they really took it up a few notches to make this outing more bloody and utterly ruthless. See is one of the few in this genre that takes the time to choreograph and film their gory action in a way that makes it come across in a detailed and realistic manner. As realistic as this type of violence can be anyways.
The action and cast were not the only things plussed this time around. Season 2 of See adds in world-building unlike what audiences have seen before in the show. This story and world is now far bigger than a tribe's colony by the water and a makeshift palace located in a dam. Now there are several new locations and opponents to deal with as the season marches towards war between two massive groups of people. Like a massive strategy game, it forces you to pay attention to who is making moves and who is aligning with whom.
See continues to draw audiences into its dystopian world with action packed sequences, impressive worlds, and actors who give their all. Season 2 promises to be more thrilling and exciting to watch. Plus, with the impending showdown coming, it is hard to say which of Voss brothers, if any, will live to talk about it.
See season 2 episode 1 is now available on Apple TV+. It is rated TV-MA.