Vacation Friends starring John Cena and Lil Rel Howery is a wildly entertaining, laugh out loud comedy with a surprising amount of heart. This Rated-R offering serves as a much needed mini getaway from real life.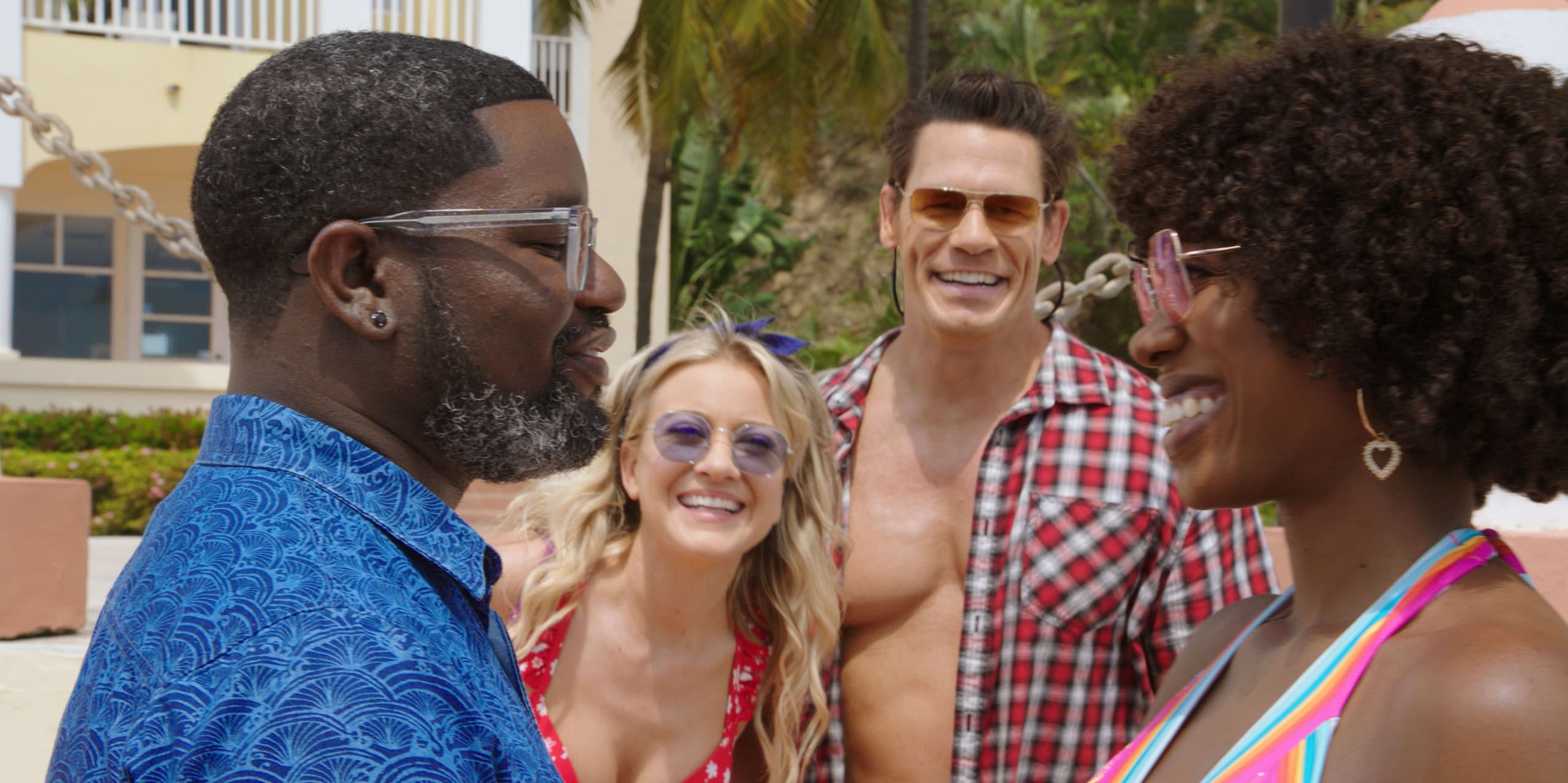 Vacation Friends Movie Review
The story follows Marcus (Lil Rey Howery) and fiancé Emily (Yvonne Orji), a straight-laced couple who come to Mexico for a nice romantic weekend. Marcus' perfect plans are immediately ruined when they discover that their hotel suite was flooded by a jacuzzi from the room above. The couple who caused the damage soon appear and they are the total opposite Marcus and Emily. Ron (John Cena) and Kyla (Meredith Hagner) are free spirits full of frenetic energy. Upset by the damage they caused they invite Emily and Marcus to stay with them in their suite instead. Things start to get crazy after Marcus and Emily unknowingly drink cocaine-laced margaritas. After that initial shock is over, they decide to let loose and join Ron and Kyla for a wild week where anything, seriously anything, can happen.
There is that saying what happens on vacation stays on vacation. Well what if it does not? What if it came back to haunt you in your real life, like say at your wedding? That is the concept behind Vacation Friends and that is exactly what it delivers. This is the kind of movie that knows what its goal is and sticks to it. Director Clay Tarver drawing on his experience from Silicon Valley, gives audiences that same ensemble-led fun while channeling the Rated-R vibe of others in this genre like The Hangover and Bridesmaids.
RELATED: Interview With The Cast of Vacation Friends: Crazy Vacation Stories & More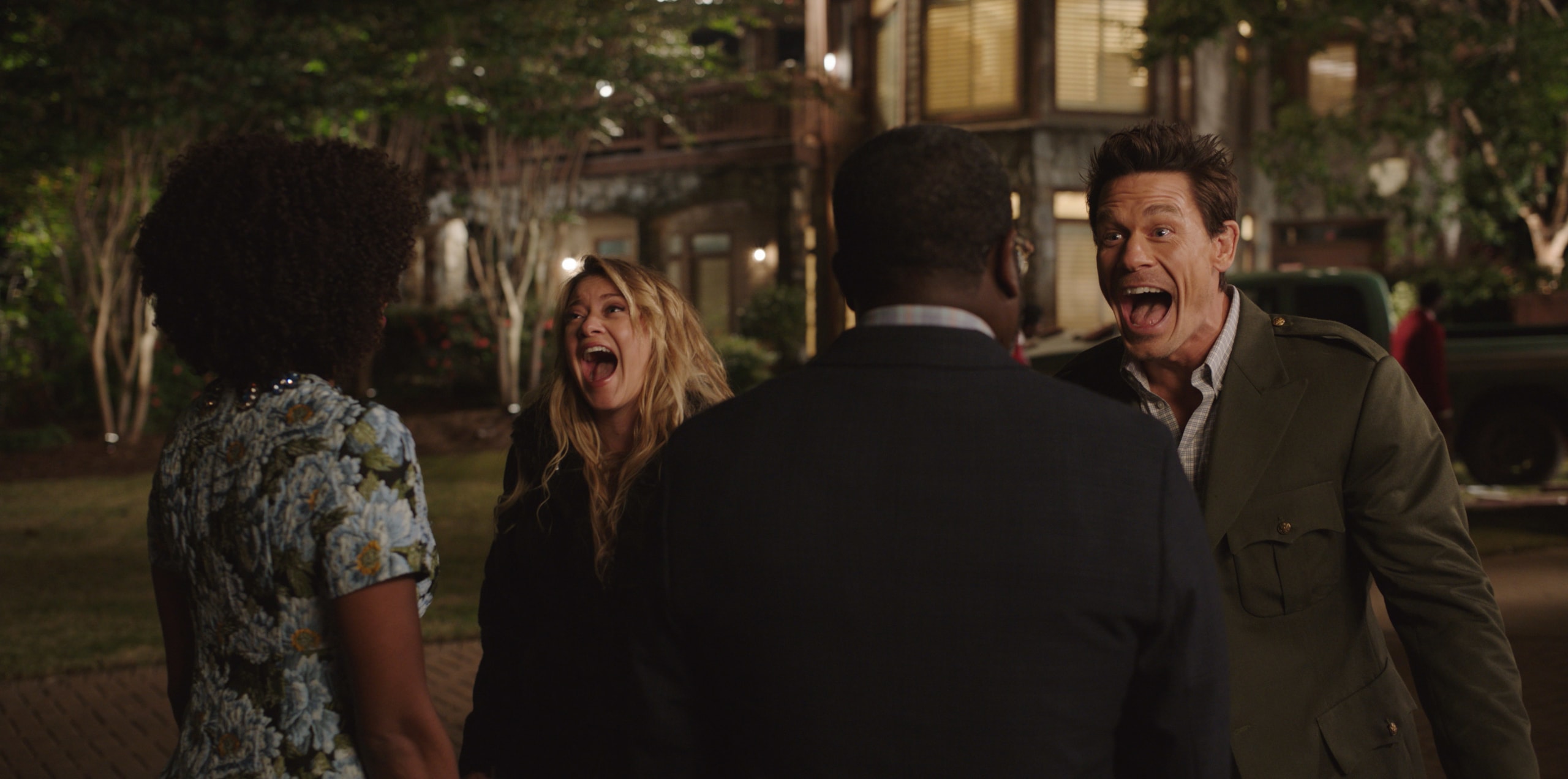 There is something refreshing about a film that gives audiences what it promises. Not only that, the premise is relatable. Most people let their hair down a bit while on vacation, just maybe not to this degree. But that is what keeps viewers laughing the entire runtime of Vacation Friends, those unbelievably insane situations the characters find themselves in.
Those circumstances would not be as funny as they are if not for the cast dynamics. Cena goes all in as the big guy in the film who actually has a lot of feelings. He lands both the comedic beats and the sincere moments making him more like the sweet puppy of the movie that you can't help but want to love. He is balanced out perfectly with Howery's uptight, high-strung Marcus. Howery's background as a standup comedian comes in handy as he pauses and reacts at the perfect times to really drive home the hilarity happening on screen. It is this relationship between Marcus and Ron that really anchors the story and provides the foundation for the teachable moments.
Without the powerhouse ladies though, the guys would be out there dead in the water. Orji, who also has a background in standup comedy, is the ideal match for Howery. She hits the comedic timing flawlessly in such a way that reiterates that Emily has a wild side hidden well underneath that poised exterior. Hagner conjures up a performance reminiscent of classic Goldie Hawn, the slightly ditzy, wild, yet lovable female protagonist. Although Emily and Kyla do not get the minutes to let their friendship develop, it seems that if given the opportunity for a sequel, they will easily become close.
Physical comedy abounds in this genre and Vacation Friends is no exception. While Tarver does lean into the strong guy gags they typically end up with unexpected results. Cena does well with this and even pokes fun at his own career when they encounter a Mexican wrestling group. "Anyone can do that." He practically winks into the camera. The most over-the-top sequence however involves Marcus, Ron, and mushrooms. Yes, chaos ensues. The funniest part of the movie takes place at the reception, with the entirety of Marcus and Emily's family present. You may need to pause it a few times to let the laughter subside before continuing.
All in all, viewers looking to take a break from the world will enjoy the drama free getaway of watching Vacation Friends. This outrageous comedy will keep the laughs coming from start to finish. With the chemistry of the cast and how wildly entertaining it was as whole, I hope we see a sequel somewhere down the road.
Vacation Friends is now available on Hulu. It has a runtime of 1 hour 43 minutes and is rated R for drug content, crude sexual references, and language throughout.