Short Circuit Season 2 debuted five new shorts created by talented filmmakers hailing from various departments of Walt Disney Animation. With stunning visuals and unique storylines, these directors will make the audience laugh, singalong, and even tear up.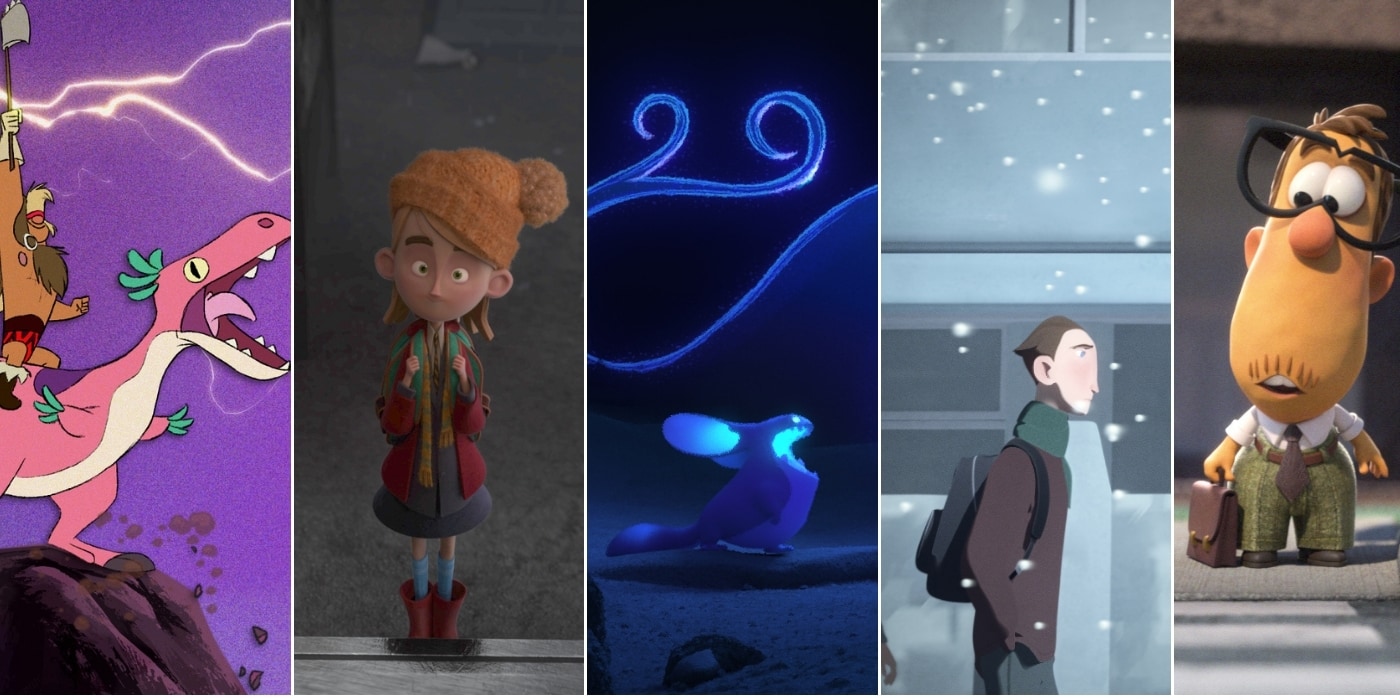 Short Circuit Season 2 Review
Walt Disney Animation Studios' Short Circuit is an innovative and experimental short film program where anyone at the Studio can pitch an idea and potentially be selected to create their own short. This year marks the fifth anniversary of the program's inception with the debut of five new shorts exclusively on Disney+.
Dinosaur Barbarian, Crosswalk, Going Home, Songs to Sing in the Dark, and No. 2 to Kettering are magical little windows into our world reminding us to have hope, spread kindness, and not to take life too seriously all the time.
RELATED: Interview: Short Circuit Directors On What To Expect in Season 2
Crosswalk
A law-abiding citizen must find his inner strength to cross the street at a light that won't change.
Director Ryan Green shared that his daily walk to work inspired this short and it is certainly one most of us can relate to. The "oh come on" and the frustration that comes with it. The main character in Crosswalk isn't going to take the attitude of this particular walk sign anymore. And trust me this sign is snarky.
This short is here to remind audiences not to take life so seriously all the time. In fact, it's not only okay but healthy to laugh about the absurdity of situations and imagine yourself conquering them in the most unbelievable way possible. But as Ryan says, this isn't to encourage disobeying walk/don't walk signs so please look both ways before you cross.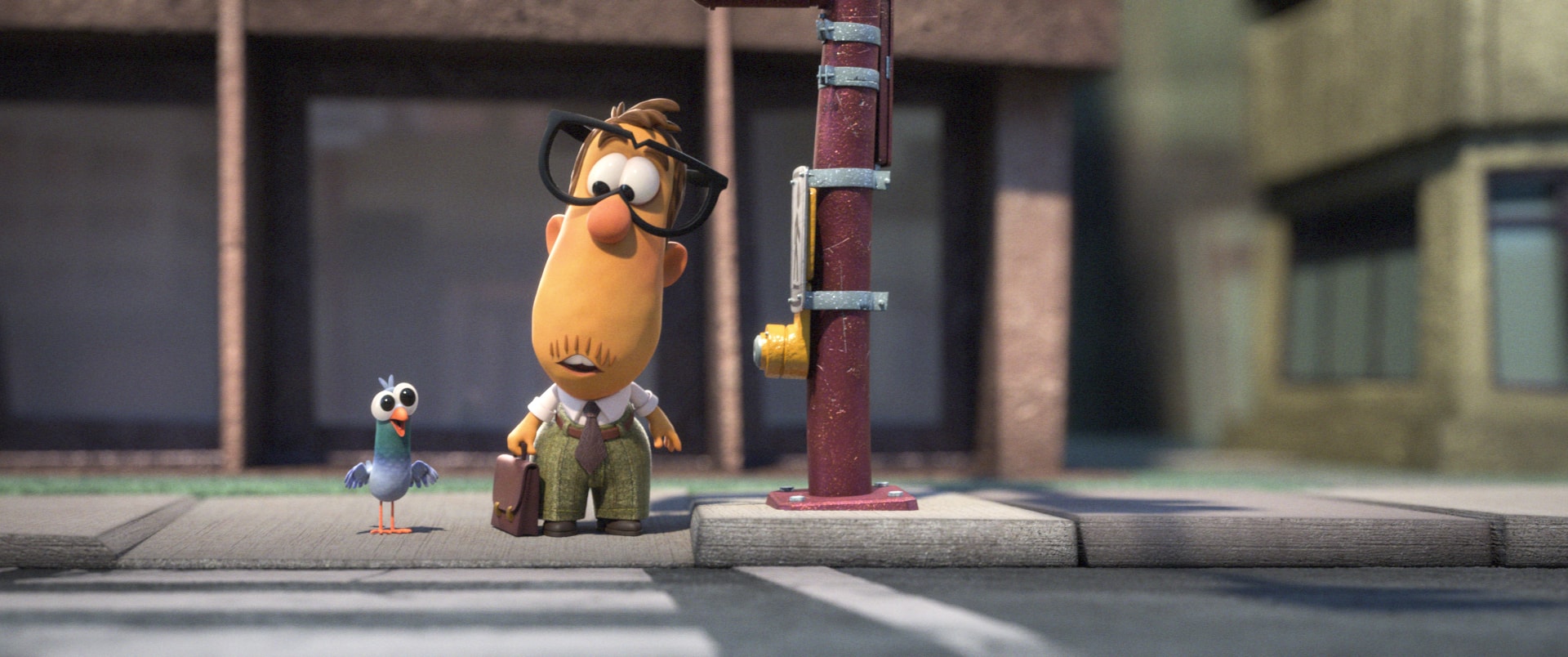 Going Home
A story about growing up and the meaning of home in which a young adult repeatedly visits his hometown, but with every new arrival he starts to face the inevitable: change.
Going Home is the more somber of all the shorts this season. This one is for the adults watching as it tackles the inevitability of change. Director Jacob Frey wanted to convey how his hometown in Germany has changed since he moved away to pursue his dreams.
The score perfectly reflects the bittersweet feel of this story. It reiterates that story Mufasa told us a long time ago, it is the Circle of Life. Although change is hard there is always hope if we choose to look for it. Even on the toughest days, loved ones can get you through.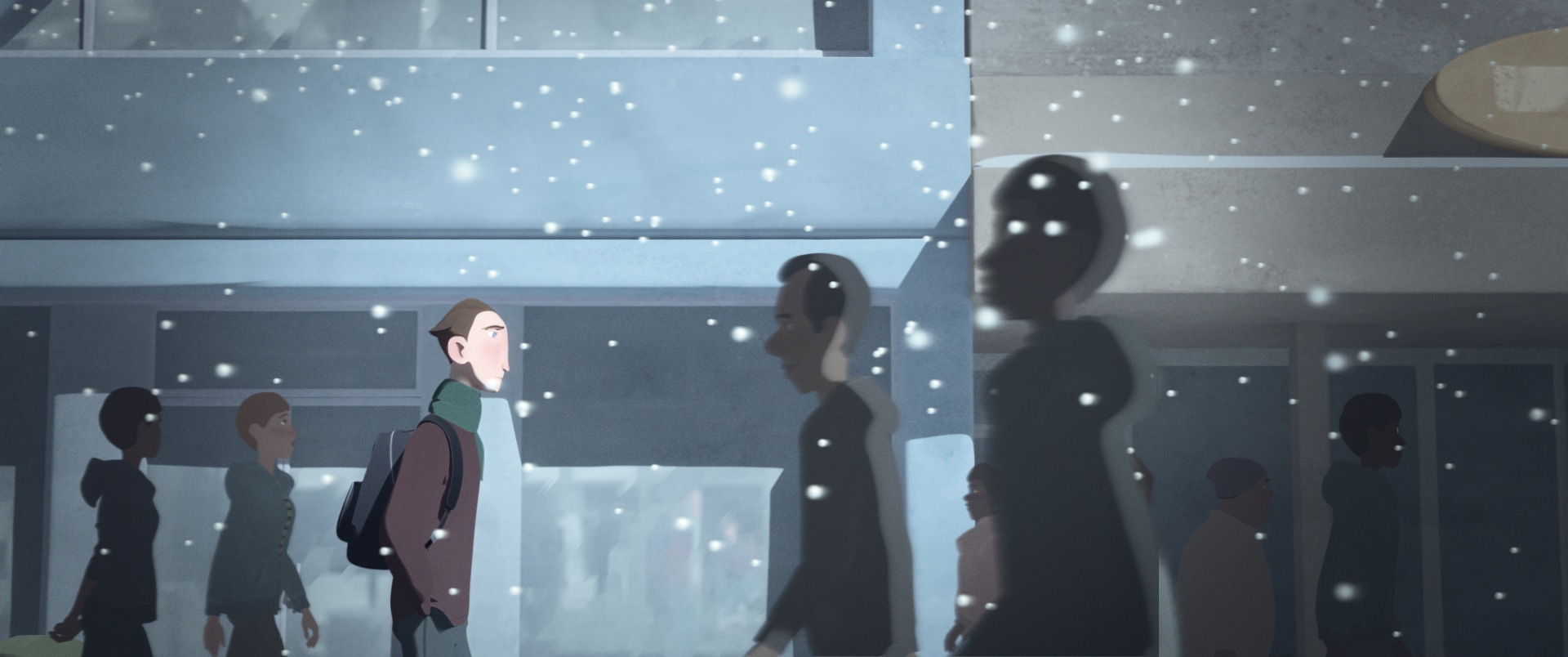 No. 2 To Kettering
On a dreary, ordinary morning, a girl learns how the power of laughter can lift even the most sullen among her fellow bus riders along their journey to Kettering.
Director Liza Rhea typically works on environments and that care she puts into other stories is evident in No. 2 to Kettering. The animation feels similar to claymation/stop animation which adds to the richness of the overall story. Although there is dialogue in this one, it is the visual transformations that truly showcase how a small act of kindness packs a lot of power.
The idea of spreading kindness is something that will resonate with viewers of all ages. The world can seem a dull and muted place but one giggle, one smile can be all it takes to saturate your sphere of influence with vivid colors and lots of joy.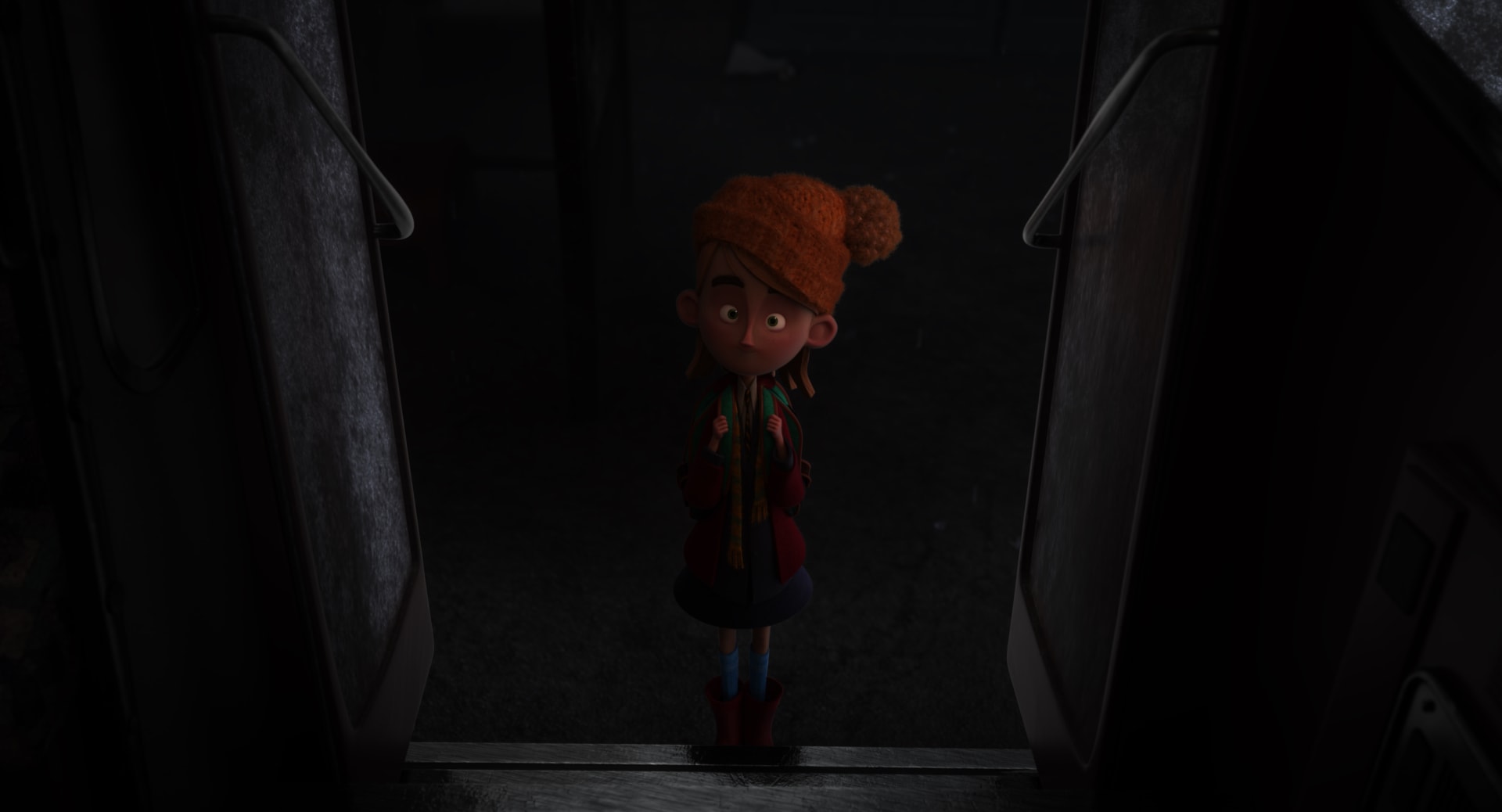 Dinosaur Barbarian
Battling evil is all in a day's work for Dinosaur Barbarian, but what about taking out the trash? Sometimes even a superhero needs to clean up his act.
Fans of 80s/90s cartoons and hand-drawn animation, this one's for you. Director Kim Hazel's Dinosaur Barbarian will be an instant hit and have you wishing this was a real show by the time the credits roll. The theme song, performed by Mondo Boys, was inspired by a poem Hazel wrote about this barbarian and his super awesome dinosaur pal. Oh, and it will get stuck in your head.
This short is pure fun for all ages, but will especially end up beloved by those of us who love this style of animation. In fact one of my favorite animators ever, Mark Henn, worked on this one. Although I know computer animation is the norm, I hope to see more of Dinosaur Barbarian and his hand drawn friends.
Songs to Sing In The Dark
Two creatures living in the depths of a dark cave engage in a battle of acoustic one-upmanship. As things escalate, they come to realize that they are stronger together.
Songs to Sing in the Dark stood out as something that could have been a lost bit of animation from Fantasia 2000. Director Riannon Delanoy applied her childhood filled with interesting science facts (thanks to her parents) to create a story that shows what would happen if animals who use echolocation were allowed to evolve to their logical extreme.
Each of the creatures first appear shaded, almost chalk-like in a way but soon let out their inner signature colors to create visually dynamic versions of themselves. Gorgeous animation and music that compliments as well as propels the story makes this one another favorite of mine. I would love to see more of these animals, and if there is ever another Fantasia, they would be right at home.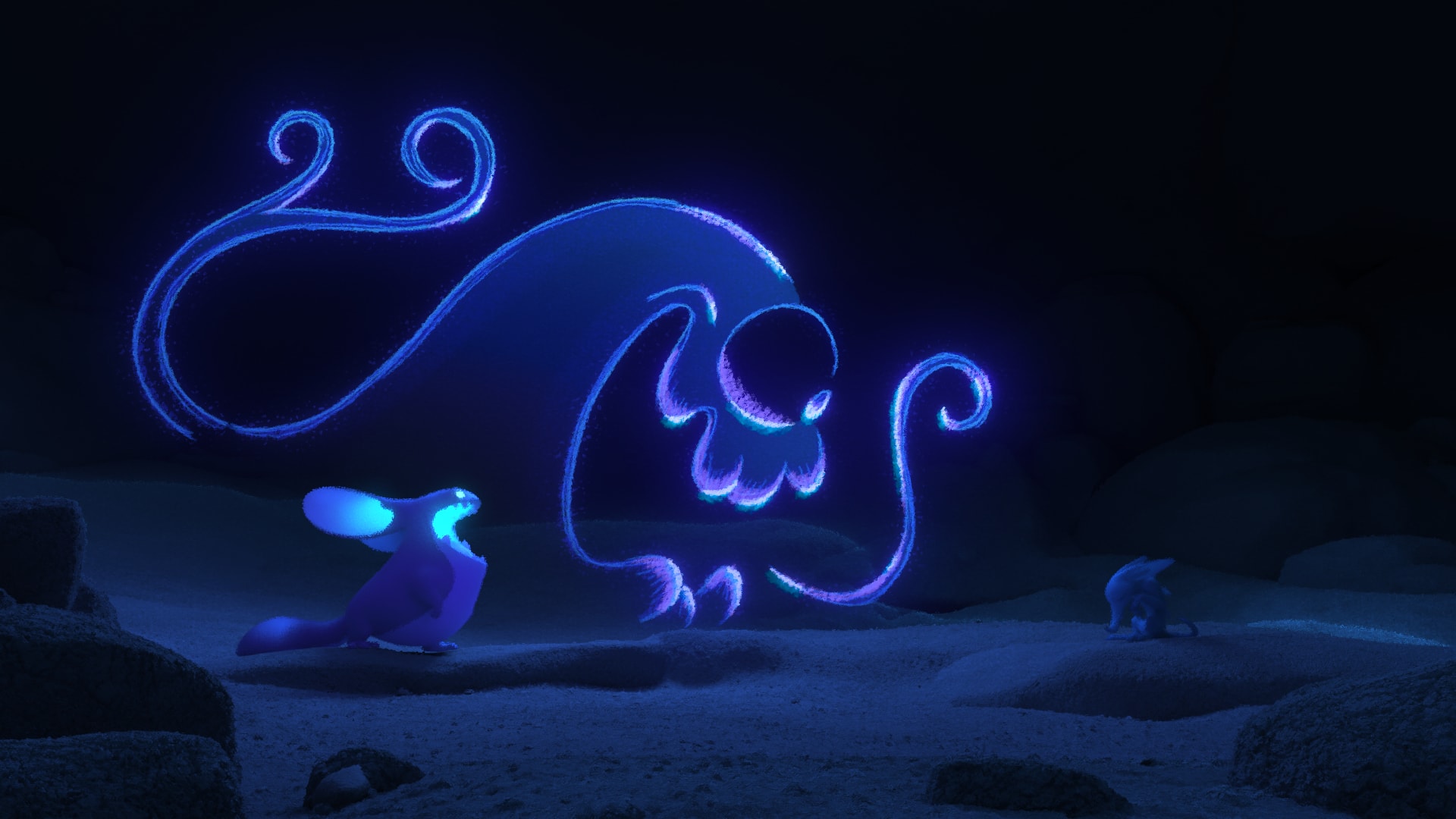 Short Circuit continues to showcase experimental shorts that wow again and again. The storytellers have delivered fun, creative, and magical stories that will have you coming back to them again and again. I hope to see more from these new directors in the future and at least a mini series featuring Dinosaur Barbarian.
Season two of Short Circuit is now streaming on Disney+.