Short Circuit season 2 is now available on Disney+. This collection of shorts was created by talented artists hailing from various departments at Walt Disney Animation. These stories will make you laugh, singalong, and maybe even tear up. I had the chance to meet the directors of these films and learn more about the inspiration behind them.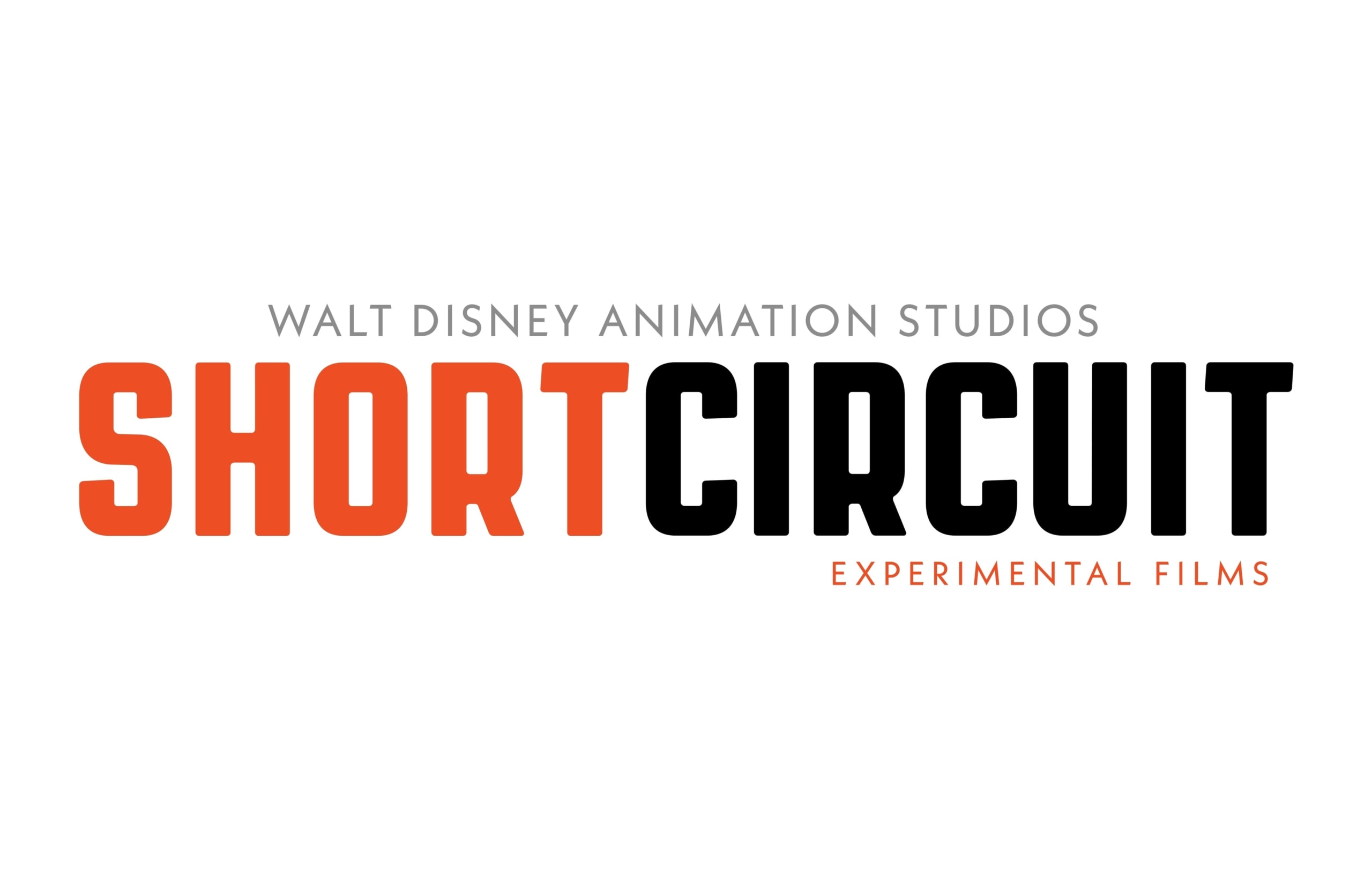 Interview: Short Circuit Directors On What To Expect in Season 2
Walt Disney Animation Studios' Short Circuit is an innovative and experimental short film program where anyone at the Studio can pitch an idea and potentially be selected to create their own short. This year marks the fifth anniversary of the program's inception with the debut of five new shorts exclusively on Disney+.
After screening the five shorts I couldn't wait to talk with the creators and see what inspired them to tell these stories. Not only are the plots unique but the visuals are incredible and vary from short to short. One feels as if it was created using stop animation while another could easily find a home in another Fantasia film. Also on hand to answer questions was Jennifer Newfield, the production manager of Short Circuit.
RELATED: Interview: Launchpad Directors On Bringing Their Short Stories to Life
Jennifer, you worked on season one of Short Circuit as well. What do you think makes this season unique and exciting?
Jennifer: I think there's so many aspects that all these filmmakers bring to the table. What's just thrilling about Short Circuit as a program overall is that we're always looking for new and innovative ideas. All these brand new directors get to bring something different to the table. Plus, I think what's so lovely about the program, as it goes over time, is that the directors get to influence each other. They get to pay it forward almost from their shorts to the next season, and get to bolster each other up and help each other have different creative visions come to the screen.
Songs to Sing in the Dark visually stood out to me amongst the shorts. Where did the idea for this come from?
Riannon: My parents are both research scientists and before Short Circuit, even before I was an animator, I spent a lot of time reading and going down information rabbit holes, because that's what my family does for fun. As pertains to this short, some animals like bats, they're very advanced with their use of sound. They use echolocation to navigate, but a few animals use sound for even more than that.
Tiger moths can use interference patterns to jam echolocation. Sperm whales can blast sound like a shotgun to stun prey. Dolphins even appear to have a pictographic language where they can send images to one another, and it's all encoded in sound. What if you took those abilities to their logical extreme? What would happen if you took a group of echolocating animals, and let them evolve for millions of years in this totally dark cave, in this massive evolutionary feedback loop? That blue sky possibility for visuals and sound really appealed to me.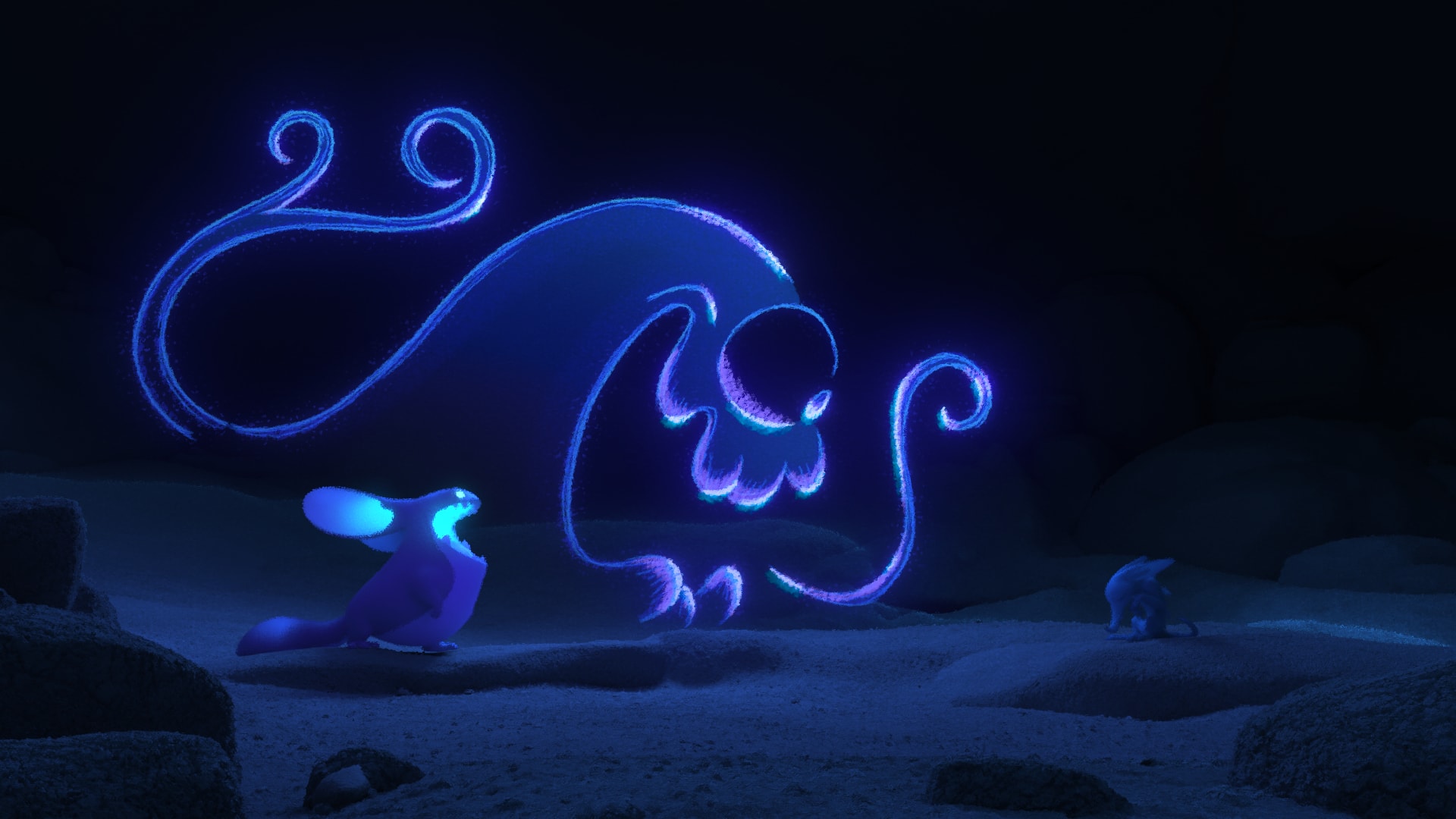 Going Home features shifting seasons to move the story along and really make the viewer feel the change that is occurring in the character's life. Did that present any challenges? And did the soundtrack come before the animation or vice versa? It seems to capture the bittersweet nature of the short perfectly.
Jacob: It definitely added another layer of complexity to the shot, especially from an asset level where we needed different variations of foliage for trees. There was a lot of planning happening before we actually started to animate those shorts, creating this whole library of assets to populate a whole city, and for different seasons. It was definitely more work than just having one season.
In this case, the animation came first. I always envisioned it to be a very somber piano track, and working with Jake Monaco was a super cool experience because he absolutely captured that vibe perfectly in his first version and at that point it was really just fine tweaking. I was so excited with the result. It adds such another level to it, and really draws you in.
Having visited the Walt Disney Studio, Crosswalk reminded me of a very familiar street.
Ryan: Yes, there's a light right outside of the Disney Animation building, and I think all of us have waited there many times. You can see way down the street in both directions, there's very little traffic and the light takes forever. I just remember standing there one day just waiting, and waiting, and waiting. I just pictured my ancestors showing up next to me like, "Hey, what are you doing? We wanted to make a better life for ourselves, so we got on a boat and crossed the Atlantic. We didn't wait for a robot to tell us to do it. Why are you just standing here? You can see, you can cross the street." That just basically became the seed of the idea.
Liza, first is there really a number two bus that goes to Kettering? And two, how did you decide on using color and the lack thereof to tell your story? It's an interesting concept.
Liza: It's really funny that you should ask that because when I told my mom the title of my film, her response was, "But the number two doesn't go to Kettering." When I went to visit her last time, because we know a lot of bus drivers, we met with her friend, and we were like, "We have to settle a bet here, does a number two still go to Kettering?" They were like, "No, no, no, but it used to." In the '90s, when I got the bus, there was a number two to Kettering, but I guess there technically isn't anymore.
I use color as a tool to communicate emotion. I know it's been used many times, but I think what makes my film unique is what kind of emotion I'm trying to convey and how. I really wanted to think, "Okay, what if there's a girl full of vibrant color, and she's living in a world that's maybe bogged down and she's just getting a bus. She's all full of energy and bubbles." That is what I wanted to translate using color. As she interacts with a lot of people on the bus, sometimes that color can be drained, and sometimes, it can go the other way and she can infuse color into someone else by lifting their energy and joy.
Dinosaur Barbarian definitely hit home for me with nostalgia. It looks and vibes like 90s Saturday morning cartoons. When it comes to the theme song, what was it like coming up with that? How closely did you work with the musicians?
Kim: That process was incredible. They were so collaborative, so enthusiastic, so much fun. The way our relationship worked creatively was when I had submitted my pitch for Dinosaur Barbarian I had written what I called my poem, because I'm not a trained songwriter, but I had the beats that I wanted story-wise to play out. I handed that off to the composers, and they came back with something that just completely blew my mind. Both in terms of the melody, and the adjustments they made to my poem, which made it a bajillion times better.
Honestly, it felt very magical because I gave them word salad in terms of what I was hoping to achieve with the song, and with their first pass, I didn't even know how to react. I was honestly speechless at how much they had taken everything I wanted and created exactly that in 90 seconds.
Being that you are all from different departments within the Studio, what is one thing you learned stepping into the directors position for your shorts?
Riannon: I think one of the most important things I learned is just to be calm because when you're calm and centered, the whole production runs smoother. People have more fun. I had so much fun meeting people, and working with them, and being inspired by their ideas. Everything was a delight. I loved it.
Kim: Probably the biggest thing that I learned is that everybody at Disney Animation has really, really good ideas. I really appreciated the enthusiasm, creativity, and ideas that the whole Dinosaur Barbarian crew brought to the table. Letting people just run with something that they're really excited about yields really great results.
Jacob: For me, I'm so used to doing the work myself and now I had to delegate the work to others and really trust them and let them blast their work. That was my goal to really set everyone up to succeed as best as I could. That will then create a nice dynamic. That was really the focus during my production to have everyone have a great experience.
Liza: Just being able to trust the team. I was similar to Jacob in my mind. I've made films before, short films but it's all been me. Relinquishing that control and being able to say, "I know you are an expert in your field, so I'm not going to pretend that I am because I don't know as much as you do about this area." Being able to go, "Oh my God, you made this so much better than I can even imagine making it." It was just phenomenal because the talent at Disney blows me away in general, and so seeing someone bring your ideas to life with their exceptional skill set was just a dream come true.
Ryan: Over the whole course of the piece, I think I just learned that the director's job is just to guide the conversation, and the director has to keep in mind the clarity of the theme, and just the consistency of the style, and just let the artist flourish.
Jennifer, what is it like working on something like Short Circuit, being that is different from your normal projects?
Jennifer: I'd say that what we do at the studio normally is pretty different from the way that Short Circuit is run. Everyone who enters into Short Circuit is holding hands to agree that we're going to do something different both visually, stylistically, and workflow-wise. For me, it is keeping me on my toes saying, "How can we accomplish what you're trying to build in a condensed period of time, and a condensed screen run time essentially? How can I best roll back into my skill set, and think about all my pipeline experience, and try my hardest to support the directors in the way that their specific shorts need?"
Each short is curated and each short has extremely different resource needs. For me, just pivoting around, making sure that I'm providing everything that each director requires in a very short period of time is always educating me further on my craft as a producer, production manager, somebody who oversees a lot of their teams.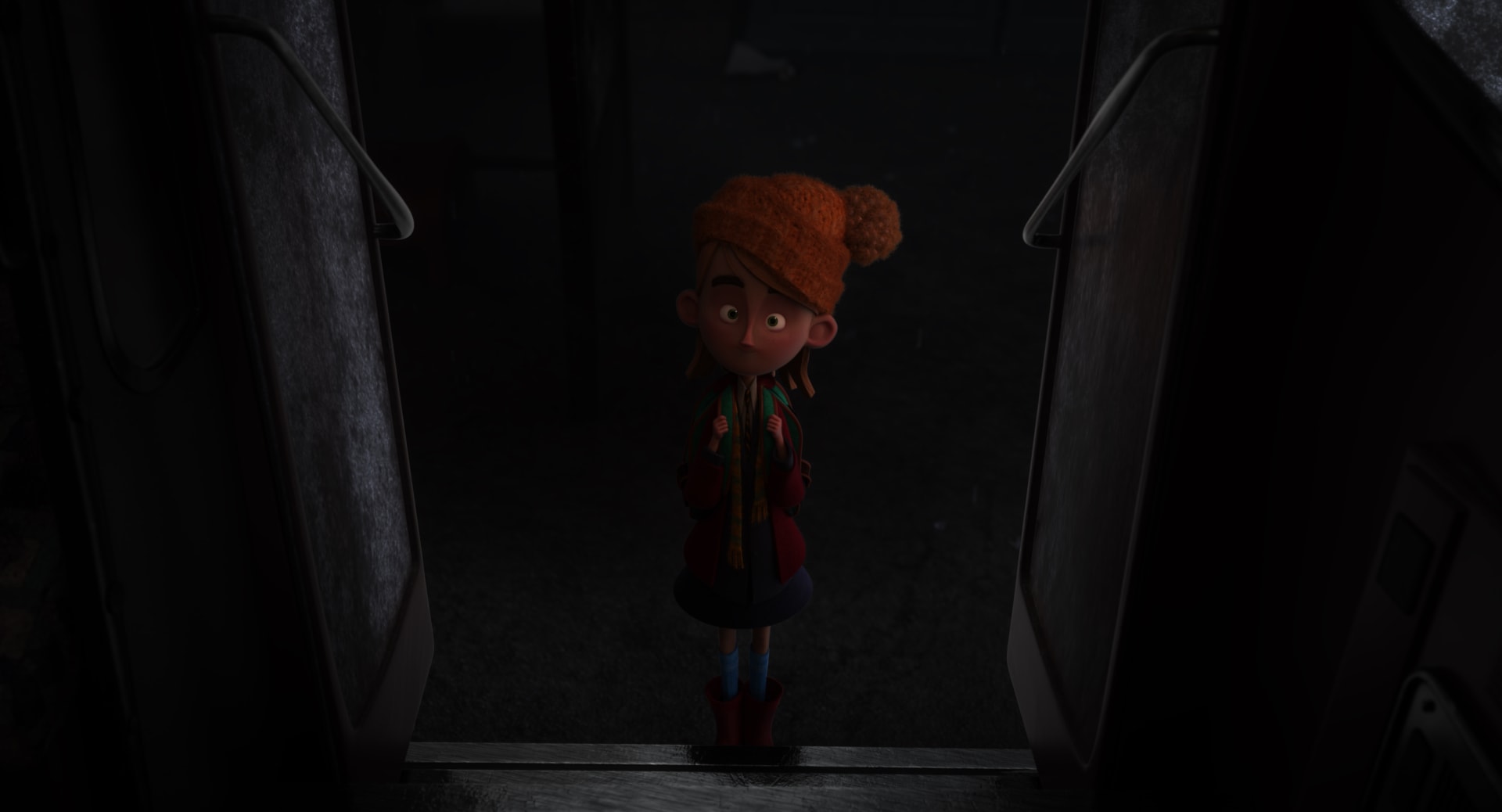 Short Circuit Season 2 is now streaming on Disney+.