Whether or not you have decorated your house yet, the holiday season is officially here. We recently visited Gaylord National to experience all the festive activities they have to offer this year. Christmas on the Potomac has gotten bigger and better. This year step inside your favorite Christmas movies, slide down an ice hill, throw snowballs, and so much more. Here are our 5 reasons families should experience Christmas on the Potomac at Gaylord National.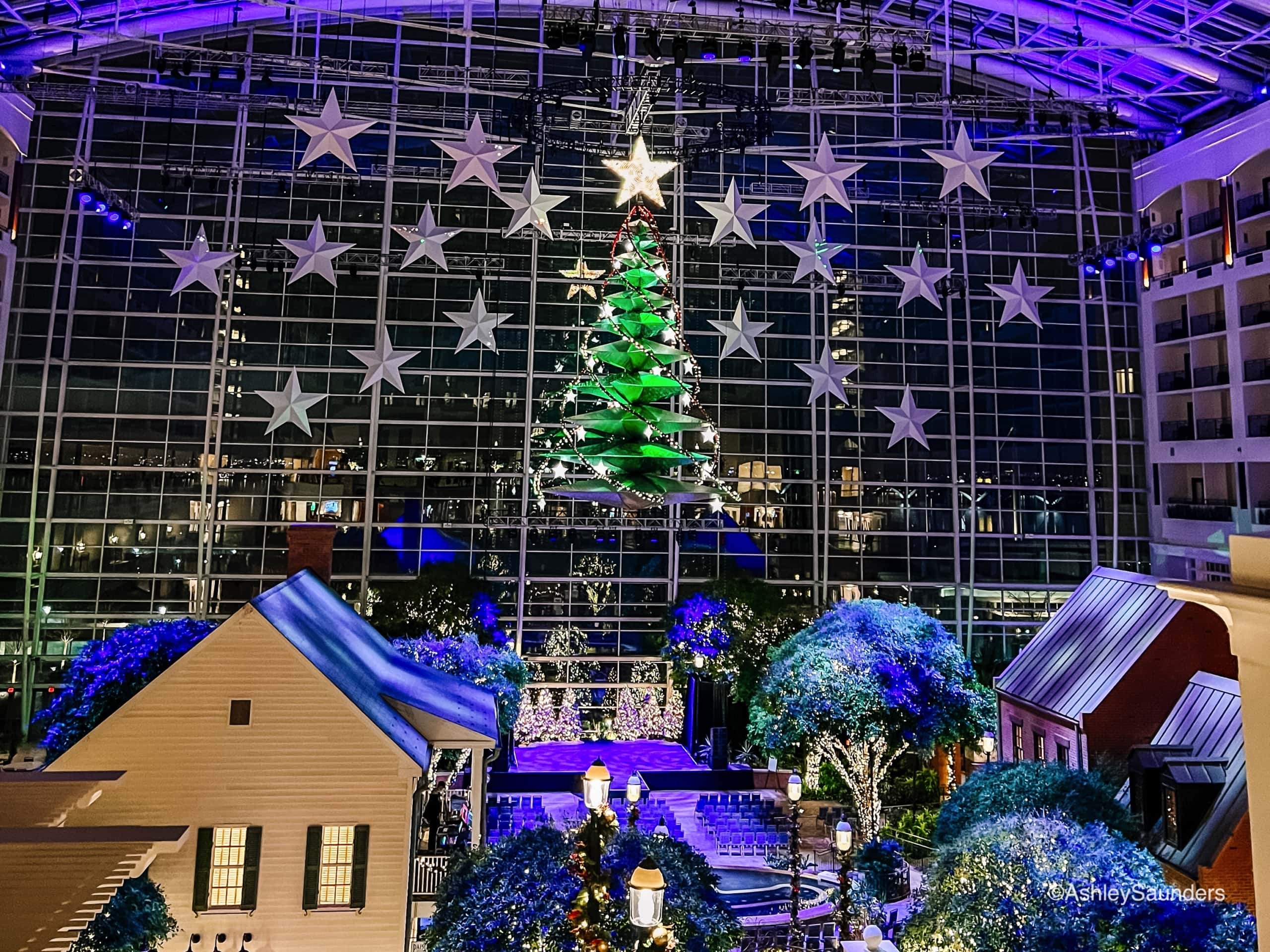 Our visit was hosted by the Gaylord National. All opinions are my own.
Christmas On The Potomac
Christmas on the Potomac is an event not only for Gaylord National guests but DC Metro area residents and anyone visiting the area this holiday season. They were going for the theme So. Much. Christmas. and they delivered.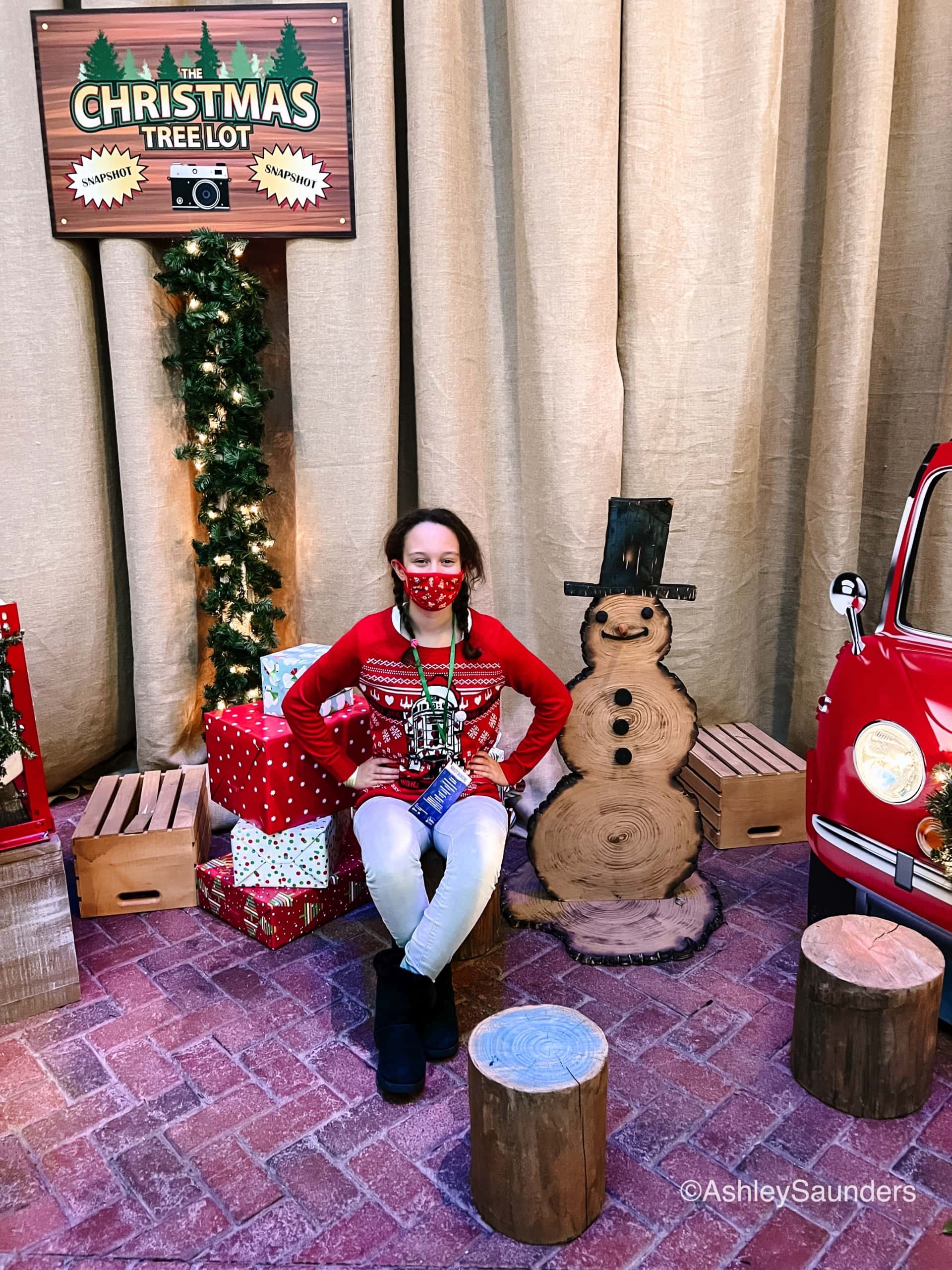 1. I Love Christmas Movies
If you have visited our site before then it is not surprising that we love our movies around here. Set visits are always a highlight for me when I am in town on the studio lots. Now you can experience that level of fun at Gaylord National. Step into scenes from some classic Christmas movies including The Polar Express, Elf, National Lampoon's Christmas Vacation, A Christmas Story, and The Year Without A Santa Claus.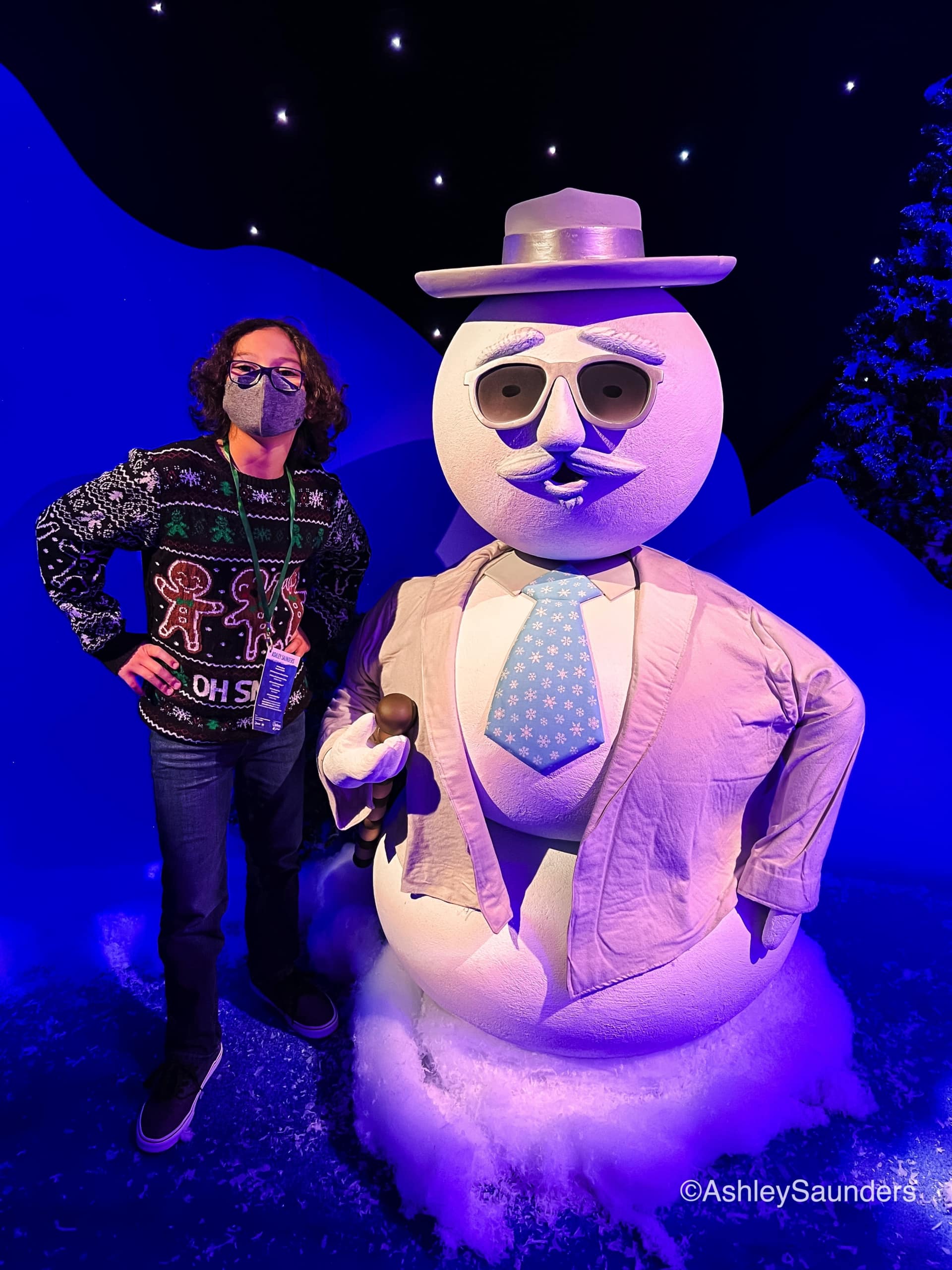 Each movie set features several iconic scenes that fans will instantly recognize. Smell the hot chocolate on board the Polar Express and maybe kick a breaker or two when the Griswold's house lights up. Plenty of photo opps are available throughout this experience. It is a must do for any movie fan.
*Included with overnight stay, also eligible for ticket bundles.
2. Snow Flow Mountain Ice Tubing
The Snow Factory conveyor belt has frozen solid so that can only mean one thing- ice tubing! Grab a tube and head up to the top to ride down this indoor ice coaster. This was my kids' favorite thing of all the Christmas activities at Gaylord National. They rode down that ice hill so many times. Unlike some of the other attractions, this one can be experienced more than once so it is definitely a win-win on fun and value.
*Included with overnight stay, also eligible for ticket bundles.
3. Snowball Build & Blast
Time to test out your snowball throwing skills, only no one gets hurt with this game. Build and throw real snowballs to boost the power of the snowmaking machines. Some friendly competition was had between us, and yes I won because you don't play baseball and softball for years without having a great arm and perfect aim.
Grab a hot chocolate afterwards to warm up those hands!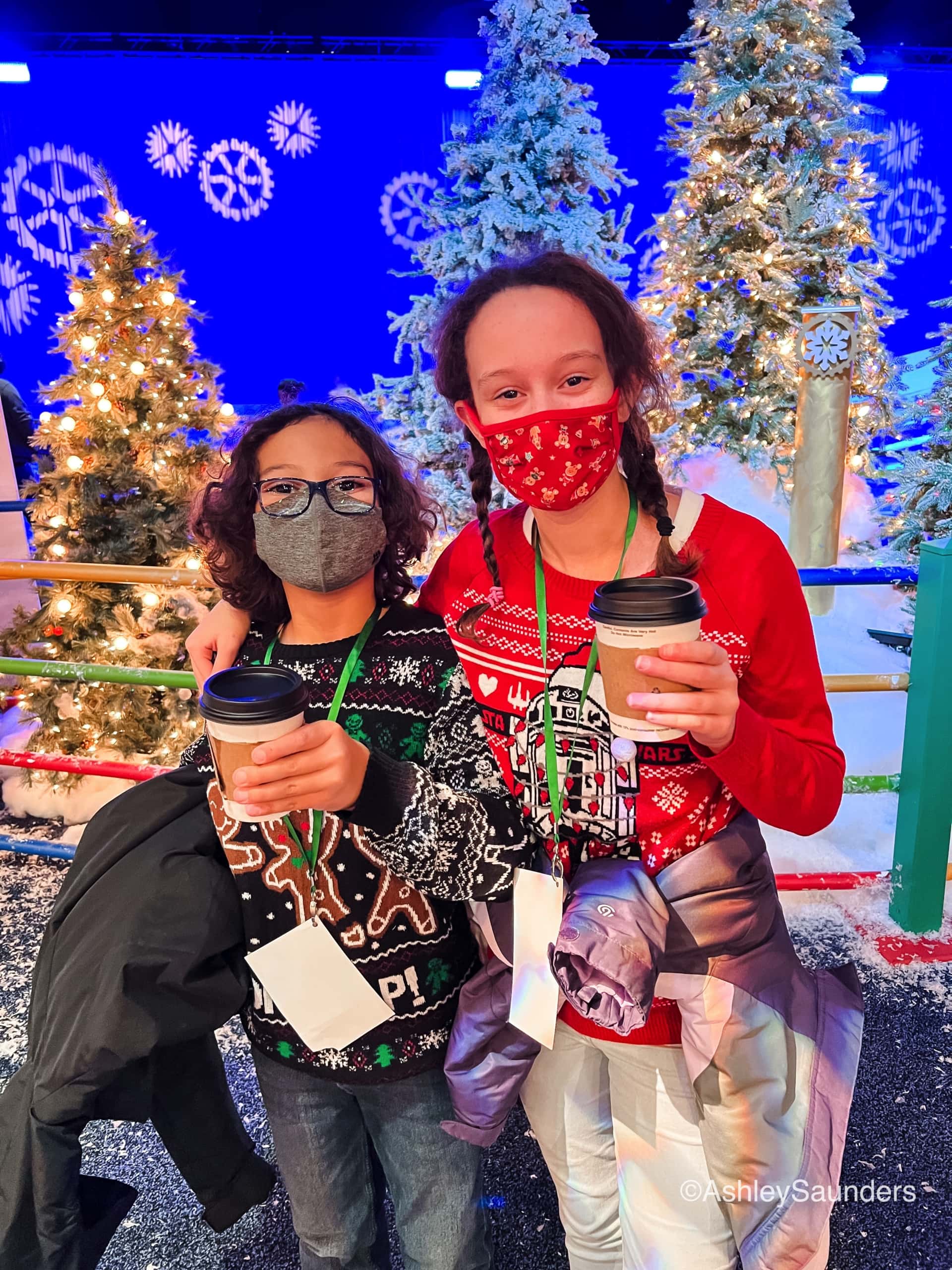 *Not eligible for ticket bundles.
4. Gingerbread Decorating Corner
Is it even Christmas if you don't decorate a gingerbread house? At Christmas on the Potomac everyone can participate in crafting a gingerbread house or cookie masterpiece. See what kind of awesome patterns and colors you can create or if you're my kid, eat the decorations instead of using them. Whatever you end up with, once everyone is finished, show off your creation to the resident gingerbread man in charge- Nutmeg.
*Eligible for ticket bundle
5. The Greatest Story Stage Show
Take a moment to enjoy The Greatest Story Stage Show and remember the real meaning behind Christmas. Six storytellers from different parts of the world bring Jesus' story to life with a musical stage show and multicultural celebration of everlasting faith, hope, and love.
*The show is free, with seats available on a first come, first served basis. Guaranteed seating available for purchase.
Bonus: Holiday Sweets, Drinks, and More
Stop by the Holiday Sweet Shoppe for hot chocolate, eggnog, and specially prepared desserts to take home and share (or not). For adults looking for more spirited fare, the Christmas Tree Lot features 8 holiday inspired cocktails. I highly recommend the Mistletoe Margarita. You can thank me later.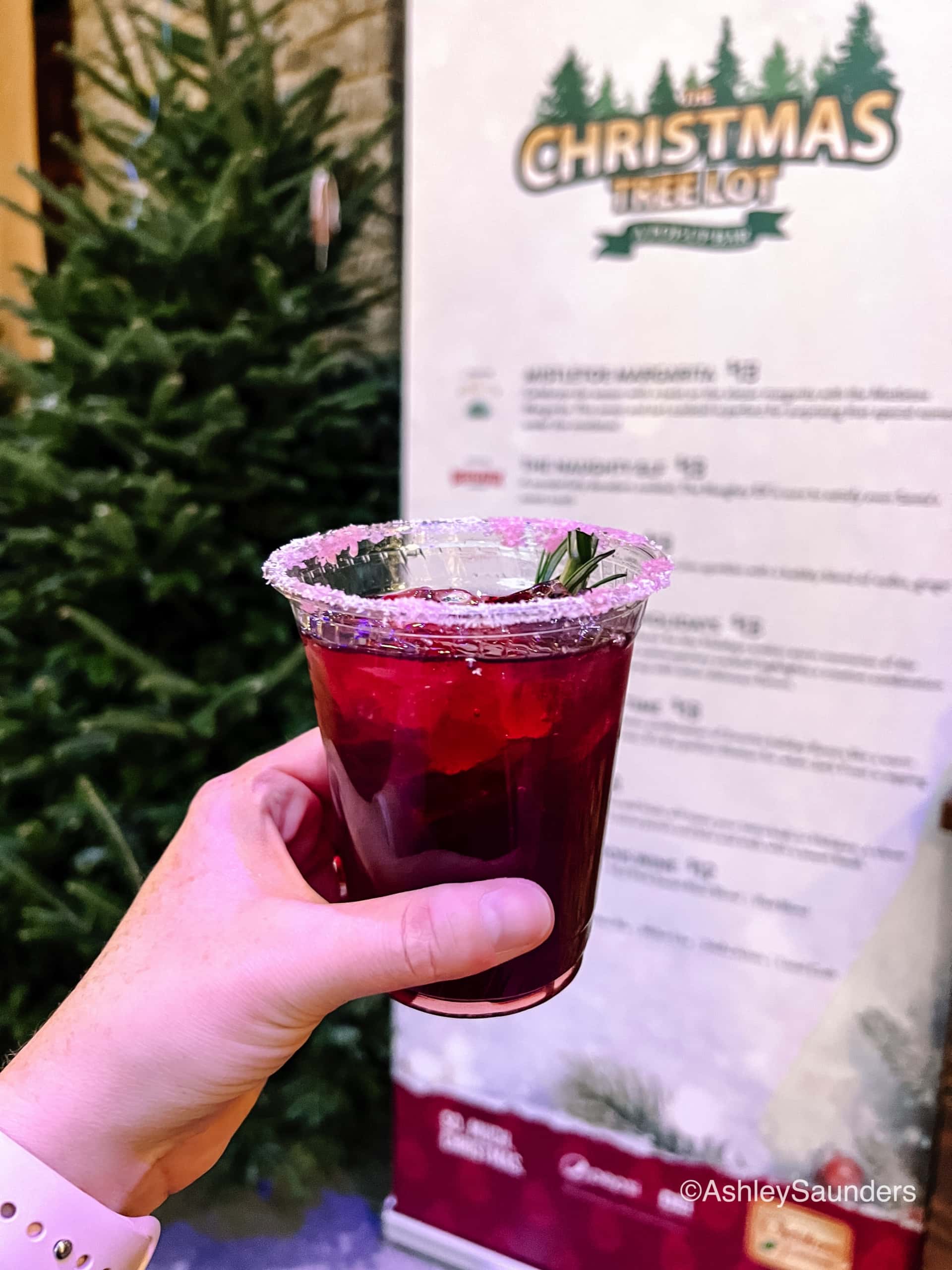 How To Get To Gaylord National Harbor
If you are flying into the Washington DC area, Gaylord National is just a 15-minute drive from Reagan National Airport and a 45-minute drive from both Dulles and Baltimore Washington International Airports. Guests are welcome to use the Shuttle services for an additional price. More info on shuttles here.
Planning on driving in? Gaylord National is located right off of I-95/I-495. It is around 15 minutes south of Washington DC. This makes getting from the resort to the city simple. Feel free to explore Washington DC while you are in town, there is always something to see and do.
Don't miss out on all the Christmas on the Potomac excitement. Get your tickets today!