Kate stole the Ronin suit and attracted the unwanted attention of the Tracksuit Mafia. Hawkeye shows up to save the day but the clock is ticking as he races to get his suit back and stop the Mafia from harming Kate. Meanwhile Kate is on a mission of her own. Surprise! The leader of the Mafia is someone Hawkeye and the alias Ronin have some history with. Let's get "Hide and Seek" with this Hawkeye episode 2 easter eggs and breakdown.
This is your spoiler warning if you haven't watched episode 2 of Hawkeye.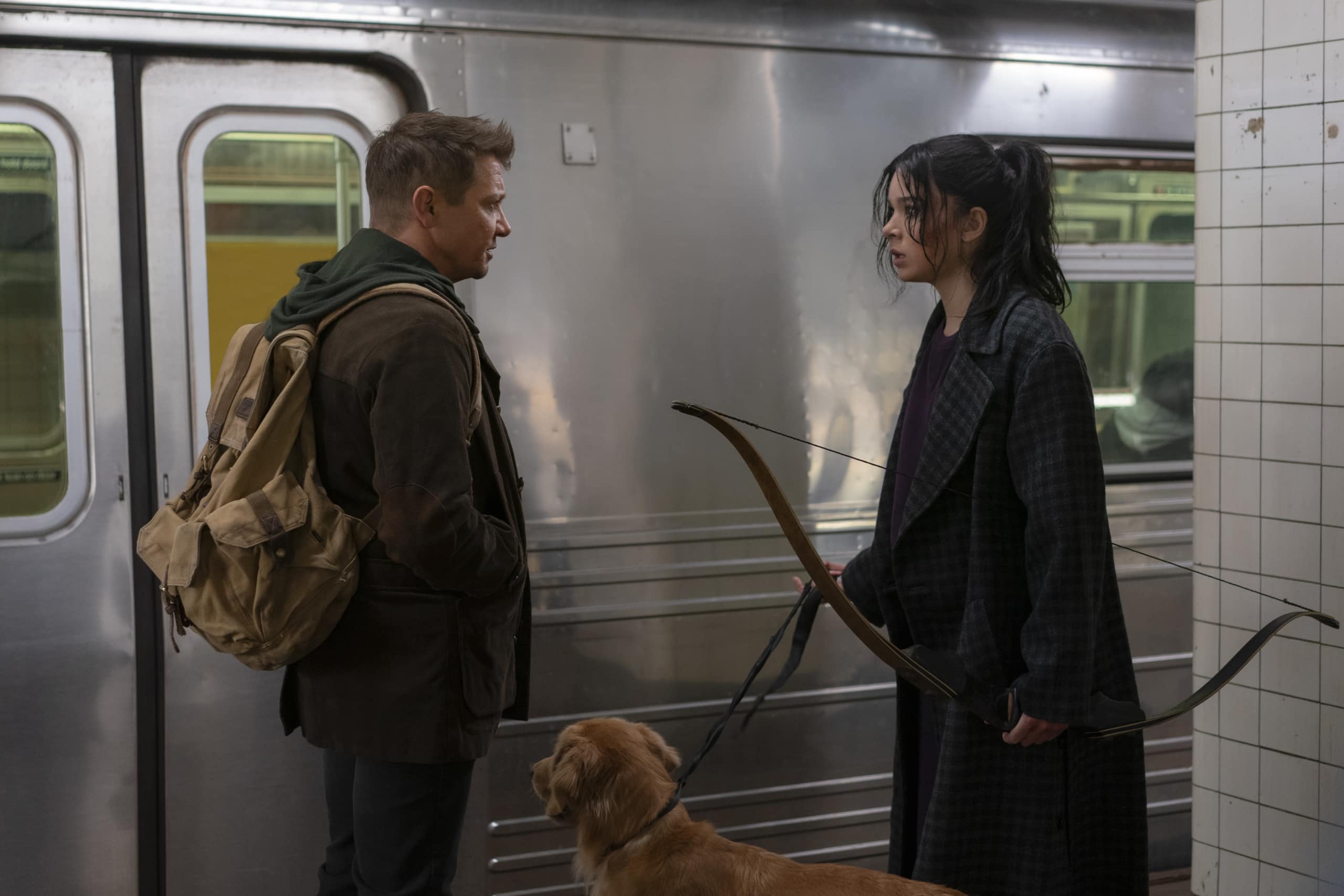 Hawkeye Episode 2 Easter Eggs & Breakdown
Episode 2 picks off right where the first left off, Clint showing up to save Kate from the Tracksuit Mafia. He wants to know how she got his Ronin suit. She tells him about the black market auction and what happened there.
Kate also reveals she is a Hawkeye super fan and asks if he will sign her bow.
As mentioned in the last article, in the comics Armand is Jack's father. However in the show, Armand is his uncle.
Clint warns Kate that the person who wore the Ronin suit made a lot of enemies. Cue the Tracksuit Mafia who has followed them back to Kate's apartment and sets it on fire. They leave the suit behind with a plan to come back for it.
RELATED: Hawkeye Episode 1 Easter Eggs & Breakdown
In the subway they board train number 2572.
They need to pick up supplies, Kate thinks they are going to Avengers' Tower but Clint reminds her Tony sold that a few years ago. This is in reference to the move Happy Hogan oversaw in Spider-Man Homecoming.
Kate knows of a safe house, her aunt who is away in Florida has a place in the city. There are several names on the callbox:
Hoover #6C
Sosa/Meyers #6a
Barnhill/Hawke #3E
Brown #5E
Saga #4B
Taffet/Danzig #4F
Fulton/Bernstein #3F
Ponciano #4E
Gonzalez #5F
Matalevich/Pisano #3B
Treitman/Dodd #2D
Jones/Gunther #2E
Moira Brandon #6D (This is the name to note, more on her below)
For/Raneri
Bedos/Appalaraju #2A
Dean/Rogers/?
Moskowitz
Clint takes helmet #54 and dresses like a firefighter in order to get in and grab the Ronin suit. It's gone however and he realizes that one of the fire fighters took it. The NYC Larpers sticker on the truck gives him the clue on where to look.
The number 54 is in honor of the Midtown Engine Company 54 who lost all their fire fighters at the World Trade Center on September 11.
Back at the apartment, on the wall is a Creature of the Dark Galaxy poster starring Moira Brandon and Luke Ballard. The movie itself seems like a plan on Universal Studios' Creature from the Black Lagoon. It is Moira Brandon however that is a deep-cut comic reference. First introduced in Avengers West Coast #100, Moira was an actress whose home was bought by the West Coast Avengers who turned it into the Avengers Compound. Moira was killed after saving Hawkeye (and Mockingbird) from Crossfire's attack on the Compound. Her co-star, Luke Ballard, was a visual design artist for Marvel. Apparently in this show, Moira is alive and living in NYC.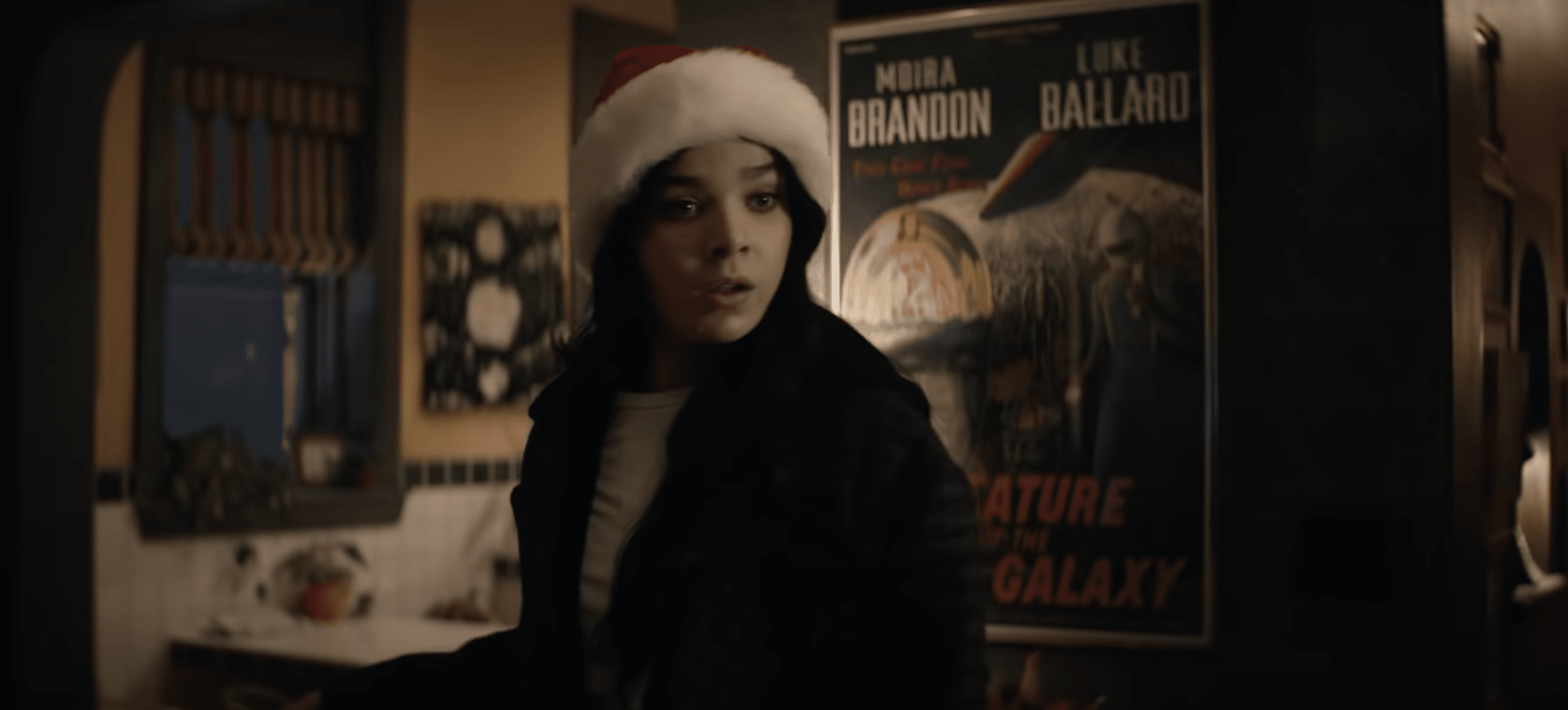 There are several Christmas movie references in this episode. The first is when Kate says Clint's heart is 3 sizes too small a nod to the Grinch.
Kate declares she has named the dog Pizza Dog.
While he sticks around town to get his suit back, Clint sends the kids home to be with their mother. Nate is learning sign language. He promises "I'll be home for Christmas," another movie reference.
Thanks to the news, they learn the police are looking for Ronin, blaming him/her for Armand's death and the robbery at the auction. There is also a Rogers The Musical commercial.
In Times Square various shops can be seen including the Disney Store.
Clint has a little flashback moment of some of his bigger fights in the MCU as he thinks about why he has hearing loss.
It wouldn't be Times Square without rip-off superheroes, albeit the ones in this show look a million times cleaner than the actual ones you see there. Standing in a group are Katniss Everdeen, Ant-Man, Iron Man, Hulk, Thor, and Captain America.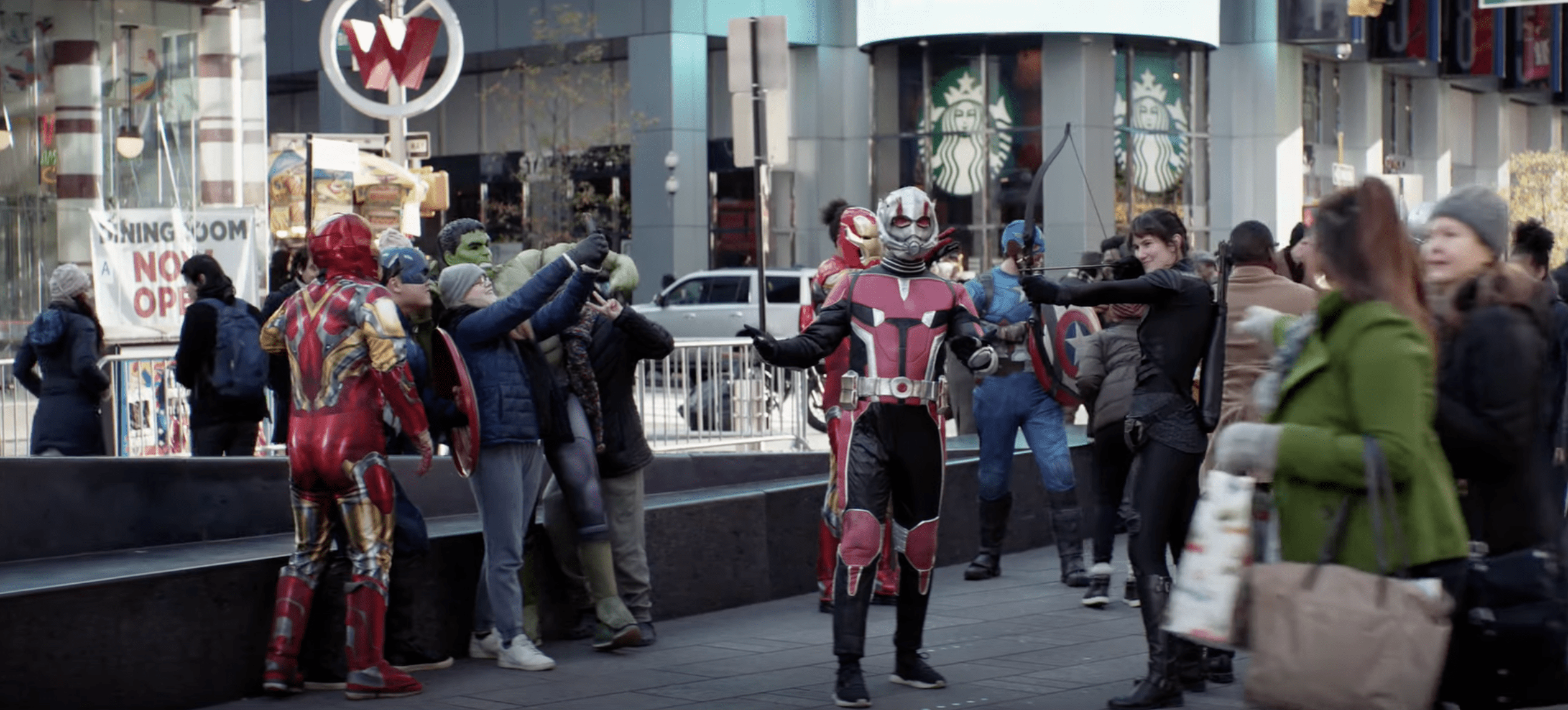 Kate goes to her mom's office. Eleanor owns Bishop Security. She wants to discuss everything that has been going on but Jack is there.
Meanwhile Hawkeye goes to Central Park to find the Larpers and get his suit back. They will not let him through the gate unless he follows the rules. He must Larp to enter.
Name? No Thank You
Email: Classified
They hand him a scroll, he barely throws on any garb before he easily and deftly "cuts" through the carpers to get to the guy wearing his suit. The guy recognizes him "aren't you Hawkeye?"
Hawkeye wants none of these games however he makes a deal that he will let the guy win in a trial by battle for the suit. "And I fought Thanos" Clint groans.
As promised, Clint threw the match and the man handed over the suit. He says his name is Grills. This is likely a nod to Gilbert aka Grills, a neighbor of Clint's in the comics.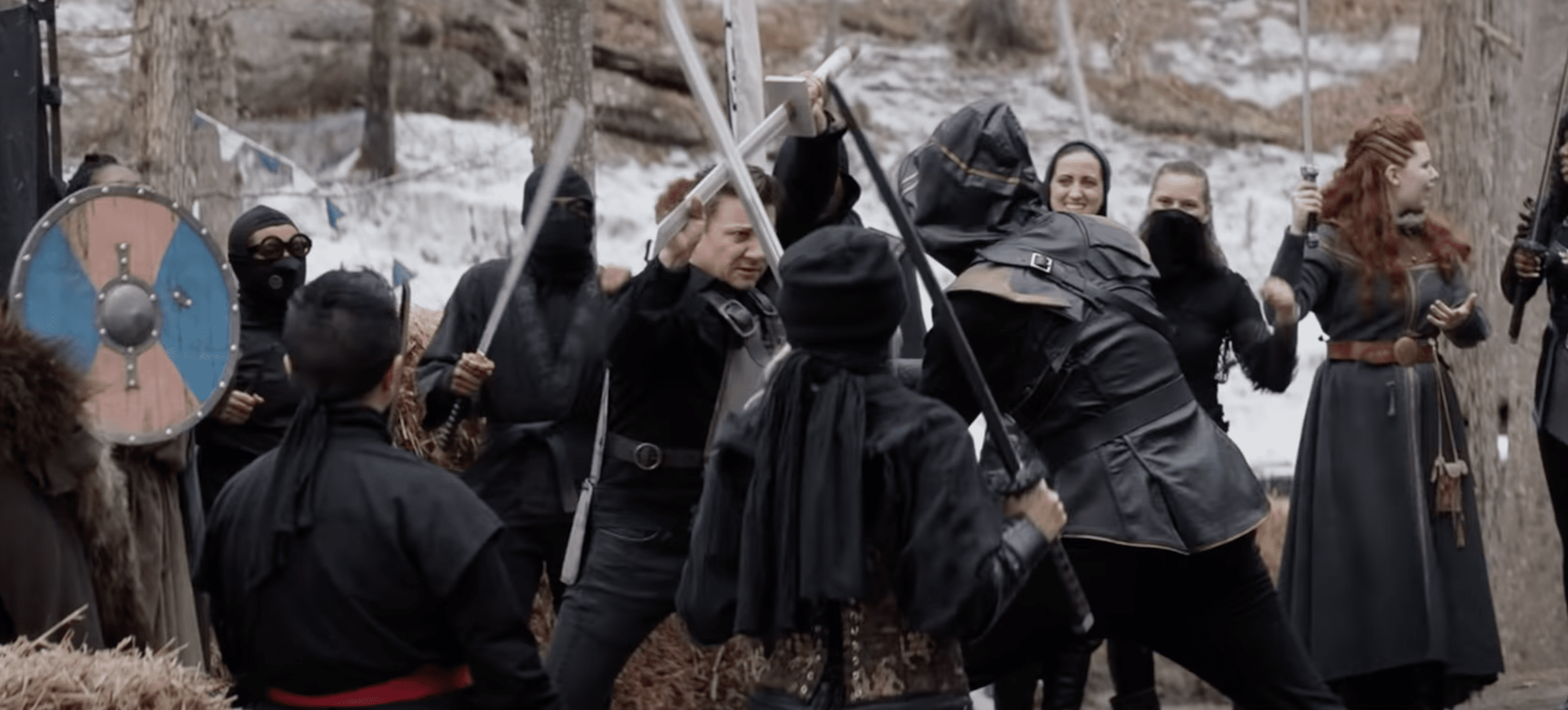 Laura asks Clint what the play is to get the info he needs. He says "Catch and Release" which Laura points out is one of Nat's old moves. In Avengers, that is exactly what is happening when Natasha is first seen.
At Eleanor's house, Kate challenges Jack to a fencing competition to prove that he is a liar. However her mother doesn't really see what the big deal is, that he lied about his sword handling skills. But Kate knows Armand was murdered by a sword.
Christmas movie reference: Put one foot in front of the other, a line from Santa Claus Is Comin' To Town.
Jack is nonplussed by Kate's anger and hands her a butterscotch, a monogrammed butterscotch from Armand's apartment.
Kate gets a phone call from Detective Caudle. In the comics, Caudle is the detective who Kate has several interactions with while she is in California, including her first P.I. case of missing orchids.
Hawkeye waits around to get captured, they say "she wants him alive." Kate is eager to tell Clint what happened at dinner but he doesn't answer his phone. Instead one of the goons does. She uses her Bishop Security access to track his phone down.
Clint is handcuffed to a chair just like Natasha was in Avengers. The mafia wants to know about Kate Bishop, he claims he doesn't know her at all. Unfortunately his plan doesn't work because Kate falls through the ceiling and lands on the floor. No superhero landing here.
The final shot of the episode features Echo, Maya Lopez (Alaqua Cox). Maya Lopex is a Native American of the Cheyenne Nation who was born deaf. Her father was a mob enforcer for Kingpin before he was murdered by the villain. Kingpin, impressed by Maya's skills, hid that fact from her as he took her under his wing. He once sent her to kill Daredevil, claiming he was responsible for her father's death. Daredevil convinced her of the truth and she turned her anger toward Kingpin. It's also interesting to note that she has used the alias Ronin in the comics, and in fact was the first to do so. Is she working for Kingpin during the events of Hawkeye? No one knows for sure, yet.
Hawkeye episodes 1 and 2 are now streaming on Disney Plus.