The holidays have come early. Marvel Studios' Hawkeye episodes 1 and 2 are now available on Disney Plus. Clint is trying to get home to his family, but nothing ever goes as planned when you are an Avenger. When Kate Bishop gets tangled up with the Tracksuit Mafia and a setup, she's going to need Clint's help. Let's get "Never Meet Your Heroes" with this Hawkeye episode 1 easter eggs and breakdown.
This is your spoiler warning if you haven't watched episode 1 of Hawkeye.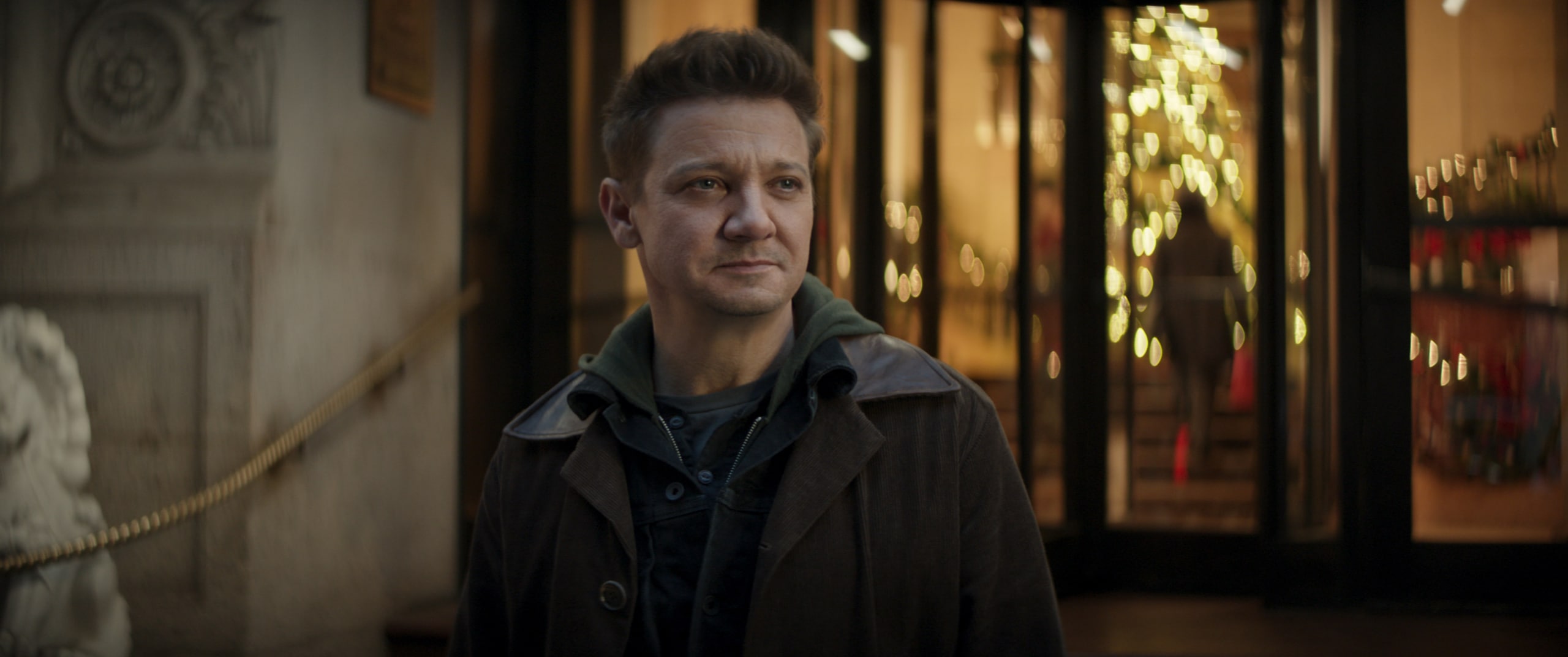 Hawkeye Episode 1 Easter Eggs & Breakdown
Hawkeye begins in the past, in 2012 New York City. Kate Bishop is at home with her family when all of sudden Loki's attack on New York happens.
The Chitauri Leviathan can be seen outside her window as well as other Chitauri forces.
Part of her home is destroyed and as she looks at Stark Tower in the distance, Hawkeye saves her life and she watches as he jumps from the building, taking out more Chitauri as he goes. Kate's father, unfortunately died.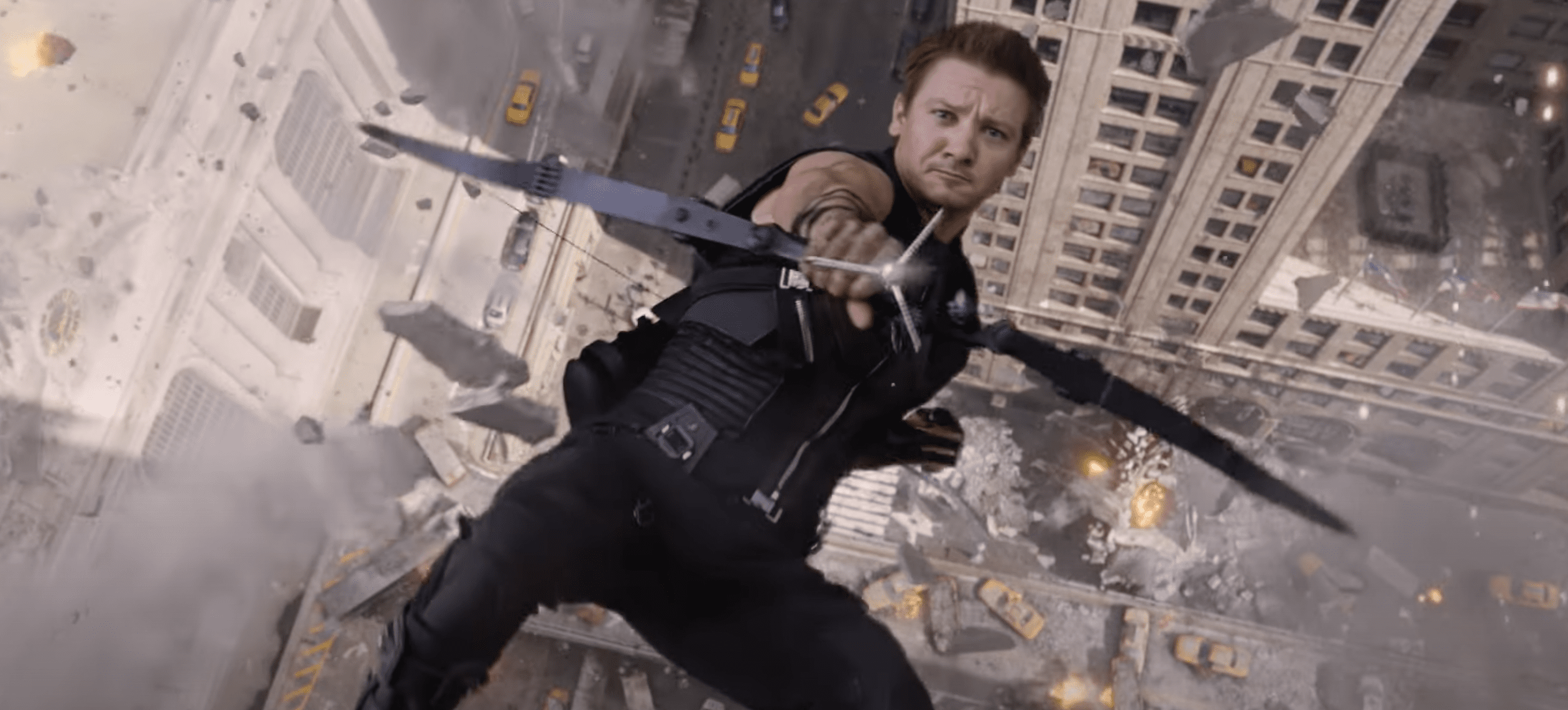 Kate is determined to protect her family and asks her mother, Eleanor Bishop, for a bow and arrow. In the comics, Eleanor Bishop ended up being a vampire who worked with Madame Masque.
The opening credits resemble the art style from the Matt Fraction and David Aja Hawkeye comics.
RELATED: Hawkeye Episode 2 Easter Eggs & Breakdown
Present day, Kate is breaking into Stane Tower in order to win a bet. She has to make the bell ring with an arrow. She succeeds and also destroys that part of the campus. She is sent home. Stane is a nod to Obadiah Stane. The plaque says the tower was rededicated on July 2006 in honor of Obadiah.
She is on the phone during this scene with her friend Greer. Greer Grant Nelson is also known as Tigra in the comics and is a founding member of the West Coast Avengers.
Clint and his children are in New York City watching Rogers The Musical. It features all the original Avengers who saved New York plus Ant-Man who Clint points out wasn't there. The show takes place in the Lunt-Fontanne Theatre which is across the street from The Richard Roger's Theatre home of Hamilton.
In a deleted scene from Captain America: The First Avenger "Steve Rogers Meets Nick Fury" Steve runs out fo the building SHIELD has kept him in and into the city. He runs past the Lunt-Fontanne Theatre.
The main song is Save The City. Which includes Steve's famous line "I can do this all day."
Clint is not impressed and has turned down his hearing aid so he can't hear the show. In the comics, Hawkeye is typically depicted as deaf. In 1983 a sonic arrow that he uses to take down Crossfire results in Clint being permanently deaf. He eventually heals because-comics, then the Clown physically stabs Barton in the ears. In 2014 another comic run reveals the deafness began due to abuse he suffered in childhood. In episode 2 he reveals he is losing his hearing thanks to the various explosions and world ending fights he has been a part of as an Avenger.
A little girl in the theater dressed like Black Widow waves to him.
In the bathroom someone wrote Thanos Was Right on the urinal. This is likely a nod to those in the fandom who do in fact think Thanos had a point.
Outside the theater are several posters for the show. "Rogers' is a soaring, smashing, flying, fighting, musical triumph." and "5 Stars Captures the heart of a hero."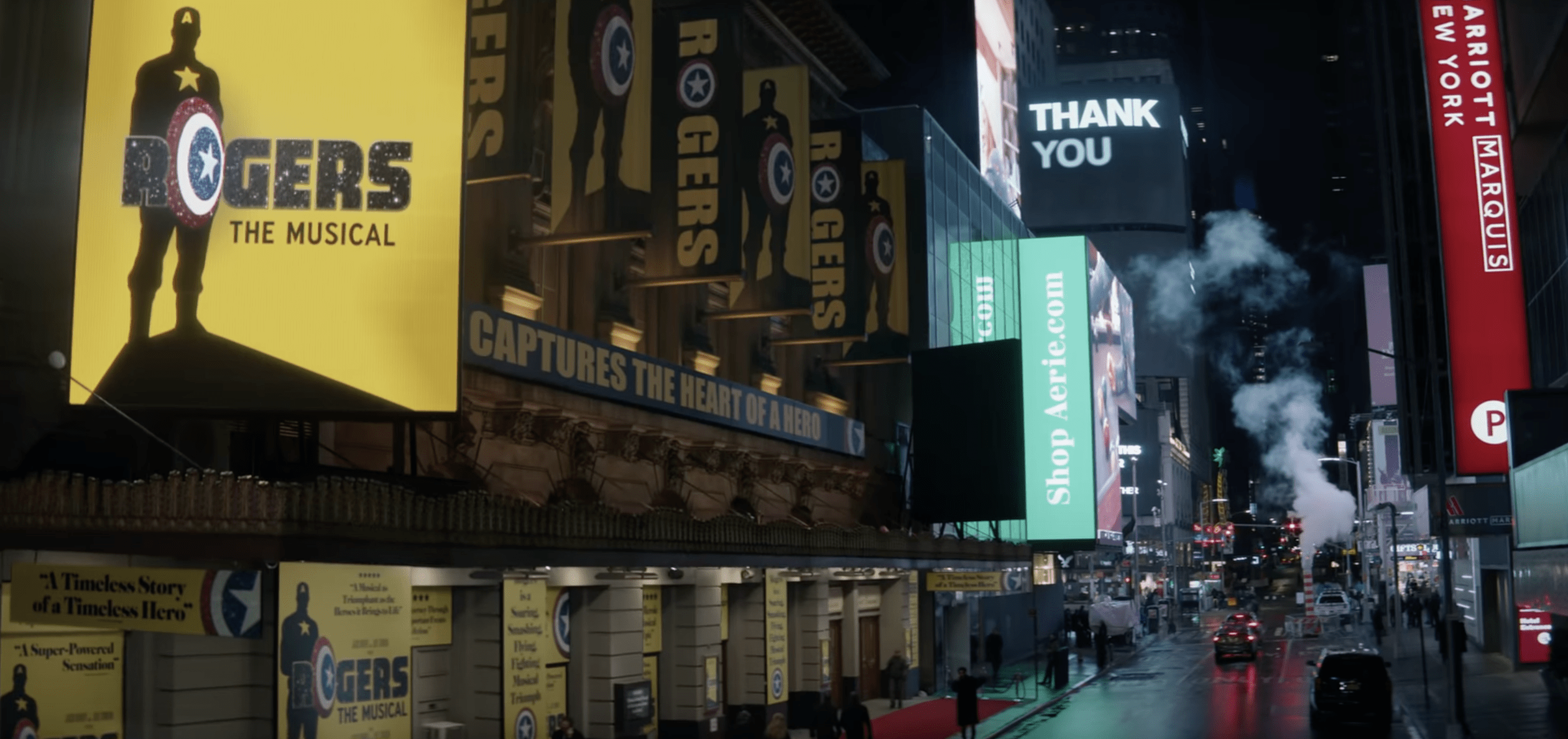 Kate visits her mom who is now a very wealthy woman. Her boyfriend Jack, Jacques Duquesne, is there.
What's up with all the swords? Well, in the comics Jack is also known as the Swordsman. He was a carnival performer who trained a young Clint Barton. Eventually he turned to crime and even worked for the Mandarin at one point. In the show however, he is a wealthy man but the affinity for swords remains. He also seems to have retained his skills with said swords as well.
It is 6 Days until Christmas, giving Clint very little time to get everything straightened out before he promised Laura he would be home.
Kate sees Armand Duquesne. He reveals that Jacques intends to marry her mother. In the comics Armand is Jack's father but in the show it seems they are just relatives.
Outside, Kate sees Lucky the Dog for the first time.
After seeing a disagreement between her mother and Armand, Kate follows him to a secret auction happening in the lower levels. There, Jack tells Armand to leave Eleanor alone.
At the auction, Ronin's blade aka Hawkeye's blade from Avengers: Endgame is up for sale. It is bought for $475,000.
The next item is #309 the Ronin Suit. The world doesn't realize Hawkeye is Ronin. In the comics the first person to use that alias was Echo, a confirmed character in this show.
An explosion occurs as the Tracksuit Mafia barges in looking for a watch recovered from the Avengers tower.
Kate puts on the Ronin suit in order to help save everyone. Unfortunately it also brings her some unwanted attention from the Mafia.
They manage to grab the watch, labeled as: #268 Avengers Compound Watch. Lucky attacks the guy who took the watch and Kate saves his life before Lucky is hit by a car.
As Clint watches news footage of The Ronin, we see flashbacks of his time wearing that suit from Avengers: Endgame.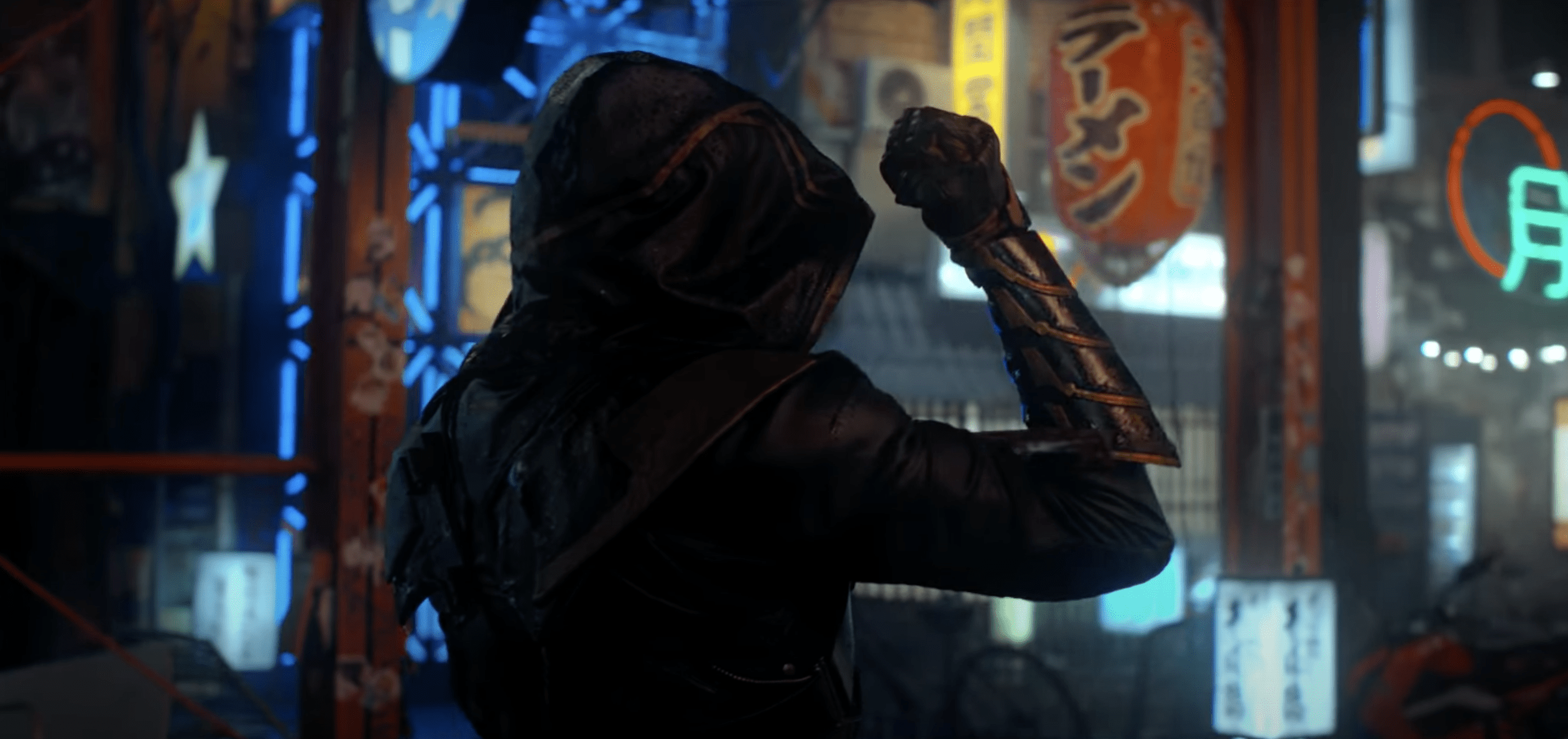 Kate takes Lucky back to her apartment and feeds him pizza. In the comics he is called Lucky The Pizza Dog.
Curious to know what Armand was up to, she breaks into his home, finds monogrammed candy and also his dead body. He was killed by a stab wound from a sword.
The Tracksuit Mafia hunts her down and corners her thinking she is the real Ronin. Hawkeye shows up to save her.
Hawkeye episodes 1 and 2 are now streaming on Disney Plus.