King Richard takes the rare stance of not focusing on the athletes so much but rather the family that helped raise them, in this case a father who desperately wants a better life for his girls. Like most sport biopics it aims to be a beacon of hope and it mostly delivers.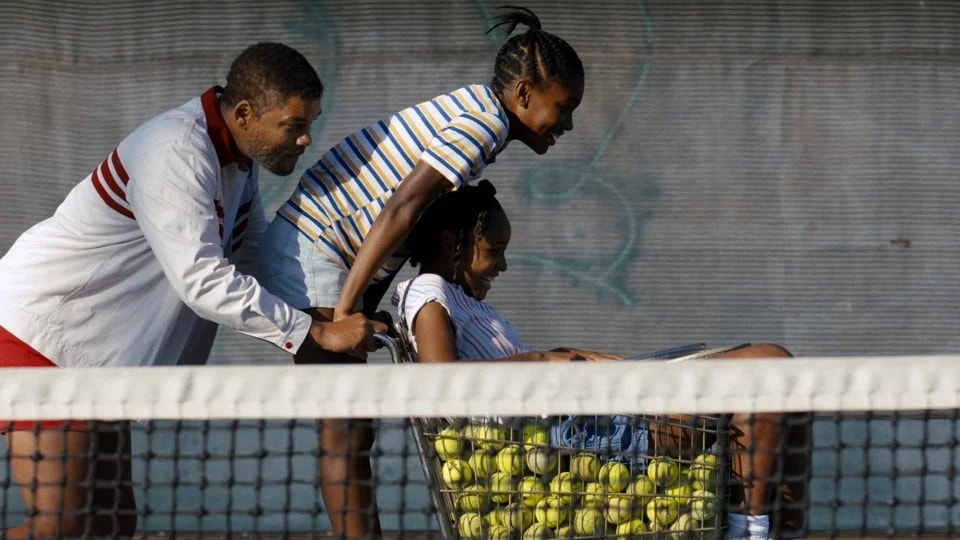 King Richard Review
Will Smith stars as Richard Williams, a father who coaches, protects, and does whatever it takes in order to see his daughters Venus (Saniyya Sidney) and Serena (Demi Singleton) realize their dream of becoming professional tennis players. King Richard begins with the Williams patriarch setting out to find his daughters a tennis coach, who will not only teach the girls but do so for free. It's all part of his plan. Since their family cannot afford all the fees, top of the line gear, or anything else, he keeps moving forward with sheer determination that his girls will one day be stars. Sometimes this drive causes conflict with everyone in his life including his wife Oracene "Brandy" Price (Aunjanue Ellis), Coach Rick Macci (Jon Bernthal), and even the girls themselves. But everything he does is in the name of doing what is best for his daughters and in the end it's that perseverance that leads the sisters to victory. Although there are plenty of bumps along the road.
By choosing to focus on their father instead of the infamous Williams' sisters, King Richard stands in a unique spot in the sports biopic world. However it still hits all the benchmarks expected in this genre by delivering inspiration, hope, and an underdog story that will thrill even non-tennis fans. Not to mention Will Smith's performance is some of his best work in years.
RELATED: Eternals Review: A Unique MCU Entry With Lofty Plans For The Future
Smith truly shines in the role of Richard Williams. It is obvious from the home videos shown during the credits, that time and care was put into this performance and film itself. Will Smith has appeared in a lot of shows and films in his career, usually in either a comedy or something serious. King Richard however allows him to merge those talents into one but never to the detriment of Richard. He expertly lands the comedic beats without turning the scene into a comedy, giving some levity to an otherwise serious script. His interactions with Bernthal's Macci is a highlight as well, although it is his moments with his daughters that stand out the most. These scenes drive home how much this man cared for his daughters and what that love and support meant to them. Sidney and Singleton might not have a lot to work with but they make it count when they are on the screen.
Director by Reinaldo Marcus Green and writer Zach Baylin opt for an interesting approach here, choosing to tell the story of Richard Williams instead of Venus and Serena. The criticism for this choice is valid, why tell the story of two world changing female athletes through the lens of their father? However, after watching the film it is very clear their lives and stories are so connected it makes sense to explore Richard's life before hopefully one day focusing on his daughters. To understand how they got to where they are is to understand Richard's mindset and the lengths he went to in order to help his daughters succeed. Despite knowing the outcome of their lives, it is interesting to watch what it was like for them in the beginning and how each plan their father made more or less came true sometimes just from pure willpower alone.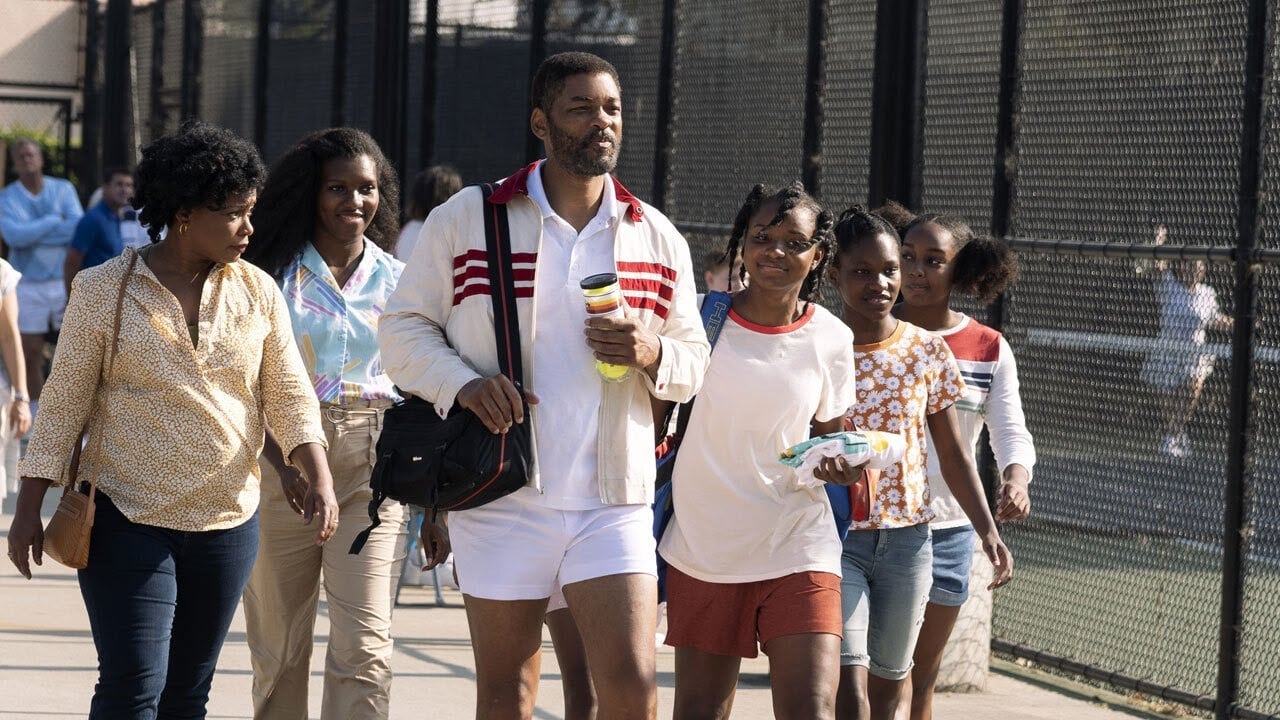 It is that parental love and urge to do whatever needs to be done for our children that will endear this film to the moms and dads in the audience. A strong connection is made with the viewers as the struggle of trying to do what's right by our children in a world where we are increasingly judged unfolds on the screen. All parents have been there one time or a million, even if the stakes aren't as high as they were for the Williams' sisters.
Between the casts' performance and the overall story of triumph it is easy to overlook the shortcomings. Certain plot points stick out as things brought up but never resolved such as the marital strife, why the other daughters are essentially ignored, and the decision to go from overbearing trainer to coddler. These issues are glanced at but never fleshed out, however considering the runtime, to do so would have increased the film too much to make anyone want to sit through it.
Ultimately, King Richard mostly succeeds in being the beacon of hope that sport biopics aim to portray. It never dives too deeply beneath the surface which is unfortunate as a closer look into the uncomfortable would have raised the story to a new level. Nevertheless, it's how this film tells the story of Richard Williams' tenacity and heart that will inspire anyone who watches it, tennis fan or not.
King Richard is in theaters and on HBO Max now. It is 138 minutes long and rated PG-13 for some violence, strong language, a sexual reference and brief drug references.