The Ivory Key by Akshaya Raman is an exciting young adult fantasy book filled with dangerous quests, secrets, and magic. It is a must read for fans of the genre.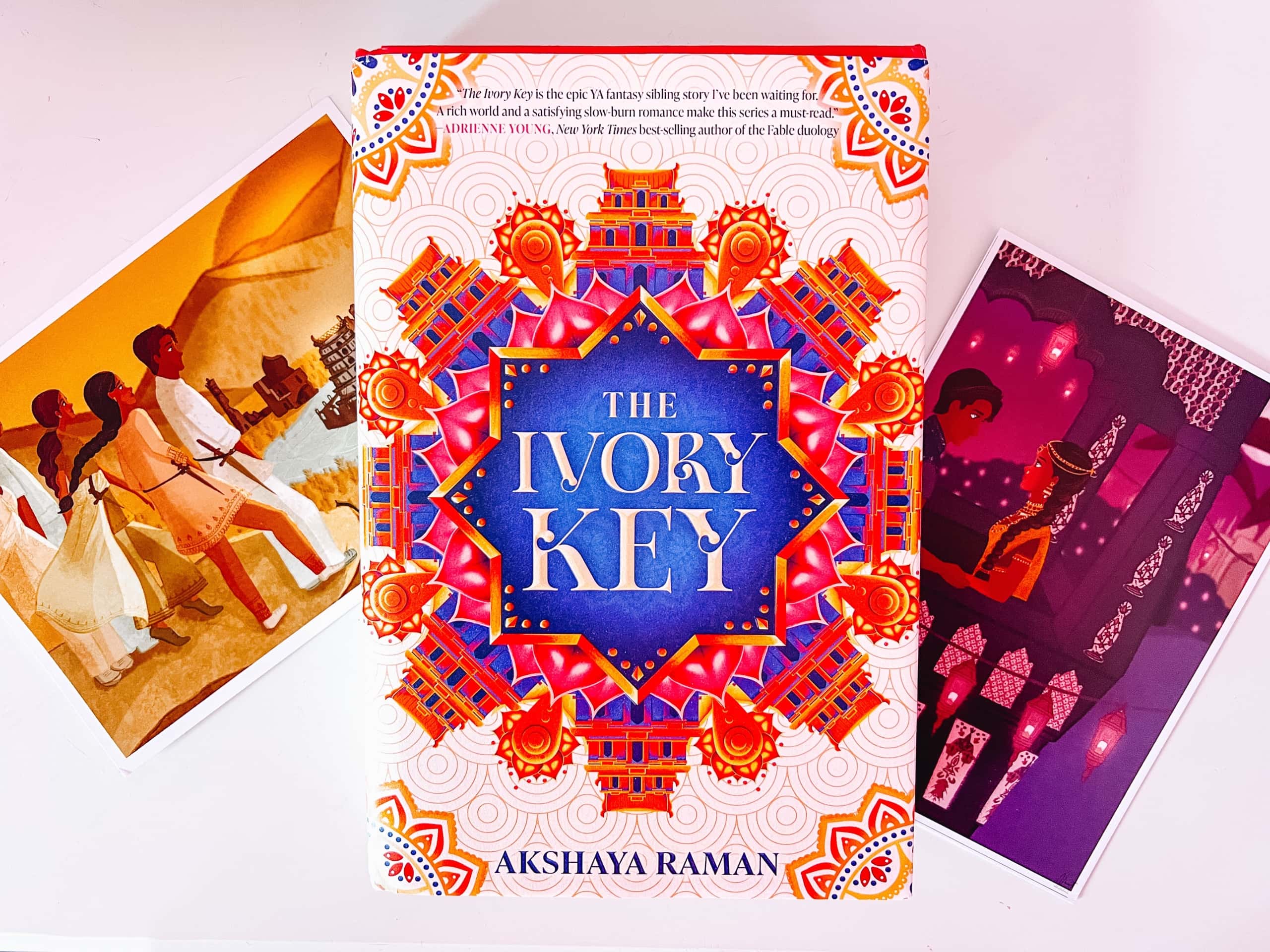 We received a copy of this book for the purpose of review. All opinions are our own. Affiliate links below
The Ivory Key Book Review
Vira, Ronak, Kaleb, and Riya are siblings who cannot get along. Separated by the different paths their lives have taken, they are forced to come together to search for the Ivory Key. Said to be a new source of magic, something their kingdom desperately needs. In fact magic is the only thing standing between Ashoka and war with the neighboring kingdoms.
Each sibling has something to gain by finding the Key. Vira needs it to prove she is as great a maharani as her mother. Ronak meanwhile wants to sell it and use the profits to buy his way out of his arranged marriage. Kaleb was charged with murdering his mother and he sees this as the only way to clear his name. Riya wants to use the Key to prove her loyalty to the Ravens, a rebel group that wants to take control away from the maharani and give it to the people. Holding onto these secrets makes it nearly impossible for them to work together, which is their only chance of survival.
Dangerous quests, secrets, and magic. The Ivory Key has it all. My daughter calls it one of the best books she has ever read and share her thoughts with you. Here is her The Ivory Key Book review.
RELATED: The Elephant's Girl Book Review: Magic, Mystery, and Discovery
The Ivory Key immediately grabbed my attention and I did not want to put it down. It puts the reader right into the family drama instantly! The book is told from the perspectives of each of the siblings, which I enjoyed as they had their own views about what was happening throughout the story. Despite the siblings all wanting the Key for different reasons, the way they end up coming together was beautiful to read. They truly care about each other and it is a great reminder how even if we differ from our own siblings and family members we still love them.
Although their reasons for wanting the Key can seem selfish at first, Raman takes the readers deeper into their feelings and their true motives are revealed. For instance Vira does not just want to prove she can live up to the legacy of her mother. She actually wishes to be seen as her own person, unique, and qualified in her own right. Living up to your potential and accepting who you are is something most of us can relate to as humans, especially teens and young adults.
Without spoiling anything, there is an epic plot twist that had me on the edge of my seat. Thrills, heart, and amazing characters, The Ivory Key has it all and is a must read for anyone who enjoys fantasy books. I know I cannot wait for the next book.
GET THE IVORY KEY BY Akshaya Raman
Buy The Ivory Key now on Amazon or wherever books are sold.