Uncharted is the treasure you seek when it comes to video game movie adaptations. You don't even have to be a fan of the game to enjoy this one as it feels like Indiana Jones meets Pirates meets Tomb Raider. It is action-packed, funny, and features loads of Easter eggs, cameos, and other game references. So here are all the Uncharted Easter eggs and cameos you may have missed.
This is your spoiler warning if you haven't watched Uncharted.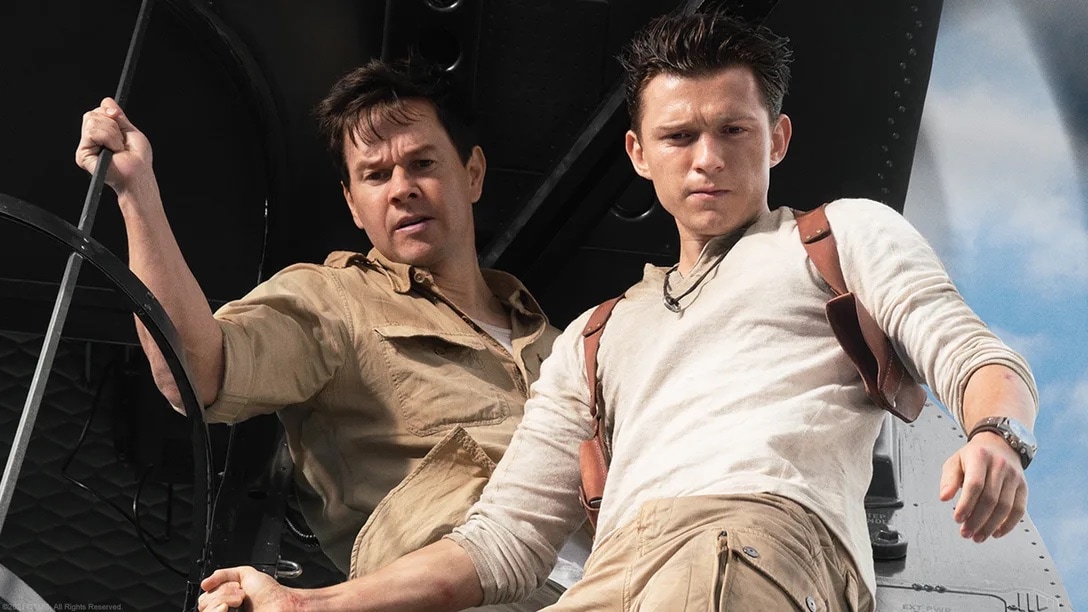 Uncharted Movie Easter Eggs, Cameos, and Game References
The film opens with Nate waking up while falling through the air. This mirrors Uncharted's most infamous opening in Uncharted 2: Among Thieves. Just like the movie, Nathan Drake is in a life-or-death situation but instead of a plane he is caught in a train car that is dangling over the edge of a cliff.
Nathan lands on one of the cargo boxes like Spider-Man. Tom Holland stars as Spider-Man in the MCU.
The Ring and The Motto: Sam gives Nate a ring with the words "Sic Parvis Magna" inscribed on it. In the first Uncharted game, Nate uses the ring to solve puzzles and discovers his apparent relationship to Sir Francis Drake as well. The motto itself means "Greatness from Small Beginnings."
Sam also leaves Nathan his lighter. In the games the lighter isn't useful really until Uncharted 4, but in the movie Nate uses it a lot.
Each time words appear across the screen to announce locations, it is the same Uncharted Font from the games.
RELATED: All The Spider-Man No Way Home Easter Eggs and Cameos You May Have Missed
Before the heist, Nathan gets Sully a cat. Mr. Whiskers. In the games, Sully doesn't become quote so enamored with the cat but I'm here for more feline moments.
Another scene taken from Uncharted 4 is the auction heist. Nathan and Sully worm their way into the auction in order to steal the La Cruz de la Hermandad Cross. In the game however, Nathan and Sully are looking for the St. Dismas cross and are joined by Sam Drake.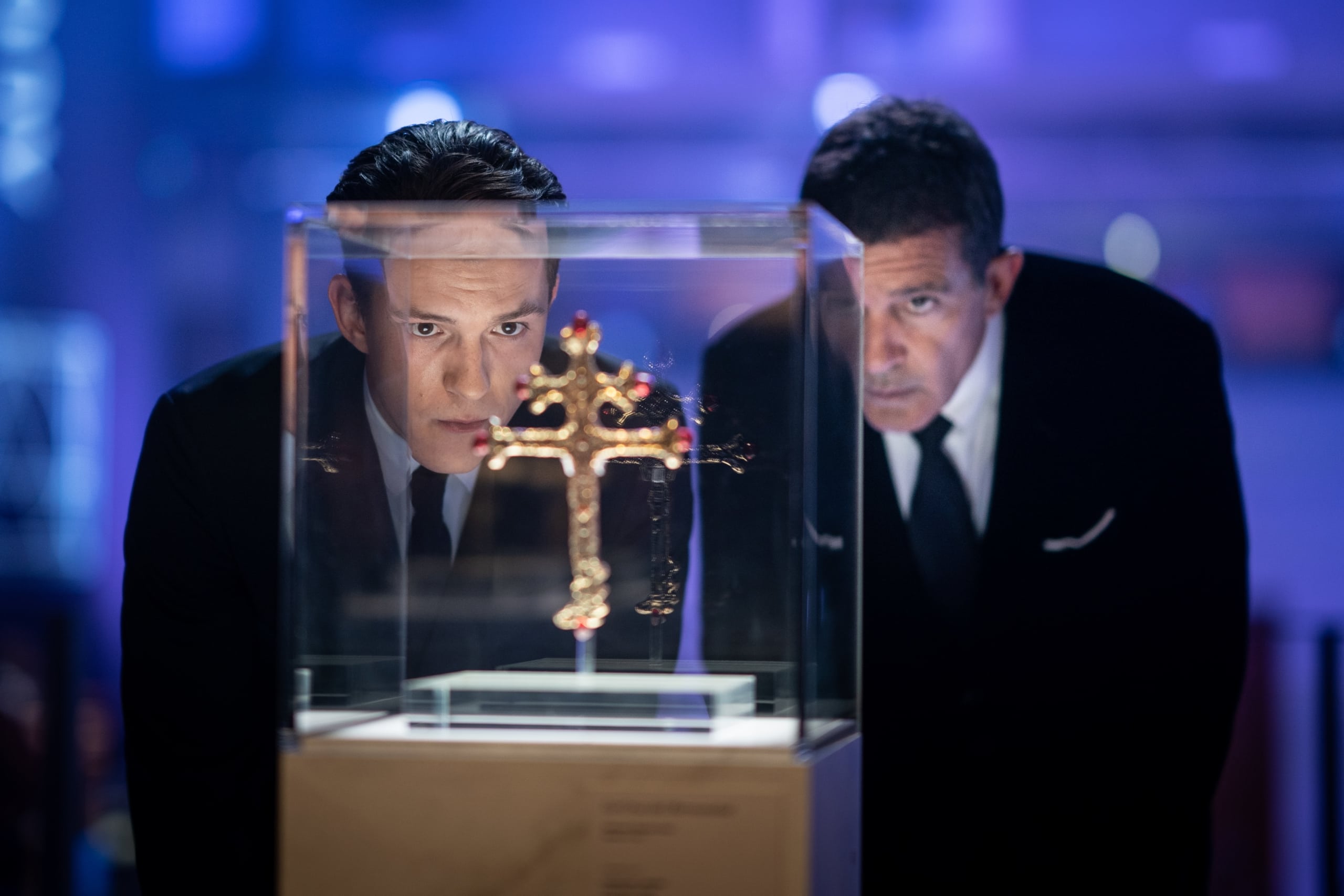 Before they reluctantly decide to work together Chloe Frazer runs away from Nate and Sully. She is wearing red which is a nod to her game counterpart in Uncharted 2: Among Thieves.
Nuns, why does it always have to be nuns? The Uncharted games are based on Indiana Jones so it's natural that an Indiana joke would make it in. Like this one, instead of snakes, Nathan is afraid of nuns.
Although the line may have come across quite cheesy in the film, when Sully says "Well, well, well" into an area that is like a well, this is a great example of Sully's dad jokes. He also says something similar to this in two different Uncharted games.
At this point, the movie goes back to the opening cargo plane sequence. This scene is lifted directly from Uncharted 3: Drake's Deception.
When Nathan and Chloe make it to a beachside resort after escaping the cargo plane, they run into a beach goer who should be familiar to all fans of the series. Nolan North, the voice of Nathan Drake in the games, asks what happened to them. When they say they jumped out of a plane and were hit by a car in the air he nods along saying he's been there before. Nolan North's cameo is just pure game gold.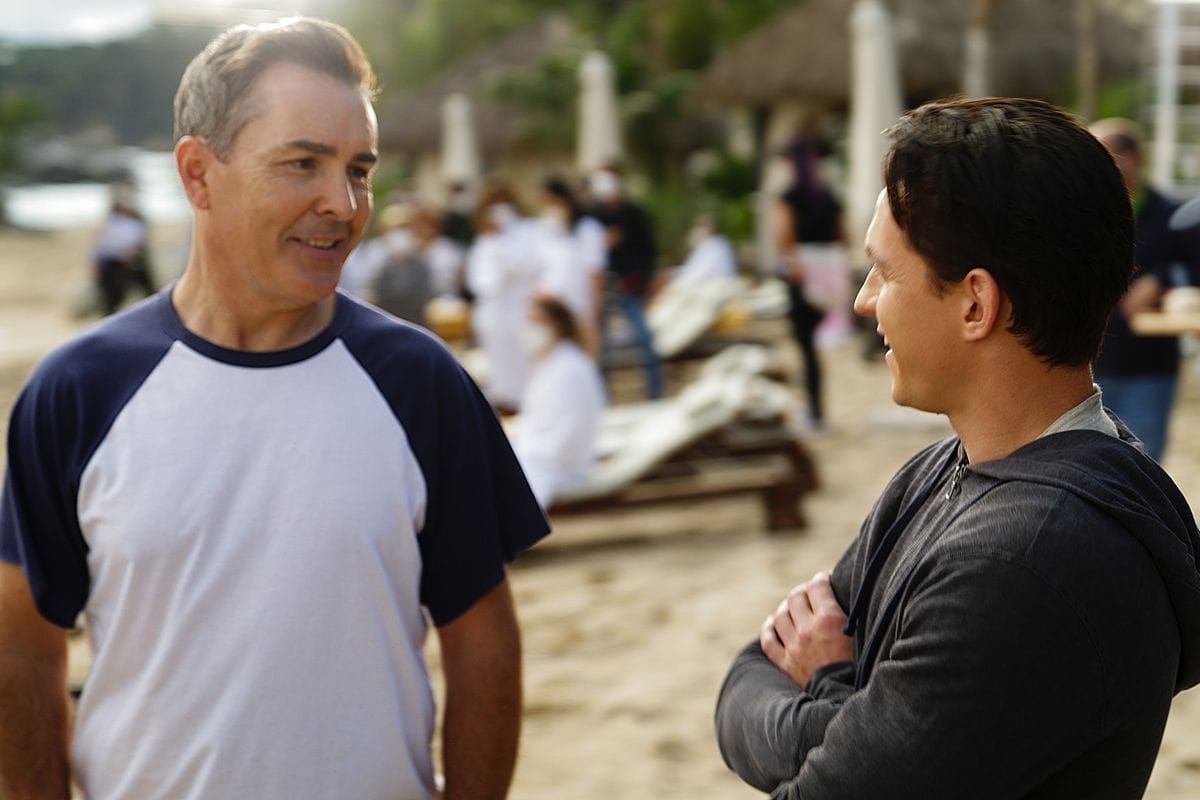 Speaking of Nolan North's Nathan Drake, in that scene a slightly altered version of the main Uncharted theme can be heard. It also continues through the final sequence onboard one of Magellan's ships.
When Nathan looks through his things from the orphanage for Sam's postcards there is Naughty Dog sticker on his suitcase. Naughty Dog is the developer of the Uncharted games.
After about two-thirds of the movie, Nate finally gets his iconic look from Uncharted: Drake's Deception: a tan, white shirt, olive cargo pants, and his gun holsters.
When it comes to action scenes with old wooden ships it is impossible to not think of Pirates of the Caribbean. Apparently Sully knows the reference too since he calls Nathan Jack Sparrow.
This is also another scene from Uncharted 4: A Thief's End. It mirrors their discovery of the Libertalia and the final moments of that game.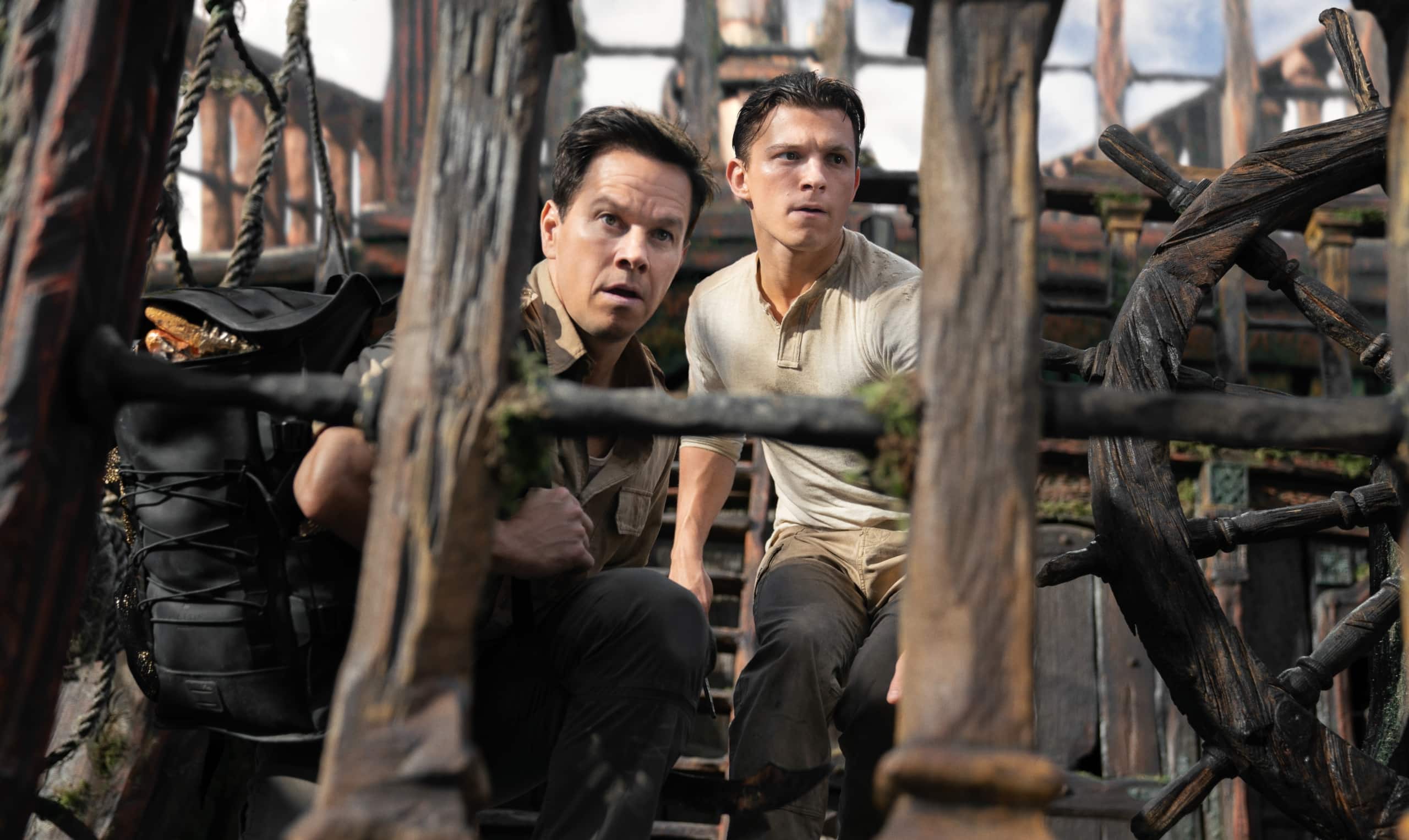 Uncharted Post Credit Easter Eggs
Sam Drake is alive and sitting in a jail cell. He is writing to Nathan warning him not to trust anyone. This teases that future Uncharted films might pull from Uncharted 4: A Thief's End's plot, which saw the brothers reunited after Sam was freed from prison.
Ever since the film was announced and fans got their first look at the characters, they have been clamoring for Sully's iconic mustache. In the second post-credits scene, Mark Wahlberg is shown with a mustache, it's not quite as great as game Sully but it'll do.
But it is not the mustache that is the most exciting part of this scene. This entire sequence borrows heavily from the plot of Uncharted: Drake's Fortune, the first game in the franchise. In it a thug for "Roman" demands Nathan's ring while they discuss a Nazi treasure map. "Roman" is a clear reference to Gabriel Roman, a villain in the game, who crosses paths with Nathan as they both hunt for Francis Drake's El Dorado treasure.
Uncharted is in theaters now.