Disney Pixar's newest film, Turning Red, is coming exclusively to Disney+ this week. I had the opportunity to speak with the stars of the film as well as director Domee Shi, producer Lindsey Collins, and co-writer Julia Cho about what it was like working on the film, creating the unique visuals, and yes, we even talked about periods.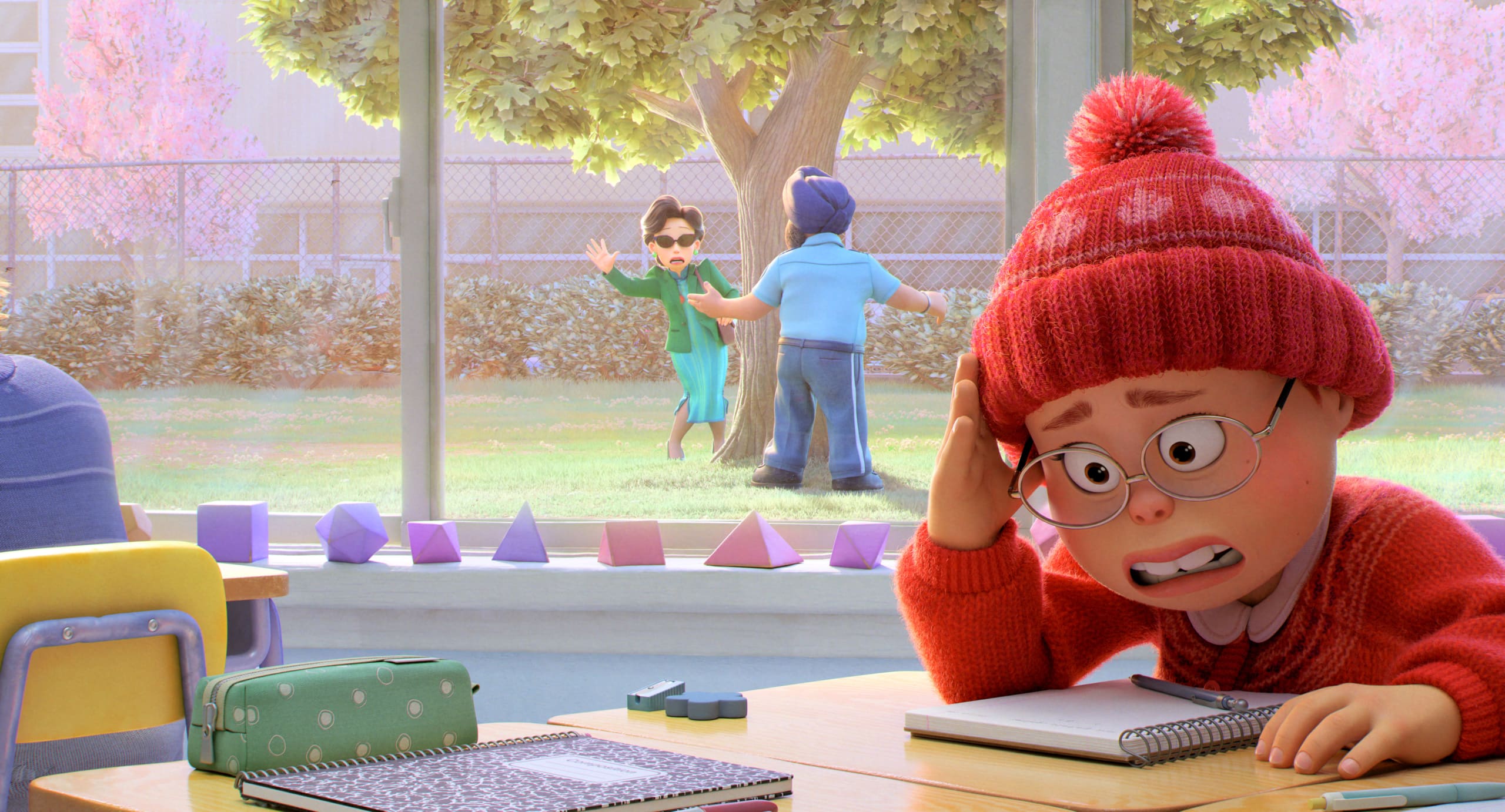 Interview with the Cast and Filmmakers of Turning Red
Turning Red explores the loving, yet complicated bond between mothers and daughters while also bringing some levity to the chaos of puberty. It is an emotional and adventurous look at the teen years that is relatable for all who have lived it. Yes, even boys will also enjoy this one. Not only is the story engaging but the blending of anime with traditional Pixar realisms makes it incredibly fun to watch.
Sandra Oh (Ming), Rosalie Chiang (Mei), and her 4*Townies for life, Maitreyi Ramakrishnan (Priya), Hyein Park (Abby), and Ava Morse (Miriam) spoke about the importance of female friendship and why this film matters to young girls everywhere. Rosalie also shared her reaction to getting the news she would be Mei after working on the scratch vocals with Domee and the crew.
RELATED: Turning Red Review: A Fun & Emotional Love Letter To Our Teen Years
Rosalie, Turning Red is your first major role. What did it feel like to get the news you were going to be the official voice of Mei?
Rosalie: Woo! I kinda had two moments of finding out that I was voicing Mei. The first time was when I was 12 and it was for the scratch recording. At first, they just sent me an email, "Hey, congrats, you booked it for scratch." I was half-crying, half-confused 'cause what the hell is scratch? [LAUGH] But then I found out, and I was disappointed I didn't actually book it. But all I thought during my recordings is that I'll just do my best because at the end of the day, it's an incredible experience.
But then two years later, Domee brought in this documentary camera. She said "Oh, we're just gonna do a few behind-the-scenes things," and I said, "Oh, okay. That's fine." Then they gave me a script, and I thought, "Why did you give me this?" At the end, Domee said "We love your voice. Can you please be Mei?" And I said, "Of course!" I just remember being in shock. I froze. I didn't know whether to cry or not. I was just so thankful. This is the beginning of COVID so I couldn't hug anyone. We did that elbow thing. And then about a week later at home, I just started bawling 'cause it just hit me how incredible this opportunity is.
Turning Red is a movie I think a lot of people are going to relate to. What were some of the most relatable moments for you?
Rosalie: My favorite animals are actually red pandas. But the main thing is that my mom actually calls me Mei-Mei 'cause Mei-Mei means little sister in Chinese. So when she goes, "I'm perfect little Mei-Mei," I literally went through that [because] I don't want to be perfect little Mei-Mei either.
The way friendship is portrayed in this film is one of my favorite things about it. The script avoids the typical backstabbing, catty female tropes. How important was it to all of you that Turning Red showed a real, supportive friendship?
Maitreyi: I love that we show, like, the importance of four young girls being supportive of each other.
Hyein: When we finally got the chance to make this female friendship, it was very important that it was authentic. Domee talked a lot about her own experiences with her friendships. She actually asked a lot of different people within the studios to get authentic insight on how girlfriends are really like and how they are there for each other.
Sandra: I totally agree. I think this is an extremely good representation of deep friendships, and the highs and the lows.
Maitreyi: I think with TV and film, we always portray that your love interest is the one that you should be closer with. That always made me sort of skeptical, because wouldn't the childhood best friend know you better? Now my little cousin gets to see this is the girl gang you want, where you get to be your goofy self.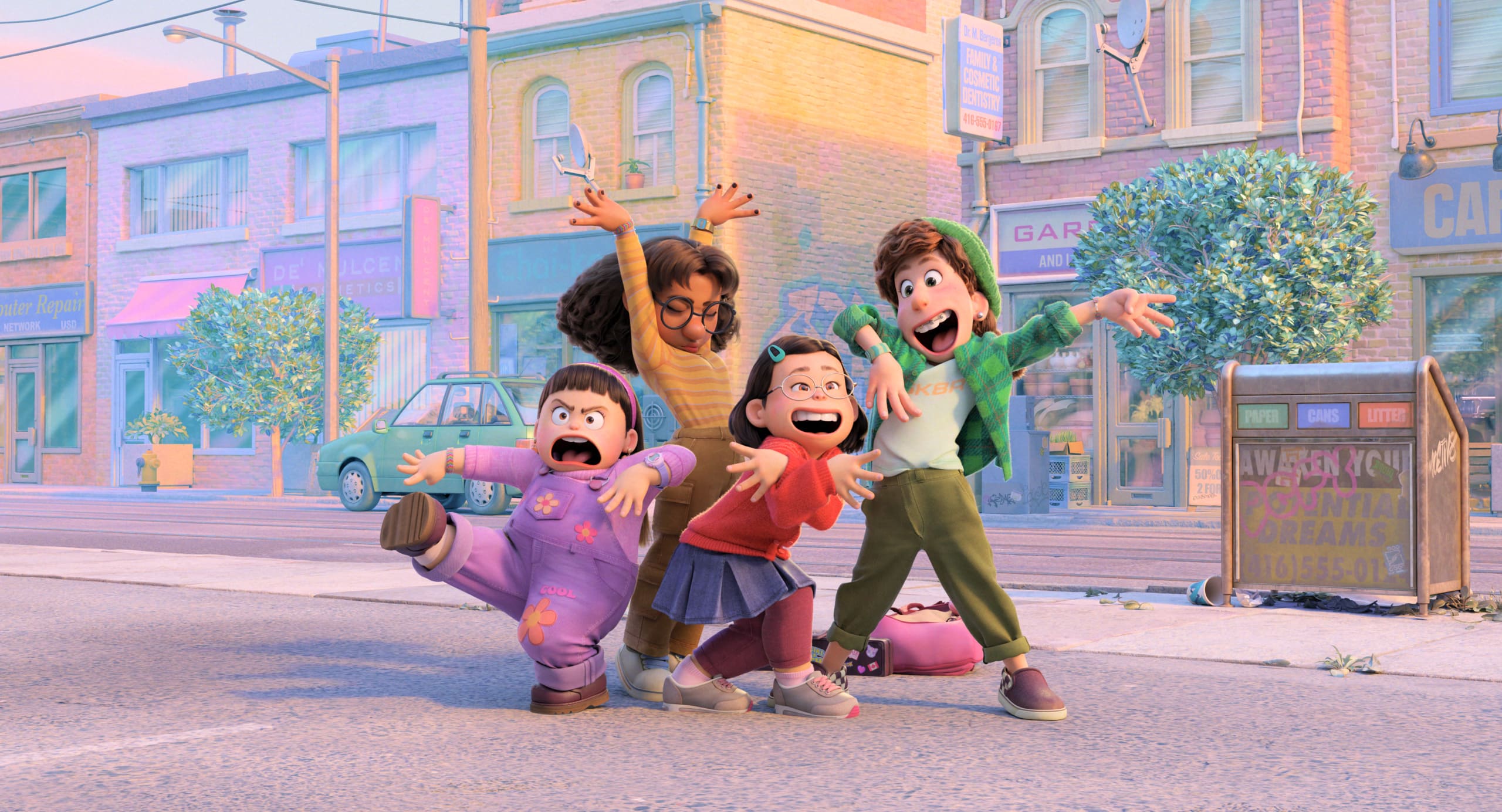 From anime to being period positive, Turning Red covers a lot of new ground for Pixar and it's all thanks to director Domee Shi, producer Lindsey Collins, and co-writer Julia Cho.
Domee, you have previously talked about how you wanted to incorporate anime into Turning Red because of your love for it. What was your reaction seeing the final cut of the film with all those amazing anime-style moments?
Domee: So amazing. I love all of those anime moments we were able to put in. I'm so proud of this movie, especially the way that it looks, and how the crew were so excited and on board with trying this East-meets-West anime-Pixar hybrid kinda style to tell this story. Everyone was so eager to jump in and learn about anime because not everybody on the crew knew what Sailor Moon eyes were or why she was leaking sweat when she was trying to hide her sketchbook from her mom.
Lindsey: The snot bubble. [LAUGH]
Domee: It was fun to give them a crash course on all of this stuff that I was so inspired by and influenced by.
Lindsey: And they really ran with it. By the end, like, they were going, "Okay, we think there's maybe an opportunity here in this shot to really push it. What do you think?"
Domee: My favorite shot is Man Mountain. It's when Mei is pitching the awesomeness of 4*Town to her friends, and then she's on this mountain, "We're 4*Townies. Ride or die." And the beams are shooting out of her fingers, and there's smoke.
Lindsey: There's doves.
Domee: The camera is slowly doing a 360. All the departments worked together to create that and then I said, "Make it longer." [LAUGHTER] We actually extended it because I loved that shot so much. But short answer, I'm very excited about the look of the film.
How does it feel to have made a Pixar film normalizing female puberty? What do you hope young girls going through that will take from seeing it played out on screen?
Domee: Why was it ever not normal? When we came up with it didn't feel like a big deal. It was funny and it felt real.
Julia: It feels very timely, 'cause I think we are living in this cultural shift where it has gone from being something to be embarrassed and ashamed of, to being really embraced. It just feels like this whole new generation, it is normal. I think that's one of my favorite things about it (the film).
Lindsey: I think parents talking to this next generation who's going through it are trying to be much more intentional, and open about it. And I love that this movie, in a funny and charming way, lets people laugh about it, and normalizes it. You cringe in a way that, you know, collectively, we all think, "Oh, my god, yes, I remember that."
Turning Red is streaming exclusively on Disney+ on March 11. It is rated PG for thematic material, suggestive content and language with a runtime of 100 minutes.