The highly anticipated must-watch Marvel Studios show, Moon Knight is finally here. Meet Steven Grant, a gift shop guy who has issues sleeping at night. Or so he thinks. Soon his tiny little world is rocked by blackouts, shootouts, and a scary moon god named Khonshu. Let's get into "the goldfish problem" with this Moon Knight episode 1 easter eggs and breakdown.
This is your spoiler warning if you haven't watched episode 1 of Moon Knight.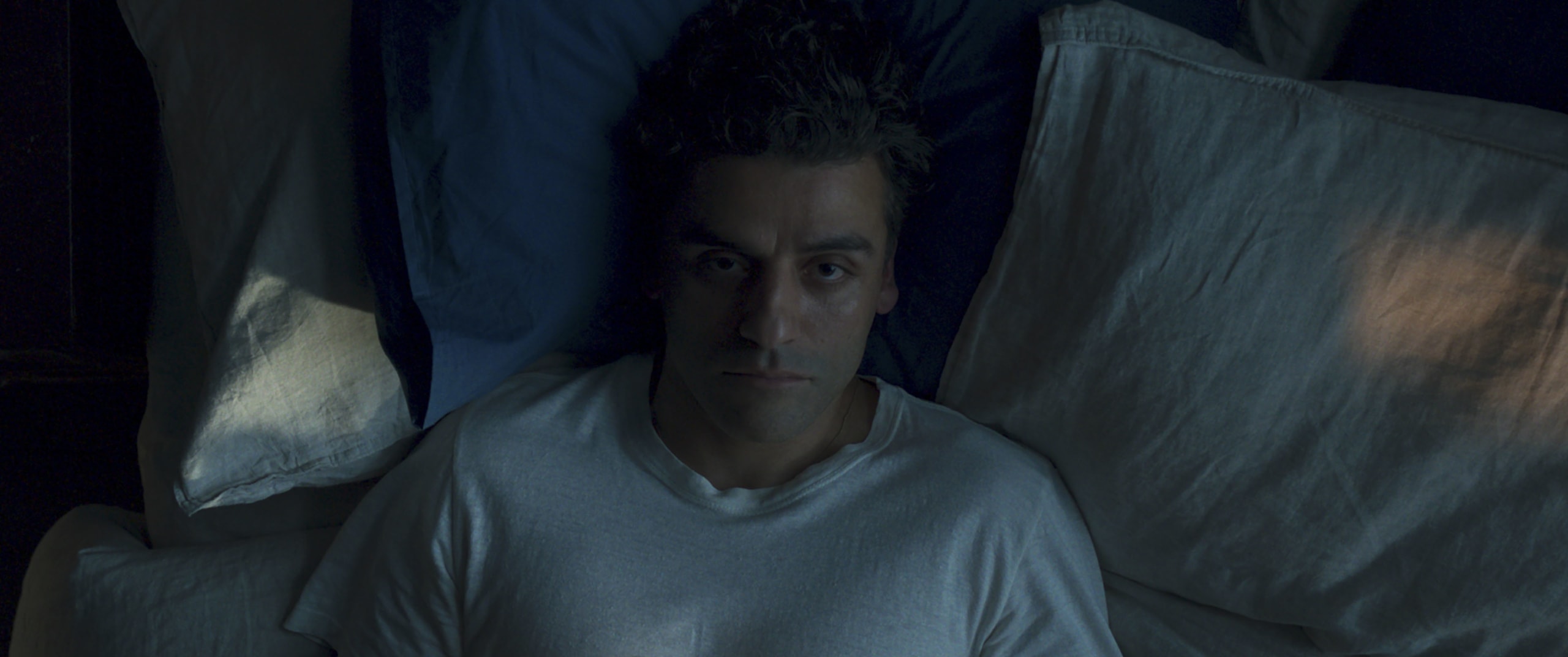 Moon Knight Episode 1 Easter Eggs & Breakdown
The episode starts not with Steven but with Arthur Harrow who is praying to the goddess Ammit (also known as Ammut and Ahemait) the Devourer of the Dead. The scales tattoo symbolizes how Anubis would use the scales of justice to weigh a person's deeds. If they were found unworthy, Ammit would devour their hearts.
Before walking out to his awaiting cult members, Arthur smashes the glass he was drinking water from and puts the shards in his shoes. In the comics, Arthur Harrow was a genius scientist and surgeon who was selected as a candidate for the Nobel Prize in medicine for his work in the field of pain theory. His experiments on people included being able to tolerate immense amounts of pain. This could be a nod to that or something related to his work in service of Ammit.
Steven wakes chained to his bed. There is sand around the bed that he checks for a footprint. He also checks the tape on his door. These are all things he does in order to keep himself from wandering around at night. Steven also takes time to talk to his one-finned fish Gus. In Agent Carter, Dottie Underwood chained herself to her bed following her training and life in the Spy program run by the Leviathan (which was the show's version of the Black Widow program.)
In the room there is a solved Rubik's cube. That's something to note for later.
He calls his mother and leaves her a message, saying he got her postcard. This seems to point to Steven Grant being a real person, with a real life family, and not just another personality of Marc's. In the comics, and in this show, Marc/Steven suffers from a dissociative identity disorder.
RELATED: Moon Knight Review: A Mind-Blowing Visual Feast, That Is Top Tier Marvel
At the museum, The National Art Gallery, Donna is annoyed that Steven is late and chatting to patrons. She tells him he is not a tour guide and to get back to the gift shop. This character is a nod to Donna Kraft, Marc Spector's publicist in the comics.
On the wall is a QR code to download a FREE Moon Knight comic.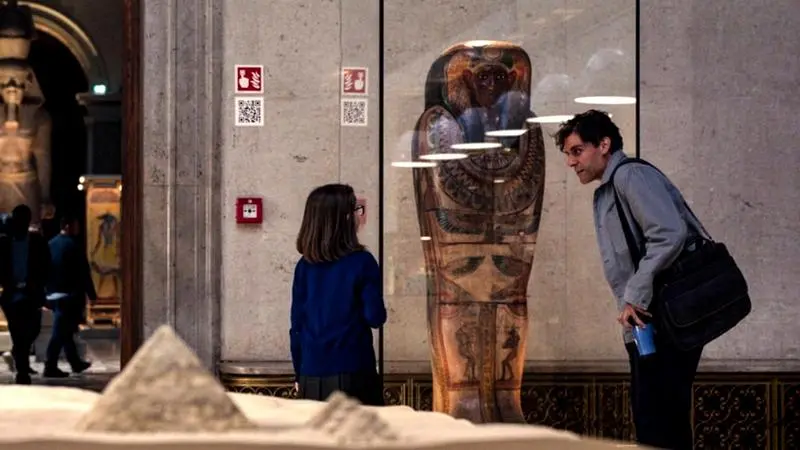 Another co-worker appears to remind him of their upcoming date at a steakhouse. One he doesn't remember making the date and two he is a vegan.
Steven mentions that the museum's posters and marketing material for The Ennead is incorrect since it is missing two gods. In Egyptian mythology, The Ennead is a group of nine gods, believed to be the most powerful/important, who were worshipped at Heliopolis. This group also exists in Marvel Comics, coming to Earth from Celestial Heliopolis, a pocket dimension. Being gods, they have had dealings with the Celestials, Odin, and Wakanda.
A Hippo deity, scarabs, and crocodile deity plushes are seen amongst the inventory. The hippo represents the goddess Taweret and the crocodile represents the goddess Ammit.
Being the awkward, friendless guy that he is, Steven finds comfort in chatting with a golden living statue. The man never breaks character even as Steven details the chaos that is his life. This golden statue man is revealed to be Crawley in the credits. In the comics, Bertrand Crawley is a homeless man who works as an informant for Moon Knight.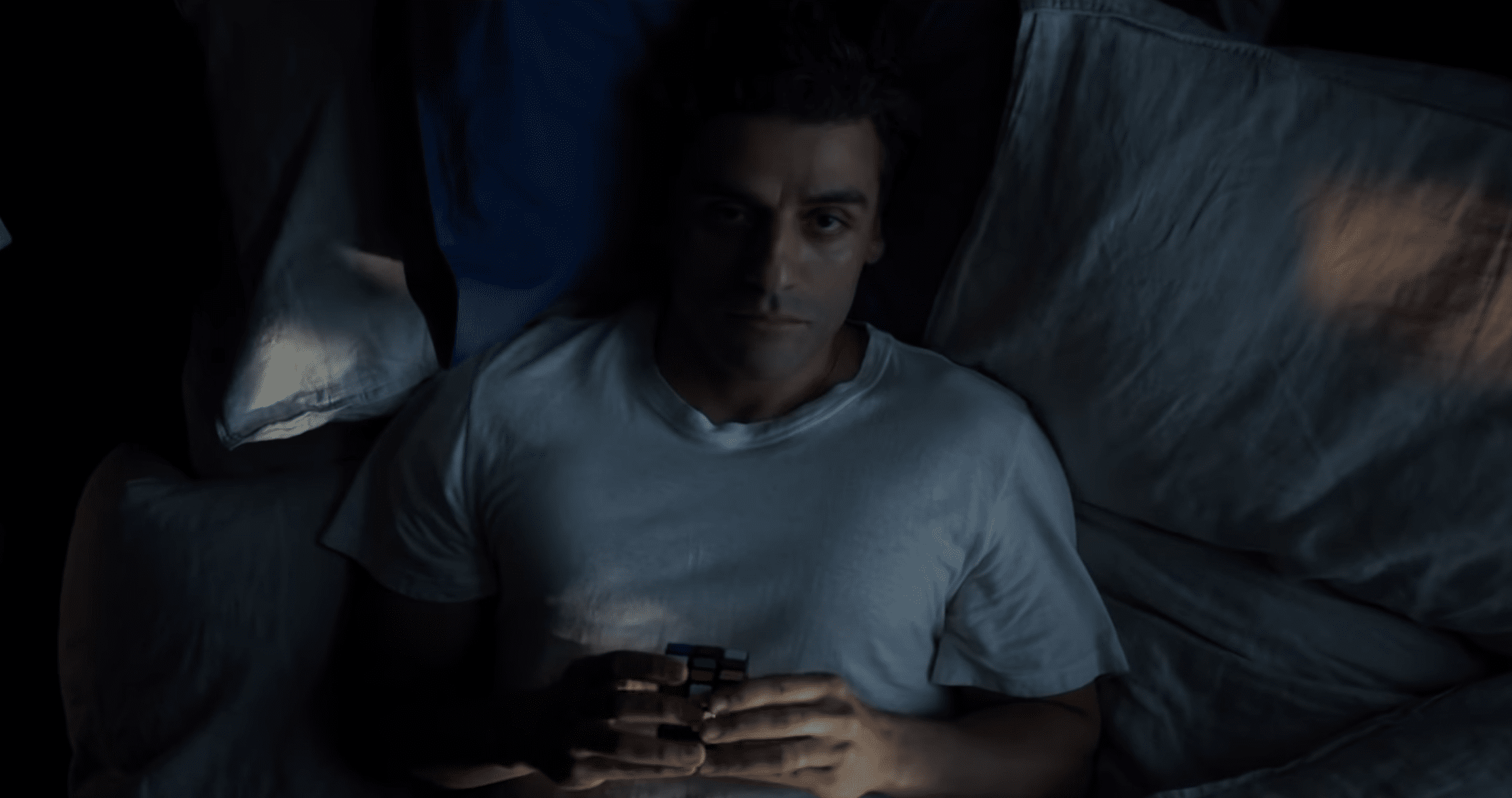 After attempting to stay awake by solving a Rubik's cube and studying the gods of Egypt, he awakes in a field just outside of a castle with a dislocated jaw. No idea how he got there and then a voice is heard saying "go back to sleep worm, you're not supposed to be here. Surrender the body to Marc." This is the voice of Khonshu, god the moon. Khonshu is an ally sort of. In the comics, Marc Spector was a mercenary who was left for dead and taken inside the temple of Khonshu who spares his life in return for Marc's services as his avatar.
Khonshu is voiced by F. Murray Abraham. He has starred in many films and shows including Amadeus, Scarface, and recently Mythic Quest.
Steven finds a Golden Scarab in his hand. The men in the castle open fire and he runs. This castle not only looks like the real-life Eltz Castle in Germany but it also looks like Castle De Krake, a HYDRA stronghold seen in What If Episode 1. HYDRA may not be a big deal anymore in the MCU but that doesn't mean other bad guys can't use the castle as a stronghold.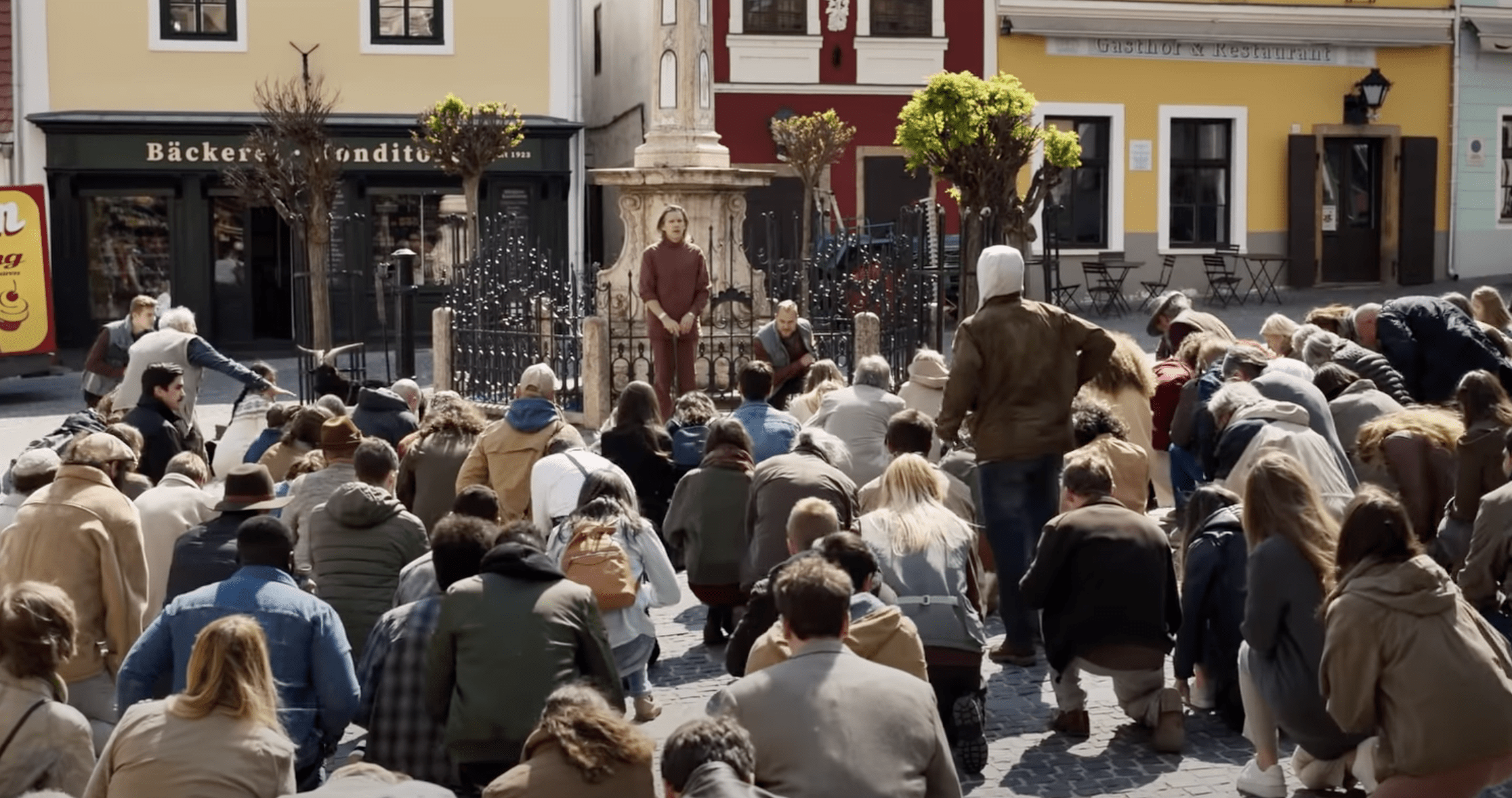 He runs to a village and tries to blend in with the locals who all seem to be acting a bit off. Arthur Harrow appears, walking towards the front of the gathered group. He begins to tell them their goal is to make heaven on earth a reality and to do that they must be judged by Ammit. The first man to be judged is deemed worthy to live, but the scales tattoo reveals the second, an elderly woman, is not. Her soul is sucked from her body and she dies.
One of Arthur's guards approaches him to discuss what happened at the castle before Steven woke up in the field. See, I told you, bad guy stronghold. Arthur spots Steven in the crowd, he recognizes him as Marc Spector. He wants the scarab back. Steven tries to hand it over but is restrained by himself/Khonshu. Steven blanks out and comes to with blood covered fists and a circle of bodies surrounding him.
To escape he steals a dessert truck. When he is once again surrounded by enemies and being attacked, Steven blanks out again, regaining control holding a gun, with all the bad guys dead. Khonshu warns Marc if Steven loses the scarab he will kill them both.
The cupcake boxes feature the lettering "Von-D" making many believe it is in reference to Victor von Doom. However it's actually a nod to the in-universe confectionary company von Darrelman.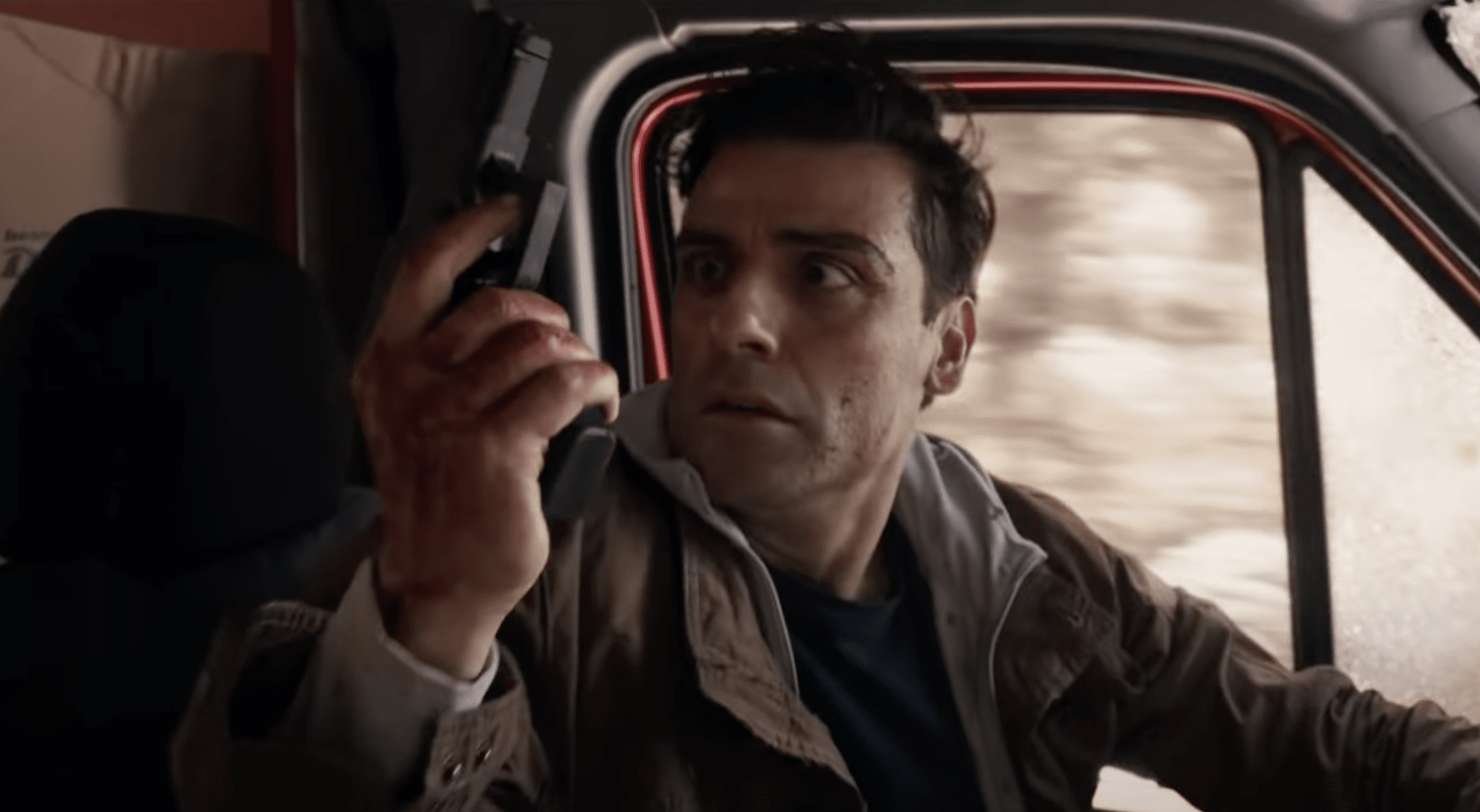 Steven blanks out a third time, now he is driving backwards and Khonshu is still annoyed with him. Suddenly he awakes in his room. He is chained to his bed and thinks everything was just a dream. He checks the tape, talks to Gus the fish and realizes Gus isn't the same fish. Somehow he has grown back a fin. The woman at the pet shop rolls her eyes, mentions Finding Nemo and reveals he was just in the store yesterday. He doesn't remember that.
The image of Gus the goldfish in the blender is likely a nod to the Umbrella Academy character AJ Carmichael. Moon Knight is written by Umbrella Academy series writer, Jeremy Slater.
For a deeper meaning, it could also be in reference to Marco Evaristti's art piece where he invited people to turn on a blender if they wanted to which would kill the goldfish. The greater statement of course here is one of morality. Evaristti wanted people to "do battle with their conscience" something Steven/Marc has to do constantly.
He also rushes to make his date, which he misses because it was supposed to happen Friday. It is now Sunday. He lost two days of his life.
Back in his flat, he notices that there are scratches on the floor from the table being moved. He slides the table over, climbs on top of it to inspect a loose board. Inside the wall is a key to a storage locker and a flip phone. There are a lot of missed calls, mostly from Layla but also one from Duchamp.
In the comics, Jean-Paul "Frenchie" Duchamp is one of Marc's best friends who also was in the desert when Marc almost died.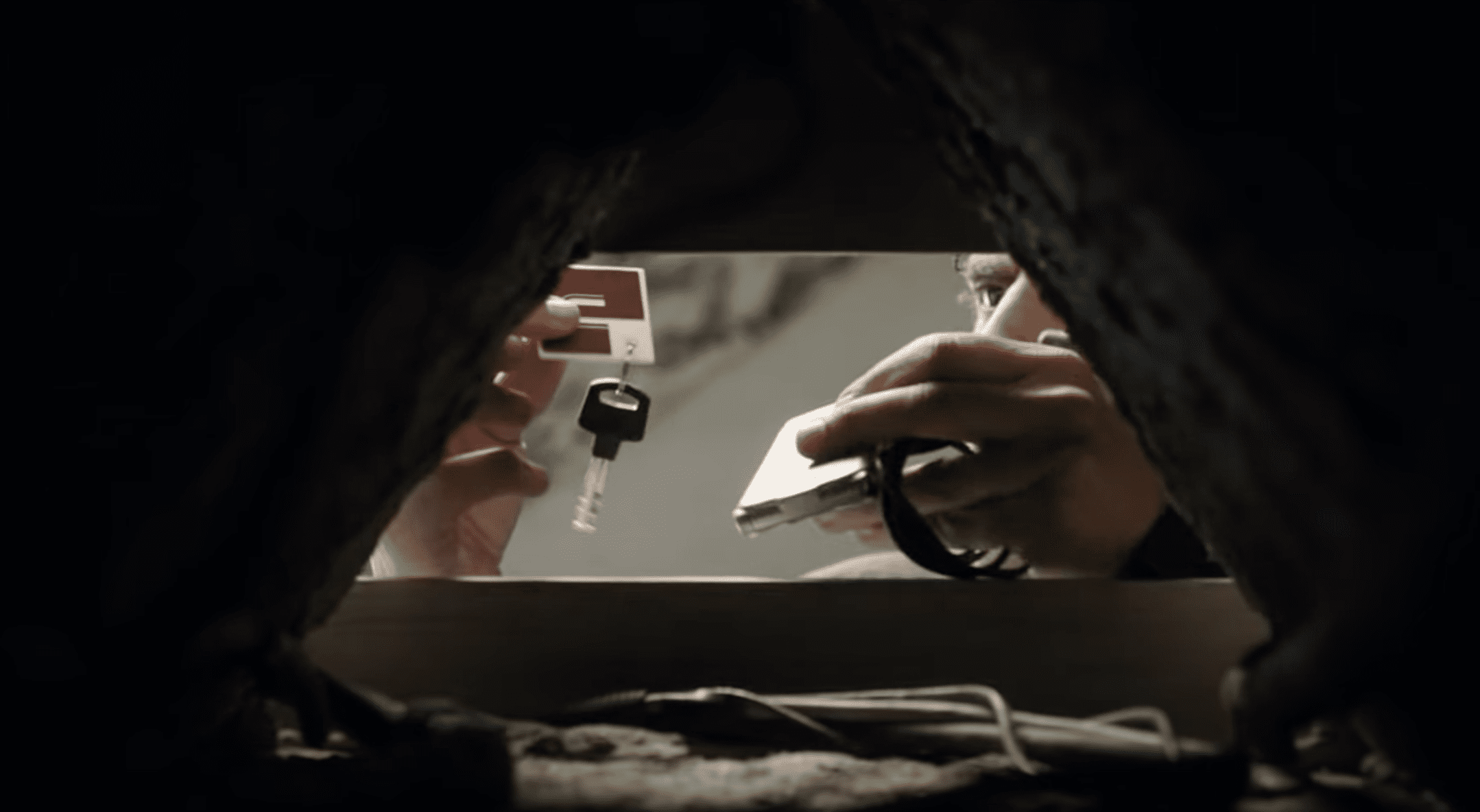 Layla calls again and Steven answers. She calls him Marc which confuses him. A voice calls out to Steven. It's Marc.
Steven thinks it is all a joke or a hallucination but Marc is in the mirror, watching him and telling him to stop looking into everything. He runs from Marc and gets in the elevator trying to get to the ground floor.
The door opens at floor #3 and then floor #2. Khonshu appears in the hallway, stalking towards the elevator. Steven panics but an elderly woman enters. She is freaked out by his demeanor and quickly gets off the elevator, on floor #5. He begins to panic and Khonshu is standing right behind him.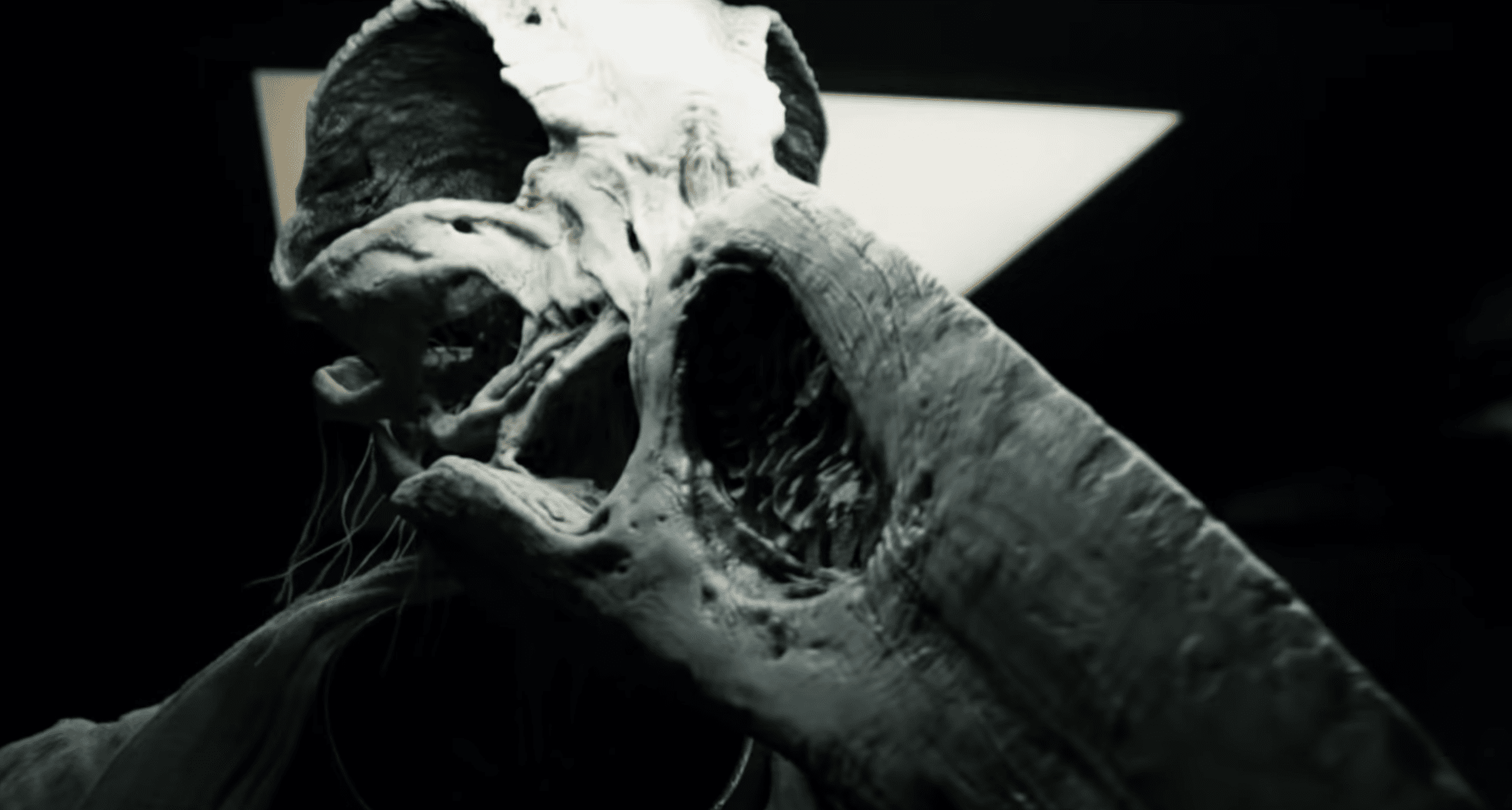 He wakes up on a bus. Out the window, he sees Khonshu standing on the sidewalk. Steven quickly gets off but Arthur is also on the bus and watching him.
Harrow appears from behind a column with artwork depicting Ammit. He tells Steven he serves Ammit, or as Steven calls her the world's first boogeyman, as her avatar. Steven jokes about the movie Avatar with the blue people and the anime Avatar The Last Airbender.
The followers of Ammit are everywhere, surrounding Steven. Arthur grabs his arm to judge him, but the scales go crazy. "There is chaos in you." He leaves Steven alone, for now.
Outside a Crescent Moon shines, the symbol of Moon Knight and Khonshu. Steven is doing inventory alone, when the lights go out and he is chased by Jackals. In Ancient Egyptian culture, the god Anubis has the head of a jackal.
Hiding in the bathroom, Marc tells Steven he can save them but he must give control of the body over to Marc. Egyptian Hieroglyphics glow on the walls.
Moon Knight kills the jackals and walks out of the bathroom.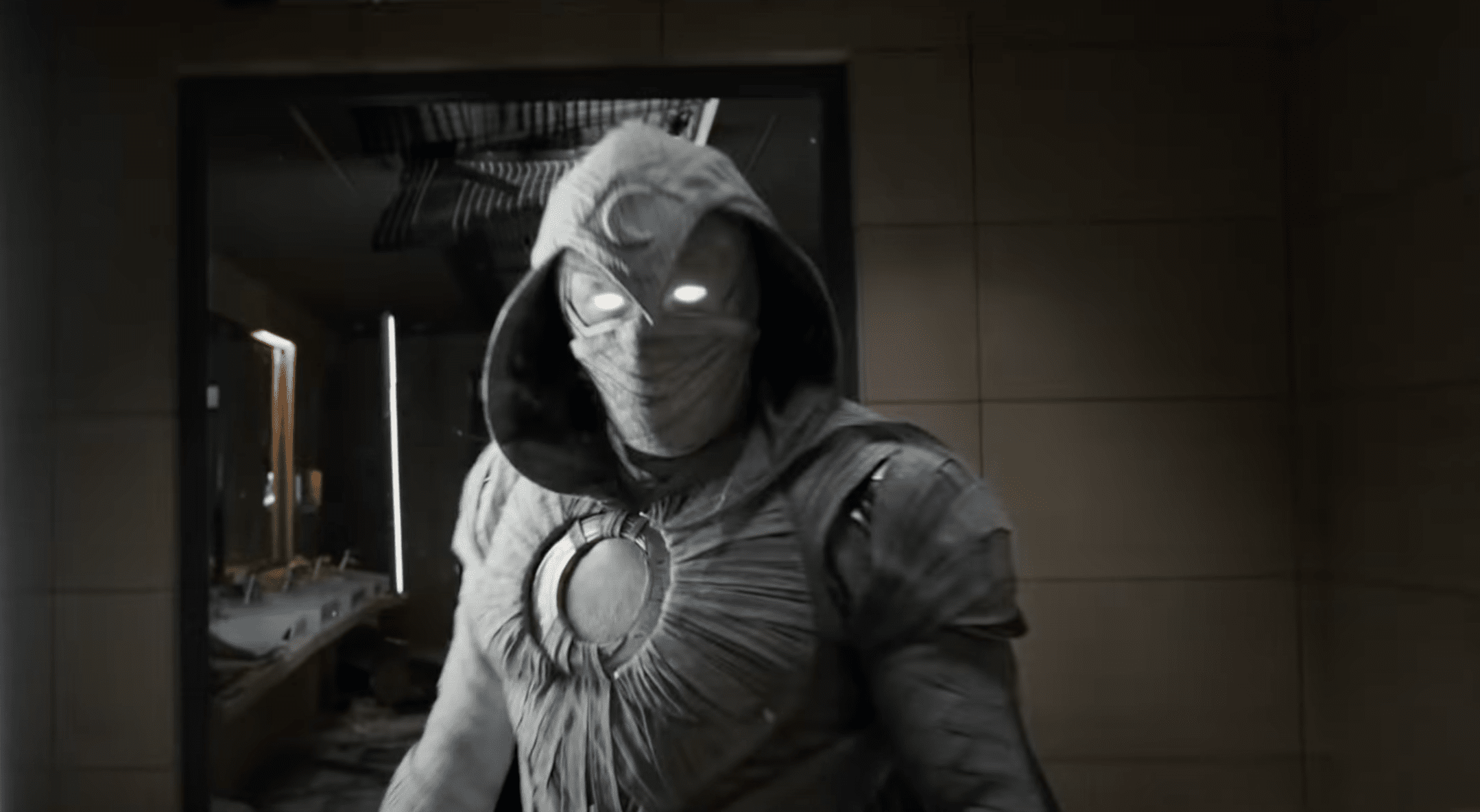 Episode 1 of Moon Knight is now streaming on Disney+.