Moon Knight is a unique, mind-blowing, visual feast that is unlike anything on television right now. It is a witty, scary, and gloriously entertaining show that is the definition of top tier Marvel Studios content.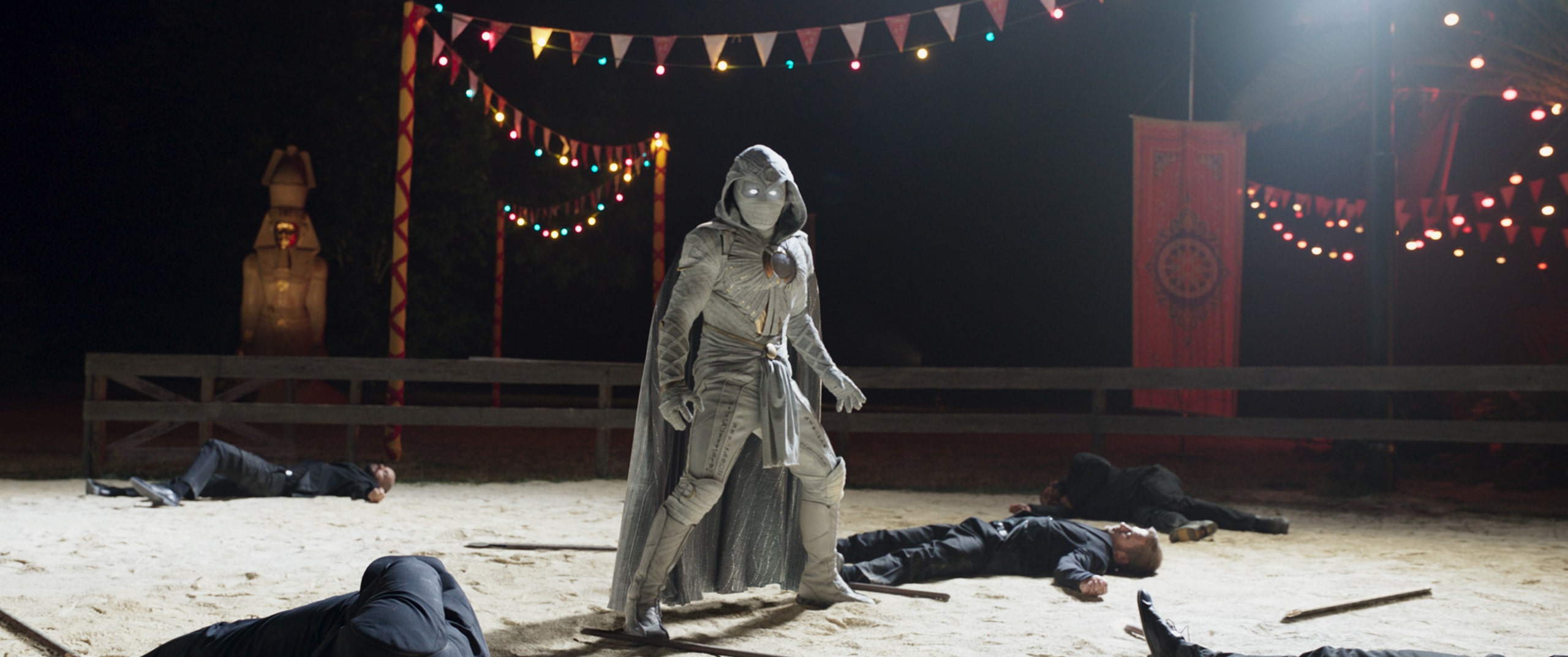 Moon Knight Review
Moon Knight follows the story of Steven Grant (Oscar Issac), a mild-mannered, intelligent, quirky man who is tormented by a sleeping disorder. At least that is what he believes is wrong until he discovers that he has Dissociative Identity Disorder. Steven shares a body with Marc Spector (Oscar Issac), former mercenary and current avatar to Khonshu (F. Murray Abraham), the Egyptian god of the moon and vengeance. His world is quickly turned upside down and he finds himself surrounded by enemies, led by cult leader Arthur Harrow (Ethan Hawke) who are after a golden scarab which Marc happens to have stolen. Marc and Steven must learn to work together to survive the deadly game playing out around them. But with a mind like Steven's, it becomes hard to tell the difference between what's real and what's fake.
Marvel Studios has consistently delivered winning shows since they debuted WandaVision. As different as each was, they all shared something in common- they starred well-established characters. Moon Knight breaks that mold and delivers something that can both stand on its own while still tying into the bigger MCU in a subtle way. It lives in its own little world with only a few crumbs that connect it back to the greater MCU but those crumbs could prove interesting further down the Phase 4 line. This is a unique thriller, with epic visuals and mind-blowing moments, that is deliciously addictive thanks in part to the incredible performances given by Oscar Issac.
RELATED: Ethan Hawke On Moon Knight: Why He Was Asked Not To Read The Script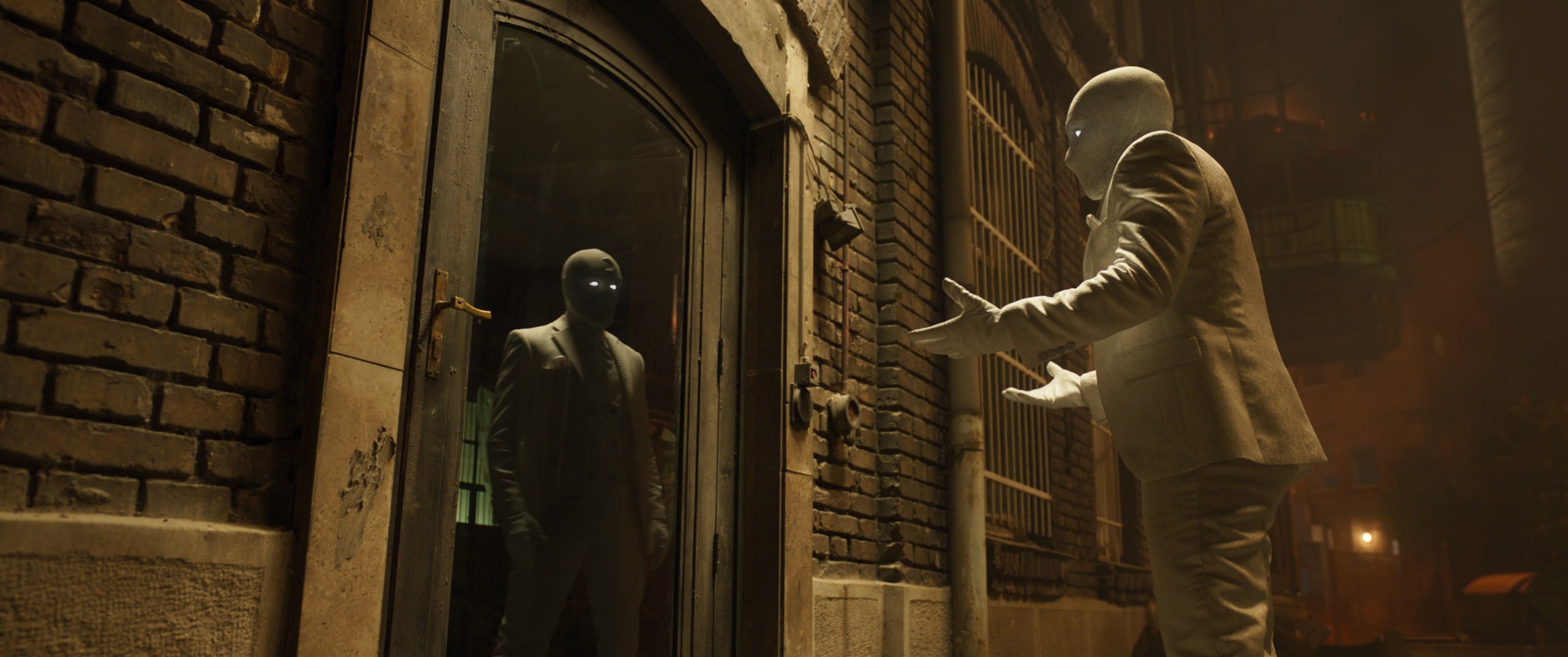 Oscar Issac gives not one, but several powerhouse performances in the first four episodes of Moon Knight. Issac is tasked with not only portraying two very different characters but he having to do so by mostly acting against himself. He deftly shifts his countenance and body language as he swaps from Steven to Marc and back again. Here is a superhero, empowered by an Egyptian deity, with superhuman strength, speed, cool weapons, and a suit that makes him invincible…who happens to suffer from Dissociative Identity Disorder (D.I.D.). It's a performance that has to be seen to be truly appreciated. Watching him interact with himself is especially captivating, as Marc's emotions range from annoyed to rage-filled to resigned. While on the other hand Steven goes from terrified to amazed to having a new found confidence in his abilities. It's muscle memory after all right? Not sure it works like that Steven but okay.
Issac's exceptional presence and commitment to his characters is matched by Ethan Hawke's turn as the calm, malevolent Ammit cult leader Arthur Harrow. Harrow is unquestionably the villain but Hawke works diligently to make sure Steven and those of us watching doubt that fact at every turn. After all, Harrow seems like the sensible one, he just wants peace on Earth. What is wrong with that? Now don't examine his methods too closely, just get lulled into a false sense of security by Hawke's soothing voice and sweet insincerity.
RELATED: Moon Knight's Ethan Hawke: Why Arthur Harrow is Unlike Other MCU Villains
May Calamawy's Layla holds her own against Marc's standoffishness and Steven's cluelessness. Layla is the show's version of Marlene, Marc Spector's wife from the comics. Calamawy embraces all aspects of Layla, who is equally smart as she is tough. My favorite moment is when she calls our Harrow for being condescending. Speaking of a mansplainer(or is it deitysplainer), F. Murray Abraham manages to make Khonshu terrifying, humorous, and manipulative depending on the moment in the show. When the voice is first heard he sounds exasperated, but when he shows up in the flesh err bones, he's as wicked as can be. And the toxicity of his relationship with Marc is on display for all to see.
Moon Knight set out to break through what we know of the superhero genre and it accomplishes that easily within the first episode. Here is a hero who is not perfect, he's broken, but more so than any other one we have encountered, including Bucky Barnes. Marc and Steven are misfits, who are misunderstood by most, and preyed upon by beings who think their fractured mind is easy to control. This fact makes them unpredictable as narrators which adds a nice layer of confusion as to what is real. But what is heartening to see and hear, is when Steven and Marc refuse to let their mental illness define them. They both can and do admit that they need help. Moon Knight as a show, champions the strange, and the different, something I'm sure a lot of fans will find comfort in.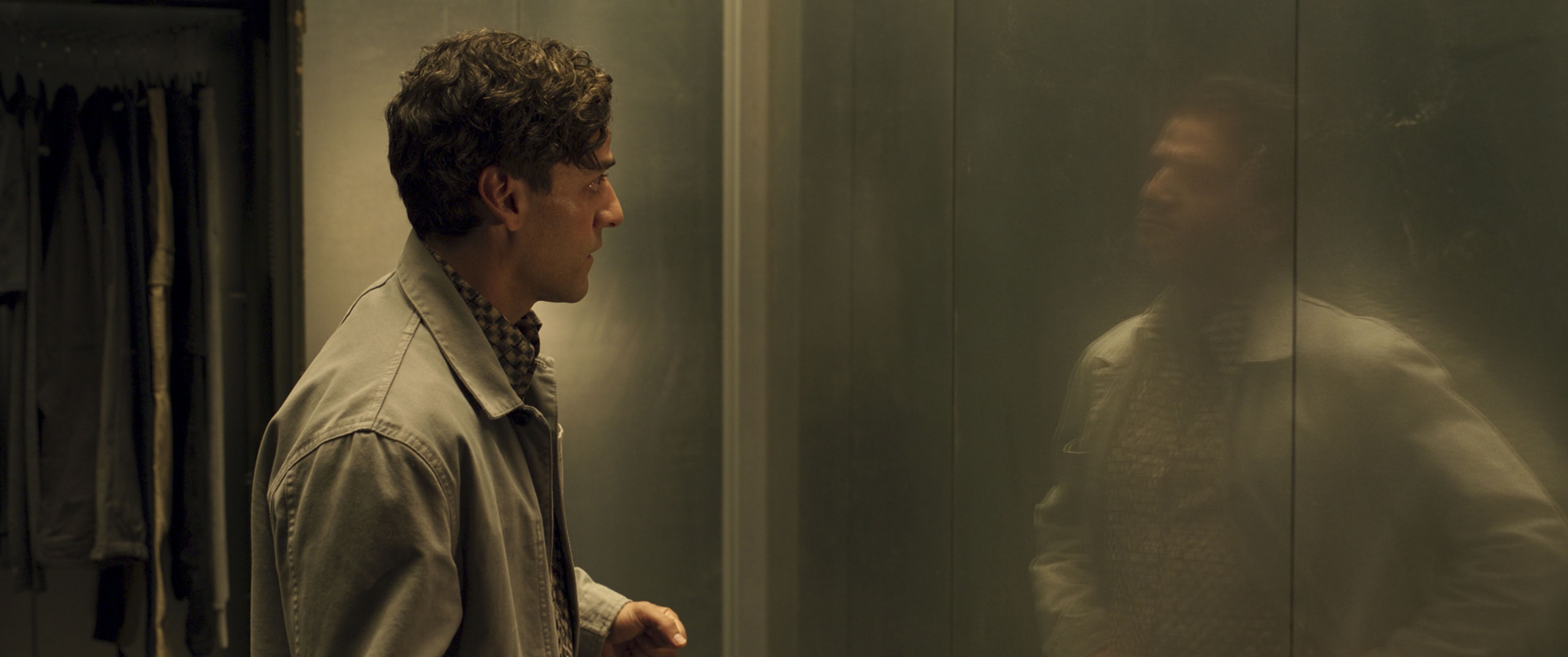 Visually, Moon Knight is a feast for the eyes. The suit animation is everything a fan of the comics could have possibly asked for and more. The detailing on the Moon Knight and Mr. Knight suits is flawless. It gave me chills seeing the Moon Knight suit for the first time. The sets are equally impressive, from the orderly feel of the museum to the impressive architecture of the pyramids. Egypt comes to life in both the modern and ancient sense. The hospital, briefly glimpsed in the trailer, leaps from the panels of the comic and evokes a sense of non-canon Marvel cousin Legion in all the best ways. Fitting since both David Haller and Moon Knight were originally illustrated by Bill Sienkiewicz. Longtime Moon Knight fans will be happy with the Easter eggs and visual references shown throughout the series.
The use of reflections whether it be in mirrors or water and various camera angles add to the feeling that something is not quite right. Is this reality? Are we trapped inside Steven's mind? Moon Knight is one of those shows that begs to be watched over and over again, because each time you will pick up on a subtle hint that you missed the first time. I cannot wait to see how episodes 5 and 6 play out so that I can rewatch from the beginning to see how the directors paved the way for the conclusion.
Marvel Studios has done it again. Moon Knight never gets boring, never drags and with lots of brain teasing, you genuinely do not know what is going to happen next. That anticipation will keep you coming back week after week, and trust me once you pick your jaw off the ground after episode 4 you will be more invested than ever to see where this wild ride is going. Regardless of whether it goes left or right, Moon Knight is absolutely addictive so sit back, embrace the chaos, and enjoy it because this show is one hell of a ride.
Moon Knight will be streaming exclusively on Disney+ starting March 30, 2022. New episodes will drop every Wednesday.