The Masked Singer National Tour is coming to the Hershey Theatre June 14. This first-ever North American tour brings the show right to you. Can you figure out who is under the mask? Read on to enter our Masked Singer National Tour Hershey Theatre ticket giveaway.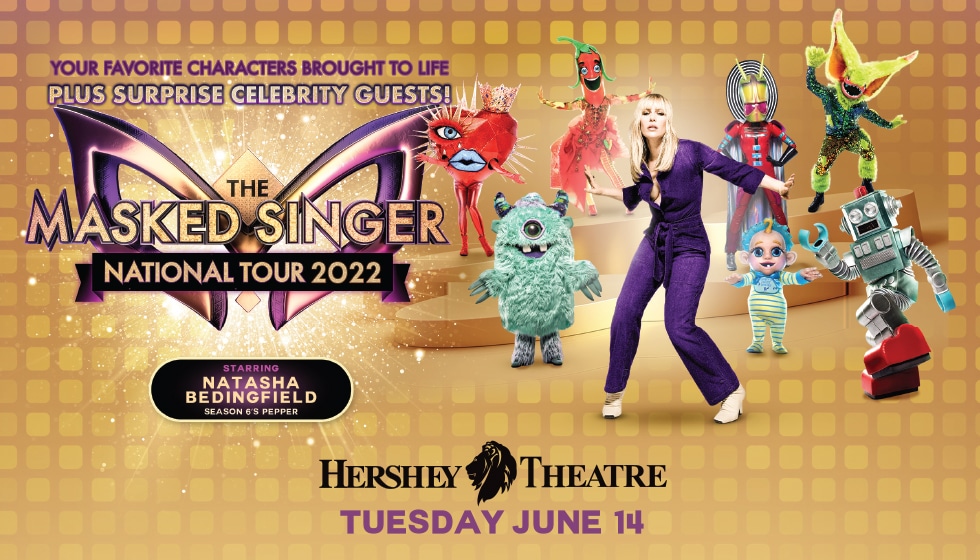 About The Masked Singer National Tour
The Masked Singer National Tour brings your favorite characters from the hit show right to a stage near you. Natasha Bedingfield, multi-Platinum singer and Masked Singer alum is your host for the evening. Fan-favorite characters from past seasons of The Masked Singer audiences will see on your are "Pepper," "Queen of Hearts," "Taco," "Alien," "Robot," "Baby," and "Monster." Season Seven's "Thingamabob" also will get in on the action. Each performance includes an evening of song, dance, and craziness.
Plus, a mystery celebrity will be unmasked in every city! Can you guess who's behind the mask before the night is over? Good luck!
RELATED: Hersheypark Ticket Giveaway: Get Ready For Summer At Hersheypark
About Hershey Theatre
Hershey Theatre was conceived by entrepreneur and philanthropist Milton S. Hershey in the early twentieth century. It was built between 1929 and 1933 as part of Mr. Hershey's "Great Building Campaign" of the Great Depression, which also produced such Hershey landmarks as The Hotel Hershey, the Hersheypark Arena, and the Hersheypark Stadium.
Ever since it was opened in 1933, the Hershey Theatre has seen countless of the world's leading performers and shows. IT is a gorgeous venue with so many details and history it has to be seen to be believed.
For more information about Hershey Theatre, including taking a tour or seeing a broadway show, visit Hershey Entertainment.
The Masked Singer National Tour Hershey Theatre Ticket Giveaway
Three (3) winners will win two (2) tickets each for the June 14 performance at Hershey Theatre. Winners will be contacted via email and have 24 hours to respond before another is chosen.