During their panel at Awesome Con 2022, Simu Liu, Meng'er Zhang, and Florian Munteanu shared some behind the scenes stories about the making of Shang-Chi and the Legend of the Ten rings including a never before seen deleted karaoke scene, panic ordering, and that time Meng'er hit Simu.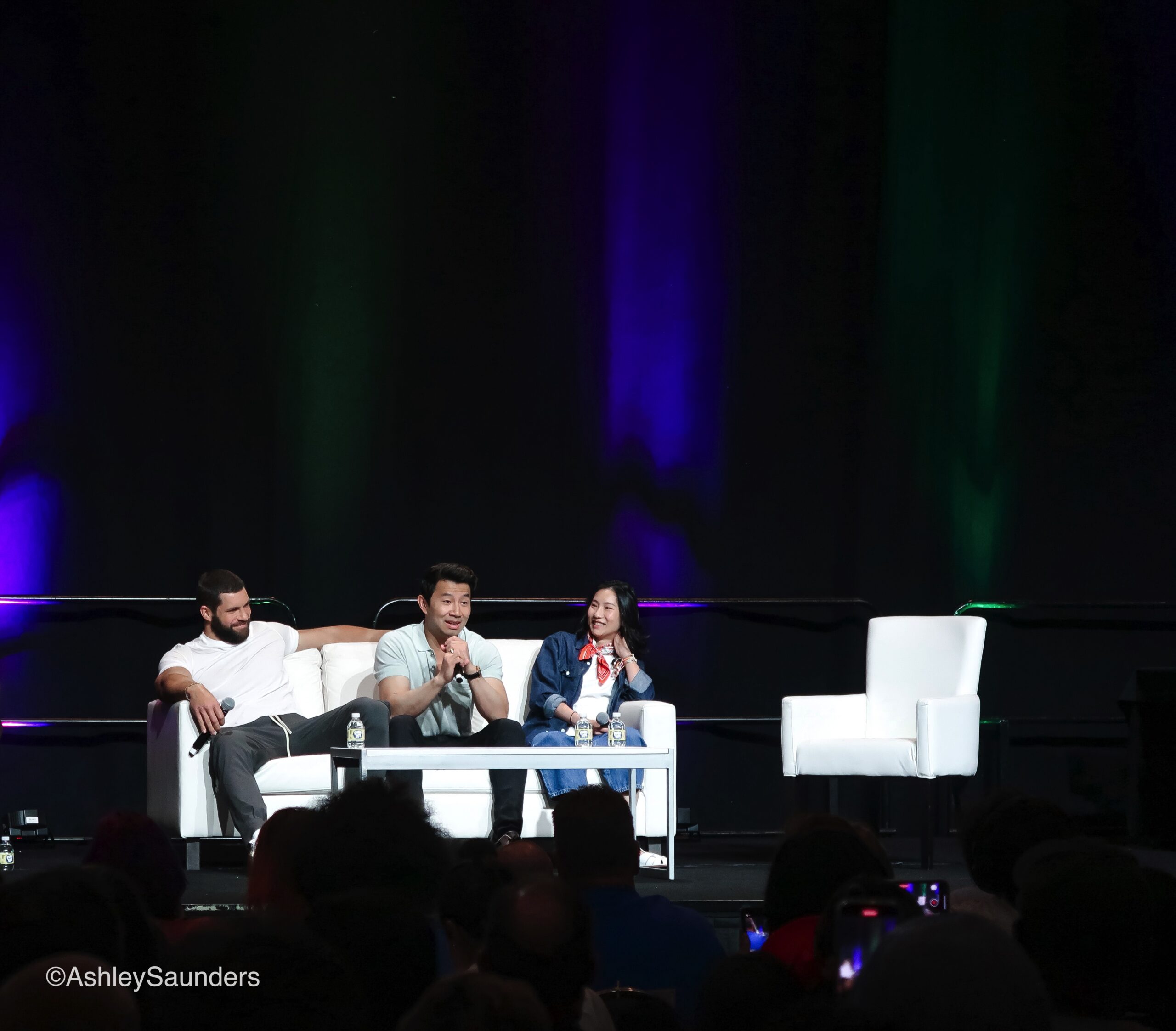 Stars of Shang-Chi Talk An Unused Karaoke Scene, Accidental Hits, & More
Simu Liu, Meng'er Zhang, and Florian Munteanu are still loving the fans' reactions to Shang-Chi and the Legend of the Ten Rings. When they showed up at Awesome Con 2022, the main stage ballroom was packed with con goers of all ages excited to hear more about the film that set a Labor Day box office record. It was clear from the second they got on stage that the bond they share is solid and that filming was a blast.
During their panel, Spotlight on Shang-Chi and the Legend of the Ten Rings, the three cast-mates shared when they found out about their casting, fight scenes that ended with Simu being hit, and even an unused scene that featured a karaoke session that I think we all deserve to see. We also may have reenacted that last bit because sometimes peer pressure can be a good thing! Plus Shang-Chi has some words for Peter Parker.
RELATED: All The Shang-Chi Easter Eggs and Cameos You May Have Missed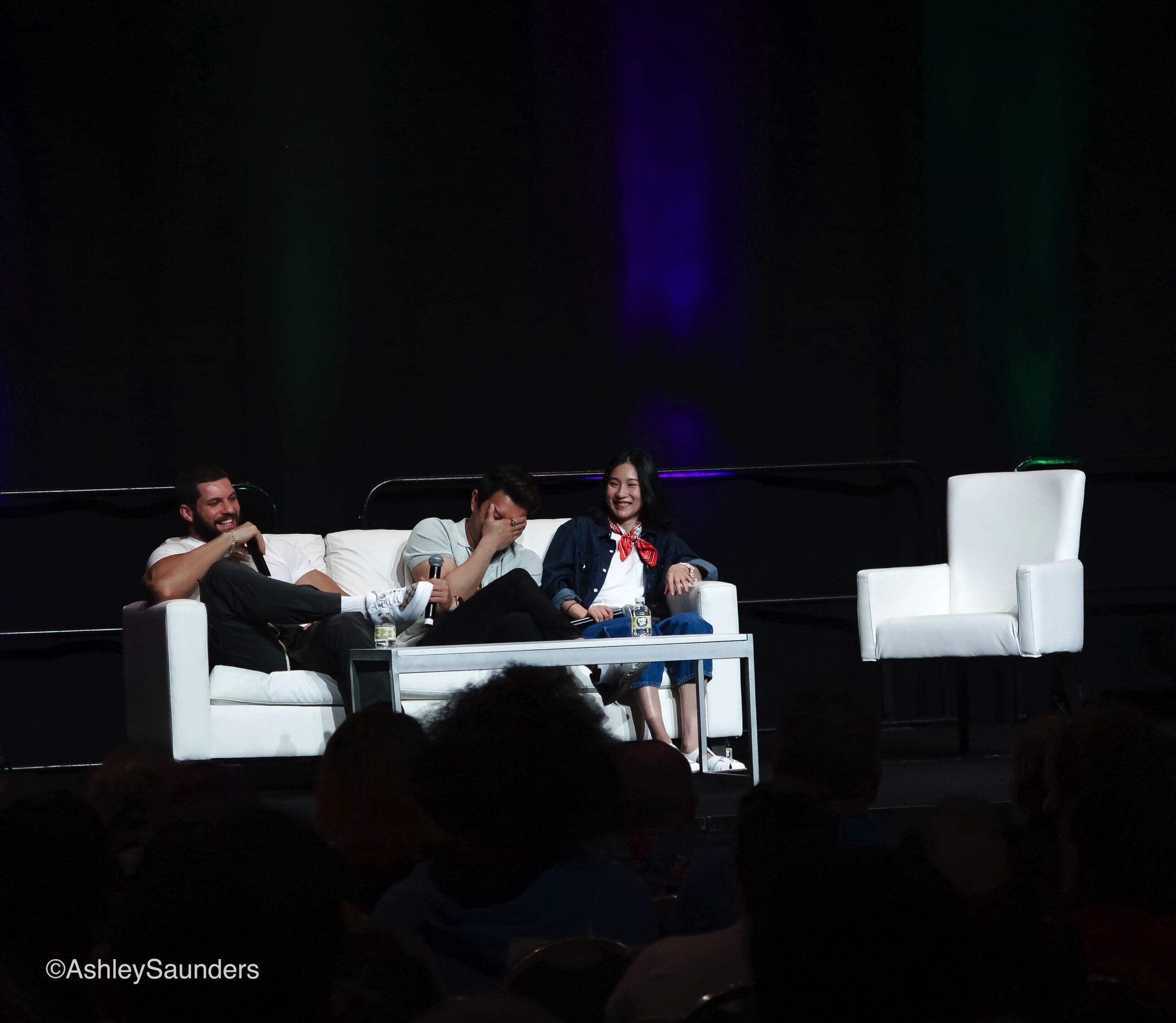 But before he was kicking butt on a train or flying on the back of the Great Protector, Simu was sitting in his underwear eating shrimp crackers. "Then I got a call and it was an unknown number from Burbank, California. I had screen tested for this role two days prior, so I knew Disney Studios was located in Burbank… this is it. So I started freaking out, picked up the phone and it was Kevin Feige. Far off in the distance I hear Destin 'We want you to be Shang-Chi man!'" Liu laughs saying "I screamed into my phone and I cried and then Kevin [said] 'this is very important, we are going to Comic Con in four days. You cannot tell anybody.'" But when you get the biggest news of your career it is hard to keep it a secret, "I immediately called my best friend."
Zhang on the other hand kept it a secret although at first she didn't know what she was auditioning for. "I just saw an audition in a group chat that said they wanted a girl who can speak both English and Chinese and I thought to myself I can be that girl." It wasn't until she was sent to Sydney to do a screen-test with Liu that she realized she was auditioning for Shang-Chi. Munteanu knew he was being asked to audition for Marvel, he just didn't know what role. He laughs as he recalls exactly what they were looking for, "They said to me, they need a big guy. And I was looking at my arms and [thought] I think I can handle it."
Fighting is a big part of the film, with many elaborate stunt sequences from fighting in a bus to battling in a cage. Typically when filming a movie, you're not actually supposed to hit the other person, but mishaps can happen and Zhang got in a few shots on Liu. "I punched Simu everyday," Zhang laughs. "I was pretty nervous because I had never really hit someone. He was really encouraging, he said 'Go for it! You can't hurt me.' So I went for it and I threw a punch at his face." Liu responds, "Barely felt it. Did you even hit me? I thought it was just a fly that landed on my nose." Zhang fires back "What about my elbows?" He laughs, "you have really bony elbows!"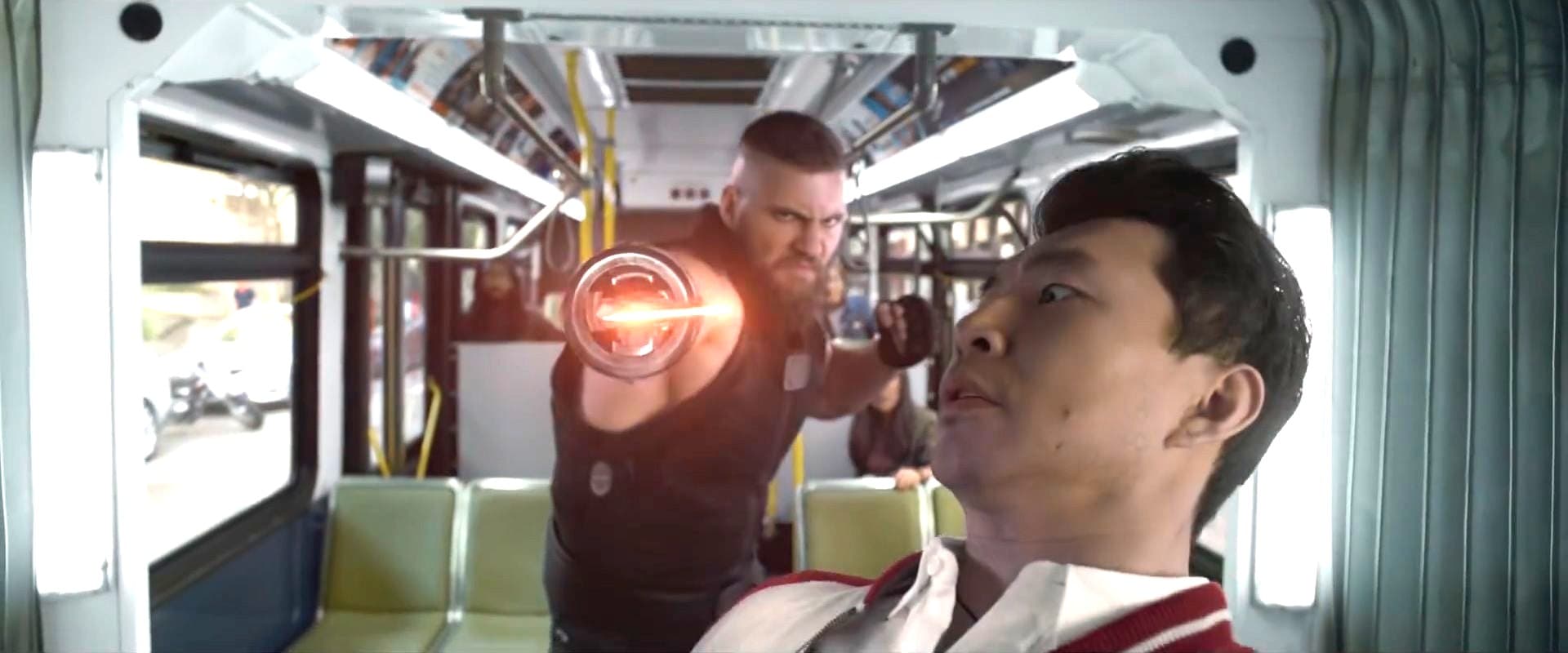 The roles were reversed when it came to Liu and Munteanu whose training on Creed helped him not to land a punch. "That helped with Simu, he was very lucky," Munteanu laughs. Liu chimes in "You never actually punched me in the face, I appreciate that. I would probably be dead." Their iconic fight happens on a commuter bus, which can be tricky for someone Munteanu's size. "For a guy like me who is tall and big, the bus is a very unpleasant place to be."
Karaoke and Shang-Chi go together like PB and J. During the panel we learned that Razor Fist got in on the karaoke action in an unused scene from the movie. What followed will remain one of my core memories because how often do you get to sing Backstreet Boys with the cast of Shang-Chi? When asked what his go-to karaoke song would be, Munteanu shared "We did a karaoke together." Liu elaborated that the scene involved Razor Fist showing up at the end with a plate of nachos. With that in mind, Munteanu's karaoke pick is one of the songs they prepared for the film, "which was Backstreet Boys." Thanks to the crowd cheering and Liu and Zhang encouraging it, we did a Brooklyn Nine-Nine style sing-a-long right in the ballroom.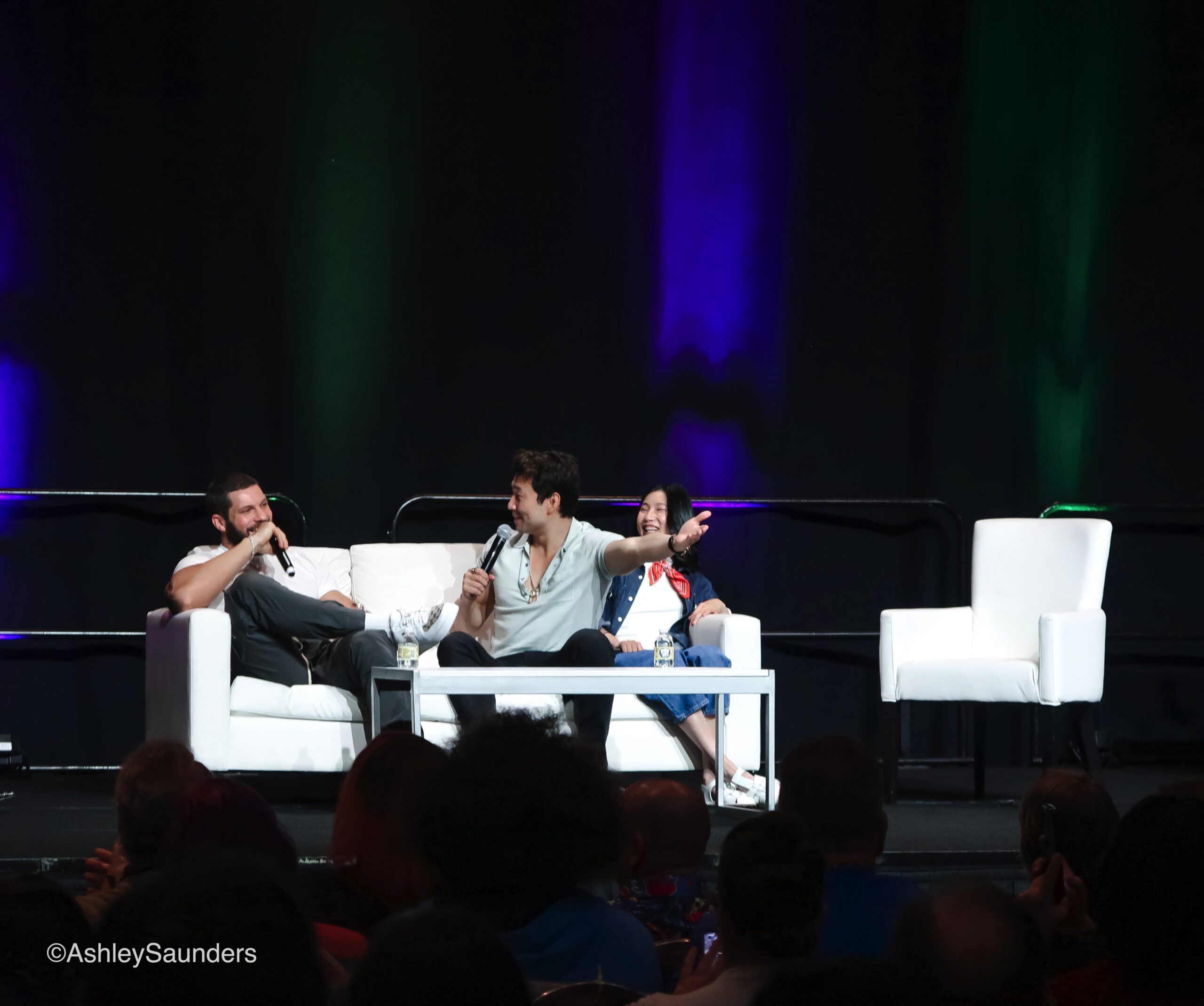 Shang-Chi is new to the Avengers and so far has only had to fight a few people and a supernatural evil demon and its minions. When it comes to who Shang-Chi should fight next, Liu has some thoughts about a certain friendly, neighborhood Spider-Man. "Shang-Chi came out and saved cinema. We set a Labor Day box office record and then Spider-Man came along." He laughs, "In my humble opinion, great movie, loved it. I've seen all of them. But in my opinion [it] deployed a cheat code, and brought nostalgia [from 20 years ago]. I would love to have a friendly chat with Spider-Man. I get my rings though."