Now available on Digital and coming to 4K, Blu-ray, and DVD September 6 is the fun and heartwarming Minions: The Rise of Gru. Get ready for these awesome Minions The Rise of Gru bonus features that every fan needs to see for themselves.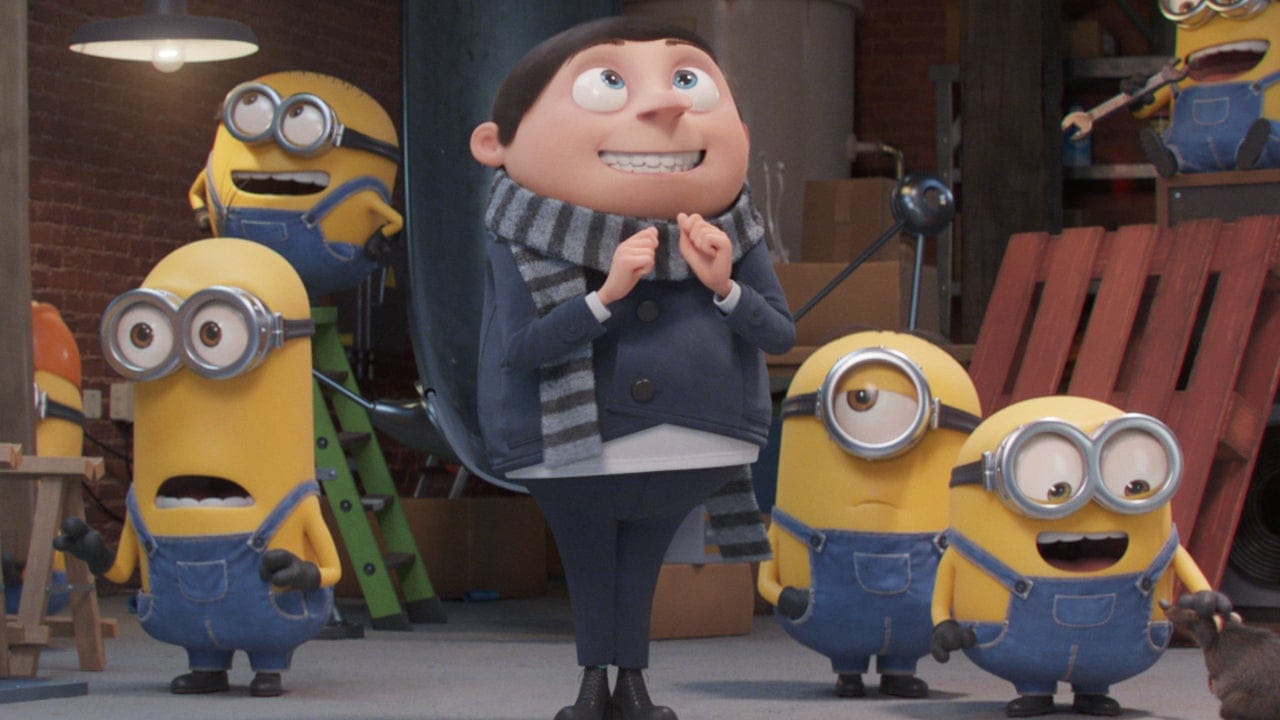 Minions: The Rise of Gru
The Rise of Gru, begins with the supervillain group known as the Vicious 6. After they steal a very powerful stone, their leader, Wild Knuckles (Alan Arkin), is betrayed by one of his own. Belle Bottom (Taraji P. Henson), stages a mutiny and takes control of the villainous group. A young, aspiring supervillain named Gru (Steve Carell) is eager to interview for the newly opened position within Vicious 6. His Minions offer their help but he doesn't need it, or so he thinks. His dreams quickly go up in smoke when Belle Bottom laughs at him instead of offering him a spot in the group. Upset, Gru decides to steal the stone from the Vicious 6. That's when things proceed to get hairy so it's up to Gru's Minions, Bob, Stuart, Kevin, and Otto (all voiced by Pierre Coffin) to save him.
Minions The Rise of Gru Bonus Features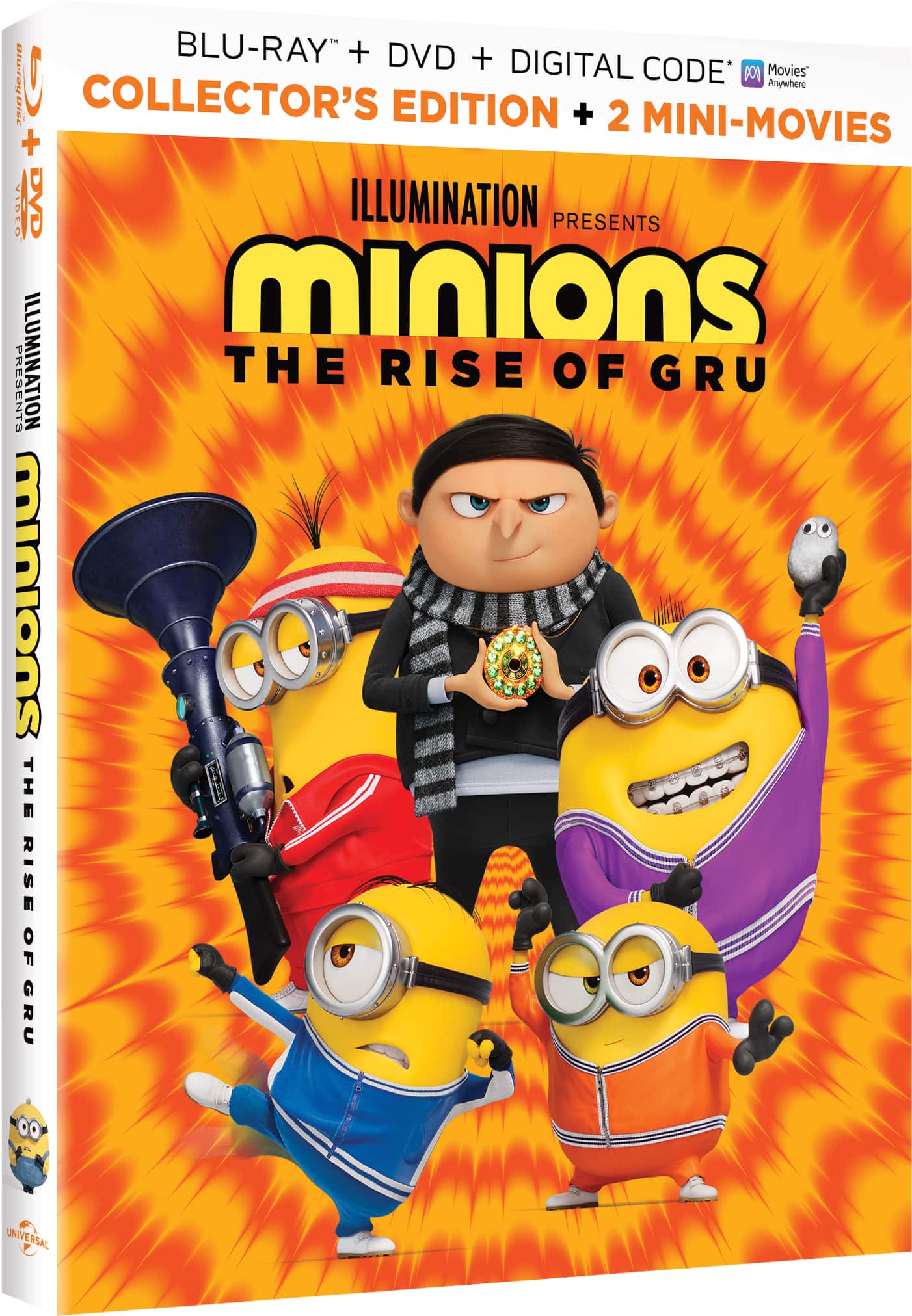 POST MODERN MINIONS (MINI MOVIE) – Experience one Minion's rise and fall as an artistic genius when he sneaks into a 1970's post-modern art gallery with a fellow Minion and unintentionally creates an explosive new art form that is declared by a snooty art critic as the greatest art he's ever seen. When the critic moves onto the next new artist, our Minion tries everything to get back in the spotlight, which accidentally leads to his next unexpected career.
MINIONS AND MONSTERS (MINI MOVIE) – Follow a newbie Minion as he joins three more experienced Minions in playing a 1970's fantasy role-playing game. After struggling to gain the skills needed to master the game, the newbie unexpectedly rises to the occasion and saves the day, earning him the magical crown and the appreciation of his buddies.
EXTENDED SCENE
OUTTAKES
CHARACTER PROFILES

GRU
WILD KNUCKLES
BELLE BOTTOM
MASTER CHOW
THE VICIOUS 6
BIKER

GRU-VY ANIMATION – Join Steve Carell and the directors as they take us through the animation process. From Concept Art, through Storyboards and on to the Final Film, with every Gru-vy step in between explained in fun and fascinating detail.
THE '70S – FASHION, FOOD & FUNK – A behind the scenes look at the 1970's through the lens of MINIONS: THE RISE OF GRU. From fashion to music, cultural phenomenon and back – the cast and filmmakers are bringing the 1970's to a whole new generation.
MINION MARTIAL ARTS – In this 1970s inspired martial arts movie throwback, we hear from the film's directors about their inspiration, how they created authenticity in animation, the role the many martial artists in the cast played to bring it to life and how you teach a Minion to fight.
HOW TO DRAW (& ANIMATE) WITH BRAD ABLESON – Co-director Brad Ableson shows us how to draw all of our favorite characters.

MINION
YOUNG GRU
KUNG FU STUART

LAIR FLAIR: MAKE YOUR OWN MINION HIDEOUT – The Minions aren't the only ones who can build a secret lair — now you can, too! (And yours doesn't have to be built under Gru's bed.)

THE LAIR
DISCO BUBBLES
JET PACK

SUPER STYLE SHOP – The Minion uniform of overalls and goggles is timeless. Simple yet functional. But sometimes Minions have a casual day out and can abandon their work attire for something more fashionable. Here's how can create fresh new fashion for YOUR Minions!

BELL BOTTOMS AND BANDANA
FRINGE VEST AND CHUNKY NECKLACE
*features may vary by format