Our Disney family is thrilled that Disney On Ice is coming back to the Metro DC Area with a brand new show! Disney On Ice Presents Frozen and Encanto brings the magic of these films to life in a whole new way. Plus it's the first time Mirabel and her family take the ice! Disney kids of all ages are going to love. Read to learn more and enter our Disney On Ice Presents Frozen and Encanto ticket giveaway!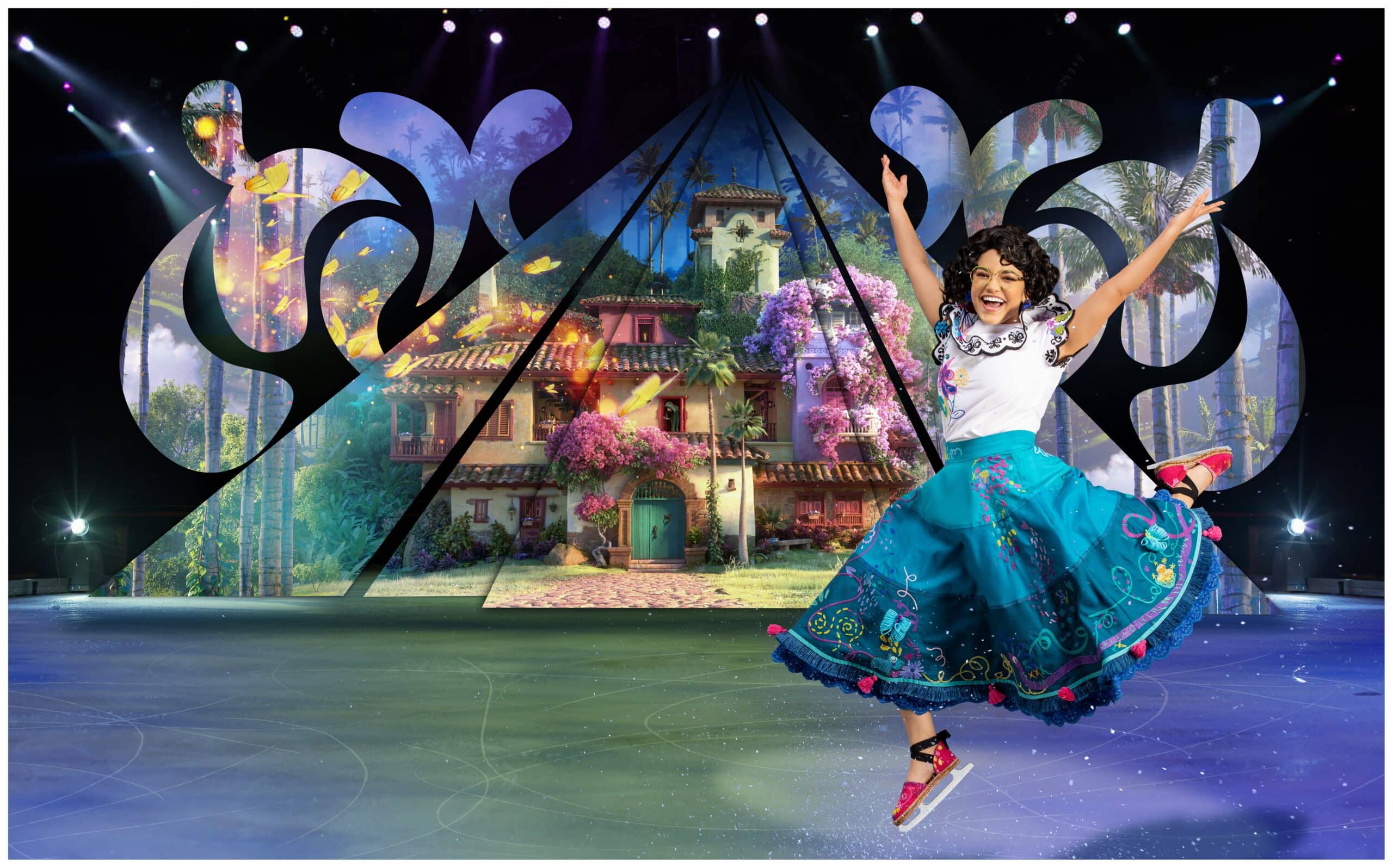 Disney On Ice Presents Frozen and Encanto
Hitting the ice for an all-new experience is Disney On Ice presents Frozen and Encanto. Fans will be transported into theses two Disney hits to sing-along with all their favorite characters at EagleBank Arena from October 6 – 10, 2022. Plus, it wouldn't be Disney On Ice without world-class ice skating and aerial acrobatics.
Not only will audiences see Mirabel and the rest of the Madrigal family, Anna, and Elsa but also the main mouse himself Mickey, along with Minnie, Donald, Goofy, and more.
Olaf takes center stage to tell the tale of two sisters from Arendelle. Relive Anna's adventure to find Elsa, whose icy powers unleashed an eternal winter. Kristoff and Sven are there too, all trying to bring back Summer!
After you Let It Go, the ice transforms into the magical, colorful world of Encanto. Mirabel tells the tale of her amazing family and her journey to save the casita alongside her sisters: Isabela, whose perfection radiates with her ability to make plants grow and flowers bloom with every step, and Luisa, with the gift of super strength that she uses to help her village move buildings and reroute rivers.
For the first time live, fans can witness Tia Pepa, who can control the weather with her emotions; her husband Felix; their daughter Dolores, with her gift to hear; and Bruno, the mysterious and misunderstood Madrigal family member whose visions foretold the future. In the end, audiences will learn that everyone has their own gifts, magical or not, and being true to yourself and loving those around you is what makes you special. You are the miracle.
Disney On Ice always delivers an amazing night or day out for the whole family. Disney kids, Disney adults, these shows bring the magic you love right to your hometown. It's a must see every time.
Disney On Ice Presents Frozen and Encanto Details
Dates:
Thursday, October 6 at 7:00 pm
Friday, October 7 at 7:00 pm
Saturday, October 8 at 10:30 am, 2:30 pm & 6:30 pm
Sunday, October 9 at 10:30 am, 2:30 pm & 6:30 pm
Monday, October 10 at 10:30 am & 2:30 pm
Location: EagleBank Arena – 4500 Patriot Cir, Fairfax, VA 22030
Tickets start as low as $20. Get your tickets online at www.disneyonice.com
Disney On Ice Frozen and Encanto Ticket Giveaway
One lucky winner will receive 4 tickets to opening night of Disney On Ice Presents Frozen and Encanto! Winner will be contacted via email and will have 24 hours to respond before another is chosen.