The Sanderson sisters are back and as delightfully evil as ever. Hocus Pocus 2, with its mix of familiar and new faces, is the wicked good time that fans have been waiting for since 1993.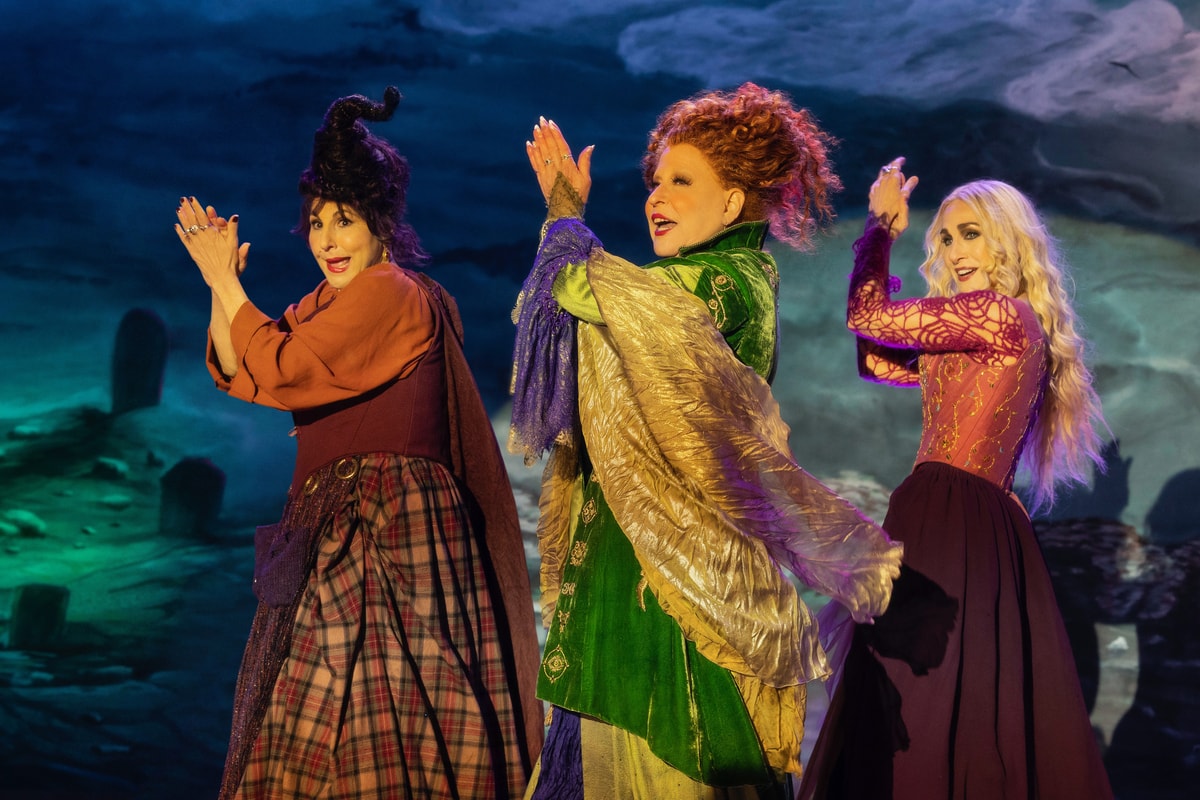 Hocus Pocus 2 Review
After almost 30 years, a virgin lights the black flame candle bringing the Sanderson sisters — Winifred (Bette Midler), Mary (Kathy Najimy), and Sarah (Sarah Jessica Parker) — back to run amok in Salem, again. Every year three friends, Becca (Whitney Peak), Izzy (Belissa Escobedo), and Cassie (Lilia Buckingham), head into the Forbidden Woods to perform a birthday ritual. The aspiring witches believe it will bring them good luck. When Becca turns 16, she and Izzy head to the woods, this time without Cassie who is too busy with her new boyfriend. As they light a candle they got at Gilbert's (Sam Richardson) magic shop, they accidentally unleash the Sanderson sisters. Now it is up to them to put a stop to their flight of terror.
Ever since Book made it known there had to be more to the story, everyone has waited for the Sanderson sisters to return. That wait is finally over. Hocus Pocus 2 is every bit the fun, campy, slightly spooky sequel one would expect after seeing the original. It is a wicked good time that sees everyone's favorite witches revel in their evilness, embrace their musical side, and of course run amok, amok, amok.
RELATED: Interview Bette Midler and Kathy Najimy On Returning For Hocus Pocus 2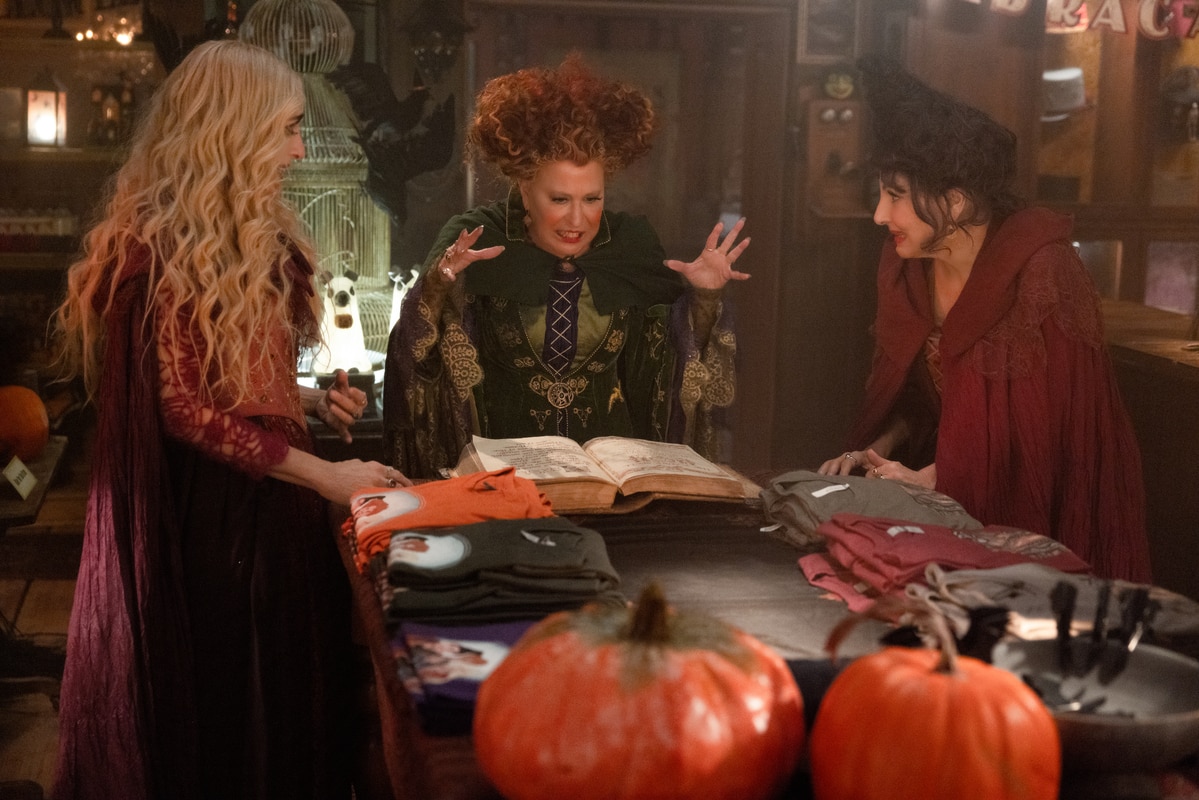 Clearly the people of Salem remember nothing that happened 30 years ago and likely didn't believe a word Dani, Max, or Allison said to them about what happened that Halloween night. Because in Hocus Pocus 2, the Sanderson sisters aren't just some old folktale but celebrities. Much like in real life, the in-world people equally adore the sisters, wearing costumes, telling stories, and generally being stans of Winnie, Mary, and Sarah. Unlike 300 years ago, the witches are seen more like heroes or at the very least misunderstood. After all, new light has been shed on events like the Salem Witch Trials, showing that women like the sisters were simply misunderstood.
That popularity plays a role in how the sisters are brought back. As far as anyone knew, the Black Flame Candle was burned out. Or was it? Apparently not if decades later another virgin lit a candle. But to reveal anything else would be a spoiler. However, it is how they are brought back and the way the town reveres them that shows how the film acknowledges that it loves these women as much as fans do.
RELATED: Doug Jones Talks Hocus Pocus 2 and Why Billy Butcherson Is The Best Zombie
As a millennial who grew up with the first film, it was a true delight to see Midler, Najimy, and Parker back on the screen cackling, singing, and having a blast. Like in the first one, they wreck Halloween parties, bewitch the town with a clever rendition of a popular song, and of course try to sacrifice some children. All in a night's work really. These three balance the comedy with the creepy and lean into the camp with just the right amount of silliness that made the first one so great.
Gilbert, played by newcomer Richardson, is the sisters' number 1 fan. He owns a magic shoppe that happens to be the old Sanderson home and happens to be in possession of Book. With the sisters freed for the night, they must find Book in order to make a life potion, which brings them to Gilbert's shop. At first he is thrilled but when you are dealing with these ladies, be careful what you wish for. Oh and he owns a black cat named Cobwebs. Unfortunately he doesn't talk.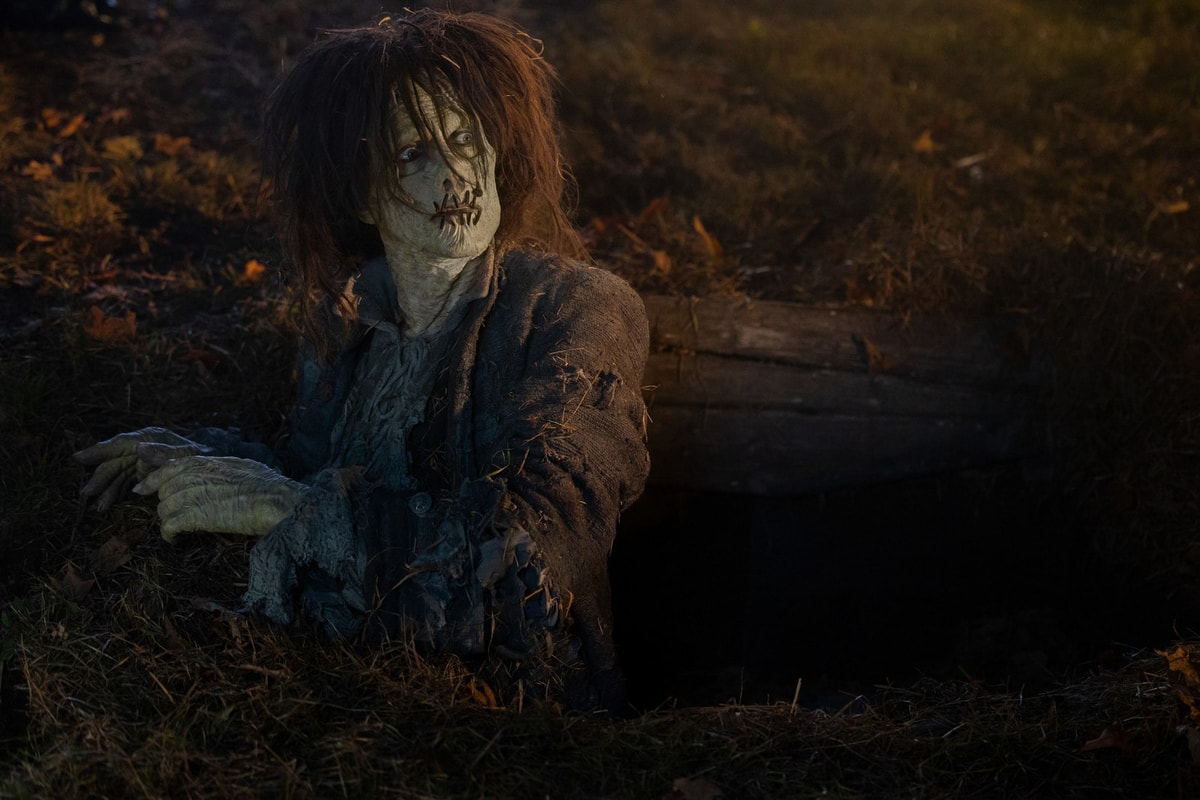 Gilbert is soon sent to find another familiar face, Billy Butcherson (Doug Jones). The friendly zombie cheekily reminds him not to stereotype monsters like himself. After all, this zombie doesn't eat brains. Billy quickly won over fans in the original and it was nothing short of pure happiness to see him back. Finally Billy gets to tell his side of the story in the Winifred-Sarah love triangle. Richardson and Jones have some great moments together that will have you wishing there were more.
The three young actresses playing the young Sanderson sisters do an amazing job nailing their mannerisms and inflections. I wouldn't mind seeing more of their story in the future, a glimpse into how they came to be the witches we know. Peak, Escobedo, and Buckingham are convincing as three friends going through some drama. Escobedo stands out with some great one-liners. Her comedic timing is perfect for dealing with undead witches in 2022.
Another great addition to the Hocus Pocus universe is the incomparable Hannah Waddingham who plays Mother Witch. She isn't given much screen time but she eats up the screen with her performance. She is another one who I believe needs her story told. It is this woman, whom the sisters called Mother in the first film. Their encounter with her as children set up not only this story but the original as well. Again, there is a lot to explore here if the filmmakers and Disney are open to it.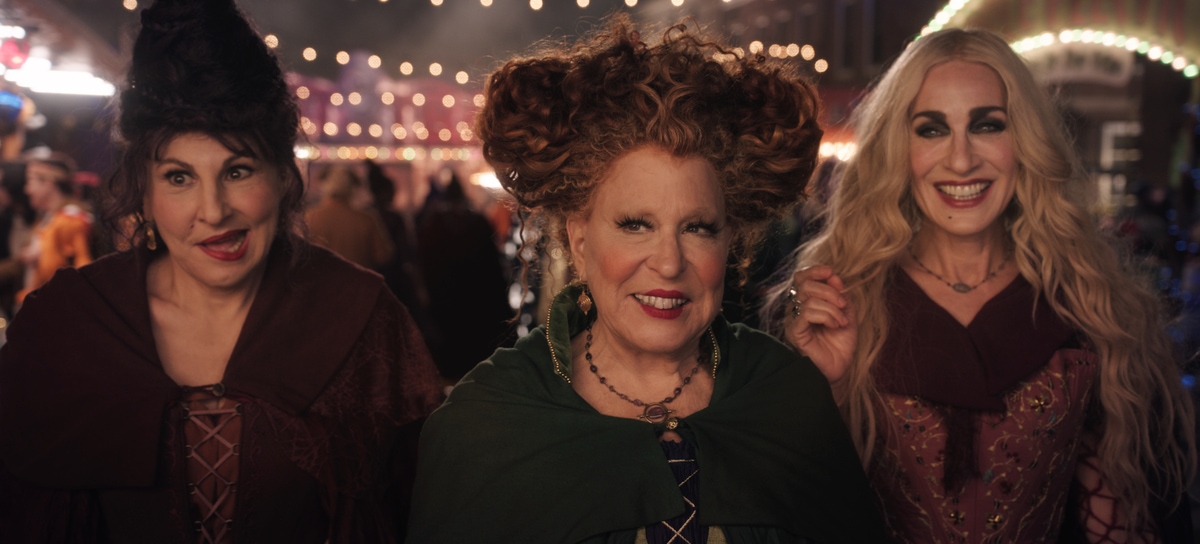 Ultimately, Hocus Pocus 2 is a wicked good time with the right balance of fun, camp, and thrills. It pays homage to its predecessor while delivering something new with a hint that the story can live on. Besides the bewitching happening, this film also speaks to sisterhood and friendship, showing off the importance of those bonds. We find strength when surrounded by people who love us, whether they be witchy or not. Hocus Pocus 2 is set to be an instant holiday favorite, joining Hocus Pocus as a must watch during this time of year.
Hocus Pocus 2 begins streaming on Disney+ September 30. The film is rated PG for action, macabre/suggestive humor and some language with a runtime of 96 minutes.