When it comes to embodying the spirit of what Walt wanted for his parks, Billy Flanigan is center stage. Now in his 40th year at Walt Disney World, Flanigan is sharing his story, the ups and downs, while encouraging everyone to spread kindness like pixie dust.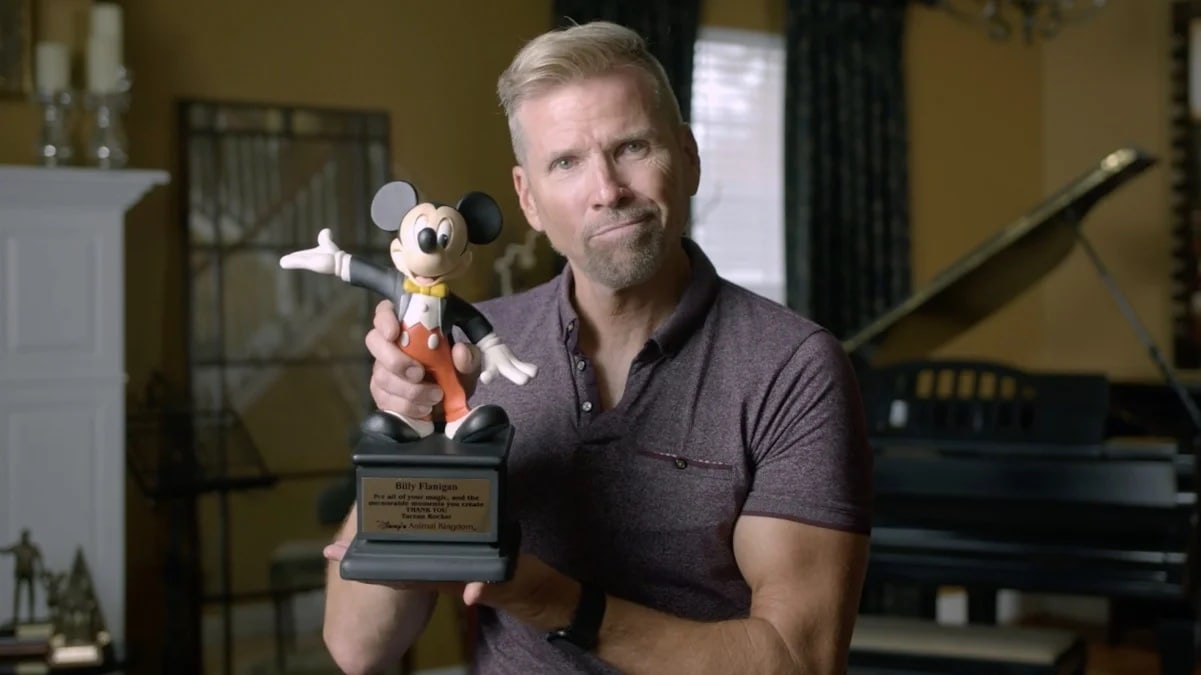 Billy Flanigan The Happiest Man On Earth Review
Mr. Disney, Living Legend, Dad, Husband, The Man with the Thousand-Watt Smile, these are just a few names Billy Flanigan has been called throughout his life. Now in his 40th year at Walt Disney World, Flanigan can add the longest contracted performer to his list. From performing in the Hoop-Dee-Doo Musical Revue to Finding Nemo: The Musical and so many shows in-between, Flanigan has entertained guests from all over the world. When the parks closed due to covid, Flanigan knew he had to do something to lift the spirits of his friends. That something was a 7,000-mile cycling journey to deliver "Flanigrams." His way of brightening up their days.
The Happiest Man on Earth goes beyond the Flanigrams to tell the story of the man who cycled all over the place in order to bring smiles to those he cares about. Flanigan takes viewers backstage to reveal aspects of himself no one knew before. He talks about his upbringing, being bullied relentlessly for being different, his family, and of course life as a Disney performer. Through archival footage and candid interviews not only with Flanigan but also his co-workers and family, a picture is painted that reveals why he deserves the title of Happiest Man on Earth. It is an inspiring and uplifting story that will bring tears to your eyes and a smile to your lips. Flanigan proves that being kind to others creates a positive impact that can be felt by everyone who encounters it.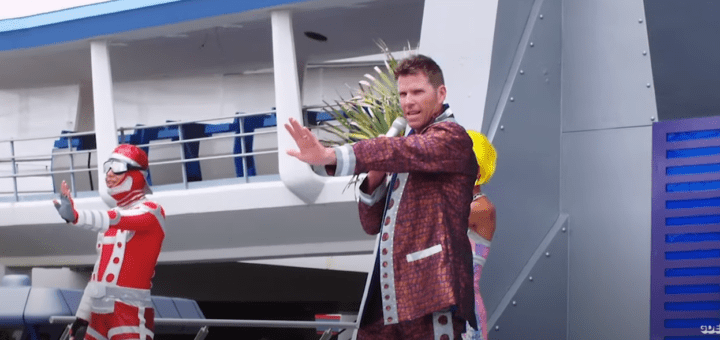 Despite the moniker happiest man, Flanigan and the documentary do not shy away from the hardships he has endured throughout his life. You can't help but be moved listening as his voice breaks recalling how awful his peers treated him for simply being into theater and not sports. Or when the story shifts from him to the entertainment industry as a whole, how dark the shutdown was for all involved. He even discusses, along with his children and ex-wife, how coming out late in life affected his family but how having hope and an open heart can lead to healing. With the love of his family and friends, he was finally able to accept himself for who he had always been.
The underlying message that ties everything together is the message of kindness. Flanigan shares that the bullying he experienced as a child made him want to be a kinder person. "I became kinder because of it…I didn't want others to go through what I went through." That deeply rooted kindness is what led him to start the Flanigrams. Setting out on his trusty bike, Flanigan visited friends' house to perform a special little song and dance at their doorsteps. Big smiles and tears of joy were often the outcome of these little visits, with others starting to hope he would make it to their house too.
At its heart, The Happiest Man On Earth is an emotional journey through the life of one of Disney World's most legendary performers. Billy Flanigan invites us into his world to ultimately send us back out on a mission to spread love and kindness to everyone in our communities. Whether you are a Disney fan or not, Flanigan's story is heartwarming, inspiring, and full of real-life magic. It's that magic, the kind the Flanigan himself gives out freely to all he meets, that the world so desperately needs.
Billy Flanigan: The Happiest Man On Earth begins streaming October 7 on iTunes. A DVD will be released on November 15 on Amazon.