George Clooney and Julia Roberts prove their chemistry is still a force of nature as they face-off in Ticket To Paradise, an old fashioned rom-com that may be light on the romance but is still an enjoyable night at the movies.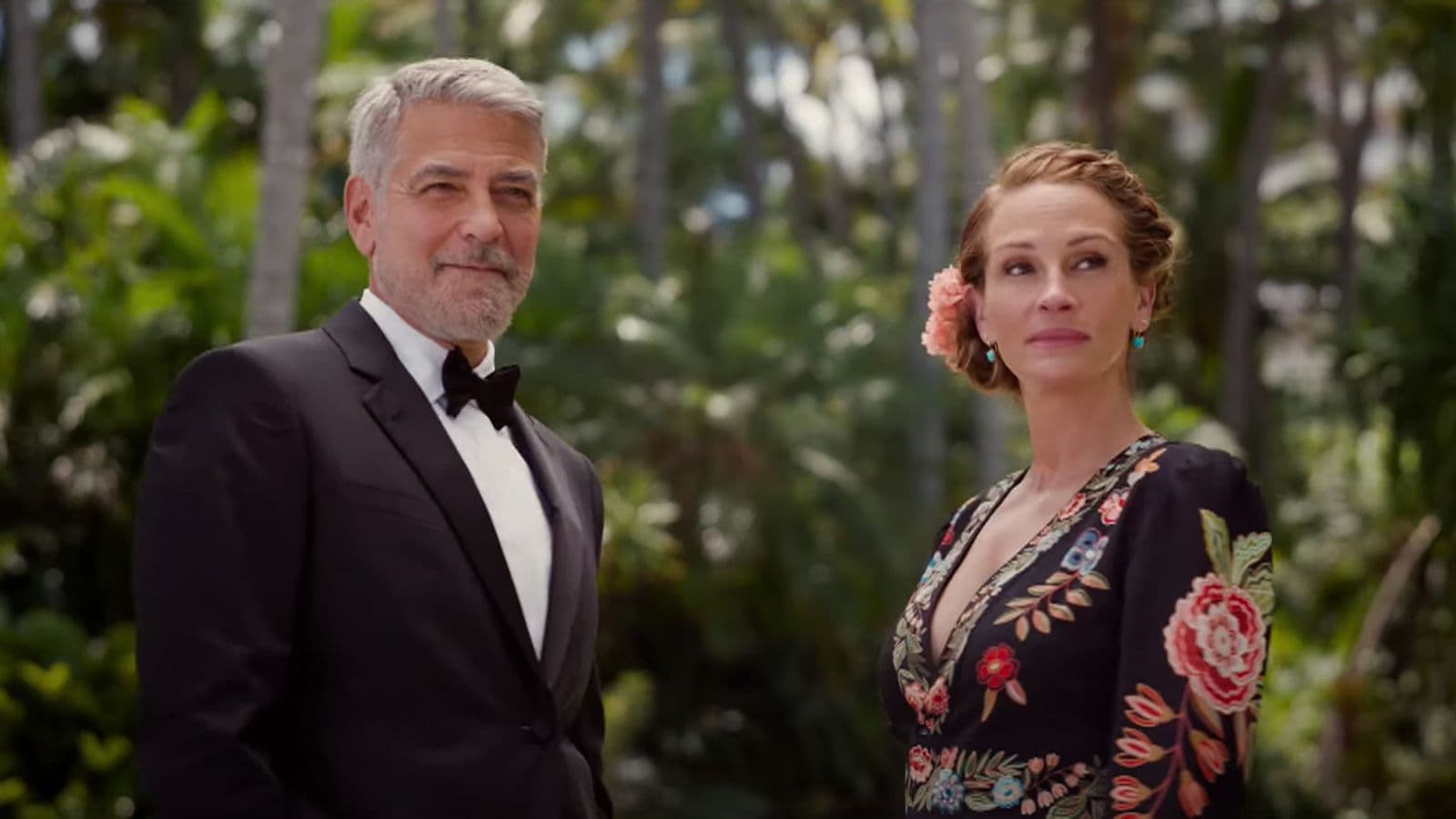 Ticket to Paradise Movie Review
Divorced after five years of marriage, Georgia (Roberts) and David (Clooney) Cotton cannot stand to be in the same room together. But when it comes to their daughter Lily (Kaitlyn Dever) they mostly put their differences aside to be there for her. After she graduates from law school, Lily heads to Bali to blow off steam. While there she falls in love with Gede (Maxime Bouttier) and decides to get married. Georgia and David fly to Bali for the wedding but make an alliance in order to stop Lily from making what they see as the biggest mistake of her life. As they attempt to sabotage the wedding, Georgia and David soon discover there might be some spark left in their old flame.
Ticket to Paradise may go light on the rom part of the rom-com but Clooney and Roberts effortless chemistry makes up for it to deliver a fun time at the movies. It spends time leaning into tropes audiences will expect and some of the dialogue is especially cheesy, again that is expected. But for what it is, this film works. It is an entertaining old fashioned rom-com that offers an escape from the horror movies and big action blockbusters dominating the box office right now.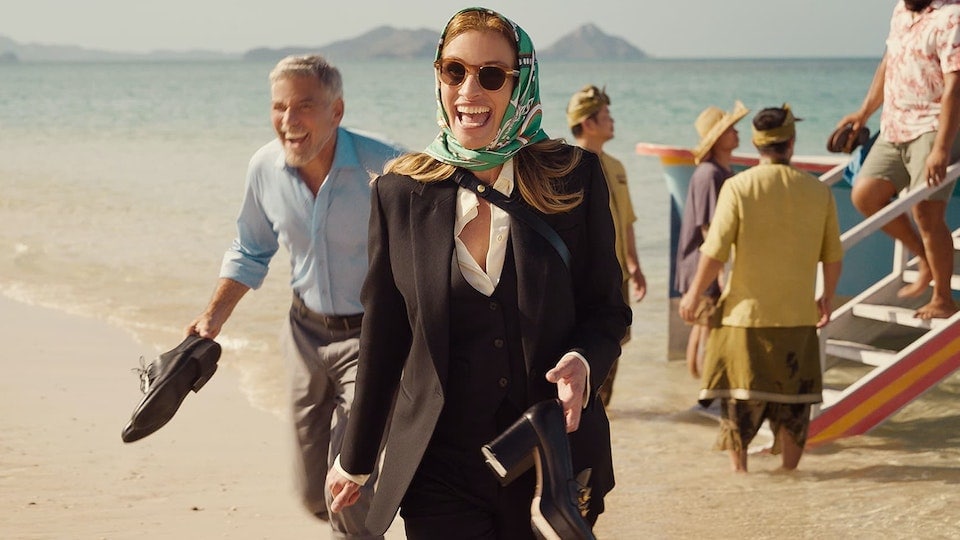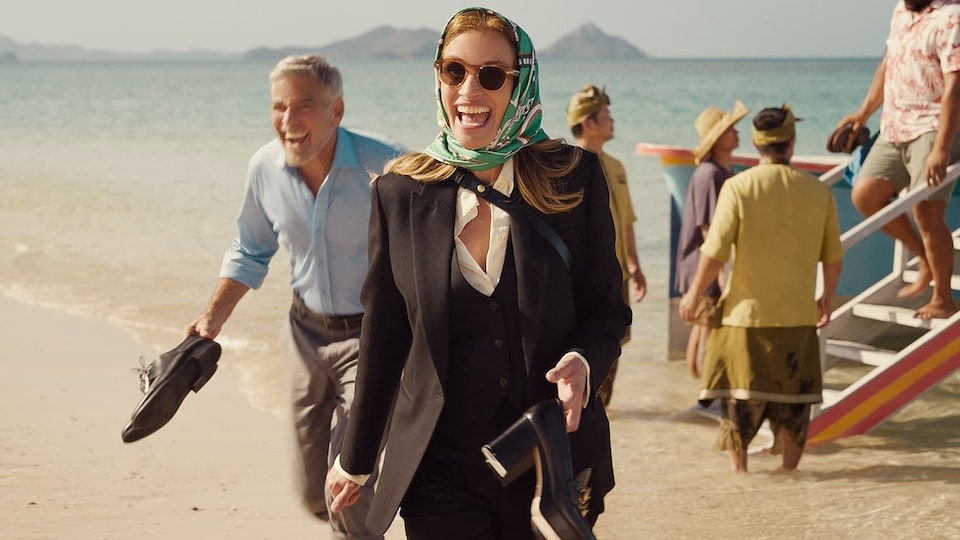 It's hard to think of a more perfect setting for a romantic comedy than Bali. The location was like another character, stealing scenes with its absolute beauty. It is not hard to see why Lily fell in love with the place and with Gede. Equally not hard to see why Georgia and David got a little caught up in their surroundings. Director OI Parker clearly knew what he was doing when picking Bali as paradise.
Parker and Daniel Pipski's script may have drawn elements from films like My Best Friend's Wedding and Mamma Mia! but it lacked the fire that pulses throughout them. Ticket to Paradise is almost chaste in comparison with everyone being a little too much on their best behavior. When the romance does make an appearance, Clooney and Roberts make the most of it. Although light on the rom, the writing allows for plenty of play between Georgia and David. They bicker endlessly and effortlessly. It is very reminiscent of when these two were partnered up in Oceans 11. Watching these two icons attempt to out snark the other is guaranteed to get laughs.
Clooney plays David as almost a parody of himself when he acts boorish at public functions. He may act like an uninterested jerk but it is very clear he is lovable and huggable on the inside. Roberts meanwhile takes on the role of the doting, sometimes "boring" mother who is just trying to raise Lily right. When the two collide their charm essentially oozes off the screen, making you wonder how these two could ever get divorced in the first place.
Out of all their shared moments, one in particular was my favorite. There is a scene where they play a game of beer pong with a local liquor that is apparently very strong. The two let their hair and guard down as they show the youngsters how things are done. Sure they pay for it in the morning but winning bragging rights is totally worth it. Then there are the credits which show several outtakes. When this film releases for in-home consumption I hope there are more of these, I loved every single one.
Ultimately, Ticket to Paradise is an entertaining rom-com that checks off most of the boxes fans would want. It boasts a gorgeous location, cheesy romantic lines, genuine tenderness, and plenty of reasons to giggle. Clooney and Roberts together alone make it worth the price of admission. Their charm and likability overcome the slight script and mostly missing romance. For a genre that has been mostly relocated to streamers, it is nice to see one on the big screen. It is a good way to end a date or girls' night out.
Ticket to Paradise is in theaters now. It's rated PG-13 for some strong language and brief suggestive material with a runtime of 104 minutes.