An action-packed, visually striking, and exciting return to the world of Asuna and Kirito, Sword Art Online Progressive: Scherzo of Deep Night is a rare sequel that outshines its predecessor.
Sword Art Online Progressive Scherzo of Deep Night Review
Taking place a few months after the events of Aria of a Starless Night, Scherzo of Deep Night picks up as Asuna (Haruka Tomatsu; Cherami Leigh), Kirito (Yoshitsugu Matsuoka; Bryce Papenbrook), and two groups of other elite players clear floor 4. Ever since defeating the monster on floor 1 these players have continued to push upward, clearing the way off for others to follow. But challenges arise both from the game and their fellow players. The game they can handle, but this new evil from within threatens to stop their progress and end their lives.
Scherzo of Deep Night is one of those rare sequels that manages to outshine their predecessor. Unlike Aria of a Starless Night, this time around the story could focus on its characters and not on the backstory of the game they find themselves trapped in. The action sequences are bigger and more visually striking, adding to the excitement of watching Asuna and Kirito defeat boss-level baddies. There is also time spent with these two leads that flesh out their characters more and in the case of Kirito show a softer side that is more in line with the Light Novel version of him.
RELATED: That Time I Got Reincarnated as a Slime: Scarlet Bond Review
With all the characters trapped inside Sword Art Online, Scherzo of Deep Night starts off with an epic boss battle as the group clears level four. It quickly becomes clear though some things have changed since the end of the previous film. Instead of being united, the players have begun to split off into guilds, with two fighting for total domination – Dragon Knights Brigade (DKB) and Aincrad Liberation Squad (ALS). Even when the battle ends, tensions remain high. The irony here is that neither has enough members to successfully clear these levels on their own, thus they are forced to work together. This is a thread that Kirito and Asuna hold onto in their attempts to once again unite the players.
The underlying story of the guilds is what keeps Scherzo of Deep Night from just repeating the same story beats as the first film. Adding to the surface level tensions is the fact there is an unknown shadow guild pulling the strings of both the DKB and the ALS behind the scenes. What's more is that these mystery villains are also PKers or player killers. With all the intrigue surrounding this nefarious group, this film ensures audiences will come back for more Sword Art Online Progressive installments. Or for those more familiar with the anime series, it does the work of explaining the hierarchy and structure that was never exactly fleshed out in the main story.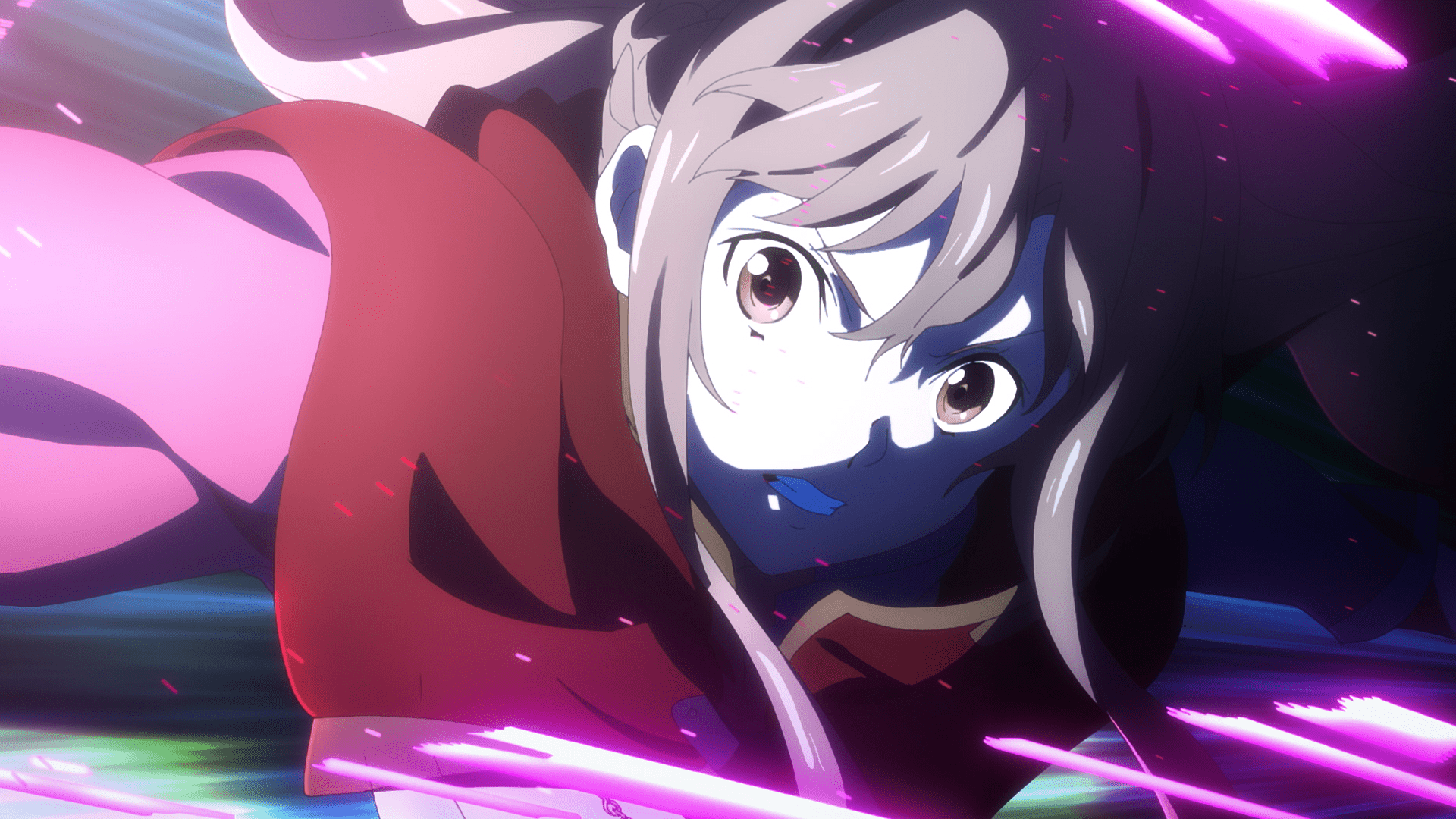 Not only is there world-building taking place but also solid character evolution, specifically for Asuna. In this film, we see her growing (leveling up) as a player and as a person. This story gives a solid glimpse into how she overcame her hurt and denial to become the warrior fans know her to be. Kirito gets some depth here too, as they make a point to show his softer, more vulnerable side which is largely absent from the main story. Knowing how their relationship ends up, it is fun to watch them slowly change from friends to something more.
Visually, Scherzo of Deep Night is an absolute delight. The animation is striking, colorful, and bold. Level five of Aincrad is a maze-like ruin that feels as ominous as it looks. Not only are the settings incredibly detailed but the boss battles have been upgraded from the previous installment. Aniplex is making the most of 3D-CGI whenever possible and the result is beautiful. The score complements each sequence, mixing in classic Sword Art Online themes with new arrangements.
Ultimately, Sword Art Online Progressive: Scherzo of Deep Night is an exciting, action-packed account of new adventures in the Sword Art Online world. Between the excitement and intrigue of the story and seeing these characters grow, there is a lot here for fans to love. Not to mention, all the groundwork laid for future stories is sure to get them as excited as it has me. If they can continue this trend of outdoing the film before it, the future will remain bright for Sword Art Online Progressive outings. After all, bigger and badder bosses are lurking on every floor.
Sword Art Online Progressive: Scherzo of Deep Night releases in US theaters February 3, 2023. It has a runtime of 101 minutes. For anyone needing a refresher before rejoining Asuna and Kirito in Aincrad, Sword Art Online Progressive: Aria of a Starless Night is currently streaming on Crunchyroll.