In a sea of true crime thrillers, Boston Strangler stands out as far more intriguing than the rest. Instead of focusing on the killer the lens is turned to the women journalists who broke the story and have been largely forgotten by history.

Boston Strangler Review
Ann Arbor, 1965. A woman is strangled to death and left with nylon stockings tied in a bow around her neck. Three years earlier, Record American journalist Loretta McLaughlin (Keira Knightley) is tired of being relegated to the lifestyle stories. She has a hunch that local strangulations are somehow connected. She asks her editor Jack (Chris Cooper) to cover the cases, on her own time and dime. He agrees but doubts she will get very far, after all the police have written off the murders. Jack pairs her with fellow journalist and veteran investigator Jean Cole (Carrie Coon) in order to prevent Loretta from making mistakes as she pokes around the murder scenes. Loretta's hunch was correct and she soon cracks open the case of the Boston Strangler. However tracking an elusive killer over the course of three years isn't her only concern. The male-dominated world of journalism is not keen to let her have a seat at the big boys' table.
Sexy serial killers seem to be all the rage lately, from Evan Peters to Zac Efron. The glamorizing of these cases and men have been met with well-deserved criticism. Therefore it is a relief that director-writer Matt Ruskin's Boston Strangler stands wholly apart from those other offerings. He isn't all that interested in promoting the killer or spending an unnerving amount of screen time showing how these women died. Ruskin instead turns the focus on the two women that history has largely ignored, making this thriller both unique and intriguing.
RELATED: Boston Strangler Interview: Keira Knightley & Carrie Coon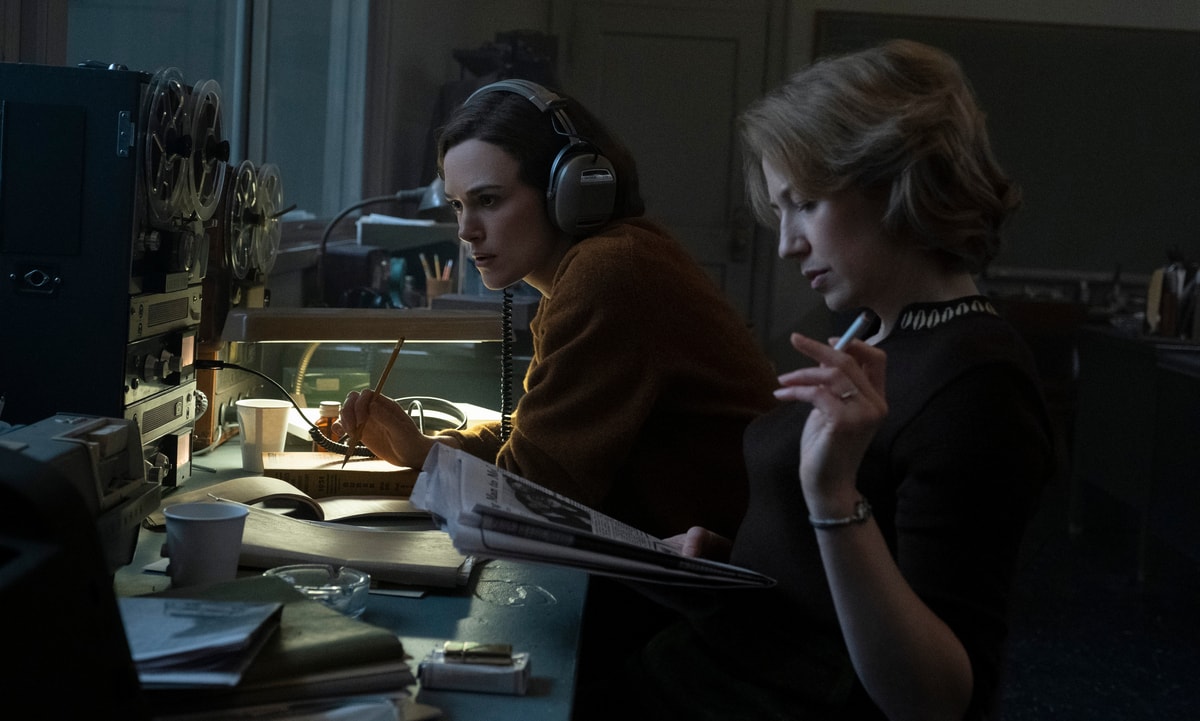 Keira Knightley and Carrie Coon are stellar in this, giving two powerful performances. They are as determined as the women they are portraying to elevate an already sharp script to another level, and they succeed in spades. Everyone may have doubted Loretta but that just strengthened her resolve. She sees these victims as real women, not as "nobodies" like the local police refer to them. That compassion for them and desire to see justice served permeates her choices throughout the story. Knightley captures all of that fire, fierceness, and concern of Loretta's as she doggedly pursues her quarry.
Coon meanwhile embodies a cool and calculating persona as Jean. She's been around, she knows how to play the game better than Loretta. The two blend well together and find a perfect partner in the other as they weather this storm of sexism and murder. Coon doesn't have as much screen time as Knightley but she makes every moment count in getting Jean's emotions across to the audience.
Shot in and around Boston, cinematographer Ben Kutchins gives the film its sinister gloom by muting colors, letting the grays and smokey newsrooms add to the feeling of dread. There is nothing bright or cheery about this world which works to drive home the point that this is man's work and women should stick to their homes where they belong. Adding to the visual statement about women in midcentury America, Ruskin also uses crowds of male extras in various scenes to further make Loretta stand out in this male-dominated world.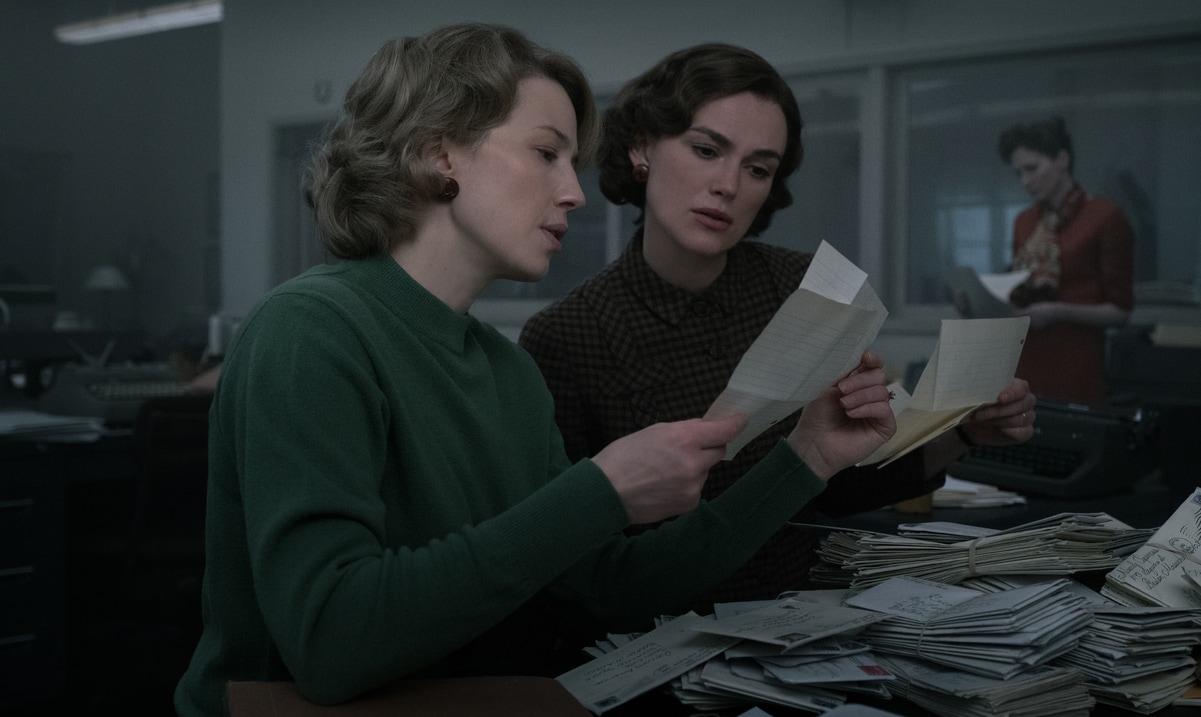 Ruskin does mess with the timeline a bit in order to move the story along, but the pace is deliberate and pulls the audience into the sense of urgency Loretta is feeling as she tracks this killer. He chooses to keep the violence mostly offscreen and delays the killer's face reveal. None of which dampens the terror felt in those moments, if anything it heightens it as you watch helplessly as another woman lets this man into her apartment. Another aspect of this script I found interesting was the fact he chose to cast doubt on who actually did the killing. Much like those invested with the real case, film Loretta isn't convinced it was the work of one man. But again the rampant sexism of the times and the desire to not have the public panic has stifled that aspect of the case.
It is evident from the start that Ruskin set out to honor the women who have long been left out of this story. He deftly captures the rampant sexist world they had to navigate, punctuating the script with real-life slights such as the headline "Two Girl Reporters Analyze Strangler." These were thirty something year-old women but their own newspaper called them girls. By adding in these types of details he solidifies the stupidity and arrogance they had to face and overcome.
Ultimately, the Boston Strangler is both a crime thriller and journalism drama which makes it far more interesting than the average film in those genres. It is exciting to watch a serial killer film that shifts its focus from the criminal hunting victims to the women hunting him. Not only that, but it is inspiring to learn more about these real women and the boundaries they pushed to redefine their roles at work and society. I'm with Ruskin, in that I hope they now get the recognition they deserve.
Boston Strangler premieres on Hulu March 17. It is rated R for some violent content and language.