Whether you have ever rolled a 20-sided die or not, Dungeons & Dragons: Honor Among Thieves is an epic fantasy adventure that captures both the creativity and fun of the game as well as the feeling of game night with your closest friends.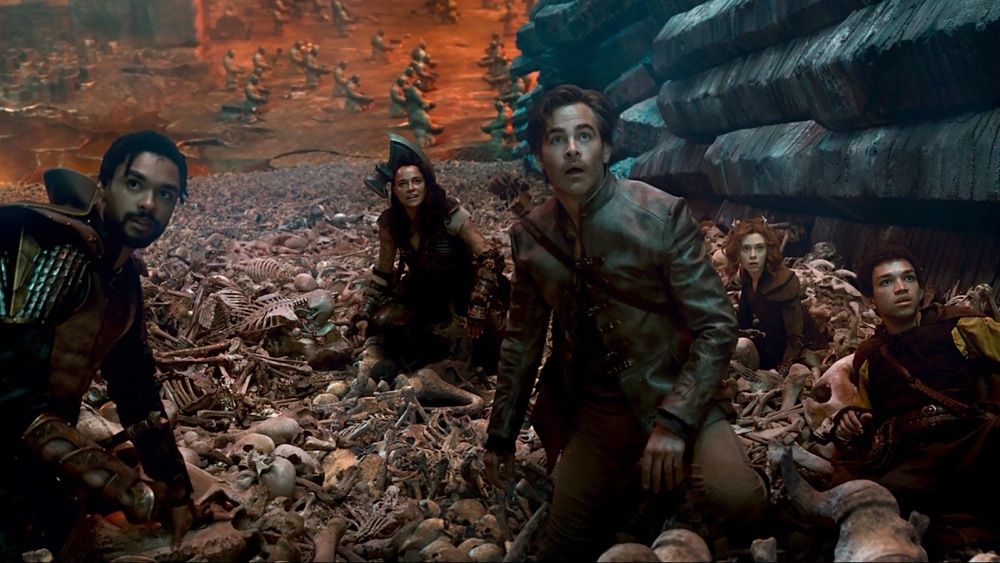 Dungeons & Dragons Honor Among Thieves Review
Honor Among Thieves picks up two years after Edgin (Chris Pine), an ex-Harper turned thief and his best friend Holga (Michelle Rodriguez), a barbarian, have been imprisoned for attempting to steal gold and a magical artifact. The two successfully escape and make their way back to Edgin's daughter Kira (Chloe Coleman). However, she isn't happy to see him, since his old friend Forge (Hugh Grant) has filled her head with the lie that Edgin values wealth over her. Edgin and Holga recruit old and new friends–the sorcerer Simon (Justice Smith), druid Doric (Sophia Lillis), and paladin Xenk (Regé-Jean Page) to help them retrieve an artifact that will save Kira and everyone else in Neverwinter from Sofina (Daisy Head), a Red Wizard of Thay.
Directors John Francis Daley and Jonathan Goldstein have managed to do the impossible– capture the creativity and fun of a RPG as well as the feeling you have when playing such games with friends. Dungeons & Dragons: Honor Among Thieves is an epic fantasy adventure that is wholly entertaining whether you have played D&D or not. While there are plenty of Easter eggs for longtime players, the script Daley and Goldstein wrote with Michael Gilio is accessible to everyone. At its heart, Honor Among Thieves is a thrilling journey to steal something, right wrongs, and fight dragons all while having an absolute blast.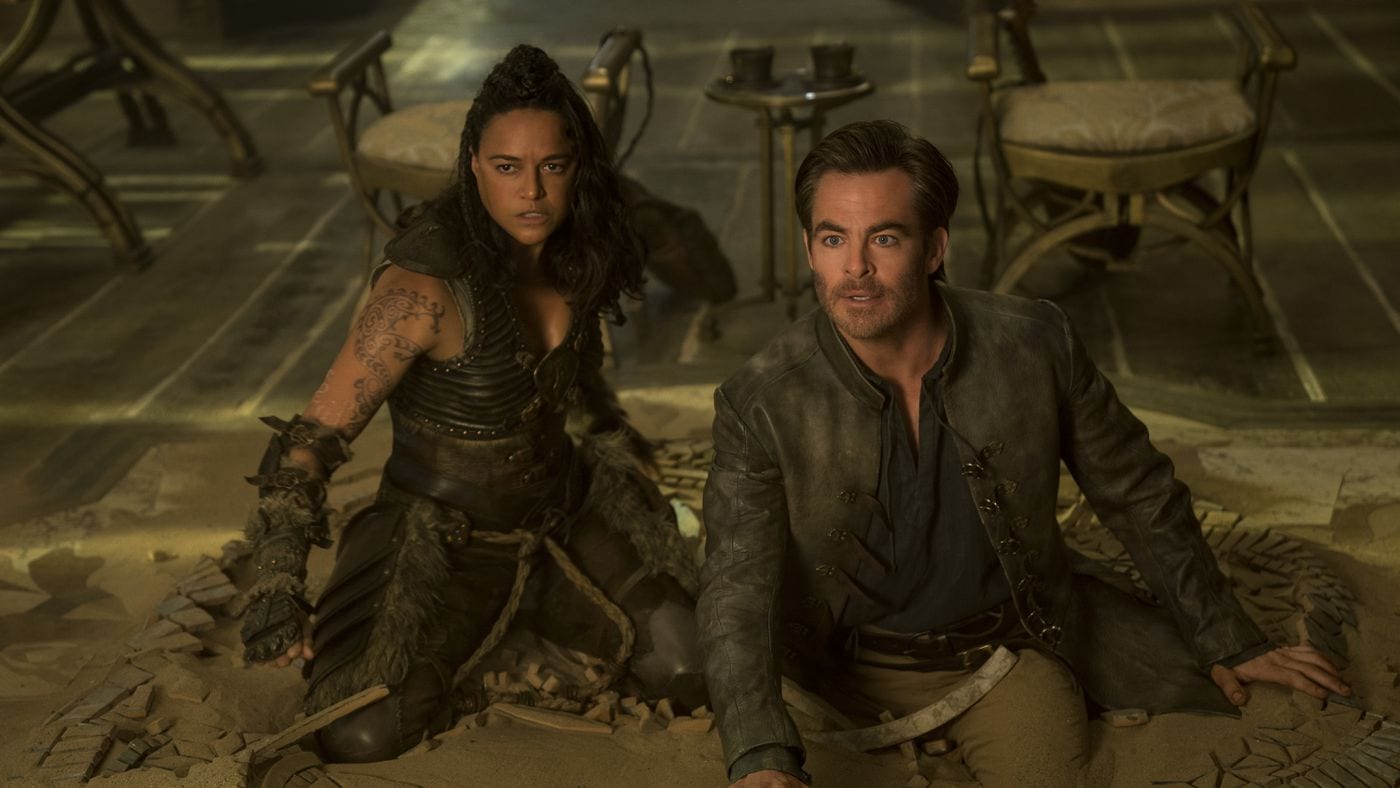 It is no small feat to portray a world that is largely built inside a player's imagination. Daley and Goldstein along with cinematographer Barry Peterson have brought the Forgotten Lands to life from Baldur's Gate to Icewind Dale and of course Neverwinter. Each area is distinctive, detailed, and fully realized. Similar to Lord of the Rings, you can't help but be immersed in the world as the camera pans out to show the expansive landscapes. Everything seems real even if intellect devourers are not.
That realism is a testament not only to the gorgeous backdrops but the film's use of both CGI and practical effects. There is something inherently special about them that makes each scene come alive for both the audience and the actors. When used in tandem with CGI, practical effects also prevent the computer renders from becoming off-putting. In this case, while the large monsters like a certain pudgy dragon are fake, the clueless corpses are a combination of someone in a suit and puppets. The result is a visual splendid fantasy world that appears conjured straight out of the imaginative brain of a D&D wizard.
Then there is the cast, an ensemble of talent that I didn't know I needed together until now. They all seem to be having as much fun with their characters and this world as humanly possible. Each represents a character type familiar to game players as well as fantasy genre enthusiasts. Pine is as charming as ever with his lute playing antics while Rodriguez leans into her toughness to be the muscle of the group who happens to have a soft spot for Kira and potatoes. These two steal the show whenever they are together, which is most of the time, with their playful banter and opposite demeanors. Grant once again relishes in playing the dapper yet backstabbing villain of the story, although he isn't the true evil. More of a self-centered opportunist than an actual threat.
Page is delightful as the strait-laced, no nonsense paladin who is the stark opposite of everyone else in the group, particularly Pine's Edgin. He delivers his lines with hardly a smile which makes for big laughs from the audience. Xenk is a dungeon master incarnate laying out lengthy rules and tricky puzzles to be solved by the team. Smith's Simon is a self-doubting sorcerer who just can't seem to get out of his own way in order to succeed. While Lillis' shape-shifting Doric has all the confidence in the world, she just needs to learn to trust others.
Woven into the comical, light-hearted script are little nuggets of truth about failure, believing in yourself, and letting go of past hurts. One that stuck out was Edgin's line about how failure is a good thing because it means you at least tried. Another happened when Simon finally realized what was preventing him from being the sorcerer he was meant to be. Daley, Goldstein, and Gilios' script spotlights how our weaknesses can be another's strengths and the importance of friendship. All lessons that are actually a big part of the game itself.
While it is true you do not need to be a fan or a player of the game, Dungeons and Dragons does feature some awesome callbacks and easter eggs including displacer beasts, an owlbear, and of course gelatinous cubes. There is even a throwback to the D&D cartoons from the '80s. But if you have no idea what any of that is (like me going into this) it won't distract from the excitement of what is happening on screen. You may not know what a creature or Harper is but I bet you didn't know what a Balrog was either before Lord of the Rings. The point here is that as long as you keep in mind this is a fantasy world, you will have a great time.
Dungeons & Dragons: Honor Among Thieves is an entertaining, riotous fantasy adventure that sneaks in some great heartwarming moments. It manages to honor the story it is trying to tell as well as the beloved game that people all over the world adore. The cast is incredible, the world is visually dazzling, and the possibilities seem endless. Whether you know the RPG well or are a D&D newb, Honor Among Thieves is a total blast.
Dungeons & Dragons: Honor Among Thieves arrives in theaters March 31. It is rated PG-13 for fantasy action/violence and some language with a runtime of 134 minutes.