Director John S. Baird is out to share the truth behind one of the most iconic video games ever. Tetris, the film, just like its namesake, is fast, endearing, and a whole lot of fun.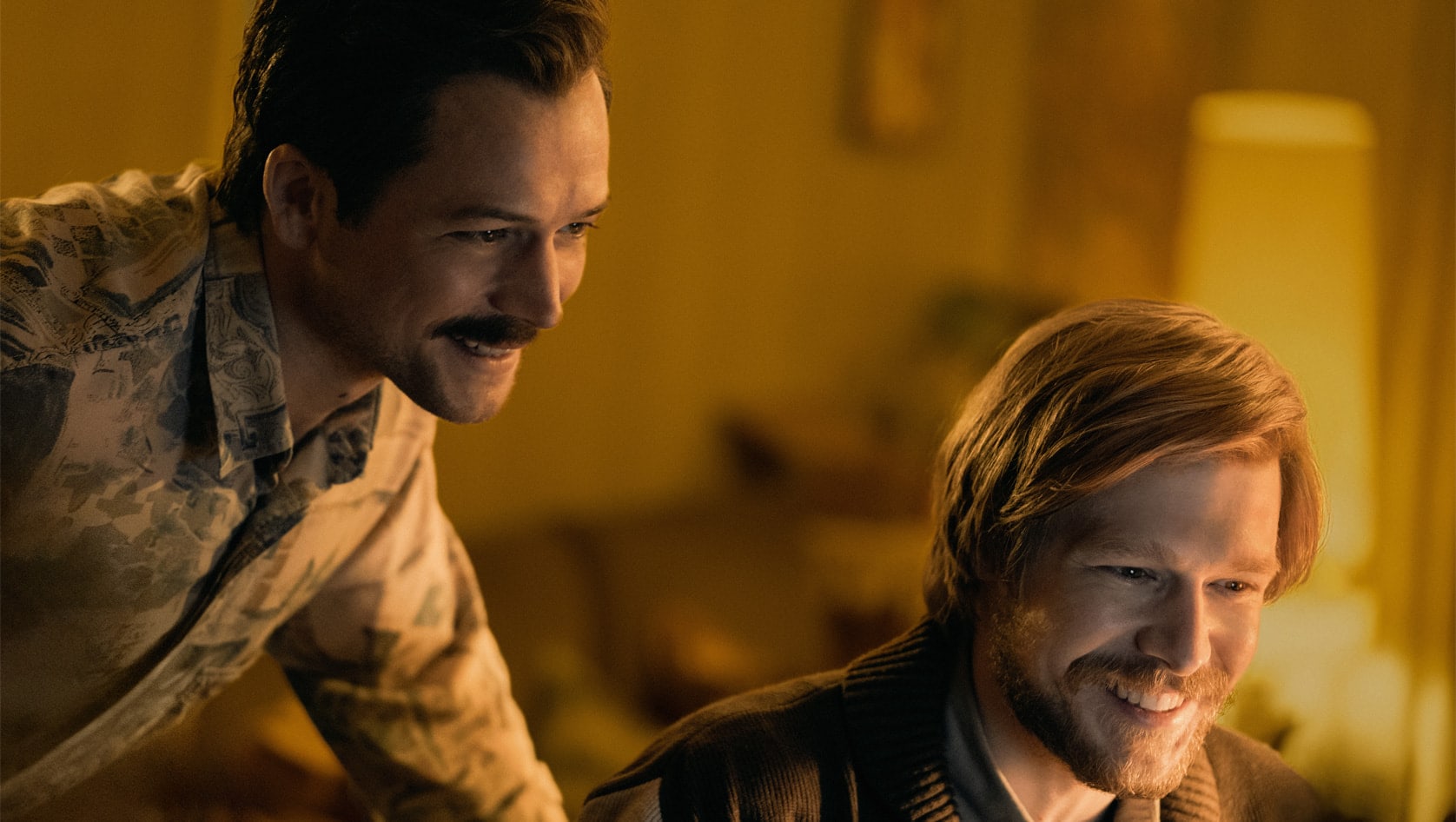 Tetris Movie Review
In 1988, Dutch-American video game designer Henk Rogers (Taron Egerton) discovers Tetris at the Consumer Electronics Show in Las Vegas. He quickly realizes this game has the potential for greatness. In order to secure the international rights for the game he risks his business, Bullet-Proof Software, and all of his savings to make the deal happen. Unfortunately he isn't the only one after Tetris. Andromeda owner Robert Stein (Toby Jones) already has the PC rights to Tetris, and the father-son duo who run Mirrorsoft, Robert Maxwell (Roger Allam) and Kevin (Anthony Boyle) are also eager to gain full control of the game. As if these businessmen weren't enough of an obstacle, the game technically belongs to the Russian government, not the game's creator Alexey Pajitnov (Nikita Efremov). And they have no intention of letting it go so easily.
Tetris might be the game we all know but chances are the truth behind one of the most iconic video games on the planet is something most people have no clue about. Baird's film is a twisting, fun, speed-run through the insane true story about Tetris. Incorporating visuals and music from the beloved classic alongside the charming performances of Egerton and Efremov, Tetris becomes just as addicting and exciting as its namesake.
A film about a game that doesn't have a hero with a powerful sword or big epic battles might sound like it would be boring but Tetris is anything but. Screenwriter Noah Pink ensured this biopic would not only be entertaining but also a thriller, again not a word one normally associates with a block clearing game. Even knowing Tetris makes it out of Russia and onto Gameboys doesn't take away from the rush of seeing Henk take on the KGB while also dealing with the others after it, and Nintendo themselves. This is story about conviction and good old fashioned determination on the park of both Henk and Alexey. It may be highly stylized, but the consequences feel (and were) real. Henk could lose everything he cares about and Alexey is equally in danger as a citizen of Russia who dared to share his creation with others.
The investment in these characters and this story is real and Pink's script pulls you in right from the start. But it wouldn't work without the charismatic and heartwarming performances of the cast. Egerton was the right choice for Henk who has charm for days and an innate eagerness that made him a standout in the Kingsman franchise. His excitement for the game pushes him to make choices most would call foolish but with Egerton they just seem right. Even without knowing it all works out, you would still believe everything is possible, that is just how convincing he is in this role. Alongside him is Yefremov's more subdued Alexey who spends most of the film with his guard up, and for good reason. He is in a precarious position after all and Yefremov is able to communicate so much even his silence. The underlying fear for his family and hope for a better tomorrow are undeniable.
Punctuating this Cold War era story are visuals and music straight from the 80s game. There are 8-bit renderings of the film's characters, in fact it is how they are introduced. Locations also get the pixelated treatment as well as the film's four acts. Now most films don't spell out when an act is changing but Tetris cheekily adds it in by claiming which level the characters have made it to. Captions are displayed in a lovely 80's video game font, while falling bricks indicate Henk is thinking intently on how to get the rights to this game. Even a car chase gets digitized. Not to mention the score is also powered up with sound effects from Tetris and other retro games. Baird is an absolute genius for including these elements and playing on just the right amount of nostalgia.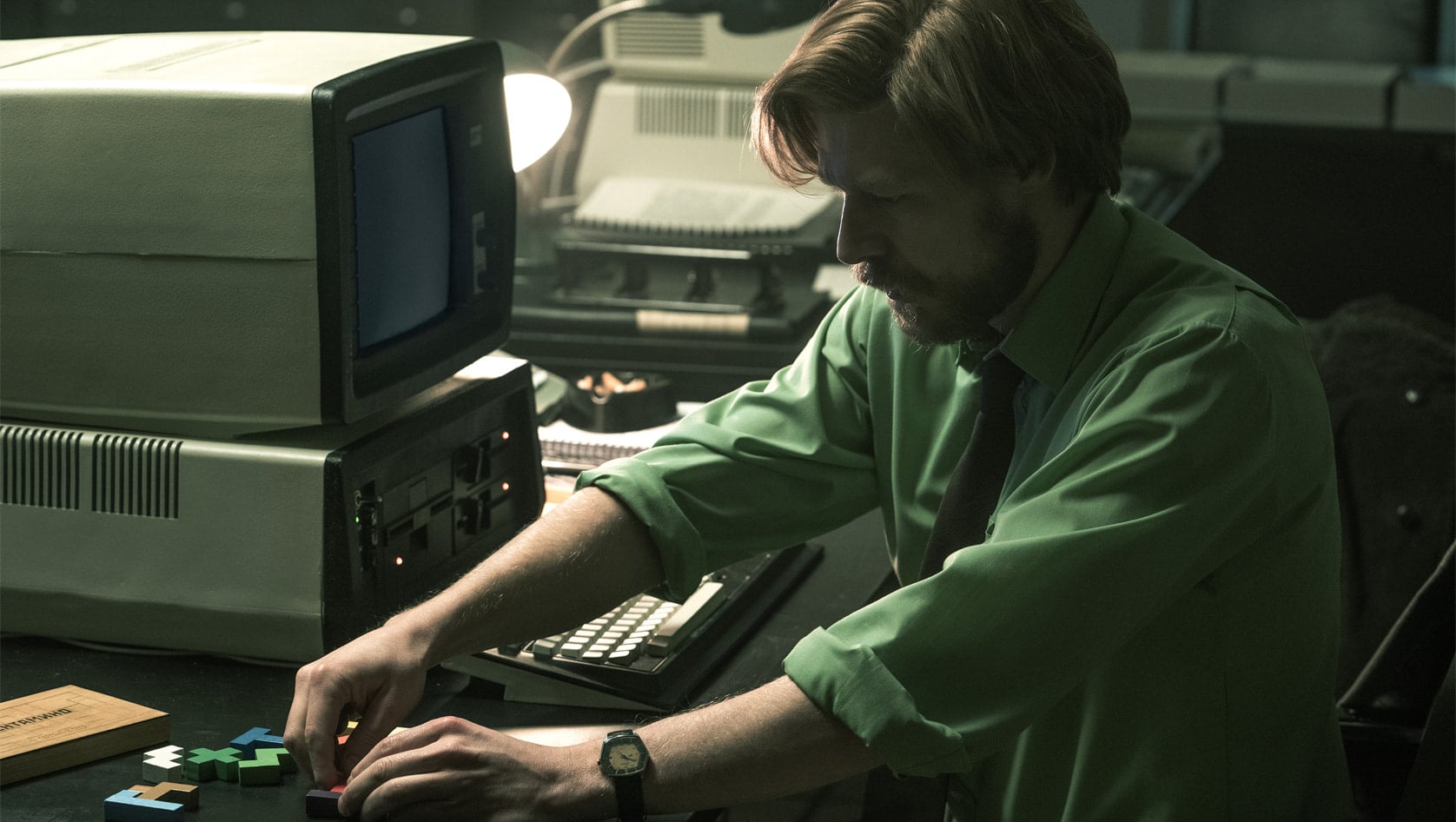 Another fascinating aspect to Tetris is the way the plot speeds up as the levels increase, just like the game. By the time the players err characters reach level 4 everything seems to happen in a flash. Decisions have to be made in seconds as the race for the rights comes to a dramatic and heart pounding conclusion. Again, you know that the game makes it out but that doesn't mean this ride won't still have you on the edge of your seat.
I remember my first time playing Tetris. This unassuming puzzle game was way more fun than I expected and that is exactly my same reaction to this film. Tetris is a fast-paced, heartwarming, and fun look at the origins of this mega-popular video game. It is thrilling, nostalgic, and uber satisfying to watch. The craziness surrounding its creation is not only real but also inspiring for anyone watching. Who knew Tetris was the little game that could?
Tetris premieres on AppleTV+ March 31. It is rated R for language with a runtime of 118 minutes.