Get ready to be hooked on…several feelings. Guardians of the Galaxy Vol 3 is an emotional send-off for everyone's favorite MCU misfits that brings the tears as well as the party.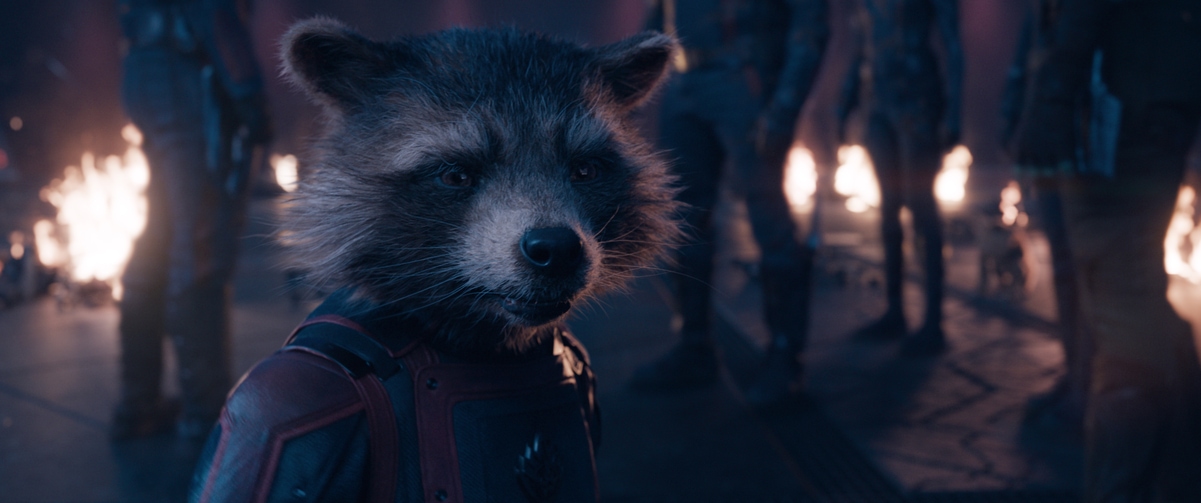 Guardians of the Galaxy Vol 3 Review
The Guardians are existing peacefully on Knowhere, rebuilding this corner of the galaxy and dealing with the aftermath of Thanos. Everything is going mostly okay until a random attack leaves Rocket Raccoon (Bradley Cooper) severely injured. In order to save his best friend, Peter (Chris Pratt) along with Nebula (Karen Gillan), Drax (Dave Bautista), Mantis (Pom Klementieff), and Groot (Vin Diesel) will have to confront the mysterious High Evolutionary (Chukwudi Iwuji) the man behind the brutal experimentation that made Rocket who he is now. They aren't the only ones out for vengeance and this new foe, Adam Warlock (Will Poulter), could prove too much for even the Guardians to handle.
Guardians of the Galaxy Vol 3 is an emotional ride that brings with it so many emotions, from joy to sadness and everything in between. It is a fitting send-off for Director and writer James Gunn's band of misfits that have endeared themselves ever since they hit the screen 9 years ago. While each character gets a moment or two to shine, this is truly Rocket's story that sets out to highlight the joys of found family, second chances, and most importantly, finding strength to live despite past traumas.
RELATED: Ant-Man and The Wasp Quantumania Review: Welcome To The Kang Dynasty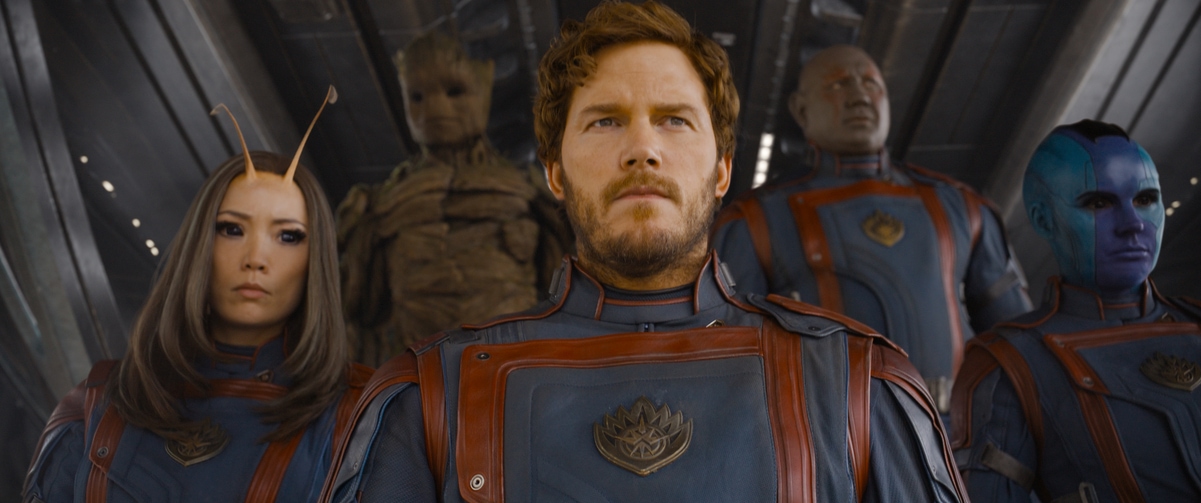 The stakes are made clear right from the start of the film. This time instead of having to face a world or galaxy wide threat, the Guardians are facing something intimately worse– the loss of one of their family members. What makes it even harder is they learn the secrets of Rocket's past, something he has refused to share even with Groot. Rocket's backstory isn't an easy one to stomach as most comic readers know, so for those unaware this film almost needs a trigger warning. At the very least for millennials who remain traumatized by Sarah Mclachlan's ASPCA commercials. Thank the maker for small favors, Gunn didn't have her "Angel" song on the soundtrack.
Bradley Cooper has always done an incredible job conveying Rocket's complex emotions. Whether he was being snarky, exasperated, or genuinely in pain. For Volume 3 he is joined by Sean Gunn (Young Rocket) and Noah Raskin (Baby Rocket) to recount Rocket's traumatic upbringing. The way he finds joy with his friends contrasts starkly with the abuse. All three of these actors do heavy lifting in these scenes, with Cooper carrying almost the entire emotional weight of the film in his shoulders. Rocket is the shining star in this and it has never been more clear that this franchise was Rocket's story all along.
After Rocket, Drax and Mantis' growing partnership continues to be a high point for the Guardians. After the Holiday Special, it was exciting to see them paired up again. Klementieff and Bautista have found the perfect rhythm for their characters, making them one of the best duos in the MCU. Nebula's arc is the other big highlight for Guardians. Nebula has gone through the paces of being a misunderstood villain to a true hero. It is wonderful to see such a tortured soul heal enough that she is now able to help others heal from their past traumas. Gillan gives a powerful, heartbreaking performance in this film as the one who truly understands Rocket and the horrors he has endured. When she realizes the extent of what has been done to Rocket throughout his life, she is shaken and the audience will grieve with her.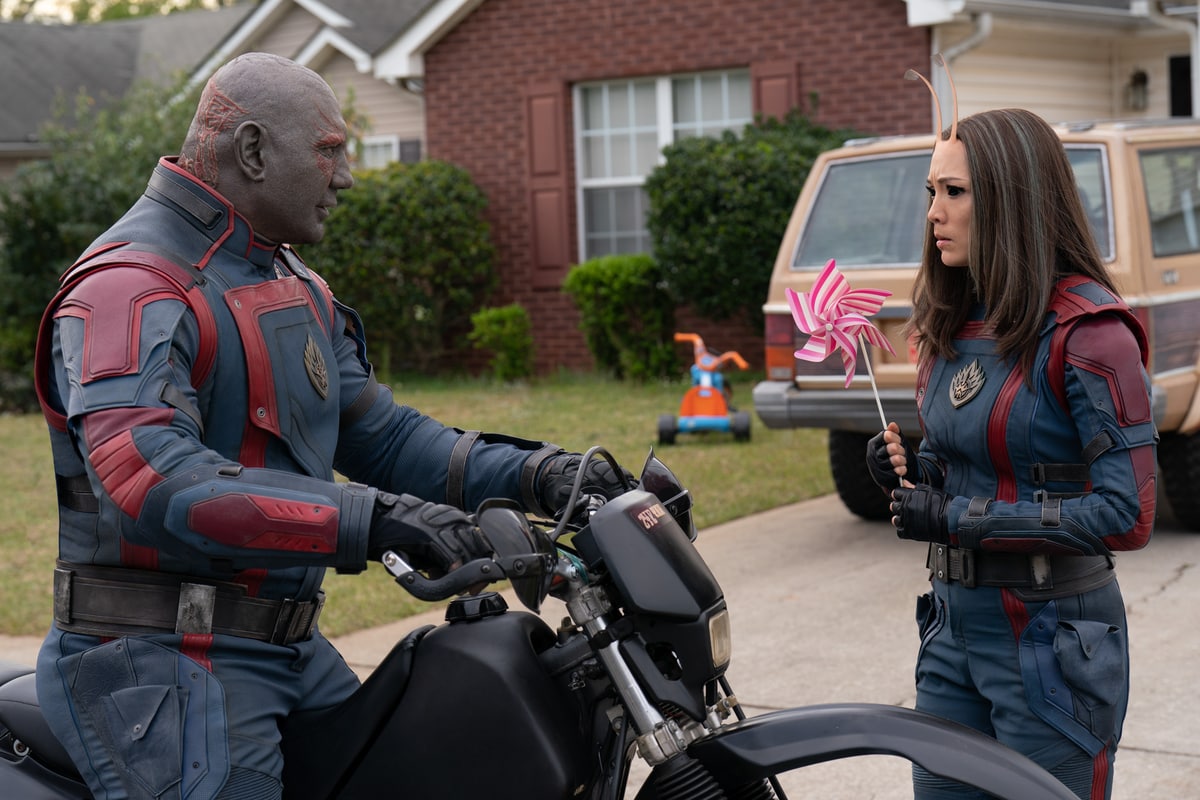 Poulter's Adam Warlock may take a minute to get used to as he is not what many fans were expecting. But as with other character changes made for the MCU, it works if you think long term. He's a new character, non-comic readers aren't well-versed in him, so this Adam makes sense. To say anything else treads dangerously close to a spoiler. Iwuji's High Evolutionary on the other hand is exactly what anyone should expect from a man who experiments on "lower lifeforms" in his pursuit of "perfection." He is a sadistic bastard and Iwuji makes it known from the second he appears on screen. His motives and what he is willing to do to achieve his goals will make him more hated than Thanos. For those who have complained that Marvel villains aren't evil enough, the High Evolutionary is here to have a word.
Visually the film showcases Gunn's affinity for the comics and creating unique worlds that leave lasting impressions. There are homages to classic sci-fi movies of the past including the original Star Wars trilogy and even to the Sistine Chapel. It will take more than one viewing to truly see it all. The camerawork is top-tier, working to elevate the storytelling by zooming in, out, and around as needed. From closeups on Rocket's tear-filled eyes to wide shots of yet another surreal galactic world, it's beautiful. One of the best fight scenes and overall moments in the film comes when the Beastie Boys' "No Sleep Till Brooklyn" starts to play. The camera work switches between different points of views including a super fun first person. It gave the feel of the "Superhero Spin" moments prevalent in the Avengers films.
Guardians of the Galaxy Vol 3 is not only a fitting send-off for these characters but also for Gunn himself as he leaves this team and Marvel to takeover at DC. It blends comedy with heartwarming moments and a surprising amount of strong emotions. Despite the tonal shift, it does go back to the roots of Volume 1 to remind us all why we fell in love with these misfits in the first place. Each character gets an ending that feels natural and well earned. What stands out the most in this trilogy is that in a franchise with a talking tree and raccoon, there are powerful lessons about second chances and learning your past doesn't have to define your future.
Guardians of the Galaxy Volume 3 is in theaters May 3. It is rated PG-13 for for intense sequences of violence and action, strong language, suggestive/drug references and thematic elements with a runtime of 2 hours and 30 minutes.