To the world we dream about, and the one we live in now… the Tony-award winning musical Hadestown is now playing at The National Theatre. This dynamic cast brings with it the underworld and a timely tale of one of Greek mythology's most beloved stories.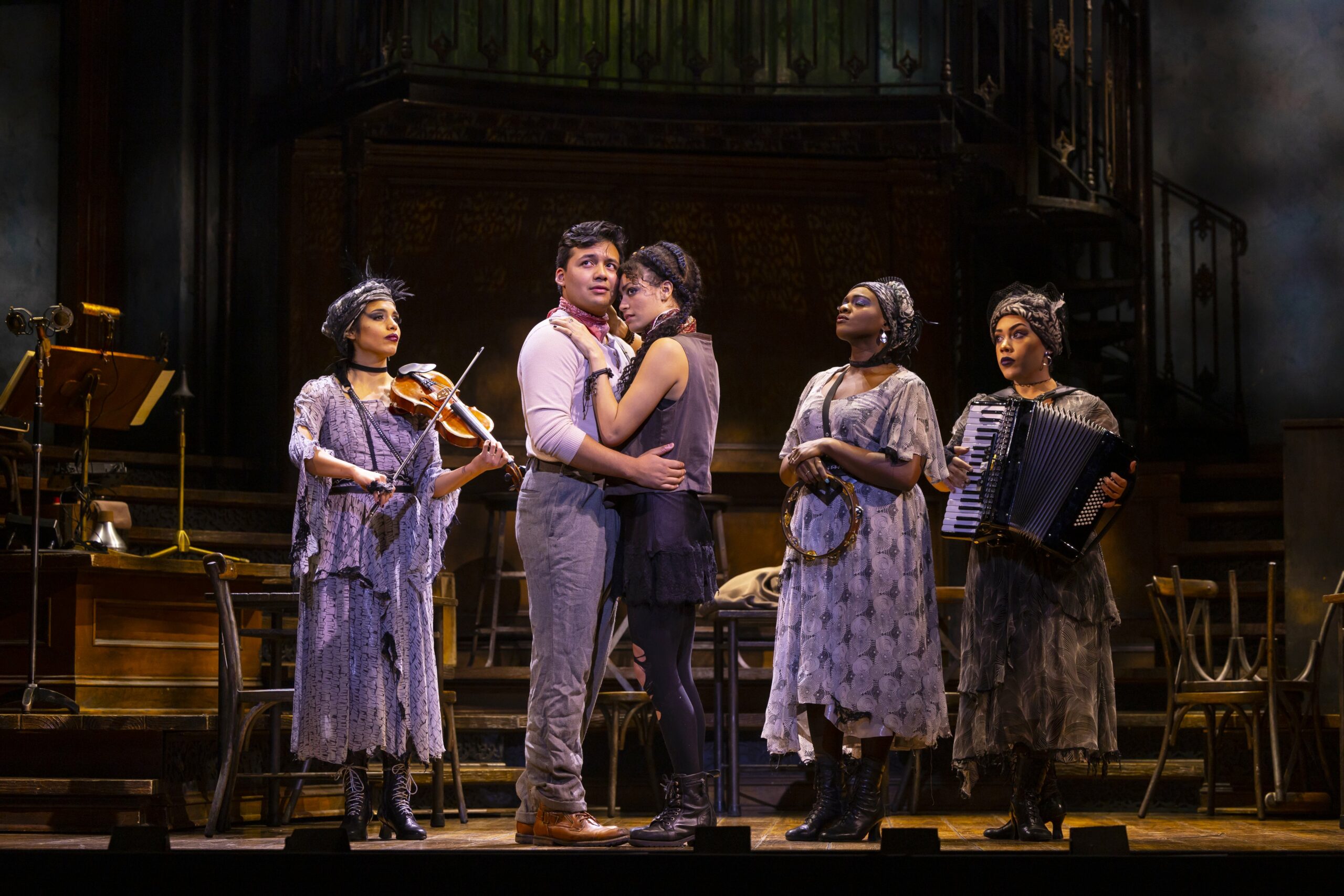 Photo: T-Charles-Erickson
Hadestown Review
Based on the Greek Myth and a concept album by Anaïs Mitchell, Hadestown tells the story of poor optimistic poet Orpheus (J. Antonio Rodriguez) and his lady love Eurydice (Hannah Whitley). Starving with no way to find food, Eurydice goes out in search of something to ease her hunger pains. Exhausted and weak, she is lured into the underworld by the bewitching fates (Dominique Kempf, Belén Moyano, and Nyla Watson) which promises an easier life where all her needs will be met. Once there she encounters the god of Underworld, Hades (Matthew Patrick Quinn) who offers her eternal life but everything comes with a price. Eurydice is now forced to work for Hades and toil away at building an impenetrable wall to protect his vast industrial business. When Orpheus learns what happened he begins a hero's journey to save her. This act of love catches the interest of Hades' wife Persephone (Maria-Christina Oliveras). After some prodding, Hades is reminded of his original love for Persephone and offers Orpheus and Eurydice a chance to leave but only if Orpheus can manage to complete a difficult task.
Persephone has brought spring to Washington DC with the classic tale of two young lovers torn apart by the world and the gods around them. When you walk into the room it is clear this show is unlike any other that has graced the stage at The National Theatre. The curtains are open and the stage is adorned with French Quarter balconies and wrought-iron railings. Soon the orchestra and cast enter, with Hermes (Nathan Lee Graham) introducing all the players while setting the stage for the story that is about to unfold. For the next two and half hours, the dynamic cast of Hadestown regales us with a tale much larger than that of two lovers destined to be separated. This is a show that has a lot to say about the failings of mankind while imploring everyone to keep trying to change for the better.
RELATED: Beetlejuice The Musical Review: A Wicked Delight At The National Theatre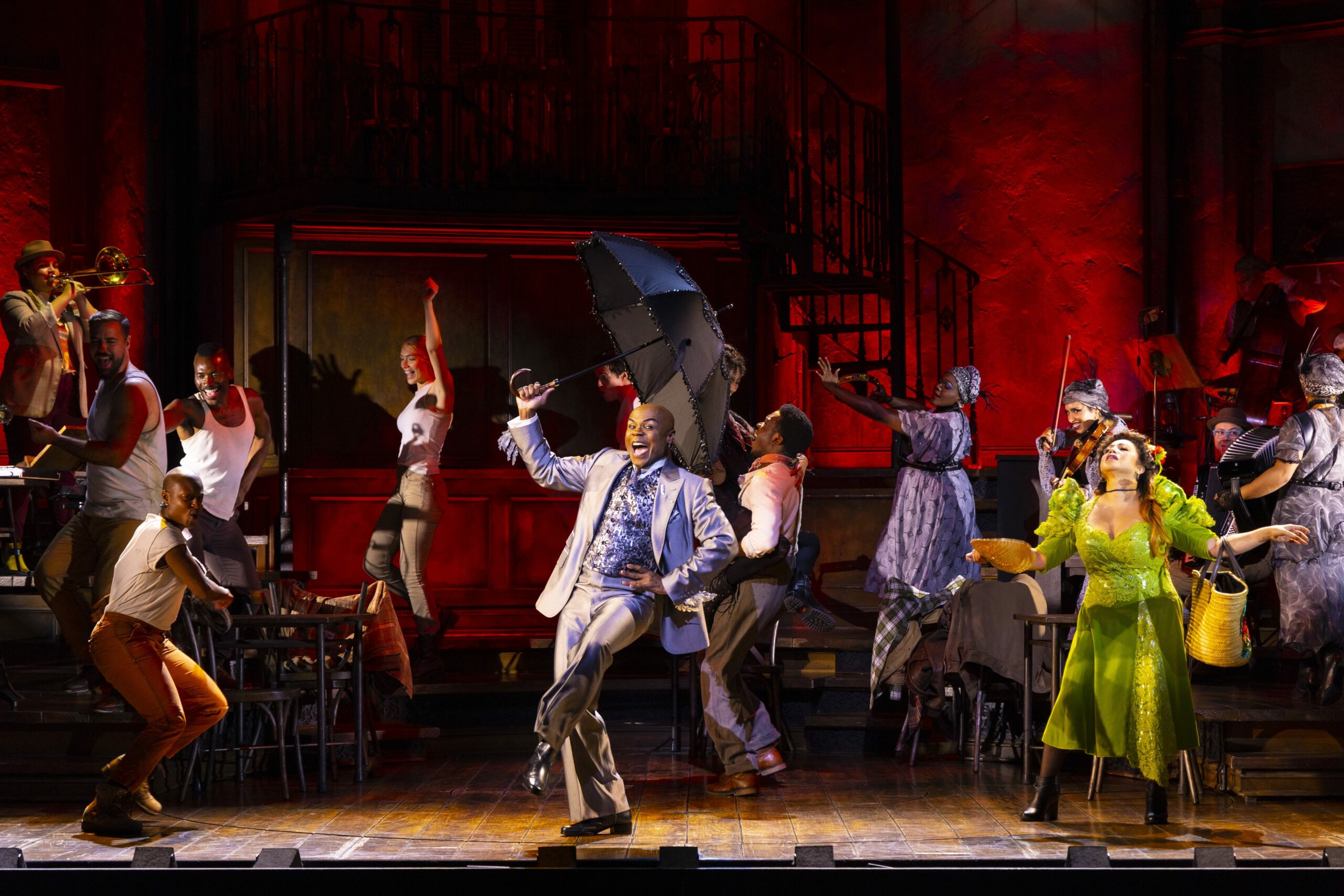 Photo: T-Charles-Erickson
One of the greatest things about myths is that they act as parables not only for the time they were created but also for modern day as well. They are meant to cause reflection, perhaps even offer encouragement, but almost always come with a warning. Mitchell has taken a beloved Greek story, one told countless times on stage and screen, and has layered in commentary that applies to our time on this planet. The music and dialogue speak of climate change, economic inequality, fear of immigrants, capitalistic greed, and even wall-building. It does all of this while still portraying the story of a young couple destined to fail. Despite the heaviness of the material it never becomes depressing but rather contemplative. Mitchell's story muses (pun intended) about the possibilities of what if. All while dropping one song after another which are often New Orleans-style jazz numbers that are a joy to listen to.
For those unfamiliar with the story of Orpheus and Eurydice, it is a Greek tragedy, something that Hermes is quick to remind everyone both in the beginning and in the end. Hermes is both the narrator and a co-conspirator to the action throughout the night. Graham is more than up for the task to play ringmaster for the evening. He brings an energy to the stage that is infectious making it hard not to smile even if the other characters are busy suffering. His silver, sparkling suit complete with winged sleeves catches the light to match his shining personality. Graham's vocals are equally impressive whether Hermes is being semi-playful or foreboding.
The heart and soul of this show is not Orpheus and Eurydice but the springtime deathly duo of Persephone and Hades. Their unlikely love affair has intrigued humans for eons. Oliveras and Quinn have a lot riding on their shoulders and like Graham are more than ready for it all. For her part, Oliveras is brash, gutsy, and frazzled. She nails the cheeky, drunken parts as well as the heartbreaking moments. The love Persephone has for Hades even after all these years is still very clear under the surface of the hurt she has experienced. Quinn's velvet baritone allows Hades to be alluring one moment and menacing the next. From the way he moves across the stage or stares down from his balcony, Quinn makes it clear everyone is in the presence of the Underworld's King.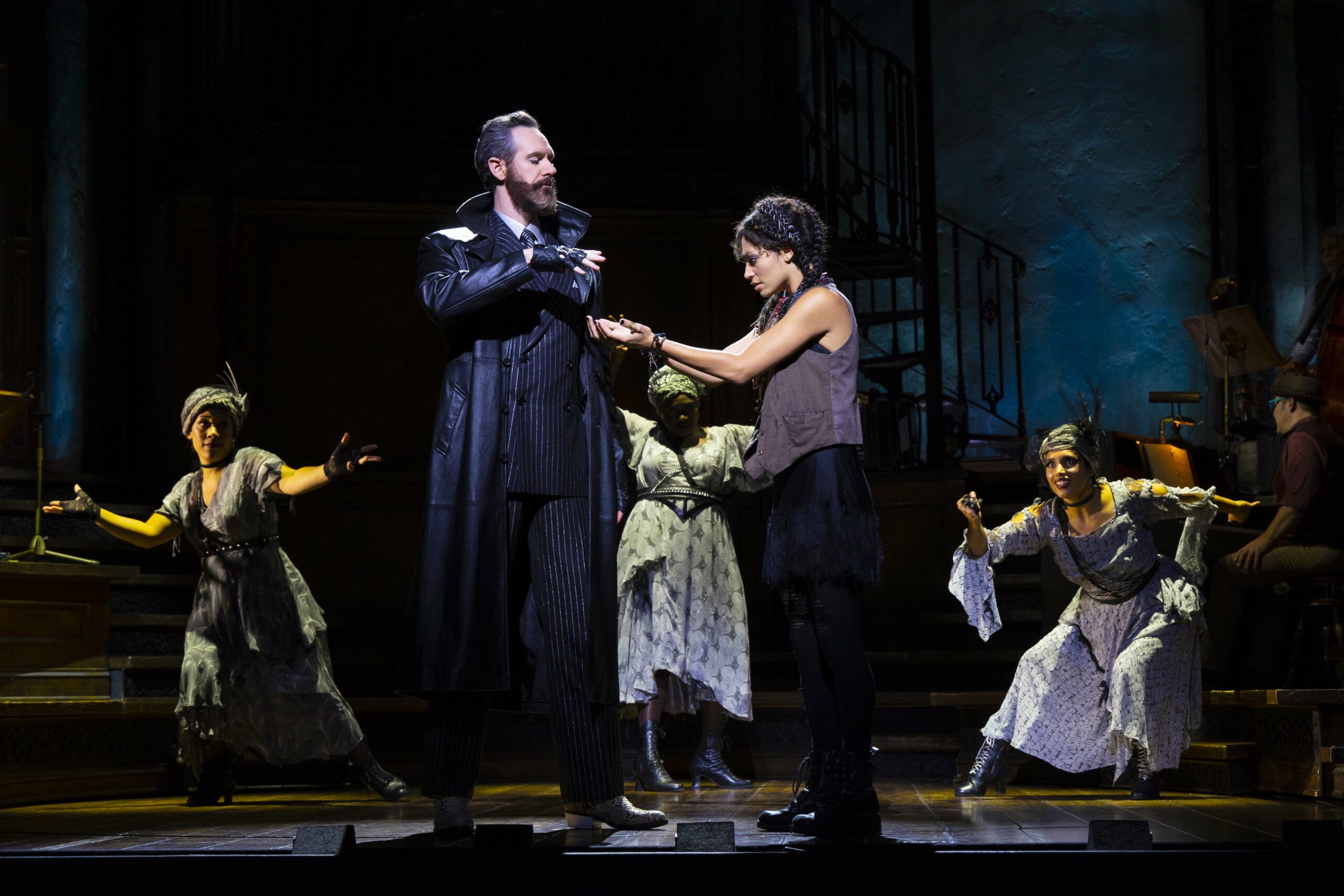 Photo: T-Charles-Erickson
Rounding out the main cast, Rodriguez plays Orpheus as a naïve young man, awkward with the ladies despite being gifted with musical abilities. Whitley's Eurydice is a downtrodden, pessimistic woman who practically chides herself for falling for Orpheus. She pours Eurydice's anguish into her performance making it impossible not to feel the young woman's despair. Kempf, Moyano, and Watson are enchanting as the Fates. Their a cappella is hauntingly beautiful.
One of the biggest beguiling factors about the original show was Rachel Hauck's set design. Thankfully it remains largely the same with the French Quarter townscape and the industrialized hell. Although the rising floor elevator is gone, it has been replaced by an impressive train car door that opens and closes like some metal hell monster's mouth. Having the orchestra onstage (minus the drummer) adds a special flavor to the whole show while Dave Neumann's choreography elevates the story in every way.
While knowing the tale of Orpheus and Eurydice or even Persephone and Hades is not required reading before seeing Hadestown, I believe knowing it makes the story and the performances more impactful. The characters will feel familiar and that draws you into this tragic tale all the more despite knowing how it plays. Ultimately, Hadestown may end in tragedy but this story is not one of despair but of hope for a better tomorrow. The idea that spring will come again is as powerful as ever and something we all need to be reminded of from time to time. Just imagine what the world would look like if we focus on what could be and not the way things are. That is how we can turn this world into the one we dream about.
Hadestown continues at The National Theatre through June 18, 2023 for tickets visit Ticketmaster or go to Broadway at the National. The show is recommend for ages 8+. Children under 4 are not permitted in the theater. The show runs for two hours and thirty minutes and includes one intermission.