Summer is officially here and that means pool time, cookouts, and vacations. When you are looking for non-screen ideas to keep the kids happy in the car, on a plane, or a rainy day, these are our top summer reading picks for kids, tweens, and teens.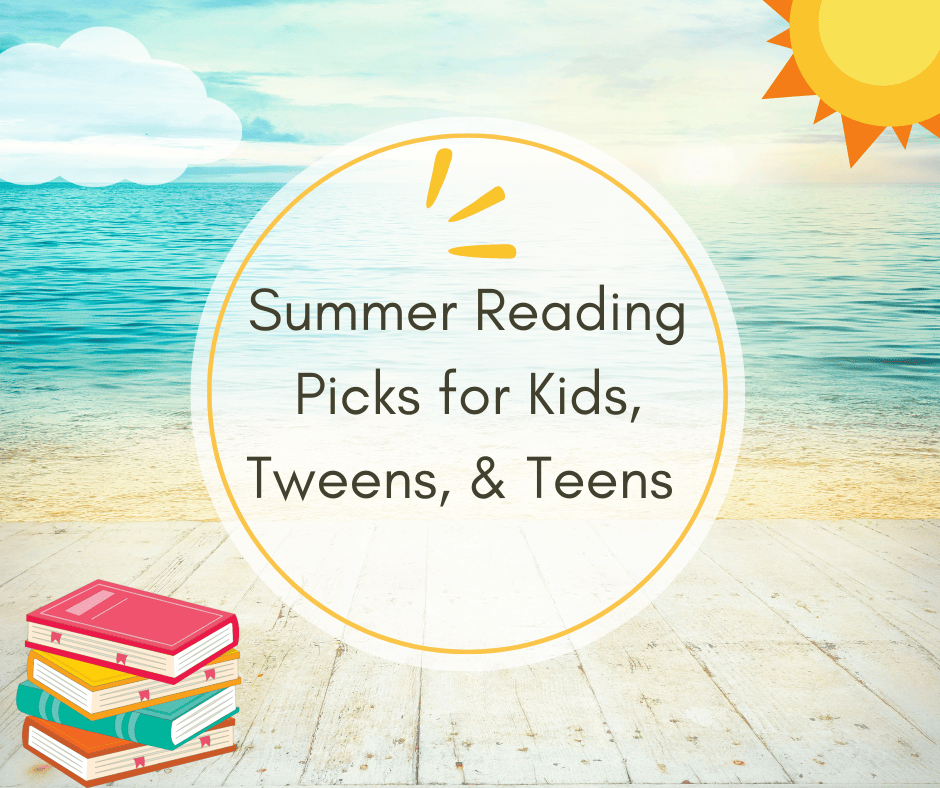 Affiliate links used below.
Summer Reading Picks For Kids & Teens
Tig and Lily by Dan Thompson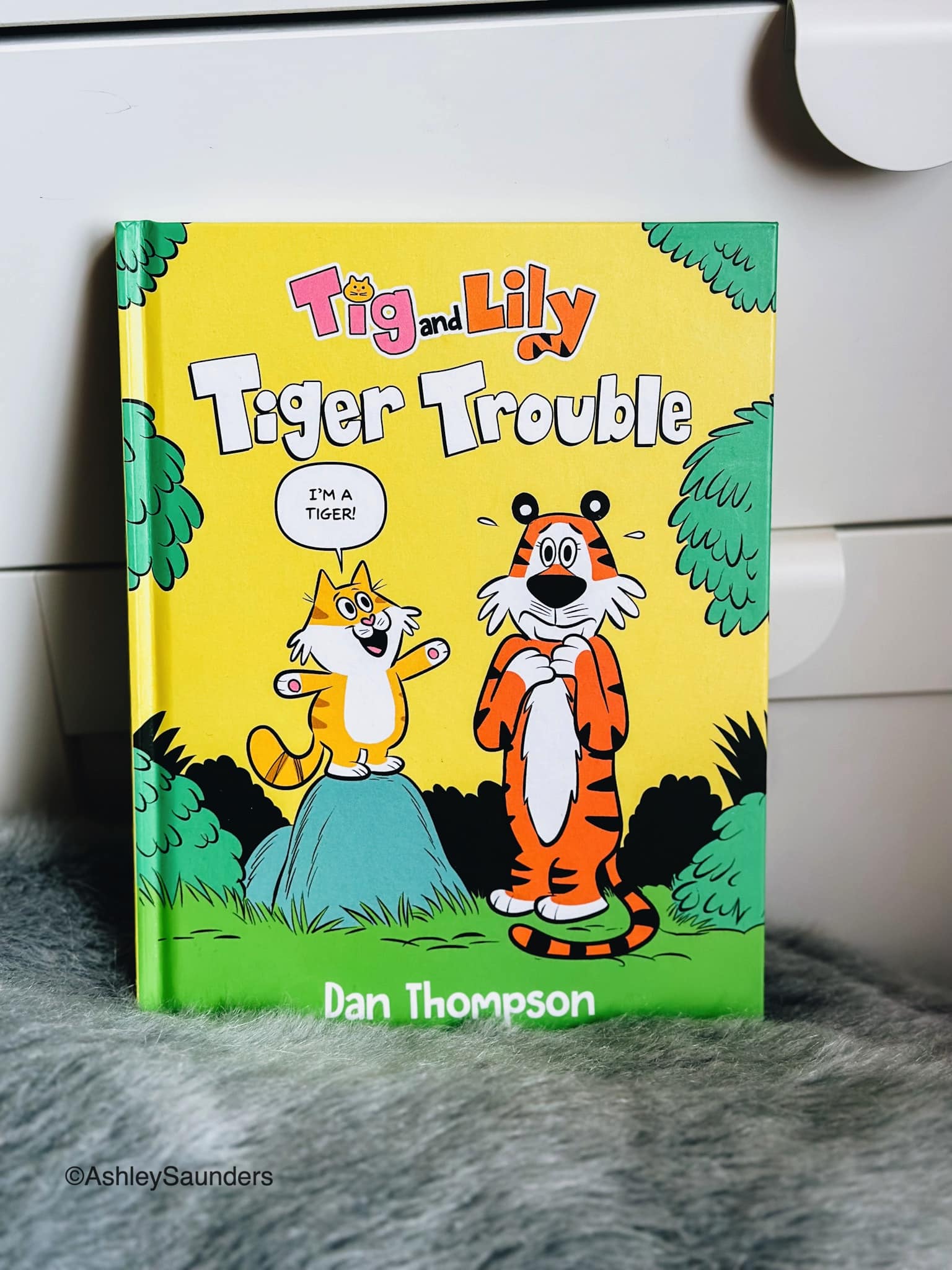 Recommended for ages 5–8, Tig and Lily is the first book in a new chapter book graphic novel series.
Synopsis: What makes a tiger a tiger? Is it the stripes? The roar? This is something that Lily, the tiger at the local zoo, has never had to worry about—until she meets the fiercest animal of them all . . . her new roommate. Tig might look and sound like a house cat, but Tig knows he is a tiger. The competition is on as these two cats figure out what it means to be a tiger . . . and a friend.
Why we love it: This is a great book for readers transitioning from mostly picture books to chapter books. The characters are adorable, the illustrations engaging, and it's the perfect length for younger readers. My youngest thought it was so funny he.I actually heard him laughed out loud. I also found him reading it over and over. Really enjoyed the lessons on being a good friend wrapped up in this cute adventure. We can't wait for more in this series.
Winnie Zeng Series by Katie Zhao
Recommended for middle grade, ages 8-12, Winnie Zeng currently is a two novel series.
Book 1 Unleashes A Legend Synopsis: Winnie Zeng has two goals: survive her first year of middle school and outdo her stuck-up archnemesis, David Zuo. It won't be easy, since, according to her older sister, middle school is the pits. Luckily, Winnie studied middle school survival tactics in comic books and anime, and nothing will stop her from being the very best student.
But none of Winnie's research has prepared her to face the mother of all hurdles: evil spirits. When she makes mooncakes for a class bake sale, she awakens the stuff of legends from her grandmother's old cookbook, spilling otherworldly chaos into her sleepy town.
Suddenly Winnie finds herself in a race against time, vanquishing demons instead of group projects. Armed with a magic cookbook and a talking white rabbit, she must embrace her new powers and legacy of her ancestors. Because if she doesn't, her town—and rest of the world—may fall to chaos forever.
Book 2 Vanquishes a King Synopsis: As shamans, Winnie Zeng and her archnemesis, David Zuo, have accepted their roles in guarding the world from evil spirits. But with Halloween around the corner, the balance between realms grows fragile—and so yet another shaman is assigned to help Winnie and David protect the town of Groton, Michigan.
The catch? The new shaman is just the worst. Not only is she way too perfect—she also has an ego to match, and thinks she's the best thing that's happened to Groton since Winnie's red bean brownies. Plus, she's confident she can save the world all on her own.
With evil spirits growing in number, Winnie and David find themselves in quite a pickle. While the newest shaman isn't convinced there's a storm brewing, this town is going to need all three of them on the same team . . . or there might not be a town left to defend.
Why we love it: Girl Power! Aside from a strong female lead, this series has it all adventure, Chinese mythology, and some good old enemies to friends. It is a great addition to the shelves of fans of Rick Riordan's Presents series. My oldest also liked how Winnie isn't perfect and that she struggles with her responsibilities, like any other kid not fighting ancient evil spirits. There is also an important lesson about accepting help when you need it and reconnecting with those closest to you.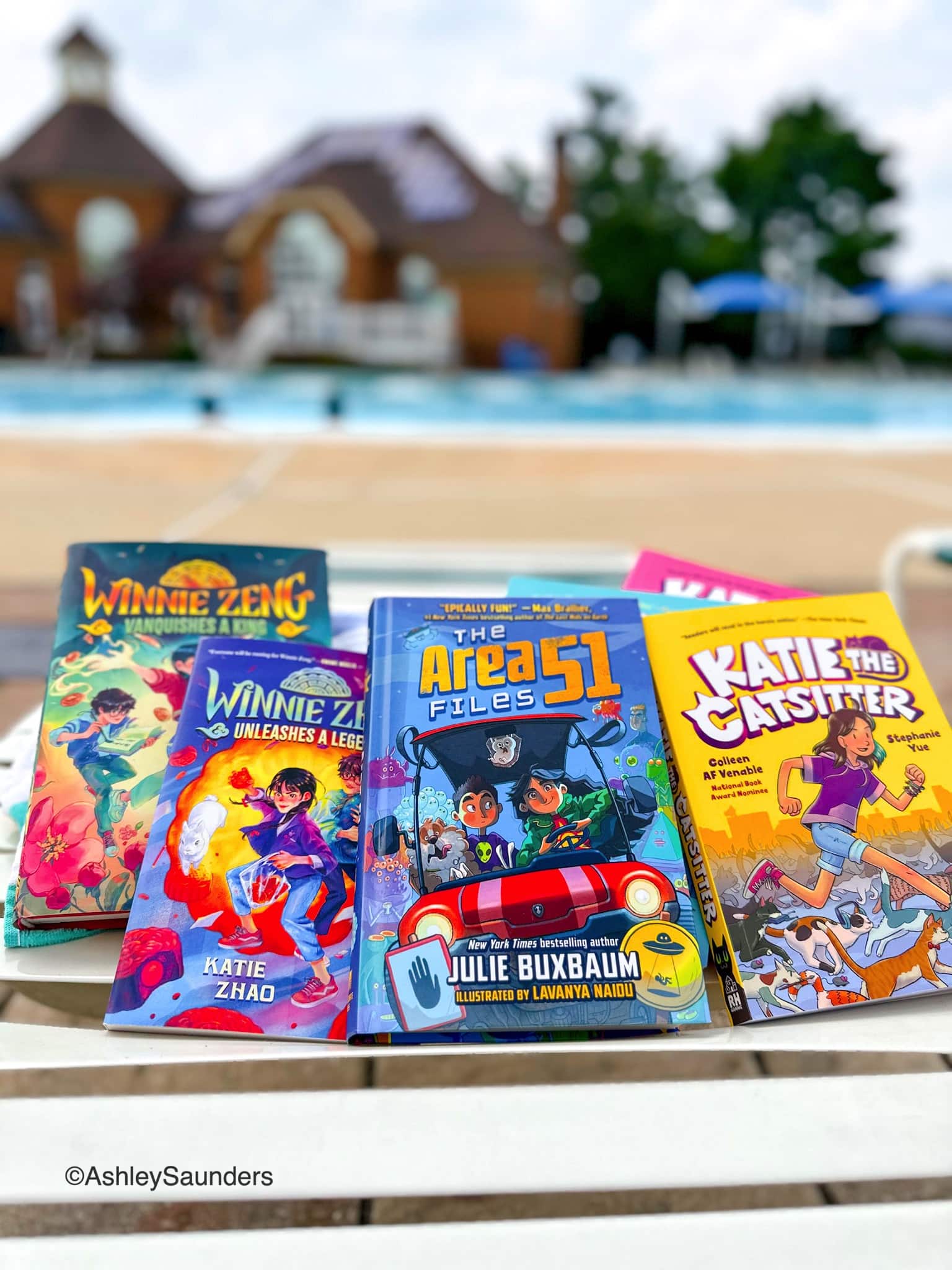 Katie the Catsitter Series by Colleen A.F. Venable
Recommended for middle grade, ages 8-12, Katie the Catsitter is a series of graphic novels.
Katie is dreading the boring summer ahead while her best friends are all away at camp–something that's way out of Katie and her mom's budget, UNLESS Katie can figure out a way to earn the money for camp herself. But when Katie gets a job catsitting for her mysterious upstairs neighbor, life get interesting. First, Madeline has 217 cats (!) and they're not exactly . . . normal cats. Also, why is Madeline always out EXACTLY when the city's most notorious villain commits crimes?! Is it possible that Katie's upstairs neighbor is really a super villain? Can Katie wrangle a whole lot of wayward cats, save a best friendship (why is Beth barely writing back? And who's this boy she keeps talking about?!), AND crack the biggest story in the city's history? Some heroes have capes . . . Katie has cats!
Why we love it: Cats! A comic book about cats. End of review. Kidding! Other than the adorable four-legged stars, the story is well-written, with surprises and mystery plus fun and thoughtful moments. My daughter also related to the story since Katie is portrayed as a girl trying to find herself and discover the type of person she wants to be all while juggling life, friendships, parental relationships, and of course a lot of cats. There are also aspects about animal rights written into the story that as animal lovers we appreciated.
Find Katie the Catsitter on Amazon
The Area 51 Files by Julie Buxbaum
Recommended for middle grade, ages 8-12.
Synopsis: When Sky Patel-Baum is sent to live with her mysterious uncle, she didn't imagine she'd end up here: Area 51. A top-secret military base with a bajillion rules and so classified not even the president knows its secrets. Also, it turns out the place is full of aliens. Lots and lots of aliens.
As Sky sets out to explore her extraordinary new home with her pizza-obsessed pet hedgehog Spike, she meets her otherworldly next-door neighbor Elvis and his fluffy pup, Pickles. But something mysterious is afoot in Area 51. Some of the Break Throughs have gone missing… at the exact same time Sky arrived. Where could they be? How can Sky and her uncle convince everyone they had nothing to do with the disappearance? New best friends Sky, Elvis, Spike, and Pickles try to crack the case, but the clock is ticking…
Why we love it: When it comes to getting my youngest to read books they have to be engaging from page 1 plus pictures on the page don't hurt. This is the kind of chapter book that nails both of those things. The pictures on the page enhance the story without being overwhelming and help stoke the imaginations of reluctant readers. Those character designs are really cool! From the first chapter he was hooked, this story was funny and thrilling, with enough mystery to make him want to know what happened next.
Find The Area 51 Files on Amazon
The Grimoire of Grave Fates created by Hanna Alkaf and Margaret Owen
Recommended for Young Adults, The Grimoire of Grave Fates tops our list for new YA books this year. Unlike other novels in this category there is minimal relationship stuff so it is a book parents can enjoy with their teens. No awkwardness to be found.
Synopsis: A prestigious school for young magicians, the Galileo Academy has recently undergone a comprehensive overhaul, reinventing itself as a roaming academy in which students of all cultures and identities are celebrated. In this new Galileo, every pupil is welcome—but there are some who aren't so happy with the recent changes. That includes everyone's least favorite professor, Septimius Dropwort, a stodgy old man known for his harsh rules and harsher punishments. But when the professor's body is discovered on school grounds with a mysterious note clenched in his lifeless hand, the Academy's students must solve the murder themselves, because everyone's a suspect.
Told from more than a dozen alternating and diverse perspectives, The Grimoire of Grave Fates follows Galileo's best and brightest young magicians as they race to discover the truth behind Dropwort's mysterious death. Each one of them is confident that only they have the skills needed to unravel the web of secrets hidden within Galileo's halls. But they're about to discover that even for straight-A students, magic doesn't always play by the rules. . . .
Why we love it: The concept immediately grabbed my oldest. A murder-mystery book written by more than one author, each one telling a different student's story about their whereabouts and connection to the victim. She hadn't read anything like this, and honestly neither have I. As a longtime fan of Clue the film and other murder-mysteries, I was intrigued as well. Each author lending their unique voices to the story makes the reader feel like they are actually interacting with multiple people as they would in real life. That distinct story-telling approach is fascinating and it all comes together for multiple twists and turns until the surprising conclusion! It also features not only a diverse group of authors but characters as well with representation of multiple cultures, genders, and orientations. We both hope this turns into a series and personally I would love to see more mystery novels take a page from Alkaf and Owen's playbook.