Everyone's favorite fedora wearing professor is back in Indiana Jones and the Dial of Destiny. It is the perfect goodbye to Indy with big action sequences, quick-witted jabs, and Harrison Ford in his element.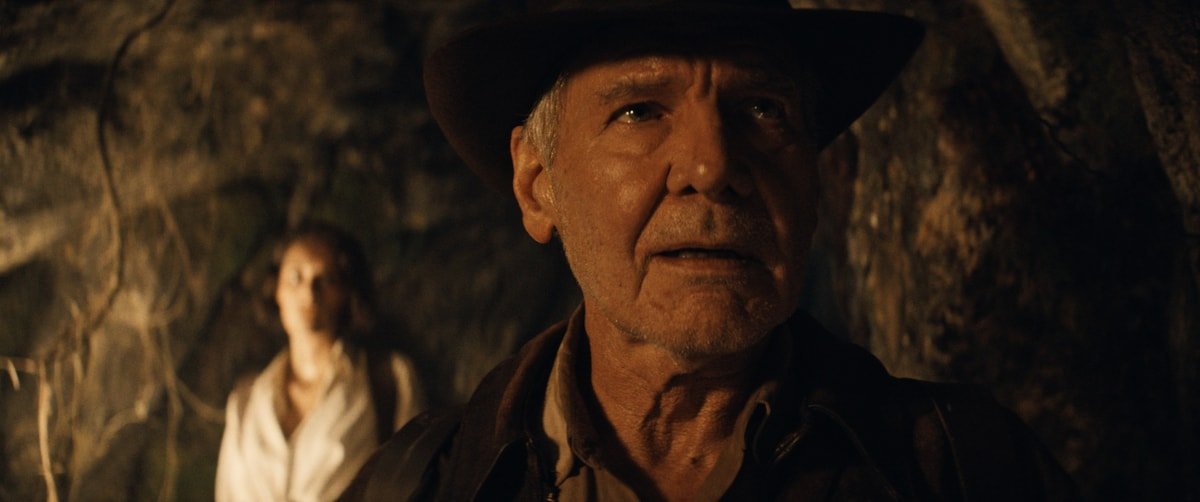 Indiana Jones and the Dial of Destiny Review
After a prologue set in 1944 at the end of World War II, the story jumps to 1969, where an elder Indiana Jones (Harrison Ford) is set to retire. All of his iconic belongings are collecting dust somewhere. This isn't the nazi punching, train hopping guys we just watched in the beginning. His days of adventuring seem over, that is until his goddaughter Helena Shaw (Phoebe Waller-Bridge) shows up asking about the Archimedes Dial, a rare artifact that her father Basil Shaw (Toby Jones) sent away with Jones years before. She isn't there to discuss the finer points of archeology, but rather to sell this priceless antiquity. Indiana finds himself chasing after Helena and her partner in crime Teddy (Ethann Isidore) all while trying to stay ahead of his old nemesis Jürgen Voller (Mads Mikkelsen) who is also after the Dial. Indiana must fight to save Helena, the Dial, and history as we know it.
Indiana Jones and the Dial of Destiny is a big adventure blockbuster worthy of the character. It works as a fitting goodbye to Indiana Jones both for Ford and the fans who love him. Finales are even trickier than sequels, where decisions need to be made about direction. Repeating the past can become tiresome but changing too much can lead to disdain. Fortunately Dial of Destiny manages to honor the past without overdoing it. The fan service is rooted in character moments instead of haphazard cameos which makes them feel natural and emotionally grounded. It plays out like something fans want and expect from an Indy movie. From large action set pieces and Jones' quick-witted dry humor to having heart and punching nazis, this one does not disappoint.
RELATED: Star Wars Celebration 2022: Everything Announced From Ahsoka to Willow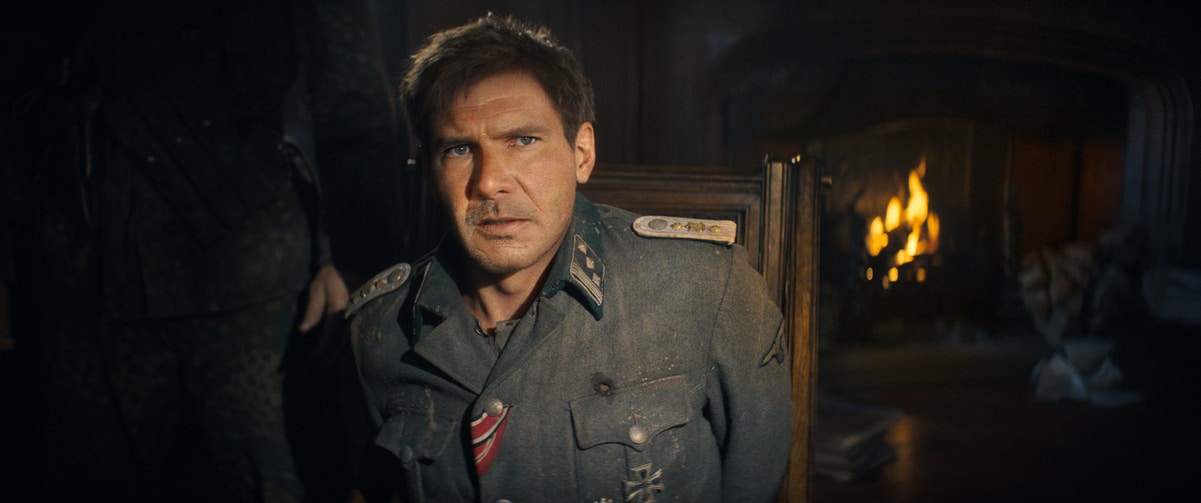 As someone who isn't old enough to have seen Indiana Jones in his heyday on the big screen (Crystal Skull does not count), it was exciting to see the film open with that classic Indy. Watching a de-aged Harrison Ford fight on top of a train, take on a bunch of nazi thugs, and look effortlessly cool while doing it was thrilling. It is no wonder why audiences were drawn to this character way back in 1981 with Raiders of the Lost Ark and have followed along with his journeys ever since. Speaking of that de-aging it was the most impressive use of that type of special effects I have ever seen. He wasn't just standing stationary while his mouth moved, this man was running around, eating, laughing, and doing all the things they typically keep de-aging characters from doing. Lucasfilm has figured it out.
42-years into his stint as the daring professor, Harrison Ford is Indiana Jones. There is no doubt that this role fits him better than most of his others, yes even including Han Solo. It is also undeniable Ford enjoys playing Jones, this joy permeates every scene and goes beyond into the audience, drawing them in. Jones is now feeling his age, questioning his own mortality, and he's just tired. Ford captures that lived-in exhaustion with his signature blunt charm. There is a hilarious moment where talking to Helena, Indy questions why he would put his old body through climbing a wall. Although there are some jabs at his age, mostly by Indy himself, the writers never make his age a gag. Director James Mangold and Ford along with writers Jez Butterworth, John-Henry Butterworth and David Koepp have worked together to bring an Indy back to the screen that fans want to see. He's punching nazis, he's exasperated by the opposing personalities of the supporting characters, and he's wearing the hat, jacket, and cracking a whip.
As far as the rest of the cast goes, Waller-Bridge is a scene-chewing, outgoing, ideal foil to the gruff Jones. Not only does she contrast him in personality but also in approach. Where Indy is a seasoned adventurer with a "code" he adheres to, Helena is free-spirited and unpredictable, which drives Jones mad. It is a dynamic that plays well on screen and is responsible for some of the best scenes in the whole film. There has been some talk from a certain corner of the internet that she is there to outshine Ford or some other anti-female nonsense. While she is delightful and a wonderful addition to canon, she in no way takes away from the spotlight clearly stationed on Ford. In no way did it feel like she took his place or was the focal of the story. Mikkelsen, an actor who excels at bringing villains to life, is also clearly having fun as Voller. He's not as well-defined as precious baddies but he is entertaining and that's all that matters here. As far as the rest of the cast, Boyd Holbrook plays Klaber an annoying henchman with a terrible haircut while Isidore's Teddy seems to act as a Short Round to Helena.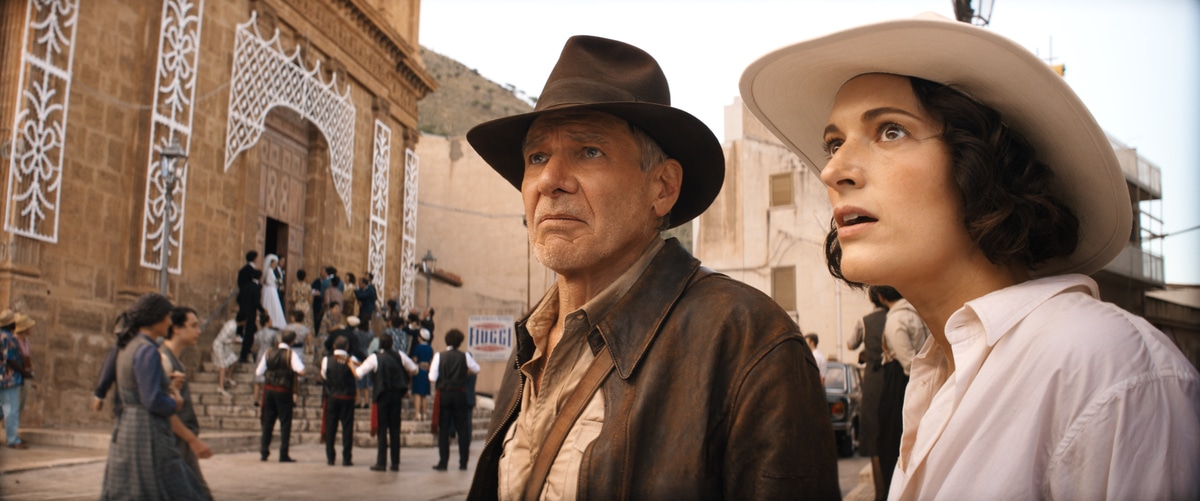 Indiana Jones and the Dial of Destiny is a love-letter to the character and to the fans that have adventured with him from the beginning. Overall it just works because Mangold and his team understand why audiences love this character and this franchise. It's a thrilling action-adventure film that begins with a big chase sequence on board a moving train and ends with a wild third act fitting for a man like Indy. Seeing him back in action not only as his older self but also that incredible opening sequence put a big smile on my face. Not only will Indy fans be delighted with this, but anyone looking for a summer thrill-ride on the big screen will equally have a blast.
Indiana Jones and the Dial of Destiny is in theaters June 30. It is rated PG-13 for for sequences of violence and action, language and smoking with a runtime of 2 hours and 34 minutes.