A fun, entertaining, musical adventure, Miraculous: Ladybug and Cat Noir The Movie, is sure to be a hit among fans of the series. It also works as a great introduction for new audience to the miraculous world of Marinette and Adrien.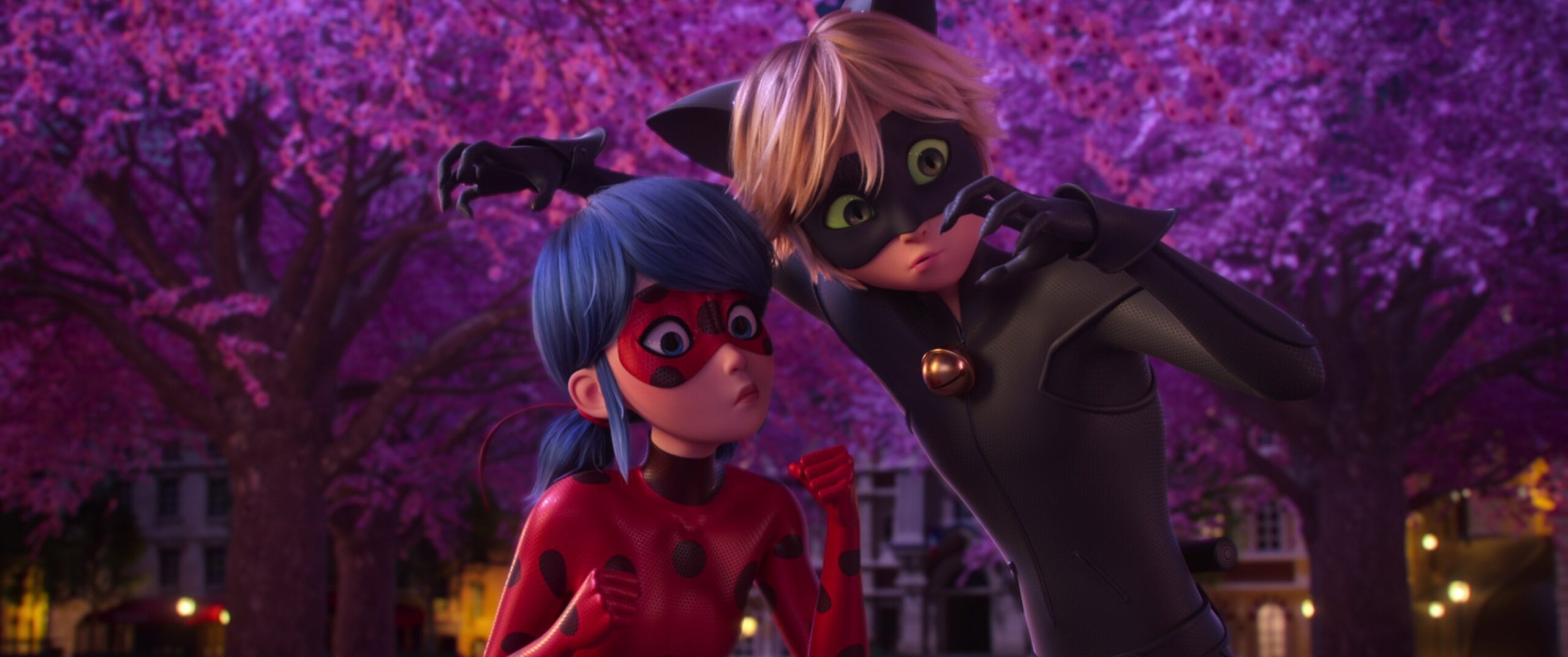 Miraculous Ladybug and Cat Noir Movie Review
The first film in the Miraculous franchise, Miraculous: Ladybug & Cat Noir follows Marinette Dupain-Cheng (Cristina Valenzuela), a somewhat shy and awkward teenage girl. Her life in Paris isn't extraordinary until a chance encounter with Master Fu (Paul St. Peter) gives her superhuman powers and transforms her into Ladybug. Meanwhile another student at her school, Adrien Agreste (Bryce Papenbrook), is also granted special powers, becoming Cat Noir. Although they keep their identities secret from everyone including each other, it will take both of them to save Paris from the supervillain Hawk Moth (Keith Silverstein).
Following a similar plot line to the show, "Miraculous: Ladybug and Cat Noir, The Movie" (formally titled Awakening) is a retelling of the last five seasons of Miraculous: Tales of Ladybug and Cat Noir. It hits the major plot points, spending time with the origin story of both Ladybug and Cat Noir before launching into their adventures together. There is enough new here to delight even those caught up on the series, including beefed up animation and musical numbers. Plus it works as an exciting introduction to the miraculous world of Marinette and Adrien for new fans .
For those unfamiliar, in the show, Marinette and Adrien go to the same high school and gradually start to develop feelings for each other. However, this is complicated by the fact that in their disguises, they are also struggling with feelings about their super counterpart. Will they, won't they? It's one of the things about the show that can be frustrating, because after all they should be able to tell who is under the mask. But for story sake, we let it slide as much as we do with any other hero love story. We know it's you Superman. Anyways, this unrequited love is one of the major throughlines of the plot and the cause of more than one musical number. These teens are trying to find themselves all while saving their home from a crazy villain.
The series has had a few one off songs but nothing quite like "Miraculous The Movie." Fans will be excited to see their favorites break out into several musical numbers, scattered throughout the entire runtime. A few standouts are "If I Believed In Me" and "Stronger Together," with the more lovey number by Adrien satisfying those of us who still have a thing for 90s/00s boy bands. One more note on the music– no that is not Bryce Papenbrook singing as Adrien. Drew Ryan Scott is the singing voice of Cat Noir just as Lou is the one for Ladybug.
Often times when animes make the jump from the small to the big screen the animation gets a boost. Miraculous is no exception. Paris looks beautiful, before the climatic battle destroys everything, and the colors pop. Ladybug and Cat Noir's fighting style and choreographed moves feel more fluid and crisp as well. The villains also seem more menacing and not just Hawk Moth but also the mime, which is a feat in of itself.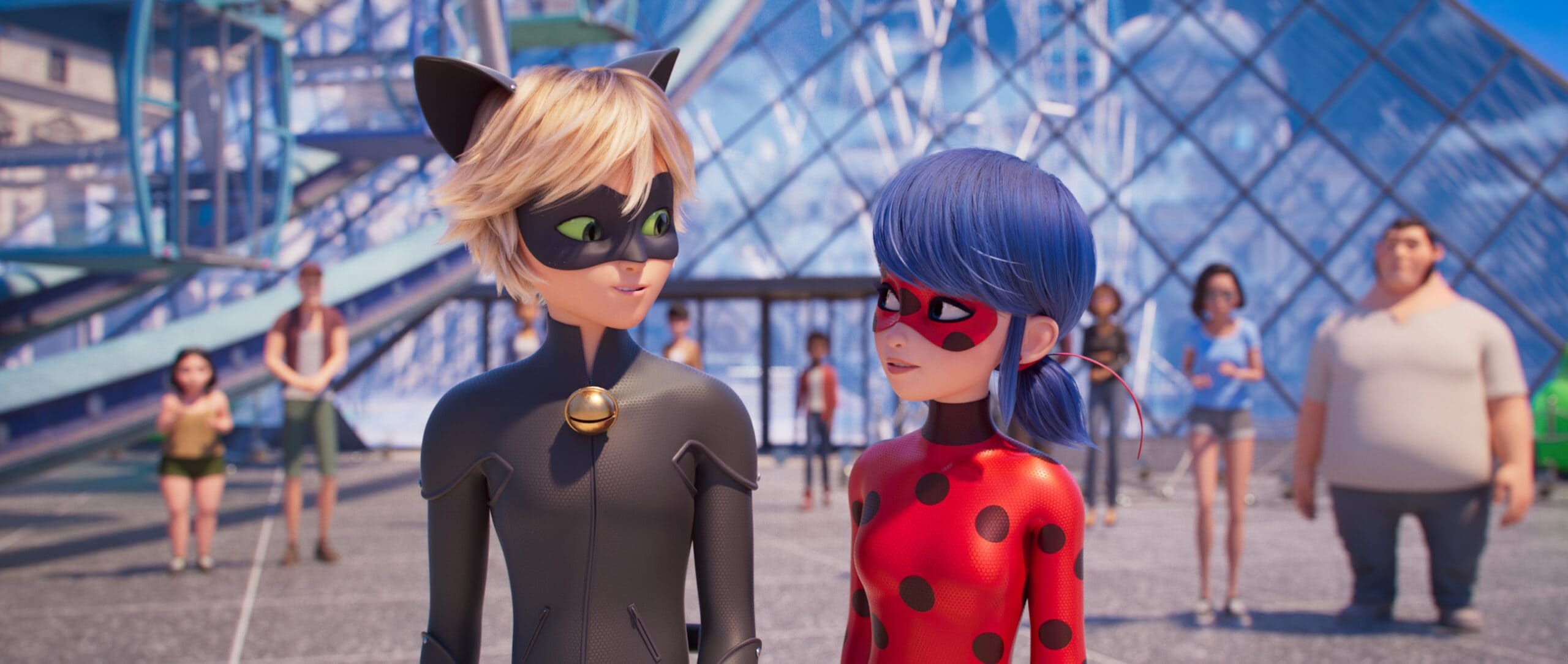 Despite being a retelling of the first five season, Miraculous never gets boring. They have figured out a way to bring in the most interesting parts of the show and tell the story in a concise and entertaining way. The action is consistent throughout, along with the placement of musical bits, all in all being something parents and kids can enjoy together. There are some surprises, especially if you are not up to date on the TV series, as well as a post credit scene that is an interesting, albeit surprising reveal.
Although it isn't necessarily breaking new ground in terms of story, Miraculous: Ladybird & Cat Noir, The Movie is a fun, charming, exciting adventure for those who are already immersed in this universe and newcomers alike. Musical numbers, Ladybug and Cat Noir teaming up, memorable bad guys, what's not to like?
Miraculous: Ladybug & Cat Noir begins streaming on Netflix July 28. It is Rated PG for action, some thematic elements and brief smoking with a runtime of 105 minutes.