Cowabunga dudes! The Teenage Mutant Ninja Turtles are back in Mutant Mayhem, an all new animated film that looks at the origins of our favorite crime fighting turtles. I recently had the chance to ask the stars of the film some important questions about their characters and of course pizza toppings.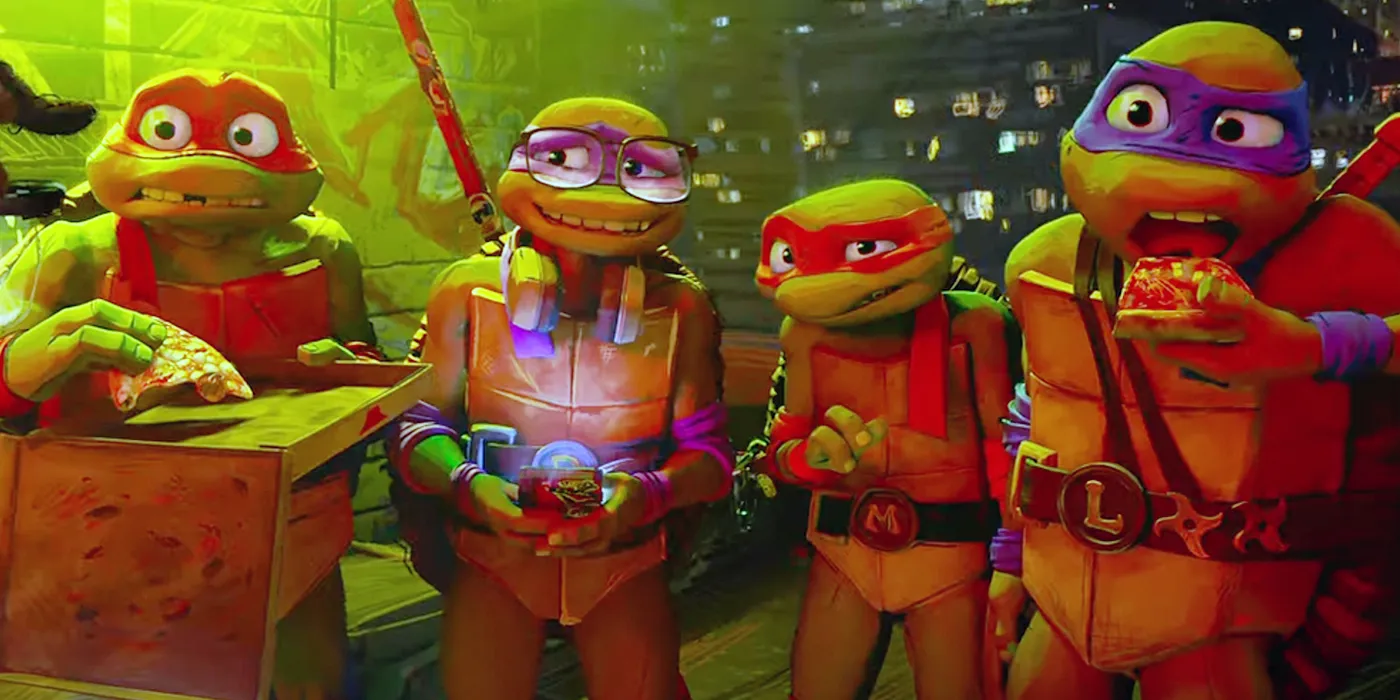 Interview: Cast of Mutant Mayhem Micah Abbey, Shamon Brown Jr., Nicolas Cantu, and Brady Noon
Mutant Mayhem follows the Turtle brothers who long to be accepted as normal teenagers. So they devise a plan to win the hearts of New Yorkers. But soon they must use their ninja skills for something other than making videos. Along with their new friend, April O'Neil, they team up to take on a mysterious crime syndicate. However they are in over their heads when an army of mutants is unleashed.
I recently chatted with Micah Abbey (Donatello), Shamon Brown Jr. (Michaelangelo), Brady Noon (Raphael), and Nicolas Cantu (Leonardo) about playing the iconic turtles. Not only did I ask them to share what their favorite thing is about their characters but also the most important turtle question of all– favorite pizza topping. All my fellow TMNT fans said amen!
Nicolas: I like Leo's discipline and his real love for Ninjitsu. He really takes his training seriously. And I think it's admirable. Favorite pizza? I'm gonna have to go pepperoni mushroom. I really like a pepperoni mushroom pizza.
Micah: I love how geeky and dorky he is, and he's not afraid to be geeky and dorky. He's very nerdy about certain things, anime and stuff like that, and I love that about him. And my favorite topping? Sometimes I like a good veggie pizza with some ranch on it. Maybe some peppers, some mushrooms. Maybe some asparagus? I don't know. I don't know. Maybe we're getting crazy.
Brady: I really do admire Raphael's loyalty. I really think that no matter what goes on, he's always got his brothers' back. [Pizza] I'm a classic guy. It's either pepperoni for me or actually I eat a lot of chicken parm pizza, which a lot of people haven't heard of, but it's just chicken parm on pizza like cut up. It's actually pretty good
Shamon: What I love about Mikey is his love for all living and nonliving things and his curiosity for the world outside of the sewer. A favorite pizza topping? I'd probably say like sausage and applewood smoked bacon. That's very important, the applewood smoked bacon.
The cast also went on to share about their knowledge of the turtles prior to signing on for the film. You can watch the whole interview below!
Watch: Interview with Micah Abbey, Shamon Bown Jr., Nicolas Cantu, and Brady Noon
Teenage Mutant Ninja Turtles Mutant Mayhem is in theaters August 2.
This interview was conducted prior to the SAG-Aftra Strike. Without the talented writers and actors currently on strike, the movie being covered here wouldn't exist.