A Sci-Fi feast, The Creator boasts incredible visuals and a story that challenges the notion of what it means to be human. One of the highlights of the film is the performance of newcomer Madeline Voyles as Alphie. Director Gareth Edwards shared how he knew from the start Madeline was perfect for the role.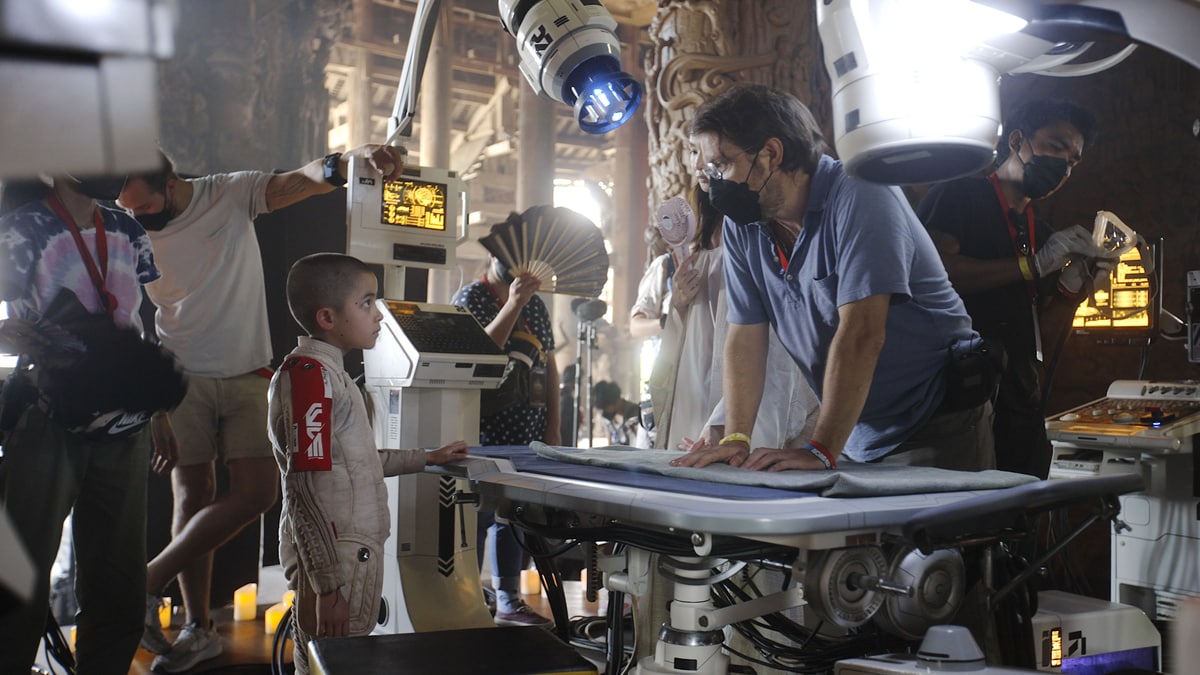 Gareth Edwards On Casting Madeline Voyles As Alphie
Amidst a future war between the human race and the forces of artificial intelligence, Joshua (John David Washington), a hardened ex-special forces agent grieving the disappearance of his wife (Gemma Chan), is recruited to hunt down and kill the Creator, the elusive architect of advanced AI who has developed a mysterious weapon with the power to end the war… and mankind itself. Joshua and his team of elite operatives journey across enemy lines, into the dark heart of AI-occupied territory… only to discover the world-ending weapon he's been instructed to destroy is an AI in the form of a young child (Madeline Yuna Voyles).
If her performance here is any indication, Madeline Voyles is one to watch as I could see her becoming a force in young Hollywood. Her connection with John David and the way she handled the complex emotions for her character are incredible. I asked Gareth to share what it was about Madeline that made him say yes, this is our Alphie.
RELATED: Gareth Edwards On How Anime Inspired The Creator

Gareth: It was very, very simple, 'cause she was as strong in the audition as she was in the movie. But essentially, we did an open casting call, hundreds of kids around the world sent in tapes. We got [it] to a top 10. Then I met with them. And I was sort of paranoid, 'cause I knew this was gonna be a crazy situation. We were going to the jungles of Thailand, it was gonna be really hot. It was gonna test whichever family naively agreed to do this film. We actually met at Universal Studios so we could go around the theme park a little bit and see what the family dynamic was like, just to check everyone was okay.
The first person I met with happened to be Madeleine, she came in, she did the scene, and we were just like, trying not to cry. It was so emotional and brilliant. And I just thought, okay, this is too good to be true. Maybe the mom has played a trick on her. Maybe she told her something just before she came in. I got paranoid that it was a one-off thing and it would never happen again. So a bit cheekily at the end, I was like, "Hey, do you mind playing around and we just make something up?" So, I invented this other scene and she did something even more heart-grabbing. And I was just like, okay, this is it. This is our kid. You know?
It is clear that Madeline and John David had a strong relationship on screen. Gareth revealed that that was also the case off screen and that is because he and John David agreed that the bond between those two was the most important thing. Without that foundation, the emotional impact of their story would have fallen flat.
Gareth: We both agreed that the most important thing on the film when the camera wasn't rolling was that Madeleine and him became best friends. Madeleine's a very quiet, shy girl, it's really hard to become her friend. I tried the entire movie and I think she let me a little bit in, but not fully. But J.D. cracked the code and became like a big brother to her and her best friend. And it was so sweet, 'cause you'd finish a take, and you know how actors are in a zone and they got a certain mindset. They basically walk into the corner of the room, they don't wanna be bothered by anyone. They're trying to keep in that headspace before you do this next take.
Well, he would go over in the corner and do that and she would just jump off, run after him, hold his hand, and start talking about a toy she really likes at home. And he's such a sweetheart, he'd go down to her level and start getting really excited about what she was saying. They were inseparable.

The Creator is in theaters September 29. It is rated PG-13 for violence, some bloody images and strong language with a runtime of 2 hours and 13 minutes.