A cute and fun crowd-pleaser, PAW Patrol The Mighty Movie is another great adventure featuring the lovable pups of Adventure Bay.
PAW Patrol The Mighty Movie Review
Adventure City is safe and sound thanks to the determined pups of the PAW Patrol and team leader Ryder (Finn Lee-Epp). Everything was going great until "mad scientist" Victoria Vance (Taraji P. Henson) decided to magnetically harness a meteor. Her goal was simple: pull the meteor to her lab, mine it for its powers, and use those powers to take over the world. But her plans quickly go awry, landing her in jail alongside former mayor Humdinger (Ron Pardo), and giving the pups superpowers. Chase (Christian Convery) has super speed; bulldog Rubble (Luxton Handspiker) can turn into a wrecking ball; dalmatian Marshall (Christian Corrao) has fire powers, gadget specialist Rocky (Callum Shoniker) is magnetic, diver Zuma (Nylan Parthipan) can control water and turn into water; and Skye (Mckenna Grace) has the power to fly along with super strength.
PAW Patrol The Mighty Movie is a cute and fun crowd-pleaser featuring the lovable and adventurous mighty pups. Similar to the first film, the focus is mostly on one puppy and the personal obstacle they must overcome. In this case it is Skye who fights with feeling inferior to the others as she is the runt of the litter rather than Chase stealing the spotlight. Director and co-writer Cal Brunker has plussed this sequel in the best ways possible without losing the heart of the show and the reason kids will be clamoring to watch the pups. The stakes are larger, the action pieces pack more intensity, and the messaging is likely to resonate more with all ages rather than just the younger crowd.
RELATED: DIY PAW Patrol Bike Helmets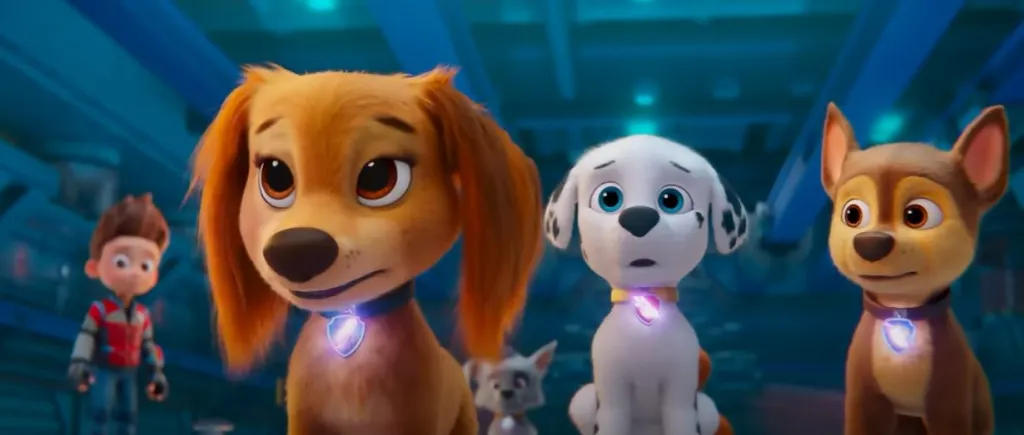 It may bum some fans out that the film is choosing once again to focus more on one puppy than the rest, although newcomer Liberty (Marsai Martin) also shares some of Skye's spotlight. However, this allows for a fuller emotional character arc which in turn helps build the connection between the audience and the pup. Like the last one dived into anxiety and overcoming self-doubt, this one fleshes out one of the most often repeated catchphrases in the franchise–No job is too big, no pup is too small! That message of anyone can be mighty, no matter their size or differences was not only heartwarming to this adult but I'm sure stuck in a lot of the kids' hearts. At least I hope it did, it was my favorite part about the entire film.
Brunker and co-screenwriter Bob Barlen differentiate Skye's story from Chase's by delving more into her back story and the significance of a tiny pink bandana. We are treated to a "When She Loved Me" style segment to really understand where Skye is coming from and why she feels inadequate as a member of the group. The animation is beautiful and it comes with its own tear-inducing ballad, "Learning to Fly" sung by Christina Aguilera. The filmmakers also allowed Liberty to go through her own arc. Although not as significant as Skye's there are still lessons to be learned here as well. I won't spoil her revelation but she does grapple with her place within the well-oiled PAW Patrol machine. Brunker and Barlen never go heavy-handed with the emotional through lines making each tender moment accessible and not overwhelming for even the youngest in the audience.
Henson makes for a great villain, even if her motives aren't as fleshed out. She feels less then but it's never revealed why. Fortunately the why isn't necessary. The Mighty Movie keeps it simple, she's the big bad who is helped out by a familiar bad in Humdinger. I think the film didn't actually need him to make an appearance, after all the high stakes had nothing to do with him. Side note, why do villains always have cats? As a cat mom it's kinda rude. But I digress.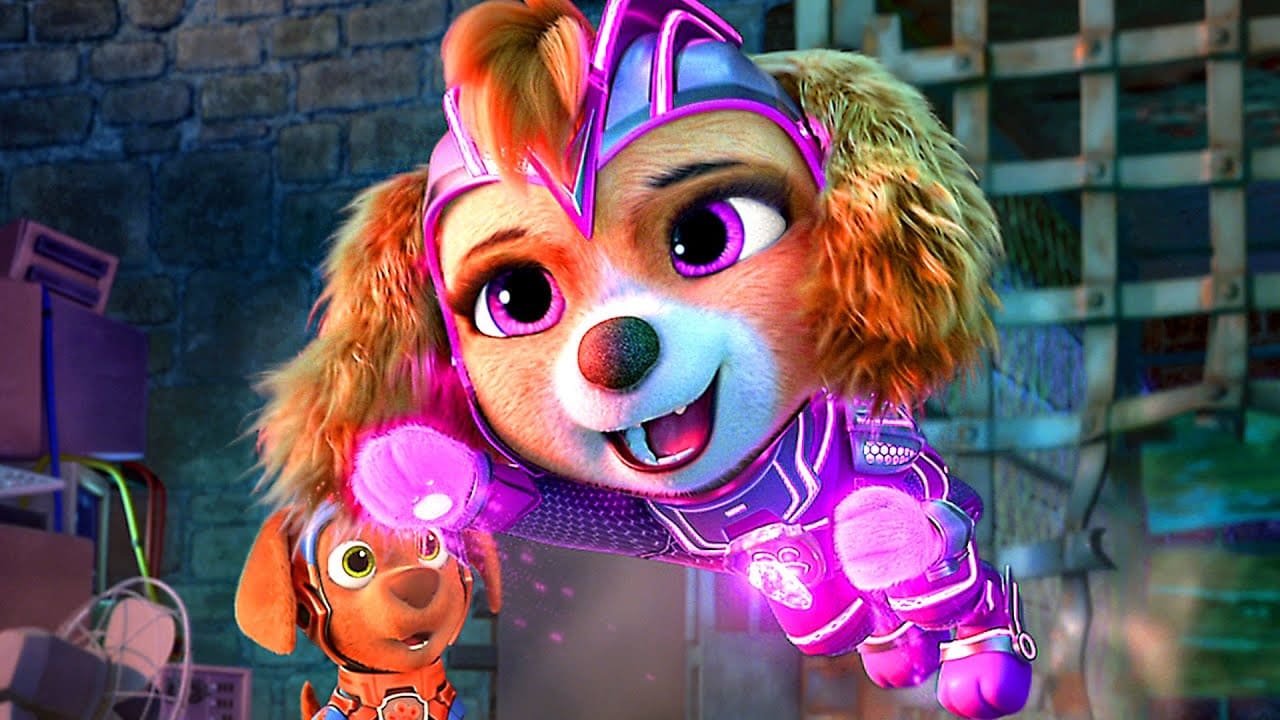 The Mighty Movie goes bigger when it comes to the action and the stakes. The animation looks great–crisp and colorful as the pups transform, fly, tumble, and shoot lasers all over the place. Those shiny upgrades do more than add to the story; they are also undoubtedly there to sell toys. I can see fans rushing home to update their holiday wish lists after a viewing. This is something that even Brunker and Barlen cheekily wink at during the film, via newsman (Lil Rel Howery). Pinar Toprak's score keeps pace with the supercharged pups while still retaining the playfulness needed for a children's movie.
Ultimately, PAW Patrol The Mighty Movie is a feel-good, crowd-pleasing adventure starring everyone's favorite pups turned superheroes. As spooky season kicks into high gear and the weather turns, this is the perfect family-friendly offering for parents looking to take their children to the movies. The action may feel a little intense at times, but rest assured there is nothing the pups can't handle. They make being superheroes paw-some! But it is the message that anyone can be a hero, no matter their size or differences that really makes this one something to see. After all that is something kids of all ages need to be reminded of on occasion.
PAW Patrol The Mighty Movie is in theaters September 29. It is rated PG for mild action/peril with a runtime of 93 minutes.