Another solid entry into the rated R comedy genre, The Re-Education of Molly Singer reverses the adult going back to school trope for a crazy good time.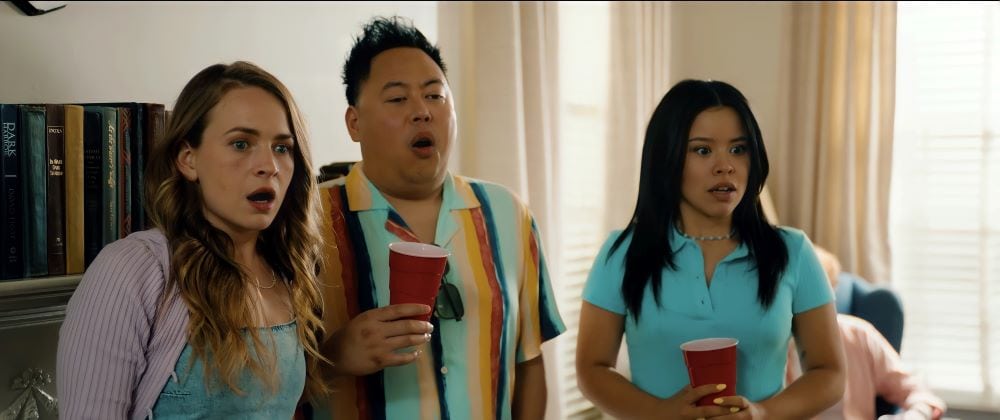 The Re-Education of Molly Singer Review
Party girl Molly Singer (Britt Robertson) somehow managed to graduate from college and get a job at a legal firm. You would think that means she left her partying days behind her. Wrong. Her penchant for having a good time lands her in deep trouble with her boss Brenda (Jaime Pressly), who is fed up with Molly and threatens to fire her. The only way she can ever hope to keep her job is by going back to school, not to learn anything but to help Brenda's outcast son Elliot (Ty Simpkins) make the most of his college experience aka make him popular. Her best friend Ollie (Nico Santos) is equally not living up to his potential so this scheme of Molly's is coming at a perfect time. Together they take Elliot under their wings to teach him everything they know about being one of the cool kids.
The Re-Education of Molly Singer is packed with laughs, best friend antics, and loads of charm thanks to its lead the always charismatic Robertson. Writer/director Andy Palmer along with Todd M. Friedman and Kevin Haskin set the stage early for the chaos that is about to ensue. They also keep things simple, sure there is a lesson to be learned but no heavy handed emotional arc here. Rather they sit back while the talented cast, who go all in as these characters, drive this party bus to its conclusion. The result is a laugh-out-loud, super fun time.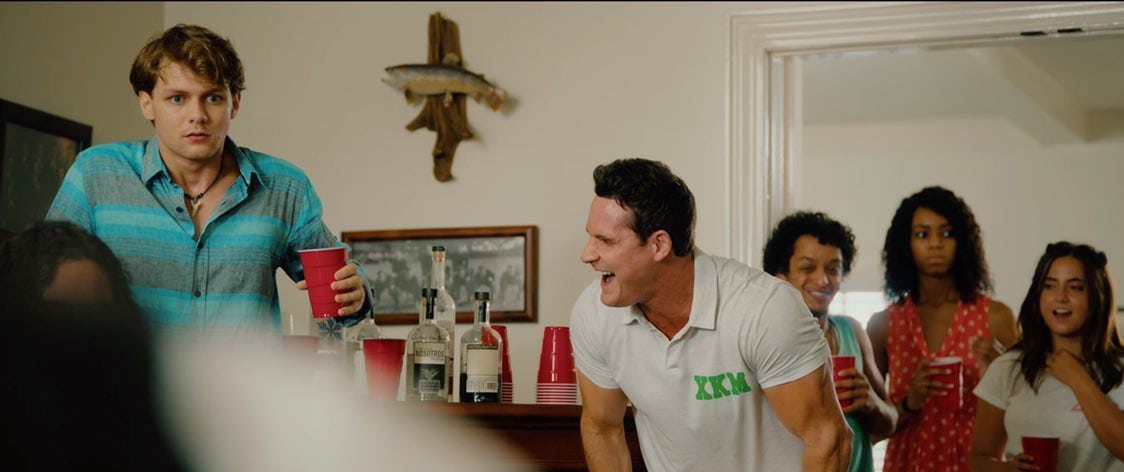 The going back to school trope is nothing new. Adam Sandler squeezed himself into a small desk for Billy Madison and before that Rodney Dangerfield went to college with his son in Back to School. Typically these school comedies rely on grown men who look, well old, to entertain audiences. Molly Singer flips that for a fresh spin on this type of film, sending a vibrant Robertson back to school to help a wallflower gain some confidence. With her endless energy and charisma, Robertson is more than capable of taking shots, doling out F-bombs, and putting these "youngsters" in their place.
Robertson is as delightful as ever as she navigates all the trouble Molly finds herself in. Whether she is bursting late into a courtroom or dominating frat boys in beer olympics, Robertson leans all in to whatever is thrown her way be it physical comedy or outrageous exclamations. She is able to make Molly likable and relatable, someone we in the audience will want to root for despite her shortcomings. After all no one is a saint, we've all definitely done things we would rather not repeat. Equally fabulous is the hilarious Santos. These two make quite the pair and it is easily believable they are besties. They look out for one another, throw shade as needed, and are supportive no matter what. Their relationship provides the emotional through line that runs through each scene.
In case anyone is wondering, no Molly Singer does not tread water in the same weird age-inappropriate pool as No Hard Feelings. It is quickly established that Molly has no feelings for Elliot beyond seeing him first as a means to an end and then later as an actual friend. Thank you Andy Palmer and company. In fact everyone on campus knows that Molly and Ollie are "too old" to be students. Excuse me while I mourn that if you are in your late twenties it means you're old. At least Elliot doesn't seem to mind their advanced age and eagerly tries to follow their advice in order to get Lindsay (Cierra Ramirez) to notice him.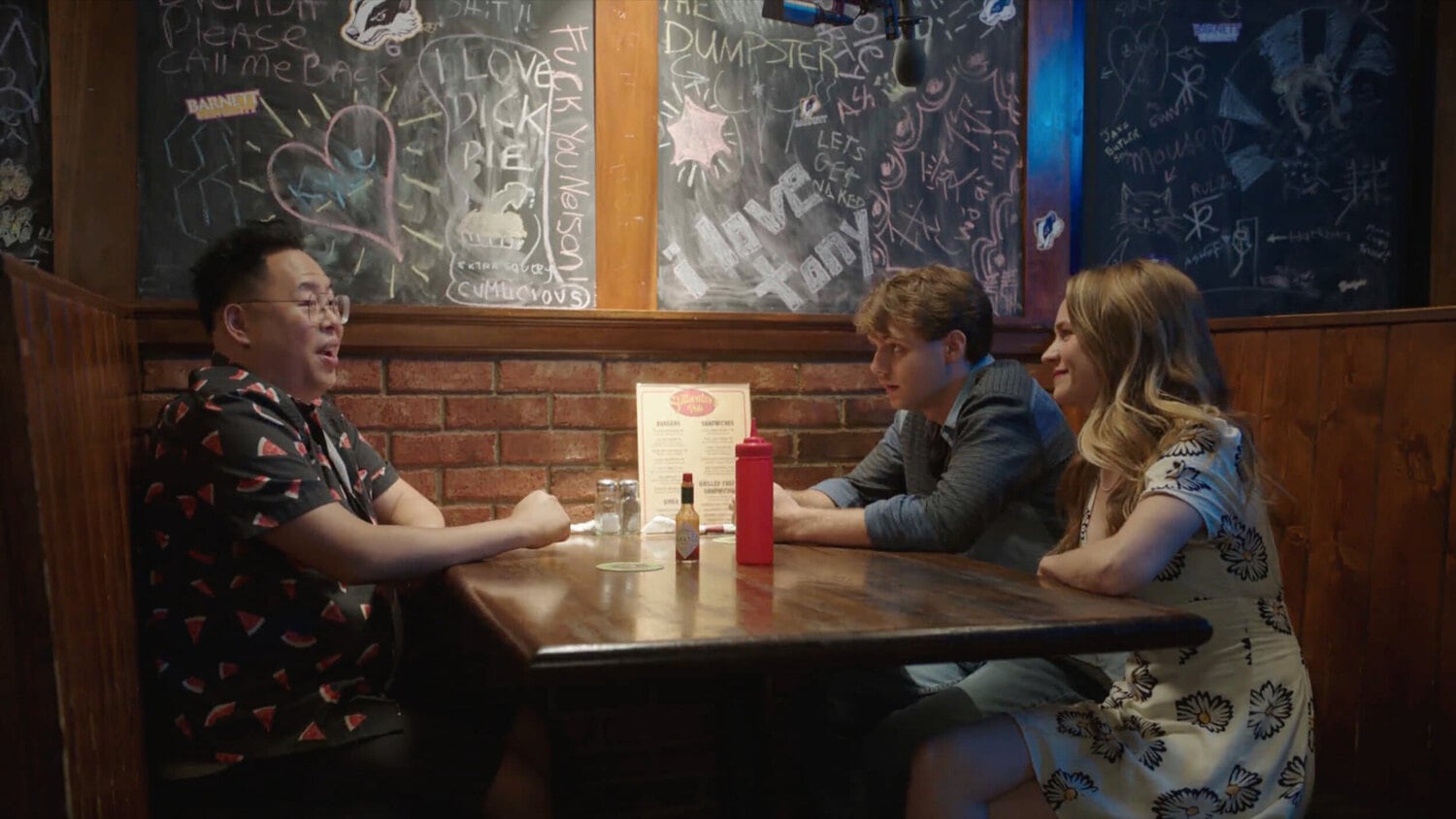 This is a rated r comedy so things get a little wild as the characters revisit college life which of course includes raging parties, frat house shenanigans, and other typical college cliches. Molly herself is a mix of Van Wilder and Elle Woods who knows how to take advantage of every situation. This movie is exactly as advertised, which is not a slight at all. These comedies all follow a formula and it works when you have a cast like that of Molly Singer who nail the comedic timings with expert precision, even if their pants are on their heads when they do it.
The Re-Education of Molly Singer earns high marks for being hilarious, charming, and heartfelt. Robertson and Santos are comedic gold, holding everything together no matter what ridiculousness is happening on screen. The film may not be as crazy or as crass as ones like it but it proves it has every right to be included in the school comedy genre. Anyone looking for something to make them laugh and maybe even cringe about the "good ol' days" will find exactly that in Molly Singer. It's another solid win for rated r comedy fans.
The Re-Education of Molly Singer will release in theaters and on various VOD September 29. It is rated R for sexual content, pervasive language and some drug use.