Nintendo has done it again with Super Mario Bros. Wonder. Simply put the game is a blast to play because it's full of WONDER like going down a rabbit hole into a world packed with surprises and delight.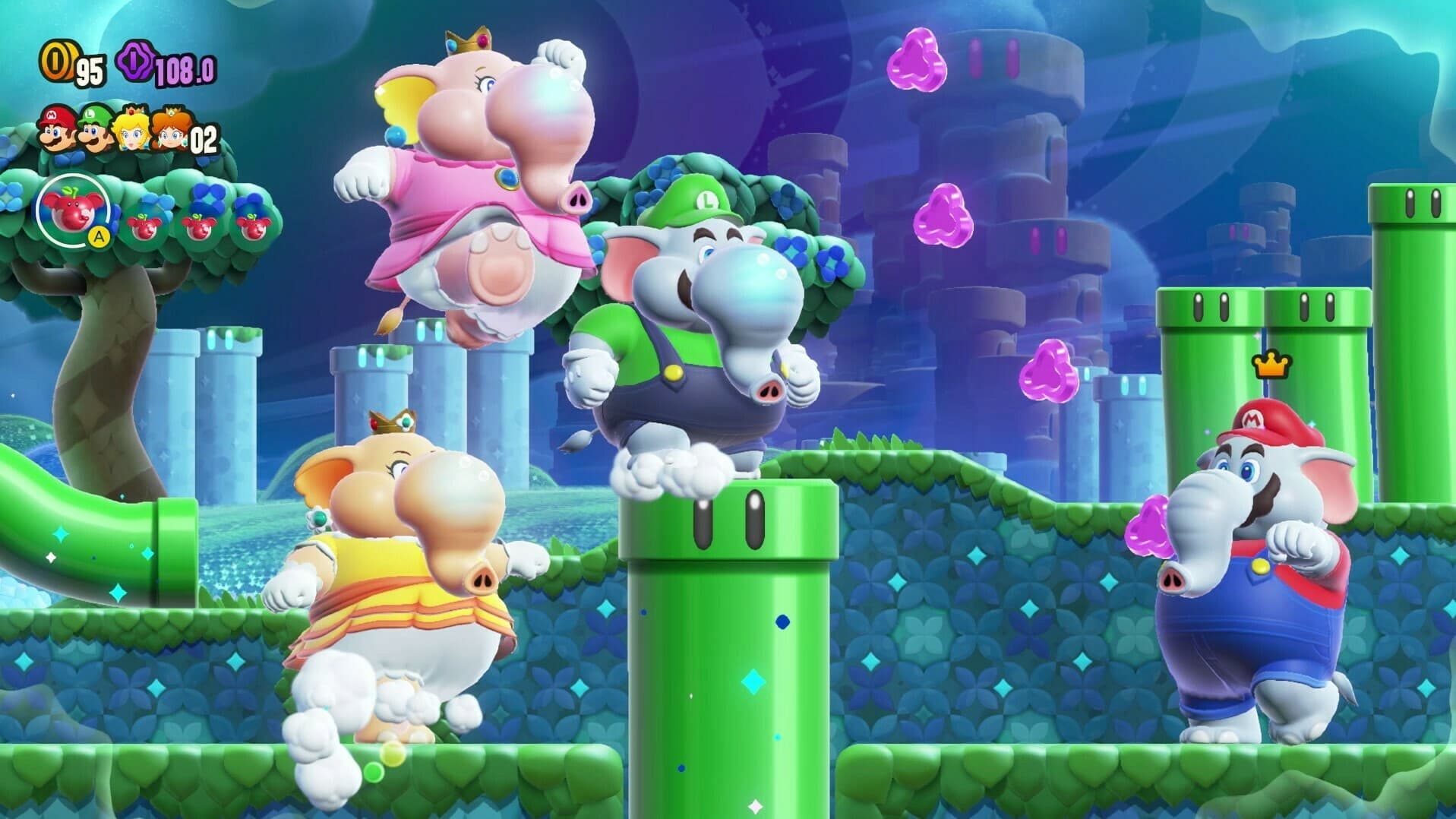 We received a copy of this game for the purpose of this review. All opinions are our own.
Super Mario Bros Wonder Review
Welcome to the bright and bold Flower Kingdom, a neighbor to the familiar Mushroom Kingdom, who you guessed it, has been overtaken by Bowser. The Kaiju turtle has fused himself with the kingdom's main castle thanks to the land's Wonder powers. Now life is miserable for all the inhabitants and it's up to Mario and his friends to help free the land from Bowser and his son Bowser Jr. Along the way Mario will encounter new enemies and unique situations–Nintendo really pulled out all the stops on the game mechanics. He also meets new friends including an omnipresent talking flower that shouts encouragements and funny random thoughts throughout each level.
It's been over a decade since we had a traditional Mario 2D sidescroller and Super Mario Bros. Wonder does not disappoint. New power-ups (including the ridiculously fun Elephant Fruit), creative levels, and dazzling worlds not only bring a fresh feeling to familiar gameplay but are guaranteed to bring immediate smiles. This game really is, as the name suggests, full of wonder. Every frame is packed with vivid colors and imaginative style while the special Wonder effects turn expectations upside down, sometimes quite literally. Whether you play solo or with up to three friends. Super Mario Bros. Wonder is an absolute joy to play.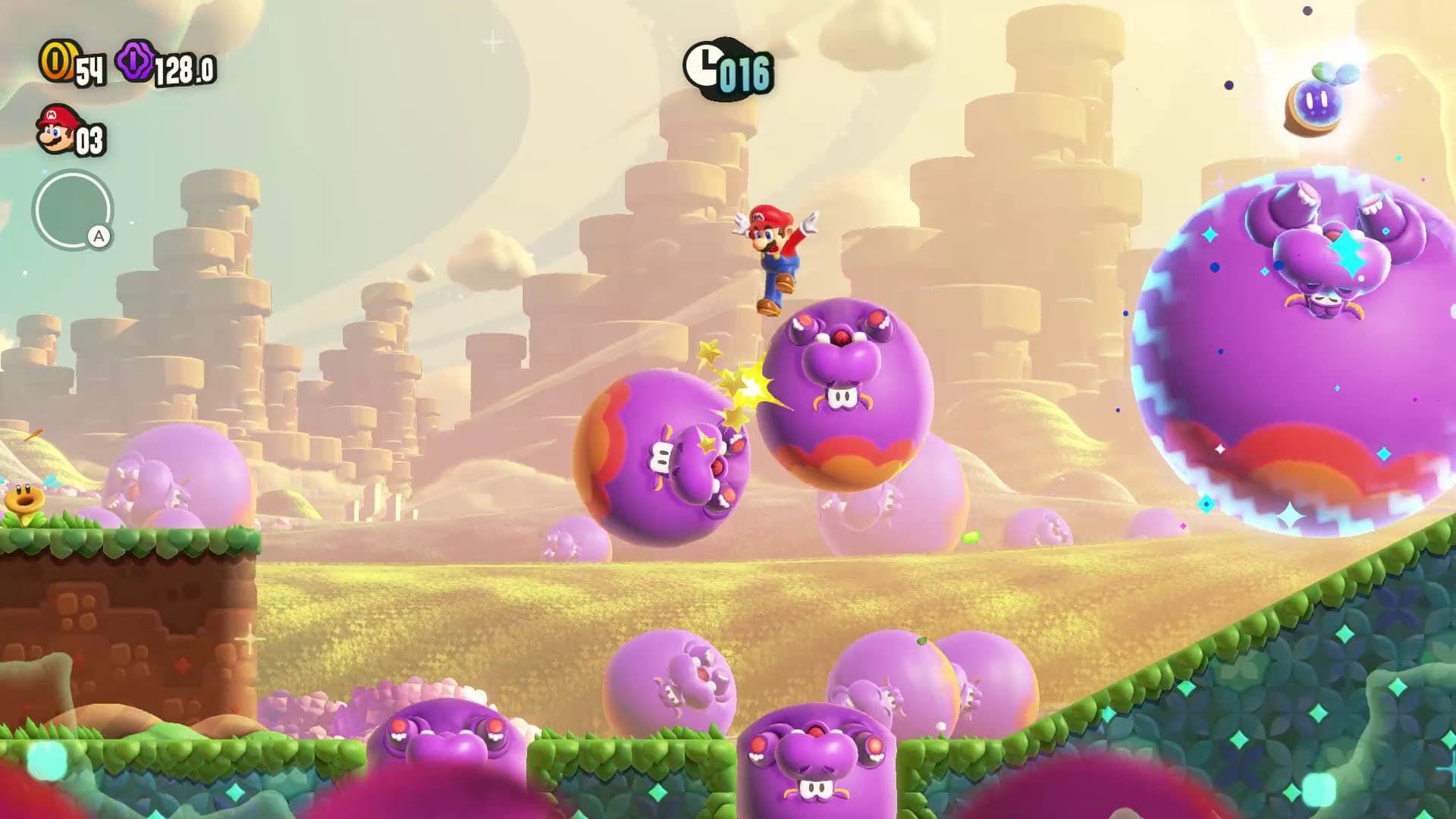 Gameplay
In Super Mario Bros. Wonder, Mario makes his way through dozens of stages across seven main worlds. Each is unique, with different groups of enemies and visuals that are wilder than the one before it. Several classic foes await that longtime fans will delight in spotting and shooting a fireball at. Goombas and Koopas, as well as cloud-riding Lakitus and Pokeys from Super Mario Bros. 2 can be found throughout the Flower Kingdom. However a new kingdom means new adversaries. Bulrushes are cute bull-like creatures that may be hard to defeat but can be ridden on to plow through the level. Purple Hippo Balls double as trampolines and Mumsies look like mummies that can be unwrapped.
Mario and co get new power-ups this go round and including one that is likely to become a fan favorite like the cat suit in Super Mario 3D world. Yes, I'm referring to the Elephant Fruit which transforms your character into a water-shooting, block-smashing, trunk-swinging, elephant. This isn't just Mario wearing a onesie, he's actually an elephant, albeit one with a mustache. And yes this is as awesome as it sounds. Drill Mushroom gives Mario a drill bit on his hat so that he can burrow into the ground accessing hidden areas and taking out baddies. Finally, the Bubble Flower allows Mario to blow large bubbles to snag coins and trap enemies turning them into jumping pads. As in past Mario games, you can store power-ups to access as needed, so unless a situation called for a drill or a bubble, we stuck with Elephant and the classic Fire Mario.
Another way to boost Mario's abilities is through the Badge System. Throughout the maps, players can unlock these badges that they can then equip before playing a level. Some are gained through mini side games while others can be purchased at the Poplin Shop. The game itself makes suggestions on which one would be the most helpful as you enter an area. Some are simple skills like Wall-Jumping, Dolphin Kick, or Crouching High Jump, while others are more specific like Sensor which alerts you when a secret is nearby or Blocks which conveniently adds blocks to help you get around more intense levels.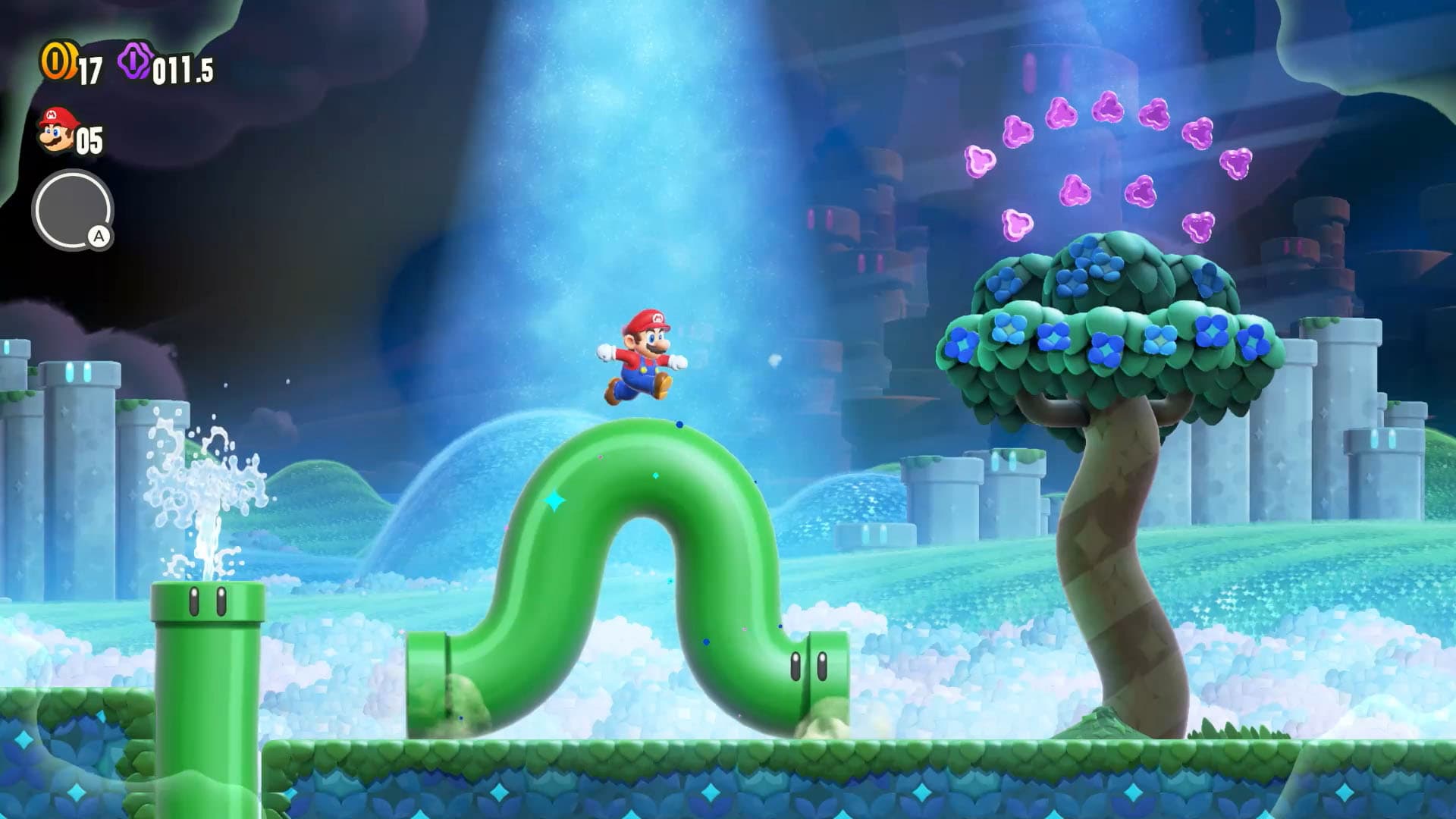 Wonder Effects
Technically, Wonder Effects are part of the gameplay but they are so amazing they need their own section for this review. Most levels include hidden Wonder Seeds that are typically only accessible by activating the Wonder Flower. Mario needs these Wonder Seeds to unlock castles and new worlds so getting them is priority. Once you hit the Wonder Flower that is when the game really dazzles and the unexpected happens. Rules are thrown out the window as anything and everything becomes fair game. The board may invert as colors dance across the screen like a 70s disco or it might start moving towards you like a giant snowball. Pipes could turn into slinking worms, everyone might burst into song, or Mario can end up as a Goomba, waddling through the stage.
Honestly, you never know what will happen next which made me eager to get to the next stage. It also meant that if I somehow missed it, I turned back around to re enter and find it. Nintendo's engineers clearly had a lot of fun pushing the boundaries of the game mechanics for this one, allowing their creative sides to flourish. The result is that the Wonder Effects make this game pop. I hope we see the Flower Kingdom and this kind of experience in the future.
Difficulty
Despite some five-star difficulty stages, experienced gamers won't find Wonder all that challenging. However, with the inclusion of characters who don't take damage–Nabbit and Yoshi, young gamers can still experience the fun of the game alongside their more Mario savvy parents. Even more so than Mario Kart, Wonder is a platformer the whole family can enjoy together. Which is why it will be up there as a top recommendation for our gift guide this year.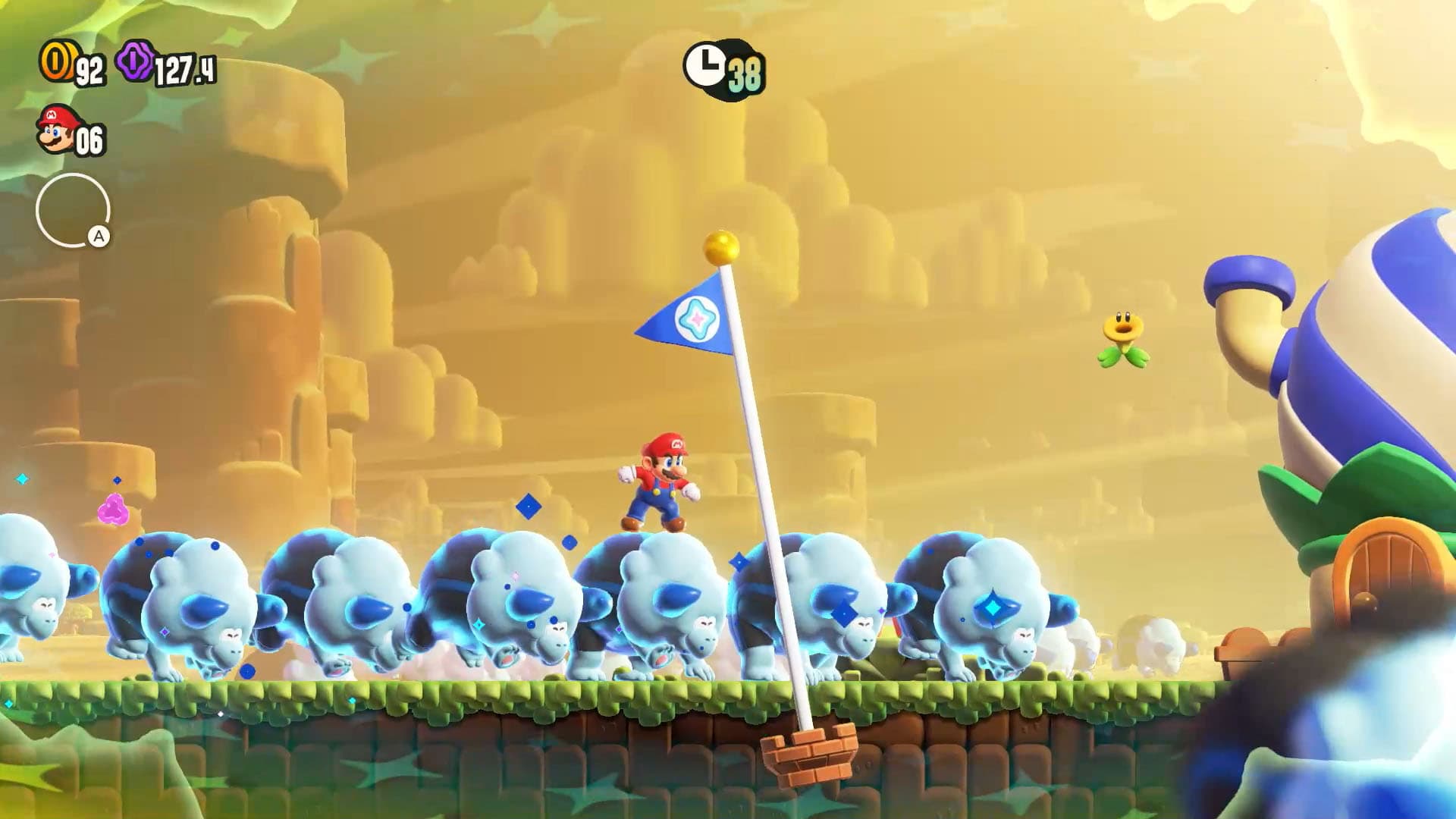 Multiplayer and Online Play
Speaking of family game night, Super Mario Bros. Wonder offers local play with up to four players as well as a new online multiplayer option. You can play online with up to 12 friends in a Co-Op Room, with up to 4 players on a single course. Standees, which can be purchased in the Poplin Shops like Badges, allow other players to revive themselves within the level. This real-time play has already helped us figure out a few head-scratching puzzles, like a certain pesky purple flower coin that eluded me until I saw a spectral Daisy start pushing a pipe. This new feature adds to the chaotic good time of the Wonder Effects as you all run, stumble, and dance your way through the level.
Super Mario Bros. Wonder is an exciting, joyful new game that does not disappoint. Creative levels bursting with colors, fun bad guys, and the aptly named Wonder Effects, make it one of the best new Mario games in years. Familiar yet inventive, the gameplay will keep even longtime Mario gamers on their toes as expectations are subverted in increasingly delightful ways. Each course, each level brought a grin to my face and reminded me of the first time I ever picked up a controller to play Super Mario World. Wonder establishes a new way to experience the iconic franchise and I cannot wait to see what comes next. Until then I will be happily diving into this game with my kids and online buddies.