Ask anyone who has taken US history about the March on Washington and they will immediately remember MLK's infamous "I Have a Dream" speech. But then ask them about Bayard Rustin, the man who orchestrated it all, and no one has ever heard his name. It's time for that change with Rustin, a timely, intriguing, and exciting story about a man history chose to forget.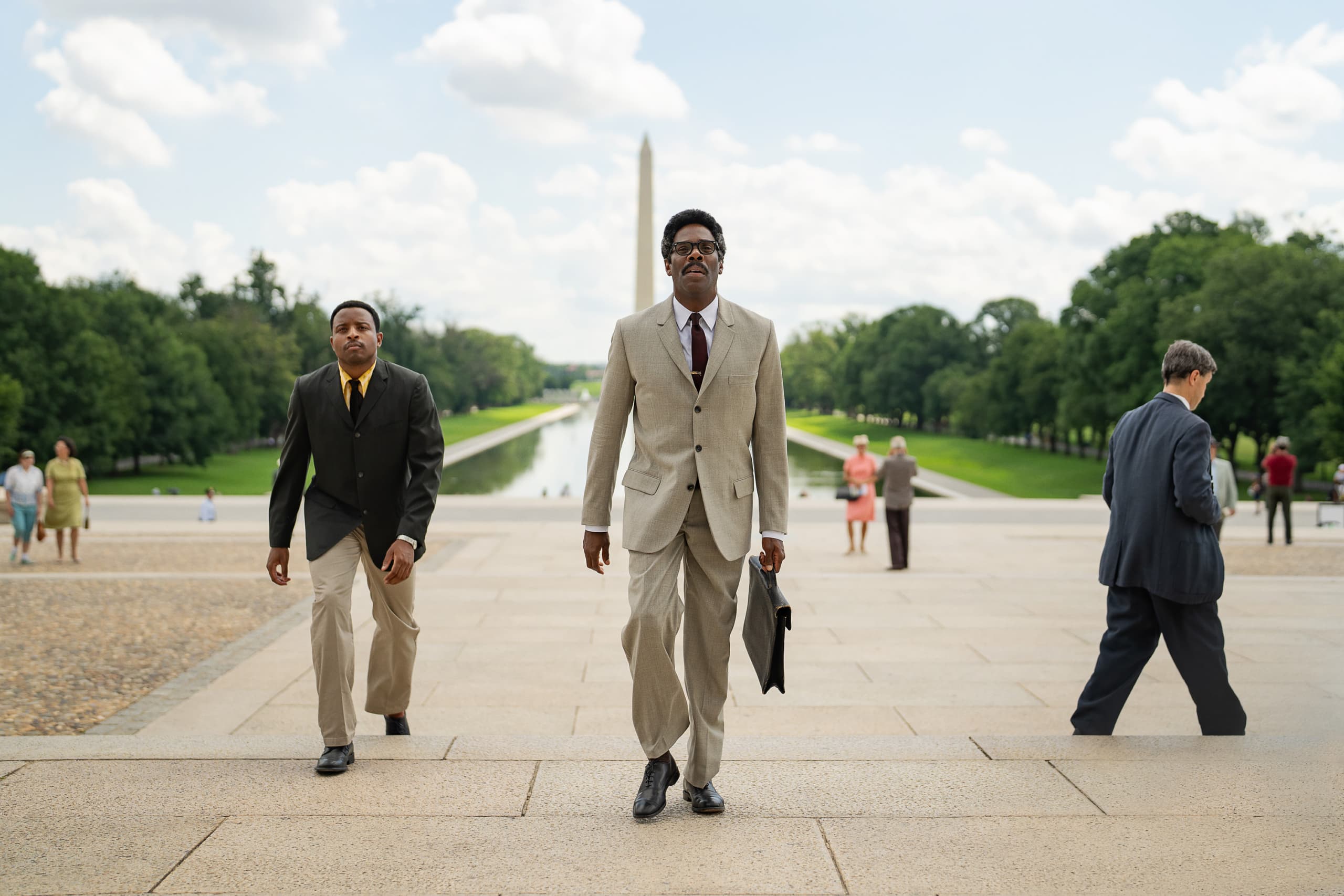 Rustin Movie Review
The 1963 March on Washington, the event where Rev. Martin Luther King Jr. delivered his iconic "I Have a Dream" sermon at the foot of the Lincoln Memorial, was a pivotal turning point for Black Civil Rights. Everyone is taught about the march and snippets of King's speech but what is widely left out is the fact that if it weren't for the work of strategist: Bayard Rustin, a gay Black socialist and pacifist-activist, the march likely wouldn't have ever happened. Rustin was not only the man who put the pieces together for this event which at the time, was the largest single-city demonstration in U.S. history but he was also a close friend of King and key player in the movement itself.
Netflix's Rustin, produced by Barack and Michelle Obama's Higher Ground, takes aim at our history books to tell the story of how Bayard Rustin (Colman Domingo) and his team of fellow activists put together the march with opposition coming from both inside and outside the movement. The story, written by Julian Breece and Dustin Lance Black, shines a light on the steps Rustin took to make the march happen, despite pushback from rivals, and the target his sexuality placed on his back. NAACP leader Roy Wilkins (Chris Rock) and politician Adam Clayton Powell Jr. (Jeffrey Wright) were among his chief opposers who attempted to remove him from the narrative and King's (Aml Ameen) council. But Rustin found a way to make it happen and now his story can finally be told, the story our education system frequently (perhaps purposefully) overlooks.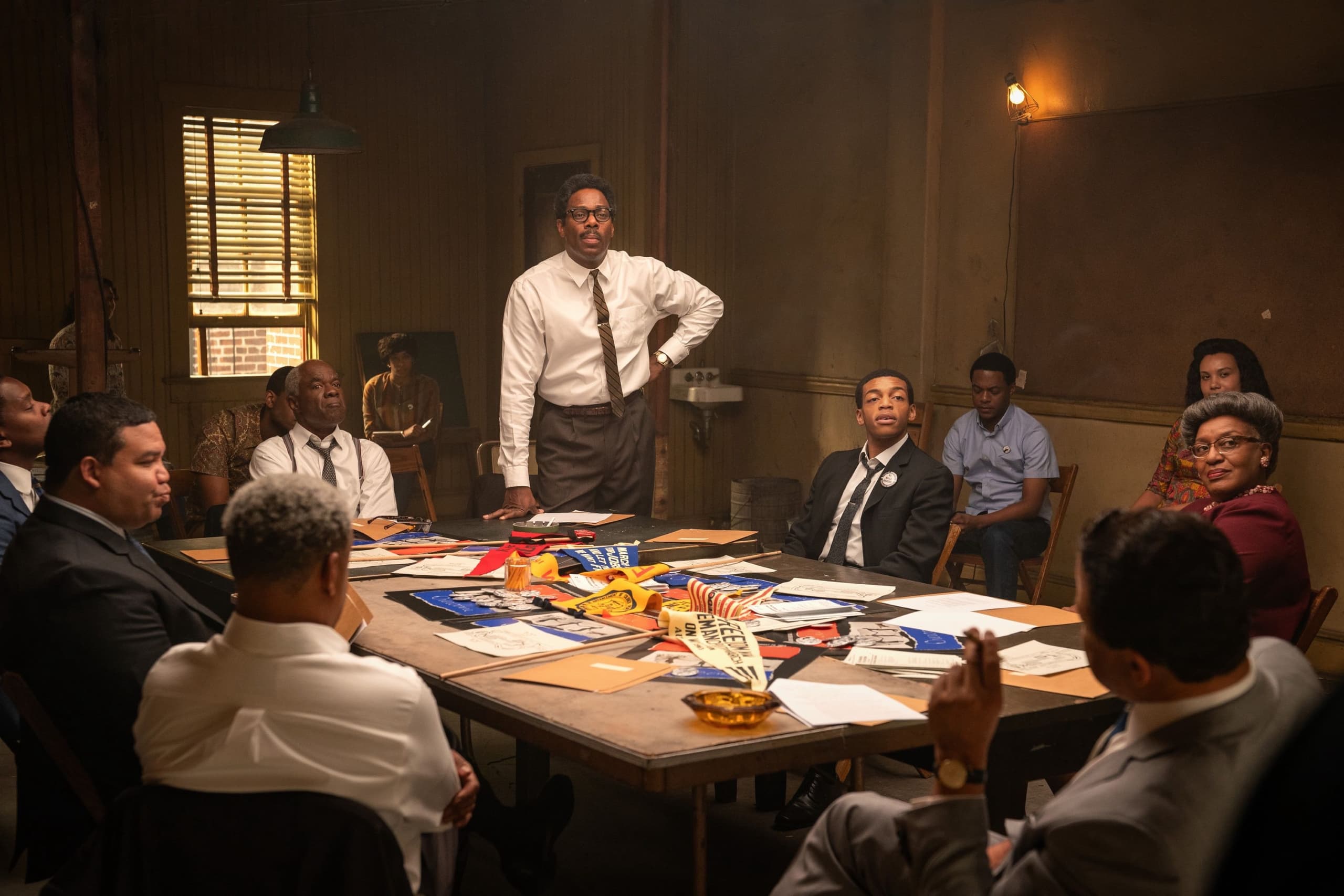 Rustin is a biopic that shows the power a community can have when they put aside their differences for the greater good of its people. It also celebrates a man who refused to let anyone, from the police who knocked his teeth out to the frenemies smiling in his face and plotting behind his back, get him down. Bayard lived his life unapologetically, never downplaying his sexuality or his political views. It would take that kind of tenacious spirit to organize all the parts needed to make the march a success– 22 first aid stations, 80,000 boxed lunches, 2,200 chartered buses, six chartered flights, six water tanks, 292 latrines, and over 1,000 Black police officers. Not to mention permits to change DC's subway schedule and securing the National Park area for the speeches. Oh and he also found time to get big named celebrities like Charlton Heston, Lena Horne, Marlon Brando, and James Baldwin to join in. Sounds exhausting just reading it, but Bayard was so spirited that this monumental task was just another mountain he was determined to climb.
Domingo has been wowing audiences for awhile now both on stage and on the screen but here he finally gets the leading role his talent demands. His performance as Rustin is dynamic, intriguing, and magnetic. Domingo captures Rustin's charisma, bringing energy into every room and situation he finds himself in. Despite what some others on screen say, Rustin is just plain likable. It is easy to imagine how he roped so many people together, from all backgrounds, to make the march happen. The filmmakers chose not to just focus on how Rustin was fighting for his race but also for his sexuality, and the right to be both black and gay. "On the day that I was born Black, I was also born a homosexual," Rustin tells King before they meet with Black leadership, many of whom do not want Rustin associated with the cause. "They either believe in freedom and justice for all or they do not." It's a powerful story but it is absolutely elevated by Domingo's incredible performance.
Without a doubt Domingo is the shining star of Rustin but the supporting cast is impressive and gives it their all no matter the amount of time they spend on screen. Wright is essentially the opposite of Domingo, allergic to smiles and unamused at all times. Audra McDonald shines as civil rights leader Ella Baker while Rock is grumpy watching Domingo's Rustin get his way despite all his machinations. Ameen downplays King in a way I don't think we have ever seen before. His moments with Domingo are some of the best, as Rustin teaches King the benefits of non-violent protesting. These two friends went through a lot together and it shows in their dynamic.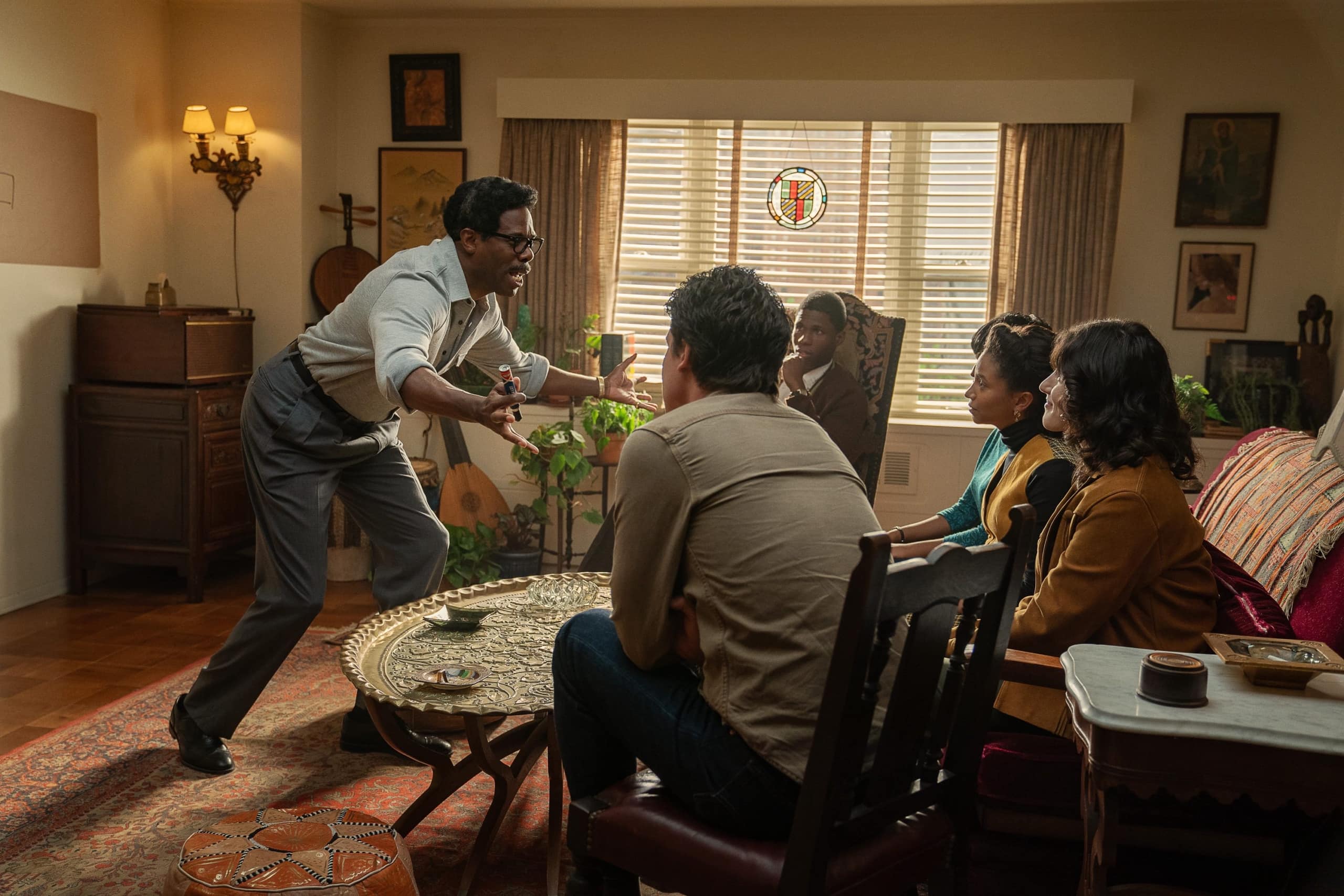 This is a film about putting on a show and as such feels like it could be at home on the theater stage. Director George C. Wolfe, a theater veteran, uses his knowledge of that world and applies it to the film. The Black and Breece's script keeps up a daunting pace, which pairs well with Rustin's enthusiastic personality. Branford Marsalis' jazz score adds just the right amount of sparkle to any given scene. There are twists, the line to the march is never a straight one, and despite knowing it happened you can't help but have a moment of questioning how it could have given what is playing out right before your eyes. Sure timing has been adjusted to add to the fervor, after all for two years he and labor unionist A. Philip Randolph (Glynn Turman) planned the March on Washington not the 7 weeks shown on the screen.
Once it gets to the march, Rustin mixes new footage with some from that day to authentically hit the emotional climax of seeing all the hard work of Rustin and his team pay off. The worry that no one would come melts away as 300,000 people March on Washington, it's a triumphant moment for the Civil Rights movement and for Rustin himself. A gay black man growing up in a homophobic and racist era defied all odds to do something that is still talked about to this day even if his name has largely been left out of the conversation.
Ultimately, Rustin the film is as vibrant, charismatic, and intriguing as the man its story is all about. Rustin's contributions to the march and movement itself are long overdue, something this biopic aims to change. It is especially important as the country where he stood for equality and justice for all faces extremists once again trying to wipe people like him from history. This is also a story that encourages viewers to live their truth with the biggest smile on their face, because like Bayard Rustin, you are exactly who you were born to be.
Rustin is now available on Netflix. It is rated PG-13 for some violence, sexual material, brief drug use, racial slurs, thematic material, language and smoking with a runtime of 108 minutes.