Marvel's What If begs fans to question what they think they know about the MCU. What if Peggy took the serum instead of Steve? What if T'Challa became Star-Lord? What would all these changes mean for our heroes and the world we know? After the events of WandaVision and Loki, the multiverse is more prevalent than ever. I had the chance to interview The Watcher himself, Jeffrey Wright, along with the writer, director, and executive producer of the show to learn more about what happened behind the scenes of What If and find out where this series is taking Phase 4.
RELATED: Behind the Scenes of Loki With Tom Hiddleston, Kate Herron, & More
Behind the Scenes of What If
Jeffrey Wright, Director Bryan Adams, Head Writer A.C. Bradley, and Executive Producer Brad Winderbaum shared what it was like bringing the iconic Marvel Comics series to the screen. They also talked about working with Chadwick Boseman and how episode 2 was such an honor to finish for him. Plus they let us in on if we might be getting a Season 2. No spoilers here but grab your tissues because there wasn't a dry eye in the room when they spoke of Boseman.
What made you decide to do What If for Disney+?
Brad: It was a stroke of inspiration that happened on the drive home from work one day. I found myself in my driveway just texting with Kevin Feige about what this show could be. By the next day, the wheels were in motion. I think it was obvious from the beginning that it needed to be animated because of all the locations, sets, characters, and elements from the MCU we were going to revisit. It had to be in a medium that would allow us an infinite scope of whatever we could conceive.
Jeffrey, you are playing an iconic Marvel Comics character, The Watcher. For those that aren't familiar, what can you share about him?
Jeffrey: The Watchers is described in the comics as something like the most dramatic being (Laughs) in all the known universe. So he's a fairly dramatic guy. He's a fairly powerful guy, kind of overseeing the entire MCU. He's overseeing the multiverses and plays somewhat of a Rod Sterling role here, kind of narrating, kind of not. In some ways he is maybe the biggest Marvel fan there is, watching all that transpires, dealing with certain temptations to involve himself. But at the same time, just kind of living vicariously through these characters, these stories, and this mythology. He's got probably the highest cable bill that you can possibly imagine.
Each episode, although similar in style, has a unique tone and quality to them. What was the goal in approaching them in this way?
Brian: It's an anthology and part of being an anthology, just like those Twilight Zones back in the day, you never know what you're going to get. You might get an episode that's comedy, you might get an episode that's kind of dramatic and serious, super emotional and full of action. This gave us an opportunity to apply a little taste of a variety of genres into the Marvel cinematic universe. Having that type of variation, is written in the book itself. You know, what if this, what if that? Things are so different, so weird, so crazy. It just opens the floodgates. We can do whatever we want to, and that was quite exhilarating to be able to play in that way.
A.C. you had the monumental task of tackling the over 100 issues of What If and picking some out to coincide with MCU stories. How did you decide on which ones to feature?
A.C.: When it came to figuring out the story of "What If…?", the last thing we thought about was the what if. I think what we all looked for was what's the heart behind the hero? How do we get behind the shield? What's a part of the story we haven't told before? For me, these characters are iconic. We recognize their silhouettes. We recognize their taglines. But what's important is how we connect to them. So, it was finding new ways to connect to Peggy Carter, to Thor to Dr. Strange. And, luckily, we have The Watcher to be our guide because he too is looking for a connection. That's really what drove everything, was character. And then we kind of figured out the what if (Laughs).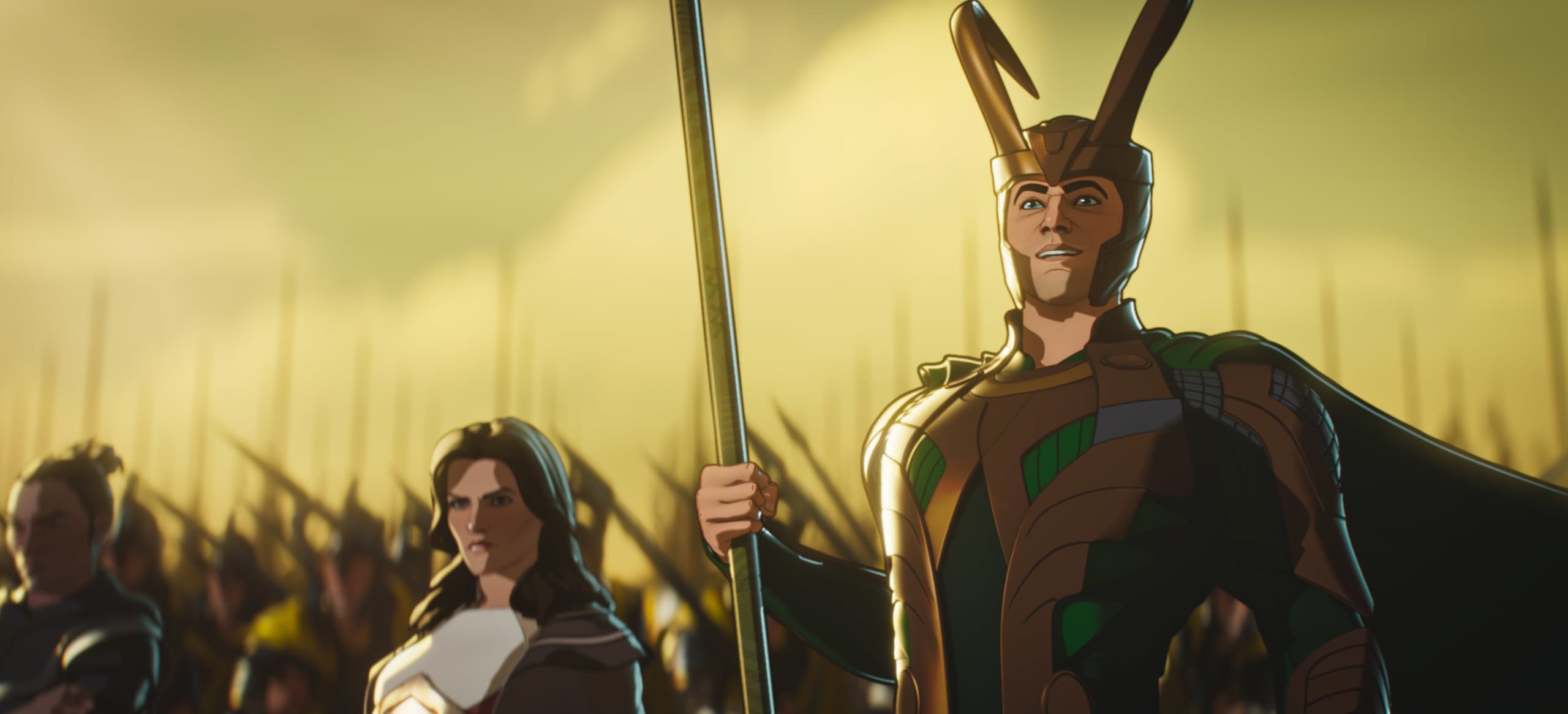 What do you imagine The Watcher thinks about all these heroes and villains running around the MCU?
Jeffrey: I think in some ways he's kind of defined by them. It's his life's passion to observe and connect with them, with their heroism and with their flaws. Without them, he's nothing, in some regards. So he adores them and is compelled by them in a way that gives him purpose.
Brian mentioned that each What If would act as a standalone but will we see any characters or stories continue past their introductory episode?
Brad: We realized early on in development, as we were starting to get A.C.'s scripts and looking at the arc of the series, that there was gonna be a character that bubbled up and became more important. Not more important than the rest, but had a strong relationship with The Watcher. And that's Captain Carter. We realized, as we started developing the second season, that Captain Carter was gonna be the character we would revisit and continue that adventure. Obviously, we're telling a story on a giant, multiversal canvas so you never really know who's gonna pop up where and when.
A second season! After watching episodes 1-3 I can without a doubt say I'm here for that. Speaking of the multiversal canvas. How does this show tie into Phase 4 and what we have seen so far?
Brad: It's no coincidence that this show picks up right after Loki. The multiverse has now erupted in every possible direction and "What If…?" gives us a chance to explore that. I think you can tell that in this next saga, the multiverse is gonna be crucial.
Peggy as Captain Carter seems a natural fit. However making T'Challa Star-Lord is something more unexpected. How did you land on this as the story arc you wanted to use?
A.C.: In the writers' room, we had a poster that had all the characters on it and we realized that T'Challa and Peter Quill are the same age, or very close to it. So What If Yondu takes the wrong kid? What other nine-year-olds are running around the MCU, around about the same time. What if he gets a little bit lost and ends up in Wakanda? Well all humans look alike. So, that's kinda where that one started from. T'Challa is an interesting character because he's not a character that arcs himself, he's a character that changes the world around him. He doesn't go through a transformation, he transforms the world. So how would T'Challa transform outer space? And that's how you get that episode.
Jeffrey, you always manage to create unique voices for each character that you have portrayed. What was your process like finding the voice for The Watcher?
Jeffrey: He is an incredibly powerful character, omnipotent in some ways. Mythic, dramatic. That's already very interesting colors to play with. I also wanted to make it as personal as I could. I was trying to go away from some of the stereotypes of the wise, sagely, larger than life character and tried to ground him in rhythms and music that are closer to my own.
A.C.: When we started talking about The Watcher, early on before Jeffrey signed on, I originally joked that it was the Pizza Rat meme. He's a guy watching this rat pull a slice of pizza across a New York City subway platform. He does not want to pet the rat. He is not gonna take the rat home. He is not gonna become best friends with the rat. But it is fascinating for him to watch. And that's The Watcher. What struck me Jeffrey, was the way you talked about your son and watching Marvel movies with him. And I was like, "Oh, my God. The Watcher's a dad." (Laughs)
We all care about the MCU now, because either you grew up reading comic books or you've been alive for the past 15 years. And this has become our pop culture lexicon. So, when it came to write the watcher, he went from pizza rat meme to our dad.
Brian: I love it, too, because as Jeffrey was saying earlier, The Watcher needs the multiverse, all these people, the mythic stories. Needing all this stuff and perhaps we need the Watcher. I love the fact that he is us, we are him, right? Because he's watching all these things the same way that we are watching these Marvel movies. So, in a way, he's the audience and that immediately makes us relatable to him. We get to nerd out with him.
I think people are going to be pretty happy and surprised with where it [the story] goes with The Watcher. I mean, he really digs it (Laughs), just like we do, which is great.
Jeffrey: I think what Brian is saying is I had to come up with a voice that was representative of every Marvel fan in the world. (Laughs)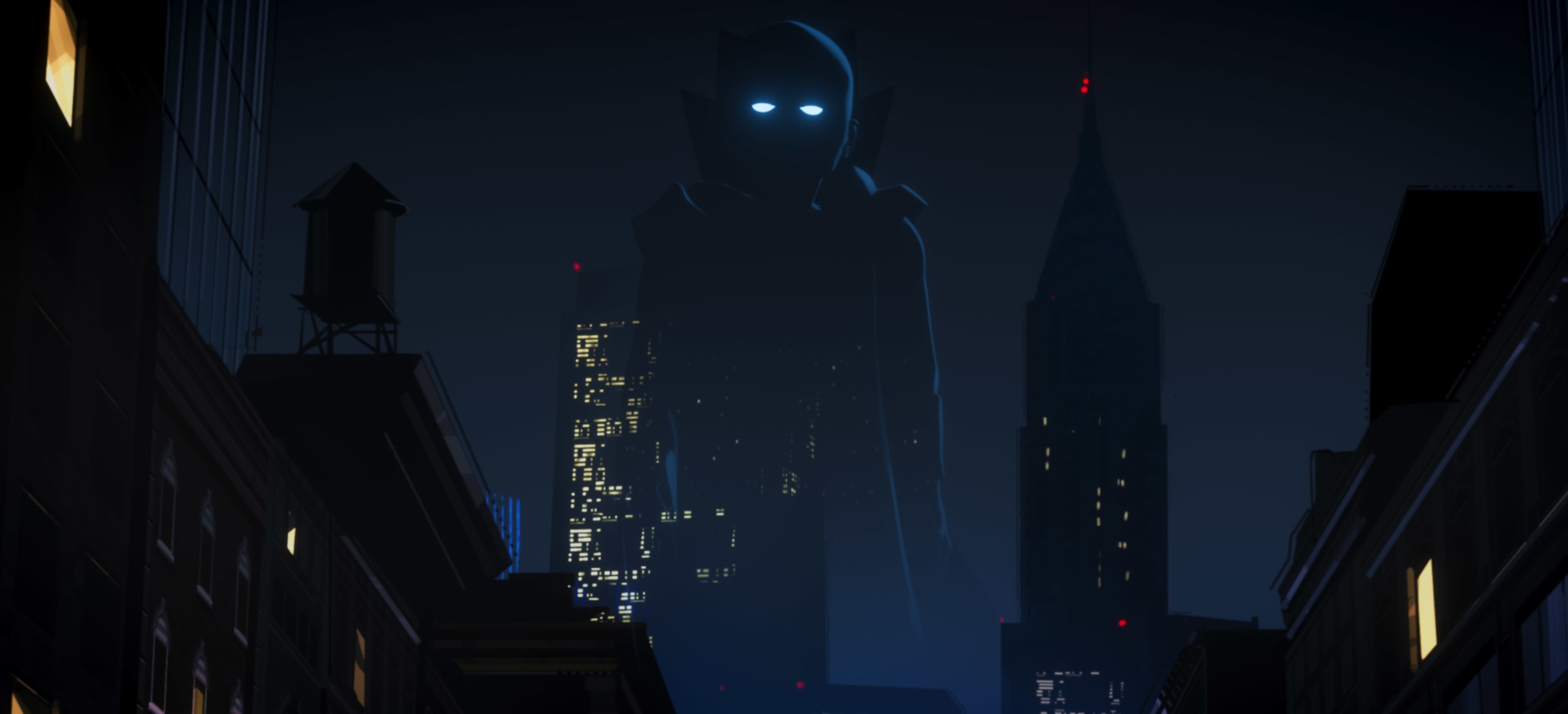 Episode 2 is a special one in that it is Chadwick Boseman's last performance as T'Challa. Can you share what it was like working on that scene with him?
Brian: It was amazing being able to work with him. We only got a small moment because our episodes are so short compared to everyone who was able to enjoy his presence on Black Panther or Civil War. We had him for a little moment, to do our thing, and we're so grateful for it. I think he may have been even one of the first actors that signed on and said, "Oh, yeah, I'm gonna do that voice." And we were so excited because we really, really, really wanted to work with Chadwick and we just loved Black Panther. And we love him.
Something that was kind of fun is he's theatrically trained and he really wanted to approach the scenes like a play. Like, reading the scene descriptions in between to really build it out like a play. And it was so much fun being able to do that. We got to basically read lines with Chadwick Boseman. It was awesome. And none of us knew what he was going through at the time, of course. And he came and he brought it and he had a lot of fun. It was really great to hear him talk about how he was excited to play this particular version of T'Challa because it was different. With the completely different spin he could lighten it up, he could get a little bit more jokey with it and stuff. He was excited to bring that flavor to T'Challa and give it to the audience. We're blessed to have him in this show. He did an amazing job.
Jeffrey: I actually met Chadwick for the first time at Comic Con in the bathroom (Laughs). He was about to introduce the first Black Panther film and I was there with Westworld. And we had a really wonderful exchange. Then we'd run into each other here and there, after. We were going to do Ma Rainey's Black Bottom. I was asked but I couldn't do it because I was tied up with another film, unfortunately. So, I didn't have a chance to work with Chadwick on that.
So it was a lovely surprise to find that we would have the opportunity, at least to be in the same space with What If. This being his last performance that we'll get from him, I find it very moving. I guess the thing that strikes me most about what he does here and what he's done with these films is that we all discovered the kind of mythic quality that he brought to these performances, kind of paled, in some way, to the mythic quality that was his life. In terms of the way that he was going about doing this work, the grace, the dignity, the power. I'm really pleased to share a little bit of time with him on this.
Brian: He was a hero. Working on the show, in post production, doing the score and the music, and he had already passed since then. We gotta make sure nothing goes wrong with these episodes, because it's his last. So, we were making sure that everything in it can honor what he brought to the table. Honor the character, but also honor Chadwick as well.
It would get emotional at times. It means so much to us. We would be having a normal work meeting with notes on this, notes on that, and it would become emotional because it mattered more. I'm on the verge of being emotional now. It's still rough, it's still rough.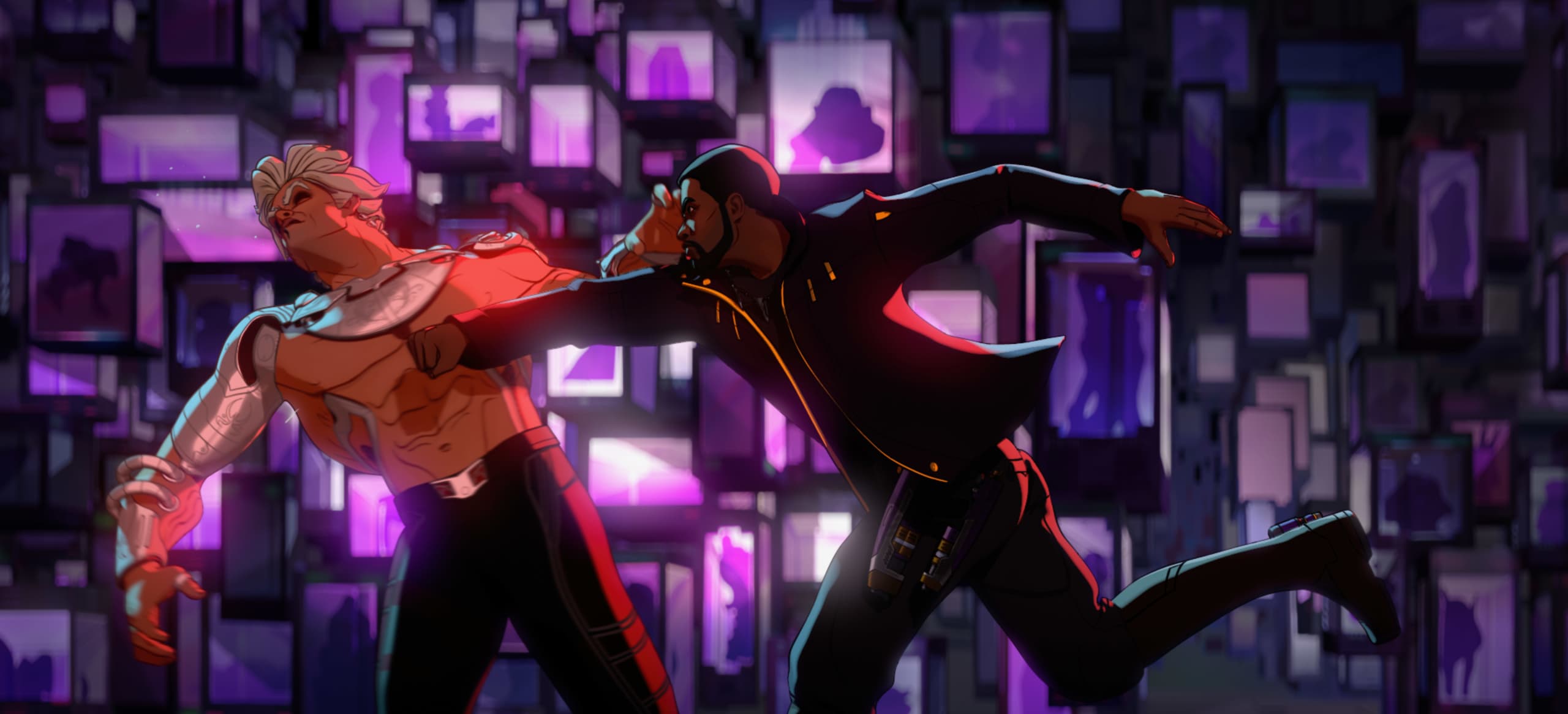 Marvel's What If Season One will consist of 9 episodes. It was hard to pair them down from the 30 original ideas but don't worry fans. Brad promises they will be exploring some of those in second season.
Marvel's What If comes exclusively to Disney+ beginning August 11.