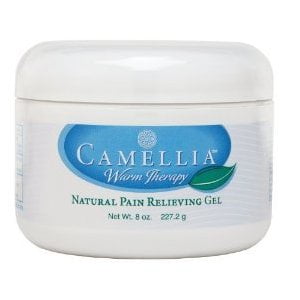 I have chronic back pain. Some days are worse then others but there is always a pain there, lurking in the peripherals of my senses. Of all the treatment and management options out there, using creams/gels are my least favorite. Honestly I would rather deal with the pain then smell like an old lady. I also dislike popping pills like Dr. House, so most days I mom up and seek out my heating pad during naptime.
When I came across Camellia, I thought well it is not only made with natural ingredients but it claims not to smell horrible. I was intrigued and couldn't wait to try it out. Preparing for my son's birthday party has really pushed my body. All the cleaning, crafting, and shopping made me ache terribly by the end of the day. Needless to say, I put this product to the test over a period of several weeks. I wish I had a picture to show the relief I felt from using this product. I loved how it started off cool and then slowly warmed up, getting deep into the tissues and relaxing the muscles (like a heating pad but without the occasional burning!).
It did not take long to absorb or to start feeling the relief. Camellia does not stain your clothes either. Added bonus is the benefit to your skin. The aloe vera, green tea extract and vegetable glycerin even conditioned and moisturized the area while providing pain relief. The best part, other than the pain relief, no old lady smell! Camellia has an underlying citrusy smell and the menthol is relaxing.
In my opinion, this is a great alternative to all the creams and gels out there on the market. A little goes a long way so you won't feel like you are wasting money on this product. I would recommend it to anyone who deals with chronic pain or if you are an athlete. Camellia definitely worked for me!
Click here to purchase Camellia on Amazon for a great low price.
I am pleased to be able to host a giveaway for Camellia. If you or someone you know deals with aches and pains daily you won't want to miss out on winning!
Giveaway Details:
1 Winner will receive a full-sized sample of Camellia. Leave a comment for each action. A winner will be randomly selected on June 26th and announced via Facebook and Twitter.
Each action below is worth one entry
Like Teachable Mommy on Facebook
Follow me on Twitter
Share this blog post via the buttons below on Twitter or Facebook
Give +K in any topics listed on Klout
*I was given this product to sample and write about my experience. Although monetary compensation was received, that did not affect my opinions.*