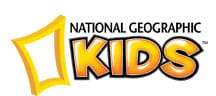 Do you remember being apart of a reading club when you were younger? I remember getting a monthly package from a wildlife club with info cards about animals and little books to go with them. Of course I had to collect them all (why were those things so addicting?!) and put them in my custom card holder. I also remember feeling like a superstar whenever I got mail. If you don't know what I am talking about, have a friend send your child a postcard and watch their face light up when you tell them you've got mail!
Now that my daughter is starting to read more on her own and my son is beginning to recognize letters I have been on the lookout for a reading club. We did the summer reading program at our local library and they really enjoyed choosing different books and filling up the challenge card. I have looked into a few reading programs but wasn't too impressed with them. None seemed to encourage children to continue to read more. I believe that reading is foundational for all learning. If we don't develop and foster a love of reading in our children at a young age we are doing them a huge disservice when they get older.
Being a Moms Meet ambassador allows me to try out different products for my family. When the opportunity came up to try the National Geographic Super Readers program, I was intrigued and wanted to find out more. After doing some research I have to say I was impressed. These books not only looked entertaining for kids but also something my husband and I would enjoy reading with them. My children are 3 1/2 years apart, which was part of the reason why the other programs didn't work for me. I did not want to have to signup for more than one club! So, one of the things I love about the National Geographic kid books, is that they are broken down into four reading levels. From ready to read pre-readers to fluent readers, there is definitely something for every child in your household!
My children really enjoyed the books sent to us in our starter kit. The pictures are big and eye catching and overall the books are easy to read. One book was all about Sharks and being shark lovers that was the first one we read. It is a level 2 so my son, 3, really enjoyed looking at the pictures while my daughter read the book to us. I only had to help her with a few words like cartilage, which is a pretty big word when you are 6! My daughter has already picked out her next book, all about the Safari, and is anxiously awaiting for it to come in the mail. We also received a chapter book about animals, an Everything Castles book (a book about where princesses live according to my girl), and the Ultimate Weird but True facts. Did you know it is impossible to whistle on the moon? or That your brain is more active when you sleep than when you are awake? If you have a trivia fan in your house you have to get that one, we laughed and then amazed our friends on Facebook. Like I said, fun for kids and adults alike!
Get started today! Go to kids.nationalgeographic.com/superreader, there kids can sign up to become Super Readers, download the Super Readers poster, and start reading! Once they finish their book, they can cross it off on their poster and start getting fun rewards and prizes. The website also has several other activities including a Quiz Your Noodle Game (this was a fun activity not only for the kids but the husband and I had a little contest!), Weird but True Facts, homework help, and more!
This is a great program not only to have at home but also for educators to use in their classroom. As a former Kindergarten teacher, I know my classes would have loved this (stickers, iron-ons, and more, oh yes they would have gone crazy over it!). I would definitely recommend the Super Reader program to my friends and former colleagues. The books are fun, educational, and the adults will enjoy them as much as the kids! With the holidays coming up the National Geographic Super Readers program would make a great gift for all the kids in your life.
I would love to help you jump start your collection:

National Geographic wants to give 3 of my readers their own Super Reader Kits! Each winner will receive a National Geographic Super Reader book along with a poster, bookmarks, and badges!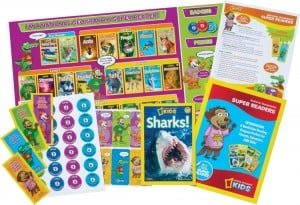 **GIVEAWAY ENDS FRIDAY NOVEMBER 30th**
Leave A Blog Comment For EACH Action. One Entry per Action
Leave a Blog post comment "Which book would your kids love to read first?"
Like National Geographic on Facebook
Like Teachable Mommy on Facebook
Follow National Geographic on Twitter
Follow Me on Twitter
Subscribe to the RSS Feed of this Blog
Share this Post via the share icons below
*I received this product for free from the sponsor of the Moms Meet(SM) program, May Media Group LLC, who received it directly from the manufacturer. As a Moms Meet(SM) blogger, I agreed to use this product and post my opinion on my blog. My opinions do not necessarily reflect the opinions of May Media Group LLC or the manufacturer of the product.