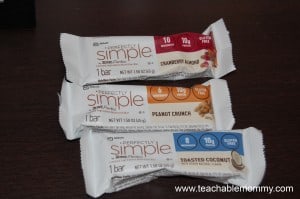 Perfectly Simple Limited Ingredient Nutrition Bars are some of  ZonePerfect's newest members of their protein bar family. They are gluten free and packed with 10grams of protein. Perfectly Simple bars are made with 10 or less ingredients, perfect for those of us who like to eat clean and like to know exactly what is in our food. I can't tell you how much I like being able to pronounce the ingredients in my food! Perfectly Simple is available in 3 tasty flavors: Peanut Crunch, Cranberry Almond, and Toasted Coconut.
For this review I put these bars to the test. I live a busy life, like most moms I know. So if I am going to eat something on the go I need it to be healthy, taste good, and give me energy to push through whatever craziness is going on. I feel like the balance between the calories (200 or less) and the protein is a good one. If you consider that other bars with less calories contain tons of fillers and stuff you should not be eating it is a fair trade. And remember not all calories are created equal, 200 calories of good stuff energizes your body and doesn't stick to places you don't want it to (hello spare tire!).
Test #1: Zumba class. I don't like to eat a huge meal before I go to the gym, so I usually eat an apple or banana with peanut butter. After the gym though I feel like a lion in search of food! I threw the Cranberry Almond into my car and inhaled it after my workout. It satisfied the I'm Starving!! feeling and kept me feeling full until it was time for dinner.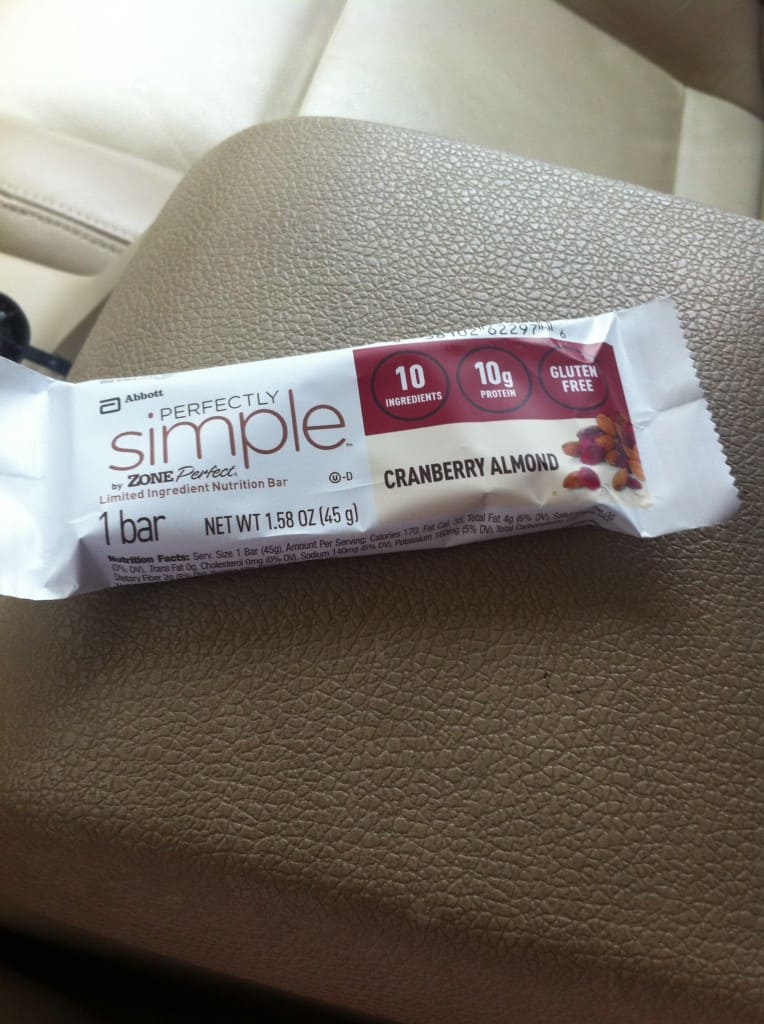 Test #2: Running Errands. How many times have you been out grocery shopping, at the mall, or doing any other of the 5 million things required of you in a day and hunger strikes? Then you search for the first edible thing you can find, and more than likely you have to compromise your diet in order to silence the beast growling in your stomach. I can't even begin to count how many times that has happened to me! I have gotten wiser and try to remember to grab a protein bar before I leave the house. So on my latest errand running to prep for Thanksgiving, which included stops at 3 stores and picking my son up from school, I brought along the Peanut Crunch. True to form, my stomach began protesting about halfway through the day. I was prepared with my Perfectly Simple bar though and I was able to get through the rest of my errands without feeling the need to eat anything else.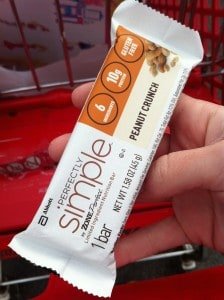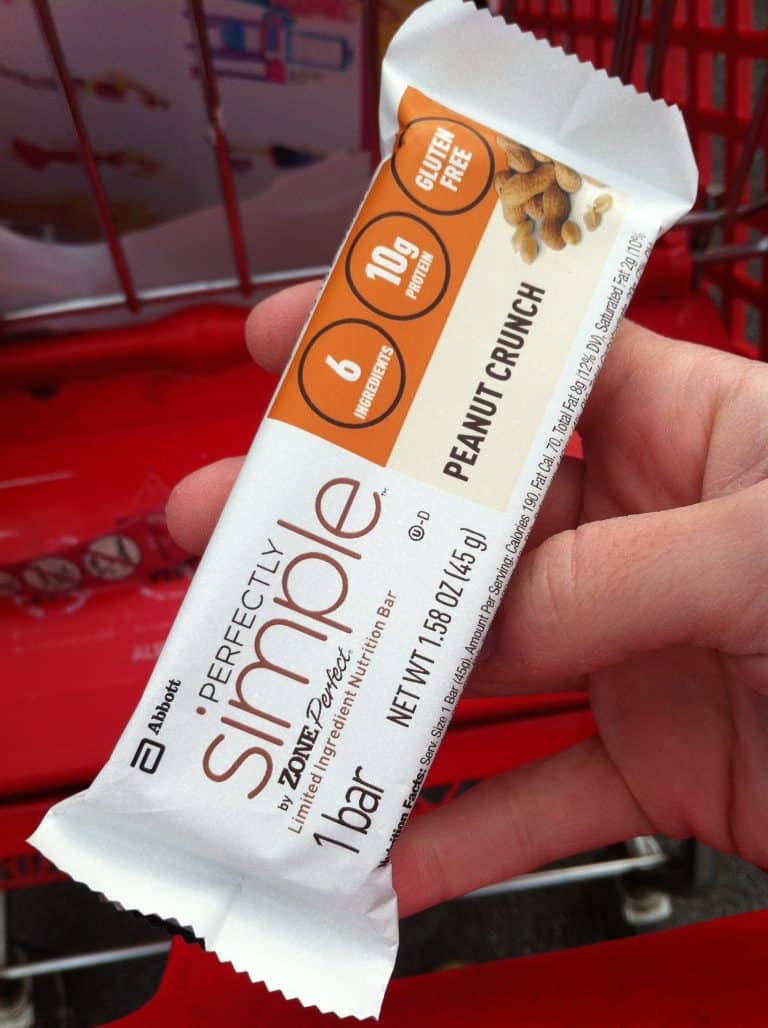 Test #3: Taste. I am pretty picky when it comes to my food. The Perfectly Simple bars are healthy and tasty, win-win. The bars are chewy and crunchy without being crumbly. Despite not having a ton of sugar, they still have a nice sweet flavor. Simply put: Perfectly Simple bars taste great, no weird textures, and will keep you going.
Although they were all tasty, my favorite was the Peanut Crunch. I love peanut butter though so that was no surprise. My husband really enjoyed the Cranberry Almond and my brother the Toasted Coconut. I am positive you and your family will enjoy all the available flavors. Whether you are at the mall, soccer practice, or the gym, don't forget to take your Perfectly Simple bar with you!
Perfectly Simple bars are available at most major retailers. For coupons and other special offers, sign up for their VIP emails and follow them on Facebook. And unlike some other companies, ZonePerfect sends out special offers fairly frequently (thank you!).
For News and Special Offers  get connected:
Like ZonePerfect on Facebook
Follow ZonePerfect on Twitter
Visit ZonePerfect's Website
What Flavor Do You Want To Try? Or Do You Have a Favorite?

*This post is sponsored by ZonePerfect. I received free products in order to write a review. No monetary compensation was received and the opinions are my own.