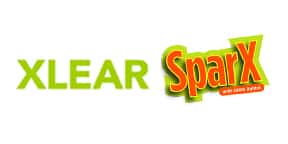 Being a Moms Meet ambassador I get the opporutunity to try out exciting products. In this case I got the chance to sample something I had never heard about it. Xlear SparX candy is an unique candy, made with 100% Xylitol. What's that you are wondering? Don't worry I had to look it up too. Xylitol is a natural occurring sugar in many fruit and vegetables. It as sweet as regular sugar with 40% less calories and without the negative effect on teeth and release of insulin like sugar. Not only all that, but this candy is actually recommended by doctors and dentists. Candy that is good for your teeth? Yes believe it!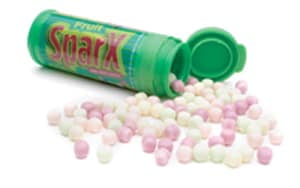 I do not usually eat a lot of non chocolate candy. But of course I would have to try it out in order to write this! Going on the information of it being a healthy candy, I expected it to taste like a healthy or "sugar free" candy. Thankfully, I was wrong! The SparX candy did not have that weird aftertaste of other sugar free or reduced sugar products. I liked both of the flavors, my favorite was the citrus while my husband favored the fruit flavor. Even though SparX looks like it would be hard and jaw-breaking it really isn't. So no worries about breaking any teeth. The texture gives you enough of a crunch, but then it is nice and chewy on the inside. The citrus kind had a nice tartness to it while the fruity kind was sweet.
I would/do recommend Xlear SparX candy to my family and friends. Not only is it good for you, but it contains no artificial colors or flavors! It is also a tastier alternative for those kids and adults who are on a sugar controlled diet. Who says healthy has to taste terrible? Between my picky daughter and husband, I know that if they liked it everyone will like the SparX candy.  Also, I love that their children's tooth gel and some adult toothpastes are made without fluoride. We will be using the Spry tooth gel for the kids from now on. The kids like the flavor of it and what is not to love about the cute giraffe on the packaging?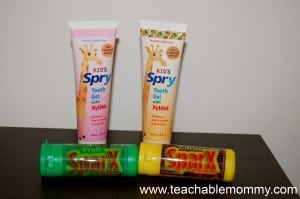 For more information about Xlear and their full line of products visit their website and Facebook page.
*Disclaimer: I received this product for free from the sponsor of the Moms Meet (sm) program, May Media Group LLC, who received it directly from the manufacturer. As a Moms Meet (sm) blogger, I agreed to use this product and post my opinion on my blog. My opinions do no necessarily reflect the opinions of May Media Group LLC or the manufacturer of the product.