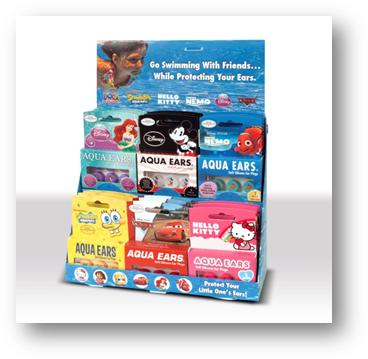 It's Summer time, and that means cookouts, vacations, and a lot of swimming.  Whether you are at the beach, pool, or local waterpark it is important to protect your children's ears. According to the CDC, germs along with water-loving bacteria such as Pseudomonas found in pools and other recreational water venues are one of the most common causes of Swimmer's Ear (otitis externa). Pain, itchiness, and redness or pus can occur when water stays in the ear canal for long periods of time, providing the perfect environment for germs to grow and infect the skin in the ear.
That sounds really nasty and unpleasant right? So what can you do?
AquaEars for children are a soft, silicone earplugs that offer duel protection for their ears by sealing out water and reducing ear discomfort due to water pressure. Included with each pack is a carrying case to make them convenient to throw into your beach bag. AquaEars come in a variety of fun characters including Finding Nemo, Hello Kitty, Disney Mickey Mouse, Spongebob Squarepants, and Dora the Explorer.

That sounds great and I want to protect my kids' ears, but are they easy to use and will my kids actually leave them in their ears?
The kids loved that this time around, Mommy's work meant going to the pool. For them, the hardest part about Aqua Ears was choosing which character they wanted to wear! After a grueling debate (these would be better at GG's pool and so on), my son went with Nemo and my daughter went with Hello Kitty. Now that that was settled it was time for me to put them in. It was a lot easier than I was expecting. AquaEars conform easily to your child's ears and they stay securely in place. The kids never complained that they hurt or were falling out. In fact, they forgot they were even in their ears until I said stand still so I can take them out! Their ears stayed dry and removing the AquaEars took no time at all. My mind was at ease knowing all those nasty germs would not be making their way into my kids' bodies and my kids were happy playing pirates in the pool!

Four Water Safety Tips from AquaEars
Be an Explorer: Always take the time to explore around the swimming area to help your child identify the location of lifeguards, water preservers, bathrooms, depth markers, sitting areas, and even others' behaviors in the area
Pump you Brakes: Never allow children to run or even walk fast around or in a swimming area. Using the Disney/Pixar Cars AquaEars are a great way to remind them to "pump their brakes" and walk.
Find Some Water Buddies: Even if a lifeguard is on duty, a child should never swim alone. An adult should always be supervising by land or preferably by sea. Never leave a child unsupervised by or in a pool or other body of water.
The Fish Test: Children can be more confident about their swimming abilities than you are. So ask them to pass the "Fish Test" by showing you some basic swimming techniques such as holding their breath, treading water, and swimming underwater. Be honest about their results by telling them where they are able/unable to venture based on your observations. Make sure the lifeguard supports your "fish test" findings as well.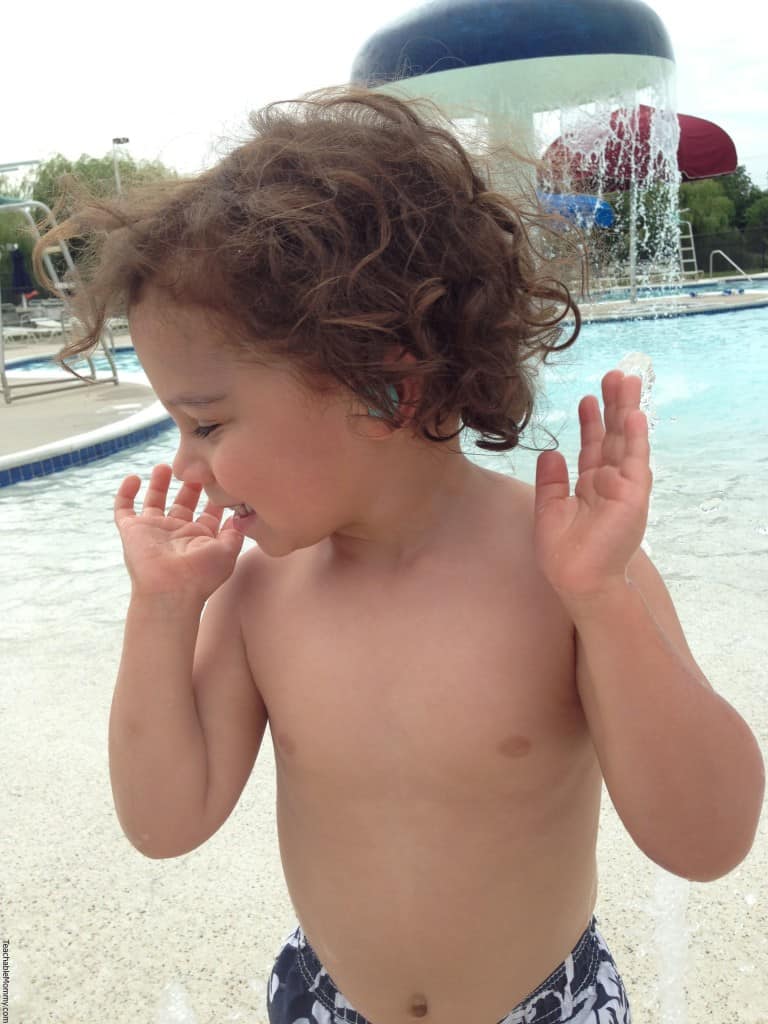 No more pictures Mommy, I want to swim..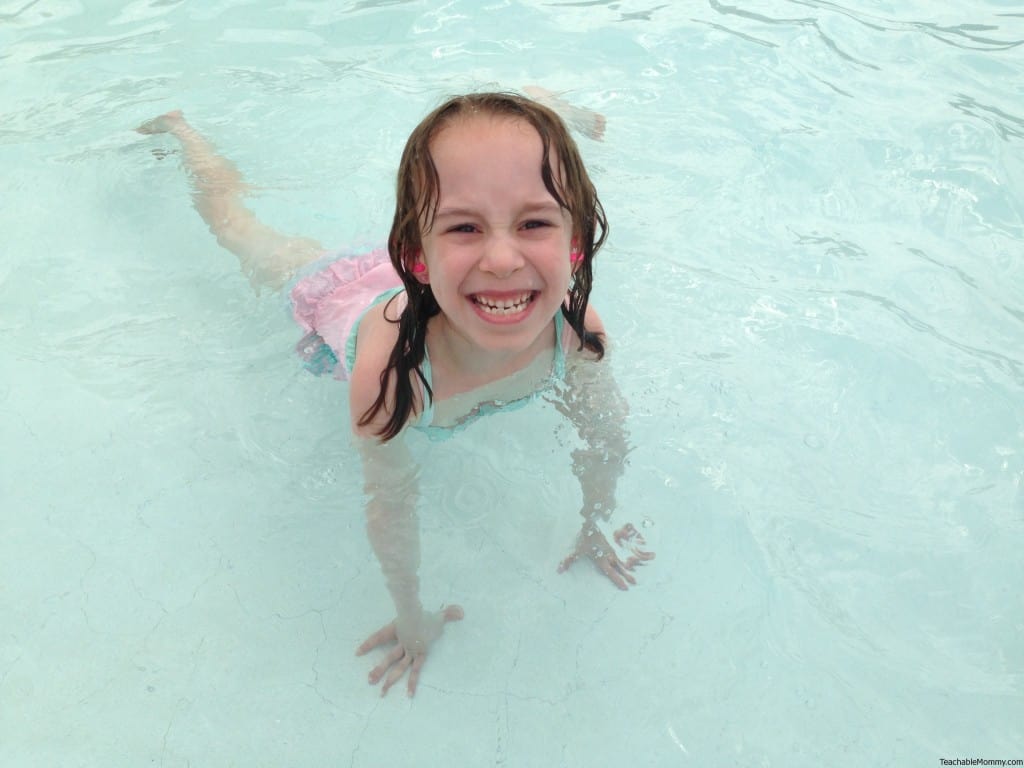 She loved having them in her ears and told me they helped her swim under water better. Results may vary lol
Next time you pack your bags for the water, don't forget to throw in Aqua Ears with your towels and sunscreen! And to help you out with that, AquaEars is giving one lucky reader a prize.
One Teachable Mommy Reader will Win a Free Pack of AquaEars!
For more information visit Cirrus Healthcare or Like AquaEars on Facebook for special offers, tips, and giveaways!
*This post is sponsored by AquaEars. I received free products for compensation for this post. No monetary compensation was received and all opinions expressed are my own.