Have you been searching for a great kid and parent friendly reading app for your iPad? Look no further than Bookboard. Bookboard is a children's iPad reading app that grows and changes with your children, to keep them reading! With Bookboard it is like having your own personal librarian. Books are already there, no need to wait for long downloading times. What kid has the patience for that? Parents also have the ability to keep track of how long and what their kids have been reading.
Getting started is easy. Go to bookboard.com and signup for a free trial (full version info is found below). Once that is confirmed open the link in the email from your iPad browser and download the app. Add your information, and the details about each user. Then you are all set. Start to finish took less than 5 minutes.
My kids love having their own profiles to use within the app. In case you didn't know, if your name is on it, that makes it all the more special. I like being able to track their individual progress and make suggestions based on what I know they enjoy. I can't lie, I also really really like that it keeps them occupied for long waiting times. Learning something while being entertained and not driving each other and me crazy? Yes please! Bookboard will be especially helpful when school starts back for us. My younger one does not get homework yet but likes to be doing something while his big sister does hers. Now I can give him the iPad to "work on" while being able to focus on helping my daughter with her school work!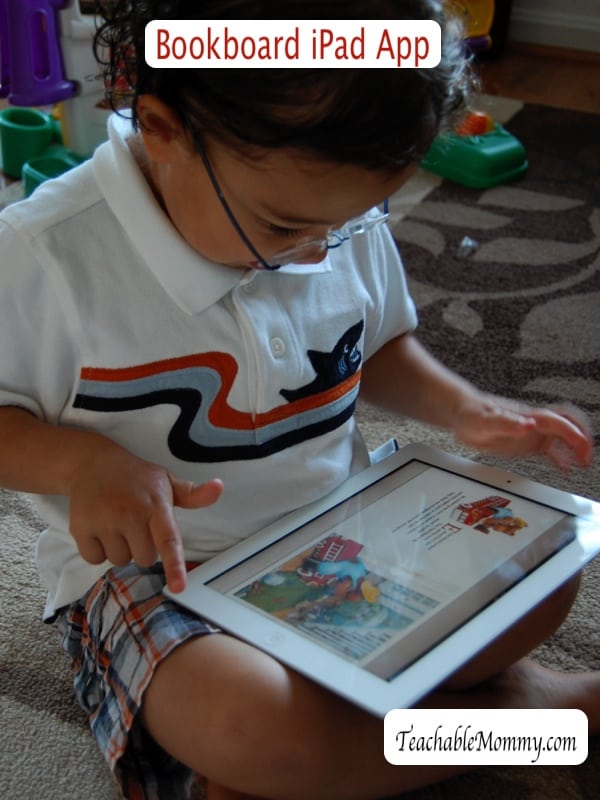 Getting and keeping this one's attention is a feat in itself!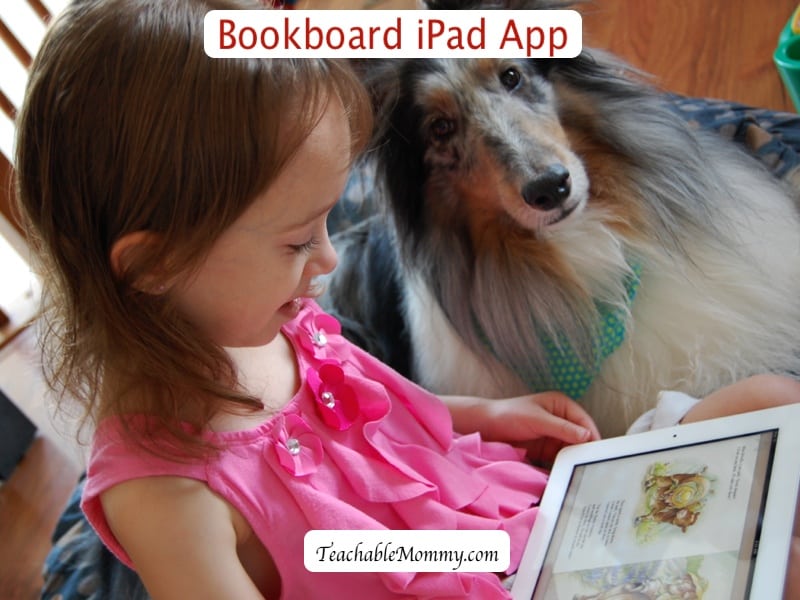 Even your furry babies will like being read to!
What I love about Bookboard:
No downloading and extra payments. Everything is covered with your subscription and no need to wait for books to download.
Book suggestions based on what the kids have been reading. The selections are recommended by real life librarian
Parent extras. Monitor your child's progress, how long they are spending reading, and make category suggestions. They even send you an email when your child unlocks new books.
Affordable. Bookboard is available in 6 month subscriptions for $29.94 ($4.99 per month) and includes unlimited access to Bookboard for up to four readers on any iPad or a month by month subscription for $8.99 per month. Get started with your free trial today! Sign up at bookboard.com.
Easy to Use. Even the kid's non-tech savvy grandparents can operate this app!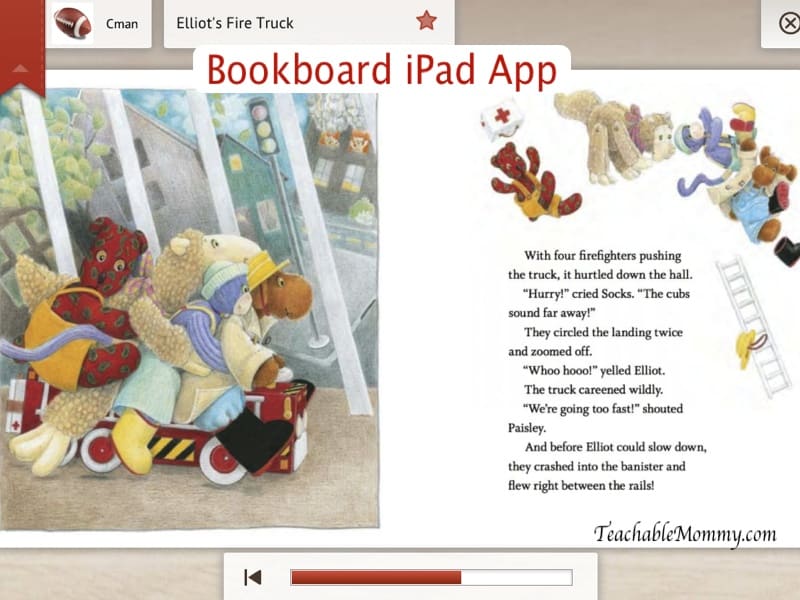 C-Man naturally went for the firetruck book first.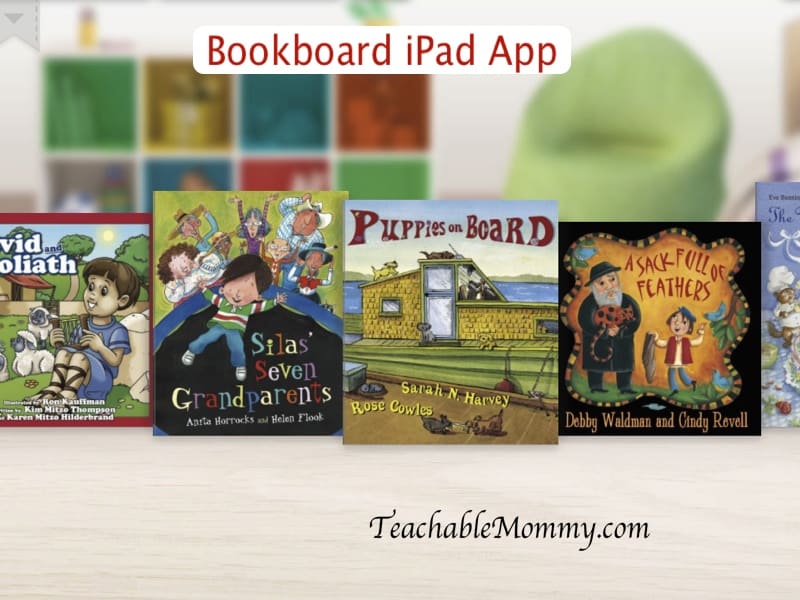 A view of Babygirl's library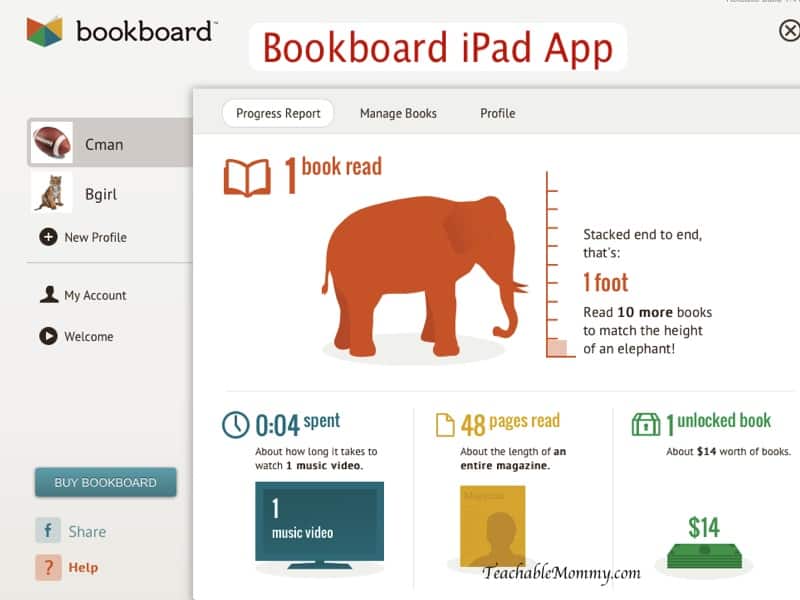 Parent section where you can track each child's progress, add more profiles, suggest books, and more!
About Bookboard
Bookboard's goal is to create motivated readers, and we do this by re-imagining story time for today's digital age. As kids read, they're rewarded by unlocking new books to add to their collections As your kids' interests and reading level changes, Bookboard suggests other stories based on what your kids have been reading, right when they're most interested. The service is designed to grow with your kids, with new books added all the time.
What are you waiting for? Unlock some great stories today on
Bookboard!
*This post is sponsored by Bookboard. I was compensated for this post. As always my opinions are my own.