In our house, you might say we are a little obsessed with princesses and princes. So imagine the excitement when we got to watch the royal wedding and recently the royal baby's debut to the world. When the opportunity came to review Bubblegum Princess I knew it was one I could not pass up. After all, although it is a work of fiction it centers on very real characters; the Duke and Duchess of Cambridge.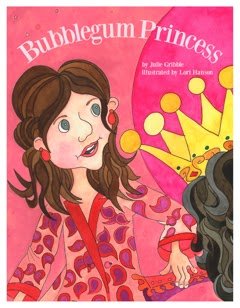 This story is a "what might have been" if Prince William and Kate had met as children. Julie Gribble brings to life, Katy, a full of life young lady who loves to chew gum and blow bubbles. Which of course is disgraceful behavior in the eyes of her parents. One day she gets an invitation at the Queen's palace for a party celebrating Prince Will. Her parents know that everyone needs to be on their best behavior and that means…you guessed it: Lay off the gum. Although sad, she agrees and gives up her bubble blowing fun. The day of the soiree Katy and her parents are pressed and dressed. Everything seems to be going well until POP! Oh no, right in front of the Queen! But Katy promises she didn't blow the bubble. If she didn't who did?
Bubblegum Princess is illustrated by Lori Hanson and man oh man are the pictures amazing! I love bubbles, the Queen's corgis, everything about it. The characters come to life, practically leaping off the brightly colored pages. It's nice to see a different style of drawings, uniqueness is something I tend to gravitate towards.
Even though this is a children's book, it will not be one your younger readers will be able to read on their own. My daughter is a second grader and a very good reader. But she did have issues sounding out and understanding some of the big words throughout the book. That might bother some parents, but personally I am a fan of children's books who throw in not so common words. It helps expand vocabulary and gets kids' use to using inference skills to figure out just what that word might mean. Sneaking in learning, I Love it!
Bottom Line: I loved it, my daughter loved it, and your Princess will too! Find Bubblegum Princess
on Amazon today!
Julie Gribble is giving One lucky Teachable Mommy reader a copy of Bubblegum Princess!
a Rafflecopter giveaway

*I received a copy of the book for the purpose of this review. All opinions are my own. Post contains affiliate link*